Landezine
Landezine » Belvederes Drentsche Aa by Strootman. November 12, 2010 / Filed under: Benches / Netherlands / Selected Projects / Viewpoints / See all projects by: Strootman Landscape Architects / 14,412 / Landscape Architecture: Strootman Landscape Architects Project description: Outdoor furniture & signage Client: Staatsbosbeheer Location: Drenthe, Netherlands Construction: 2008 – 2010 Project Volume: Ä 200.000,= Size, hectares: 30.000 hectares Process time: 2007 – 2008 Text: Strootman Photos: Strootman, Harry Cock In the landscape plan Drentsche Aa, we designed in 2004, we have proposed the designing of new belvederes in the Aa River area in Drenthe.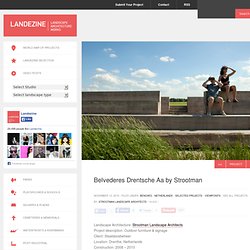 On the basis of the contour map we have selected almost 30 locations and surveyed them in the field in more detail. A house style has been designed for all the new locations: furnishings, signboards, parking facilities and brand marks. A definite design has been made for 8 locations. Landezine. Landezine » Purple Pleasure by Carve. November 11, 2010 / Filed under: Netherlands / Playgrounds / Skate / Sport & Recreation / See all projects by: Carve Landscape Architecture / 11,523 / Landscape Architecture: Carve Location: Park Toolenburg, Haarlemmermeer, the Netherlands Completed: 2010 in collaboration with Marie-Laure Hoedemakers Carve was asked by the municipality of Haarlemmermeer to design a small sports field with extended possibilities.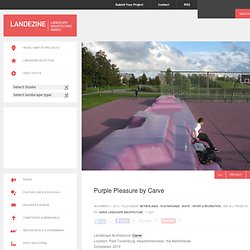 In general, these courts in public space are designed to play soccer, at best also to play basketball. By adding two functional designed sides and integration with the existing landscape, a versatile place for young and old has arised.
---