Web Editors
jEdit is a mature programmer's text editor with hundreds (counting the time developing plugins) of person-years of development behind it. To download, install, and set up jEdit as quickly and painlessly as possible, go to the Quick Start page. While jEdit beats many expensive development tools for features and ease of use, it is released as free software with full source code, provided under the terms of the GPL 2.0. The jEdit core, together with a large collection of plugins is maintained by a world-wide developer team.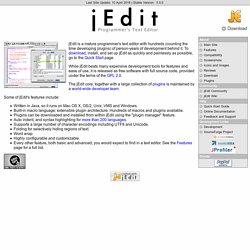 gedit is the GNOME text editor. While aiming at simplicity and ease of use, gedit is a powerful general purpose text editor. Notable Features Full support for internationalized text (UTF-8) Configurable syntax highlighting for various languages (C, C++, Java, HTML, XML, Python, Perl and many others) Undo/Redo Editing files from remote locations File reverting Print and print preview support Clipboard support (cut/copy/paste) Search and replace Go to specific line Auto indentation Text wrapping Line numbers Right margin Current line highlighting Bracket matching Backup files Configurable fonts and colors A complete online user manual A flexible plugin system which can be used to dynamically add new advanced features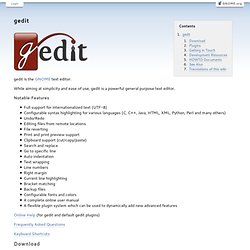 gedit
Geany : Home Page
Welcome! Geany is a text editor using the GTK2 toolkit with basic features of an integrated development environment. It was developed to provide a small and fast IDE, which has only a few dependencies from other packages. It supports many filetypes and has some nice features. For more details see About. Latest version is: 1.24.1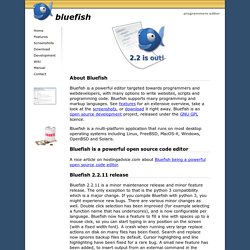 Bluefish is a powerful editor targeted towards programmers and webdevelopers, with many options to write websites, scripts and programming code. Bluefish supports many programming and markup languages. See features for an extensive overview, take a look at the screenshots, or download it right away. Bluefish is an open source development project, released under the GNU GPL licence. Bluefish is a multi-platform application that runs on most desktop operating systems including Linux, FreeBSD, MacOS-X, Windows, OpenBSD and Solaris.
BlueGriffon is a new WYSIWYG content editor for the World Wide Web. Powered by Gecko, the rendering engine of Firefox, it's a modern and robust solution to edit Web pages in conformance to the latest Web Standards. It's free to download (current stable version is 1.7.2) and is available on Windows, Mac OS X and Linux. BlueGriffon is available in English, Dutch, Finnish, French, Czech, German, Hebrew, Hungarian, Italian, Japanese, Korean, Polish, Simplified Chinese, Serbian, Slovenian, Spanish, Swedish and Traditional Chinese BlueGriffon is an intuitive application that provides Web authors (beginners or more advanced) with a simple User Interface allowing to create attractive Web sites without requiring extensive technical knowledge about Web Standards.