SOC 101
What Makes Us Human? Some of the most basic questions about human existence (how did we develop language?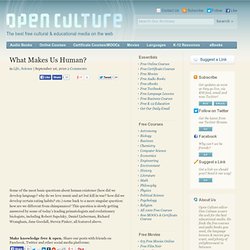 Why do we love music and art but kill in war? How did we develop certain eating habits? TED Talk | Connectome: How the Brain's Wiring Makes Us Who We Are. Future - Columns - Uniquely Human. Being Human | Introduction to Sociology/Sociological Videos. 1. A map of social theories, 1000-2000 by Alan Macfarlane. Gapminder: Unveiling the beauty of statistics for a fact based world view. Be Effortlessly Cool in Your Red Shoes and Own Your Own Life. January 9, 2012 Liz published this at 7:22 am The rules, values, and ideas we learned growing up served us in those situations and settings.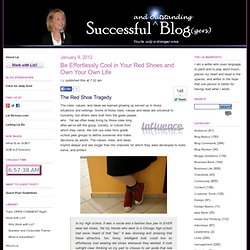 Welcome to Social Dimension | Wired Science  Welcome to Social Dimension, a blog devoted to the math behind understanding society and civilization.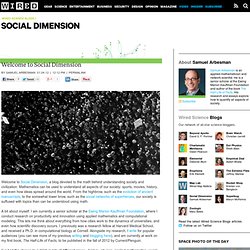 Mathematics can be used to understand all aspects of our society: sports, movies, history, and even how ideas spread around the world. From the highbrow, such as the evolution of ancient manuscripts, to the somewhat lower brow, such as the social networks of superheroes, our society is suffused with topics than can be understood using math. A bit about myself: I am currently a senior scholar at the Ewing Marion Kauffman Foundation, where I conduct research on productivity and innovation using applied mathematics and computational modeling. The Sociological Cinema - Home. What Can Social Media Tell Us About American Society? [INFOGRAPHIC] America is obsessed with its social media tools — more than half of all Americans have a social networking profile.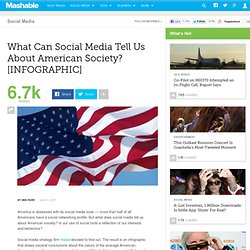 But what does social media tell us about American society? Is our use of social tools a reflection of our interests and behaviors? Social media strategy firm Hasai decided to find out. The result is an infographic that draws several conclusions about the nature of the average American: Apparently we Americans have a lot to say (48% of all bloggers are U.S. -based), love talking about television (77% have used social media to share their love of a show) and love video games (10% of all US-based web activity involves video games).
Networks are not always revolutionary | Technology. Al-Jazeera, a 'traditional' TV network whose success is largely a result of their net-savvy business and communications strategy.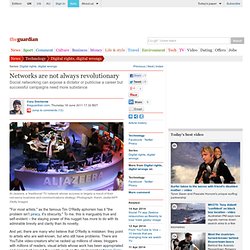 Photograph: Karim Jaafar/AFP/Getty Images "For most artists," as the famous Tim O'Reilly aphorism has it "the problem isn't piracy, it's obscurity. " To me, this is inarguably true and self-evident – the staying power of this nugget has more to do with its admirable brevity and clarity than its novelty. And yet, there are many who believe that O'Reilly is mistaken: they point to artists who are well-known, but who still have problems. There are YouTube video-creators who've racked up millions of views; bloggers with millions of readers, visual artists whose work has been appropriated and spread all around the world, such as the photographer Noam Galai, whose screaming self-portrait has found its way into everything from stencil graffiti to corporate logos, all without permission or payment. Doctor-Assisted Suicide Is Moral Issue Dividing Americans Most. PRINCETON, NJ -- Doctor-assisted suicide emerges as the most controversial cultural issue in Gallup's 2011 Values and Beliefs poll, with Americans divided 45% vs. 48% over whether it is morally acceptable or morally wrong.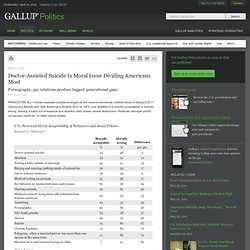 Having a baby out of wedlock and abortion also closely divide Americans. However, stronger public consensus exists on 14 other issues tested. Americans are in broadest agreement about what behaviors are morally wrong. At least 8 in 10 U.S. adults interviewed in the May 5-8 survey say this about extramarital affairs, polygamy, cloning humans, and suicide. At least 6 in 10 say pornography and cloning animals are each morally wrong. The American Dream. The American Dream is a 30 minute animated film that shows you how you've been scammed by the most basic elements of the government system.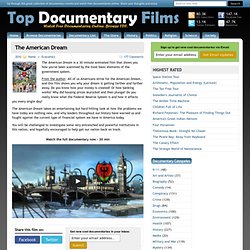 From the author: All of us Americans strive for the American Dream, and this film shows you why your dream is getting farther and farther away. Do you know how your money is created? Or how banking works? Why did housing prices skyrocket and then plunge? Do you really know what the Federal Reserve System is and how it affects you every single day? PsyWar. This film explores the evolution of propaganda and public relations in the United States, with an emphasis on the elitist theory of democracy and the relationship between war, propaganda and class.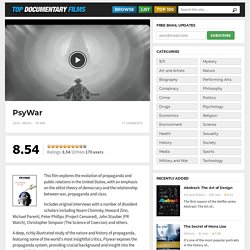 Includes original interviews with a number of dissident scholars including Noam Chomsky, Howard Zinn, Michael Parenti, Peter Phillips (Project Censored), John Stauber (PR Watch), Christopher Simpson (The Science of Coercion) and others. A deep, richly illustrated study of the nature and history of propaganda, featuring some of the world's most insightful critics, Psywar exposes the propaganda system, providing crucial background and insight into the control of information and thought. Human Resources. It's a documentary about Social Control, examining the history, the philosophy and ultimately the pathology of elite power.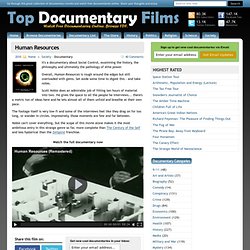 Overall, Human Resources is rough around the edges but still overloaded with gems. Set aside some time to digest this - and take notes.
Gender
---