Rubrics
Rubrics for Higher Education. Rubric Library. A Review of Rubric Use in Higher Education. This paper critically reviews the empirical research on the use of rubrics at the post-secondary level, identifies gaps in the literature and proposes areas in need of research.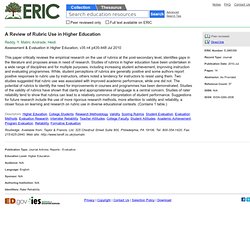 Studies of rubrics in higher education have been undertaken in a wide range of disciplines and for multiple purposes, including increasing student achievement, improving instruction and evaluating programmes. While, student perceptions of rubrics are generally positive and some authors report positive responses to rubric use by instructors, others noted a tendency for instructors to resist using them. News: Teaching Them How to Think. WASHINGTON -- By any reasonable measure, George Plopper is a skilled and successful teacher.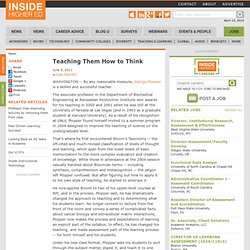 The associate professor in the Department of Biomedical Engineering at Rensselaer Polytechnic Institute won awards for his teaching in 2000 and 2001 when he was still at the University of Nevada at Las Vegas (and in 1993 as a graduate student at Harvard University). As a result of his recognition at UNLV, Plopper found himself invited to a summer program in 2004 designed to improve the teaching of science on the undergraduate level. That's where he first encountered Bloom's Taxonomy -- the oft-cited and much-revised classification of levels of thought and learning, which span from the lower levels of basic memorization to the more complex evaluation and creation of knowledge. While those in attendance at the 2004 session casually bandied about Bloomian terms -- including synthesis, comprehension and metacognition -- the jargon left Plopper confused. Rubrics. Rubrics These pages are based on the work of Bonnie B.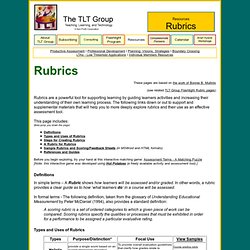 Mullinix (see related TLT Group Flashlight Rubric pages) Rubrics are a powerful tool for supporting learning by guiding learners activities and increasing their understanding of their own learning process. The following links down or out to support and supplemental materials that will help you to more deeply explore rubrics and their use as an effective assessment tool.
Rubrics - Education Atlas | EducationAtlas. Nail Technician Career If you want to become a nail technician, there are certain skills you should possess.
You should have personal skills, such as being an organized person and able to keep a hygienic work environment. Other personal skills a nail technician should have are thinking with a creative mind, keeping a positive attitude at all times, [...] Hair Stylist Career Hairstylists are almost always in demand for cutting and styling men's and women's hair.
---