Rubrics
Rubrics for Higher Education
Rubric Library
A Review of Rubric Use in Higher Education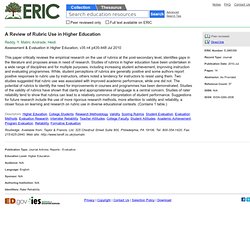 This paper critically reviews the empirical research on the use of rubrics at the post-secondary level, identifies gaps in the literature and proposes areas in need of research. Studies of rubrics in higher education have been undertaken in a wide range of disciplines and for multiple purposes, including increasing student achievement, improving instruction and evaluating programmes. While, student perceptions of rubrics are generally positive and some authors report positive responses to rubric use by instructors, others noted a tendency for instructors to resist using them.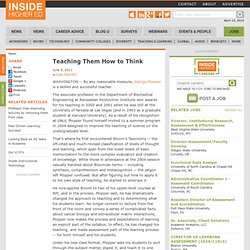 News: Teaching Them How to Think - Inside Higher Ed
WASHINGTON -- By any reasonable measure, George Plopper is a skilled and successful teacher.
Rubrics These pages are based on the work of Bonnie B.
Rubrics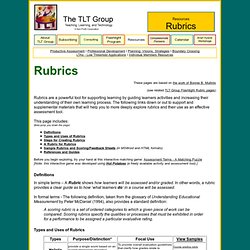 9 Principles of Good Practice for Assessing Student Learning
Online Resources for Higher Education Assessment
Rubrics - Education Atlas | EducationAtlas
Nail Technician Career If you want to become a nail technician, there are certain skills you should possess. You should have personal skills, such as being an organized person and able to keep a hygienic work environment. Other personal skills a nail technician should have are thinking with a creative mind, keeping a positive attitude at all times, [...] Hair Stylist Career Hairstylists are almost always in demand for cutting and styling men's and women's hair.