Lectures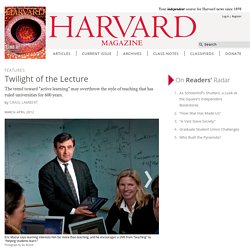 In 1990, after seven years of teaching at Harvard, Eric Mazur, now Balkanski professor of physics and applied physics, was delivering clear, polished lectures and demonstrations and getting high student evaluations for his introductory Physics 11 course, populated mainly by premed and engineering students who were successfully solving complicated problems.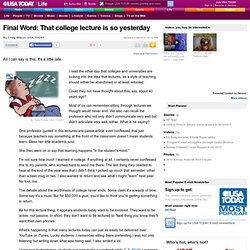 Final Word: That college lecture is so yesterday
All I can say is this: It's a little late.
Flickr:AllHails At the star-studded Harvard Initiative on Learning and Teaching (HILT) event earlier this month, where professors gathered to discuss innovative strategies for learning and teaching, Harvard's professor Eric Mazur gave a talk on the benefits of practicing peer instruction in class, rather than the traditional lecture. The idea is getting traction.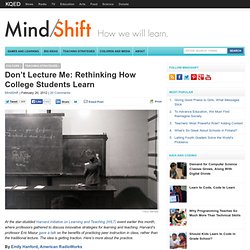 Perspectives on Instruction: Behaviorism, Cognitivism, and Constructivism
Lesson Plan – Introducing Admin to 21st C Skills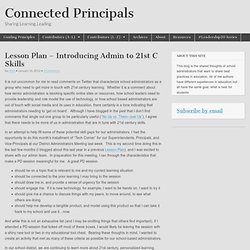 It is not uncommon for me to read comments on Twitter that characterize school administrators as a group who need to get more in touch with 21st century learning.
January 25, 2012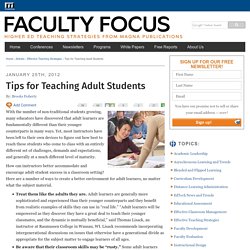 Teaching Strategies for Adult Learners
If you read Stories from the Front Lines of EFL , and thought, "I'd really like to be part of this project, but I'm not sure anyone would be interested in my story" then this post is for you. Answering just a few important questions can give you the confidence to share your thoughts and ideas about teaching. It may take a bit of time, some reading and some effort, but anyone can do it.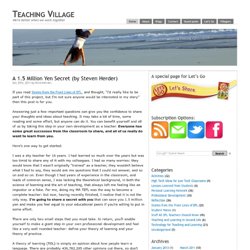 A 1.5 Million Yen Secret (by Steven Herder
http://www.aacu.org/leap/documents/GlobalCentury_final.pdf