Ed Tech
Blendspace - Create lessons with digital content in 5 minutes. Create or Upload Online Presentations and Slideshows that Don't use Flash. Ready to Sign In?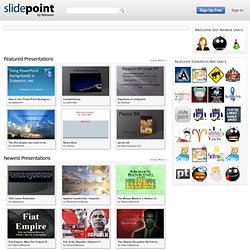 Sign In Now Your Username/Password have been sent to your Email Address. Close. Digital Faculty: Professors and Technology, 2012. Professors occasionally get lampooned as luddites responsible for the famously slow pace of change in higher education.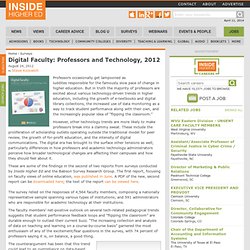 But in truth the majority of professors are excited about various technology-driven trends in higher education, including the growth of e-textbooks and digital library collections, the increased use of data monitoring as a way to track student performance along with their own, and the increasingly popular idea of "flipping the classroom." However, other technology trends are more likely to make professors break into a clammy sweat. These include the proliferation of scholarship outlets operating outside the traditional model for peer review, the growth of for-profit education, and the intensity of digital communications.
The 100 Best Video Sites For Educators. Bringing multimedia into the classroom is a great way to engage students in learning.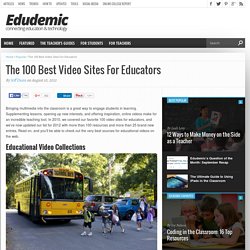 Supplementing lessons, opening up new interests, and offering inspiration, online videos make for an incredible teaching tool. In 2010, we covered our favorite 100 video sites for educators, and we've now updated our list for 2012 with more than 100 resources and more than 25 brand new entries. Read on, and you'll be able to check out the very best sources for educational videos on the web. Hybrid Pedagogy: A Digital Journal of Teaching & Technology | Home. 25 Ways Teachers Can Integrate Social Media Into Education.
ePortfolios
Multimedia. Images. File Sharing. Audio. Virtual. PDF. Word Clouds. Tag Clouds. Free Resources. Curation. General. TeachPaperless. 50 Must-Download Apps For Lifelong Learners. Added by Jeff Dunn on 2012-08-13 Long after degrees have been conferred and careers have been launched, many folks just can't seem to quit school.

For them, life provides an overstuffed cornucopia of educational opportunities that don't necessarily require hefty loans and navigating different professorial strategies. Those with a lust for learning who happen to also enjoy testing the limits of what the iPad offers definitely don't have to worry about finding resources to pique their fancy.
Apps. Video. Evernote. Google.
---