Treaty Of Guadalupe Hidalgo
Treaty of Guadalupe Hidalgo, sold land then label immigrants
Origins of Gangs in the American West | Rodrigo Ribera D'Ebre. The origins of street gangs across the United States can be traced back to immigration patterns and settlements.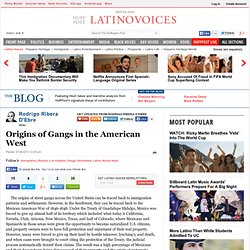 However, in the Southwest, they can be traced back to the Mexican American War of 1846-1848. Under the Treaty of Guadalupe Hidalgo, Mexico was forced to give up almost half of its territory which included what today is California, Nevada, Utah, Arizona, New Mexico, Texas, and half of Colorado, where Mexicans and Spaniards in those areas were given the opportunity to become naturalized U.S. citizens, and property owners were to have full protection and enjoyment of their real property. However, many were forced to give up their land by hostile takeover, lynching's, and death, and when cases were brought to court citing the protection of the Treaty, the judicial process systematically denied their claims.
Treaty of Guadalupe Hidalgo. The Treaty of Guadalupe Hidalgo was a Whopper! I don't know why I decided to read a history book.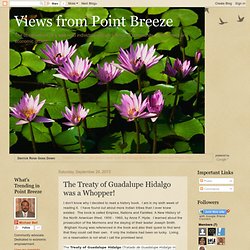 I am in my sixth week of reading it. I have found out about more Indian tribes than I ever knew existed. The book is called Empires, Nations and Families: A New History of the North American West, 1800 - 1860, by Anne F. Hyde. I learned about the prosecution of the Mormons and the slaying of their leader Joseph Smith. Treaty of Guadalupe Hidalgo - College Essays - Briannancruz1. Treaty of Guadalupe HidalgoThe treaty of Guadalupe Hidalgo is a really well know history that occur here in California, for some people it well be Mexico because we must all know that years ago this was not California it was Mexico.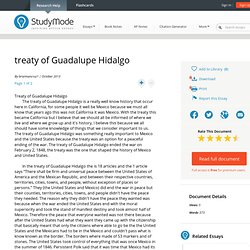 With the treaty this became California but I believe that we should all be informed of where we live and where we grow up and it's history, I believe this because we all should have some knowledge of things that we consider important to us. The treaty of Guadalupe Hidalgo was something really important to Mexico and the United States because the treaty was an option for a peaceful ending of the war. The treaty of Guadalupe Hidalgo ended the war on February 2, 1848, the treaty was the one that shaped the history of Mexico and United States. Memo From Mexico | On Guadalupe Hidalgo Day, Here's Why The U.S. Has Title To The Southwest. The Second Annual "National March for Immigrant Rights" is scheduled to be held on the U.S.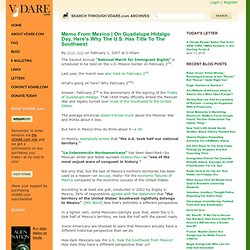 -Mexico border on February 2nd. Last year, the march was also held on February 2nd. What's going on here? Lens: ACLU Responds to Gang of 8 Immigration Plan. The ACLU welcomed the bill summary released late last night by a bipartisan group of key senators – 'the Gang of 8', and we eagerly await the introduction of complete bill text, expected later today.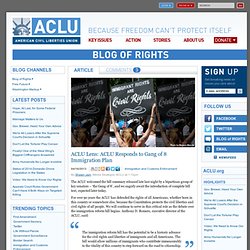 For over 90 years the ACLU has defended the rights of all Americans, whether born in this country or somewhere else, because the Constitution protects the civil liberties and civil rights of all people. We will continue to serve in this critical role as the debate over the immigration reform bill begins. Anthony D. Romero, executive director of the ACLU, said: C:\DOCUME~1\hen\LOCALS~1\Temp\EAS13500.loc - immigration.pdf. Surveillance Surge on the Border: How to Turn the US-Mexican Border into a War Zone. (Photo: Jonathan McIntosh / Flickr)The first thing I did at the Border Security Expo in Phoenix this March was climb the brown "explosion-resistant" tower, 30 feet high and 10 feet wide, directly in the center of the spacious room that holds this annual trade show.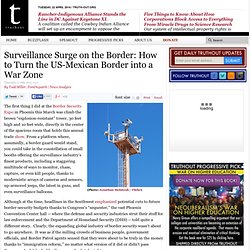 From a platform where, assumedly, a border guard would stand, you could take in the constellation of small booths offering the surveillance industry's finest products, including a staggering multitude of ways to monitor, chase, capture, or even kill people, thanks to modernistic arrays of cameras and sensors, up-armored jeeps, the latest in guns, and even surveillance balloons. Although at the time, headlines in the Southwest emphasized potential cuts to future border-security budgets thanks to Congress's "sequester," the vast Phoenix Convention Center hall -- where the defense and security industries strut their stuff for law enforcement and the Department of Homeland Security (DHS) -- told quite a different story.
Bill Ong Hing: Defining America Through Immigration Policy. Trujillo Homesteads Named National Historic Landmark. March 22, 2012 Filed under National Parks, Trailer News The Trujillo Homesteads, an early Latino settlement in Colorado's San Luis Valley, has been designated a National Historic Landmark.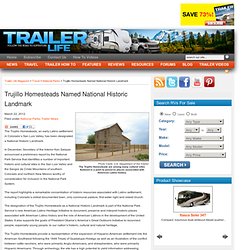 In December, Secretary of the Interior Ken Salazar announced a preliminary report by the National Park Service that identifies a number of important historic and cultural sites in the San Luis Valley and the Sangre de Cristo Mountains of southern Colorado and northern New Mexico worthy of consideration for inclusion in the National Park System. Former Hopi tribal leaders question Arizona Sen. Kyl water rights settlement | News from the Grand Canyon Trust. Former Hopi tribal leaders question Arizona Sen.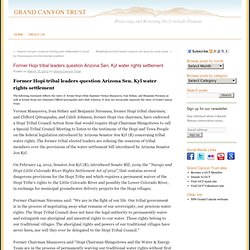 Kyl water rights settlement The following statement reflects the views of former Hopi tribal chairmen Vernon Masayesva, Ivan Sidney, and Benjamin Nuvamsa as well as former Hopi vice-chairmen Clifford Qotsaquahu and Caleb Johnson. It does not necessarily represent the views of Grand Canyon Trust. Vernon Masayesva, Ivan Sidney and Benjamin Nuvamsa, former Hopi tribal chairmen; and Clifford Qötsaquahu, and Caleb Johnson, former Hopi vice chairmen, have endorsed a Hopi Tribal Council Action Item that would require Hopi Chairman Shingoitewa to call a Special Tribal Council Meeting to listen to the testimony of the Hopi and Tewa People on the federal legislation introduced by Arizona Senator Jon Kyl (R) concerning tribal water rights.
The former tribal elected leaders are echoing the concerns of tribal members over the provisions of the water settlement bill introduced by Arizona Senator Jon Kyl. Hopi and 1848 Treaty of Gudalupe Hidalgo « Beyond the Mesas. [The following letter was written by Benjamin H.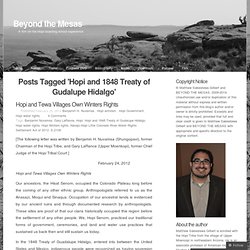 Nuvamsa (Shungopavi), former Chairman of the Hopi Tribe, and Gary LaRance (Upper Moenkopi), former Chief Judge of the Hopi Tribal Court ] February 24, 2012 Hopi and Tewa Villages Own Winters Rights Our ancestors, the Hisat Senom, occupied the Colorado Plateau long before the coming of any other ethnic group. Anthropologists referred to us as the Anasazi, Moqui and Sinaqua. Online » Spanish Ranchers Flex Muscle on Land Grant Issues. Are Latinos Getting Clowned by Obama? Hyping up its launch of Latinos for Obama, which kicks off this week, Obama 2012 will highlight the effort with a series of house parties across the country and a conference call featuring comedian George Lopez.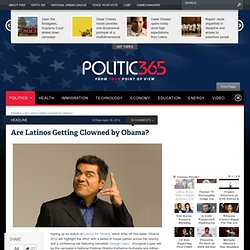 Alongside Lopez will be the campaign's National Political Director Katherine Archuleta and Adrian Saenz, the National Latino Vote Director. But will the "funny man" be able to assuage Obama supporters who may not be as enthused for the President as they were four years ago? Two immigrant workers killed by gunmen in Arizona. By our correspondents 16 April 2012 Two immigrant workers were killed last Sunday along the Arizona border.
A truck was found near Eloy, a town northwest of Tucson known for immigrant smuggling. There were 20 to 30 people in the truck when two men dressed in paramilitary clothing opened fire, killing two migrants. Obama's Broken 2008 Immigration Promises Create Dilemma For Democrats. WASHINGTON -- Rep. Luis Gutierrez (D-Ill.), one of President Barack Obama's most vocal critics on immigration, was sitting at dinner with his family a couple of weeks ago when his youngest daughter began talking about the president's "terrible" deportation record. "If they invite us to the White House, I won't go," the 24-year-old said, according to Gutierrez.
His wife, though, summed up the family's mixed feelings on the president and immigration. "Yes -- but you should clarify that notwithstanding that, we're all voting for him," his wife said, according to the congressman.
WarRape SECOMM. How Rancho Owners Lost Their Land And Why That Matters Today | Laws That Shaped LA | Land of Sunshine. Ed. Note: When Laws that Shaped L.A. columnist Jeremy Rosenberg asked Rachel Surls , Sustainable Food Systems Advisor at University of California Cooperative Extension in Los Angeles County, for her nomination of a key law, Surls emailed the below essay in reply. Rosenberg's voice returns to this space next week. Bill Ong Hing: Like It or Not, Arizona's SB 1070 Is About Racial Profiling. In the Obama administration's challenge to Arizona's anti-immigrant SB 1070, Department of Justice lawyers avoided arguing that any of the law's provisions, including the requirement that state police check the documents of suspected undocumented immigrants, invite racial profiling.
In fact, at the Supreme Court on Wednesday, Chief Justice John Roberts began the case by greeting the Solicitor General Donald Verrilli (and the rest of the country) with: "No part of your argument has to do with racial or ethnic profiling, does it? " To which the lawyer responded, "We're not making any allegation about racial or ethnic profiling in this case. " Later when Verrilli tried to make a point about Arizona Latinos who would be affected by the law, he backed away from the point after Justice Antonin Scalia complained that it sounded like racial profiling. International Boundary and Water Commission Exhibit at Organization of American States. The U.S. and Mexican Commissioners of the International Boundary and Water Commission (IBWC) inaugurated an exhibit, Maps, Minutes and Monuments: History of the Boundary Line, 1848-2011, depicting the IBWC's history and accomplishments at the Organization of American States (OAS) in Washington, D.C., Tuesday, May 9, 2012.
The exhibit will be on display at the headquarters of the OAS, located on the corner of 17th Street and Constitution Avenue, weekdays between 9:00 a.m. and 5:00 p.m. through Friday, May 18. This display is drawn from an earlier exhibit prepared for the IBWC's Border Sanitation and Water Quality Summit held in San Antonio, Texas, in March 2011. Protest Calls on Supreme Court to Strike Down Arizona Immigration Law. Obama Administration Rejects Amnesty International Charges that its Immigration Enforcement Violates Human Rights.
Big Government, Big Fence - Counter Punch. Today in History: How the Treaty of Guadalupe-Hidalgo Defined our Neighborhood Boundaries | Maps | Land of Sunshine. Speaker series to explore immigrant experience. Treaty of Guadalupe Hidalgo – 164 years of occupation! | Moorbey's Blog. Happy Treaty of Guadalupe Hidalgo Day! Treaty of Guadalupe-Hidalgo ending Mexican-American War. Taos figures prominently in new Indian Pueblo Cultural Center exhibit - The Taos News: Arts: taos pueblo, indian pueblo cultural center, native american, new mexico centennial, pueblo indians, blue lake, taos, new mexico, the taos news, Ariz. prosecutor asserts Fifth in 'Fast and Furious' probe. The Treaty of Guadalupe Hidalgo and its Effects on Mexican Americans. New Fences Block Access To U.S.-Mexico Border Monuments. Arizona Gov. Jan Brewer Wags Her Finger At President Obama. Xefobia social.
Treaty of guadalupe hidalgo. Guadalupe Hidalgo | TIERRA LIMPIA by Charles Lincoln. Border fence blocks access to important historical site. 'Repeat After Me: The United States Is Not an Imperialist Country—Oh, and Don't Get Emotional About War' « Rethinking Schools Blog. Salazar: Taylor Ranch rights will be honored - The Pueblo Chieftain: Colorado State And Regional News. Celebration marks signing of peace treaty between U.S. and Mexico. New Release Offers Family's Firsthand Experience with Land Grant Treaty Travesty; Book by Mike Scarborough.
Bill's Bills of the Day: Land grant fights continue | KRQE.com Blogs. The Treaty of Guadalupe Hidalgo (1848) « Rice on History.
Obama Administration Eases Deportation Rules. Manifest Destiny Land Grab. Secure Communities Program Under Fire Again Says Miami Immigration Lawyer - Law Firm Newswire. Undocumented citizen journalist ejected from Romney event. 404 - Not Found. Supreme Court To Hear Arizona Immigration Challenge. Eunomia » Santorum's Shaky Grasp of History. Manifest Destiny timeline. Free Mexican American Education: Still Unequal Essay - Jroldan11. Hispanic voters' uncertain allegiance to Dems could swing three states in 2012 - The Hill's Ballot Box.
Mexican War Service Records | Fold3 Blog. Arizona's victory against hate. Is Arizona Set To Change Tack On Immigration? The prison industry in the United States: big business or a new form of slavery? President James Knox Polk Timeline. The End of the End of the Frontier. » Today's Students 'Don't Know Much About History' - Big Government. Hidalgo County, NM :: County History. Valley Courier Seeds - Lecture 19. Appeals court bars student-immigration checks in Alabama but lets parts of controversial law stand - Article Comments - View topic - National and World News - General News - National News : Denver Colorado Neighbors.
U.S., Mexican cities sponsor kayaking competition on Rio Grande. Pestilence and Persistence: Yosemite Indian Demography and Culture in Colonial California. Ethnic California: Sources | UCSB Library. GOP Congressman Compares Immigrants to Vagrants, Animals.
The Forgotten Promises of the Treaty of Guadalupe Hidalgo. THE WEST - Treaty of Guadalupe Hidalgo. Border Patrol Abuses on the Rise.
---