Style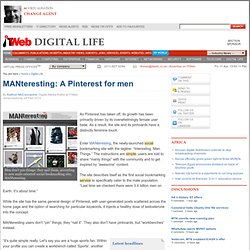 MANteresting: A Pinterest for men
Men don't pin things; they nail them, according to new male-oriented social bookmarking site, MANteresting. As Pinterest has taken off, its growth has been primarily driven by its overwhelmingly female user base. As a result, the site and its pinboards have a distinctly feminine touch. Enter MANteresting, the newly-launched social bookmarking site with the tagline: "Interesting. Man. Things."
Grammy Music Inculsive Action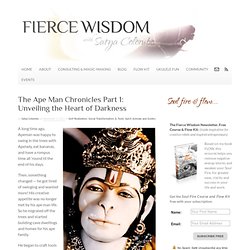 » The Ape Man Chronicles Part 1: Unveiling the Heart of Darkness » Fierce Wisdom
A long time ago, Apeman was happy to swing in the trees with Apelady, eat bananas, and have a rompus time all 'round til the end of his days. Then, something changed — he got tired of swinging and wanted more! His creative appetite was no longer met by his ape man life.
Students protest yoga pants ban
Several students at a Houston high school said they were punished for wearing yoga pants to school. The students attend Memorial High School. A Spring Branch Independent School District spokesperson said the rule is clearly stated under the dress code section of the student handbook. To protest the yoga pants rule, students created a Facebook page encouraging students to wear the pants to school on Thursday.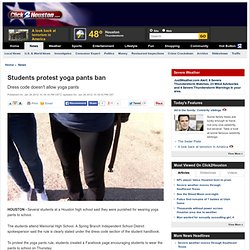 Seymour Templar By James Cheng Seymour Templar's work has been published in numerous online publications, but this New York-based photographer is genuinely humble about his photographic beginnings, referring to himself as an "accidental photographer."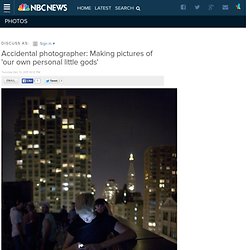 Accidental photographer: Making pictures of 'our own personal little gods'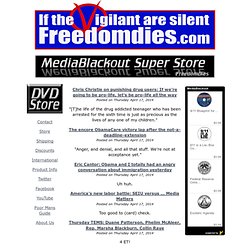 Bilderberg group | Renewable Energy Netw | Art for the Soul | FreedomDies.com
Chris Christie on punishing drug users: If we're going to be pro-life, let's be pro-life all the wayPosted on Thursday April 17, 2014 "[T]he life of the drug addicted teenager who has been arrested for the sixth time is just as precious as the lives of any one of my children." The encore ObamaCare victory lap after the not-a-deadline-extensionPosted on Thursday April 17, 2014 "Anger, and denial, and all that stuff.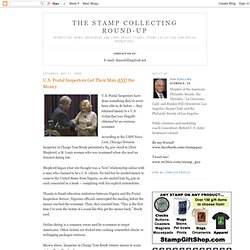 The Auction Publicity website reports that,"Two-Day sale at Philip Weiss auctions realizes a record $5.2 million as rare stamps, Peanuts comic strips and more bring dizzying prices." The auction took place last weekend, May 17-18, in Oceanside, New York. According to the write-up,"The key to the weekend's success was Part 2 of The Newport Stamp Collection, which featured some of the most rare and coveted philatelic U.S. examples in existence." It goes on to say, "Part 1 of The Newport Collection made headlines when, on February 9, an unused 1869 24-cent inverted stamp, #120, one of only four known, soared to $1.271 million.
May 2008
Adorable Tool Tank Totally Out-Cutes Your Swiss Army Knife
See how 4 compact vacation homes take on new forms for the modern age
The roof's role in both the landscape and architecture of the site and design is a unique aspect of this project. Because of the necessary terracing, the roof of the lower cabin (the yoga studio), is the initial site experience. The green roof is really the curb appeal of the property — the first facade of the design. Hook took this opportunity to treat the roof as a canvas, more so than a typical green roof, and designed it as a living piece of art, full of succulents and other plants found throughout the project.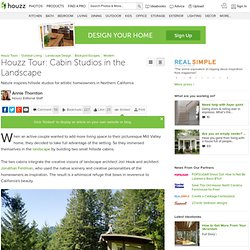 Nature inspires hillside studios for artistic homeowners in Northern California
Here's What People Look at on Facebook Brand Pages
In a horrific practice of "justice," Amina bint Abdul Halim bin Salem Nasser, a Saudi Arabian national, was executed on Monday, after being convicted of practicing sorcery, which is banned in the ultra-conservative kingdom, the interior ministry said. Amina bint Abdulhalim Nassar was executed in the northern province of Jawf for "practising witchcraft and sorcery," the ministry said in a statement carried by SPA state news agency. Second Execution For "Sorcery" Recently The execution is the second of its kind in recent months. In September a Sudanese national was beheaded in the Saudi Arabian city of Medina after being convicted on "sorcery" charges. He had allegedly confessed after being tortured and was tried without a lawyer.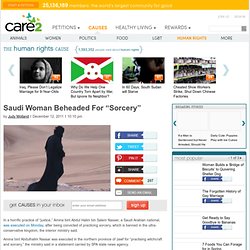 Saudi Arabian Woman Beheaded For "Sorcery"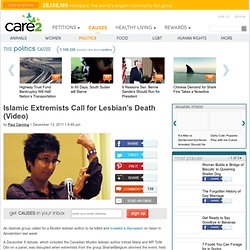 An Islamist group called for a Muslim lesbian author to be killed and invaded a discussion on Islam in Amsterdam last week. A December 8 debate, which included the Canadian Muslim lesbian author Irshad Manji and MP Tofik Dibi on a panel, was disrupted when extremists from the group Sharia4Belgium stormed the event, held at the De Balie theater in Amsterdam. The mob threw eggs and called for Manji's neck to be broken. The group of about 20 men and boys arrived halfway through the evening, chanted slogans and pelted the audience with eggs.
Islamists Call for Lesbian's Death (Video)
Gutting social safety net programs, removing child care subsidies, cutting off access to family planning, destroying the unions that fight for jobs that are predominately held by women. These activities are happening nationally, and they are happening state by state. But in North Carolina, there is an even more insidious plank in the Republican's War on Women platform: an attempt to make it more difficult for female politicians, most of them Democrats, to get reelected. "…Republicans drew nearly a dozen Democratic women out of their legislative districts in an effort to eliminate our voice in the General Assembly.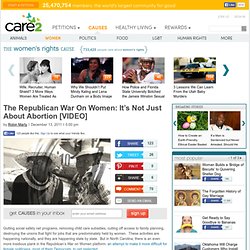 The Republican War On Women: It's Not Just About Abortion [VIDEO]
Rana Florida: Creative Spaces: New Lives for Abandoned Buildings
Built in the 14th century as a monastery for the Crutched Friars, the complex, which includes a Gothic church, enjoyed a brief second life as a government office building before it was abandoned in 1979. Late in 2000, it was thoroughly renovated and repurposed as a luxurious, five-star hotel. The old monastery houses most of the guestrooms, while the Renaissance-style concierge building and a newly-built annex accommodate the remaining spaces. The former church now contains a stunning reception area, conference rooms, a library, a boutique and a coffee bar. Photo Credit: Holly Hayes, Flickr Built in the 14th century as a monastery for the Crutched Friars, the complex, which includes a Gothic church, enjoyed a brief second life as a government office building before it was abandoned in 1979.
Could it be -- Christian Dior has finally chosen a new designer?? According to Women's Wear Daily, the day is indeed getting closer. Raf Simons, currently creative director for Jil Sander, is reportedly in talks with Dior to become the storied house's next couturier. While the job has sat vacant for nearly a year, after former creative director John Galliano's arrest and "I love Hitler" debacle, Simons' name had been in the back of many industry insiders' minds for consideration.
Raf Simons To Dior: Report