Stop CISPA
stop cispa Nov 26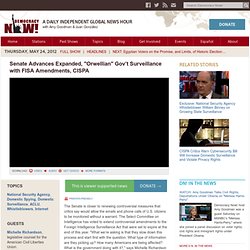 This is a rush transcript. Copy may not be in its final form. JUAN GONZÁLEZ: The Senate is moving closer to renewing a series of controversial measures that critics say allows government agencies, including the National Security Agency, to monitor your emails and phone calls.
Senate Advances Expanded, "Orwellian" Gov't Surveillance with FISA Amendments, CISPA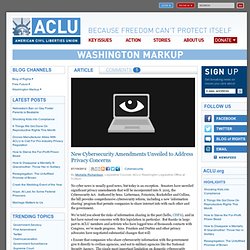 No cyber news is usually good news, but today is an exception. Senators have unveiled significant privacy amendments that will be incorporated into S. 2105, the Cybersecurity Act. Authored by Sens. Lieberman, Feinstein, Rockefeller and Collins, the bill provides comprehensive cybersecurity reform, including a new 'information sharing' program that permits companies to share internet info with each other and the government. We've told you about the risks of information sharing in the past (hello, CISPA), and in fact have raised our concerns with this legislation in particular.
New Cybersecurity Amendments Unveiled to Address Privacy Concerns
The Senate version of CISPA looks like it'll be voted on next week. We need senators to OPPOSE the bill, but SUPPORT pro-privacy amendments to it. But let's highlight some good news: Our efforts to secure Internet freedom and privacy protections have largely worked -- and frankly, far better than we'd expected.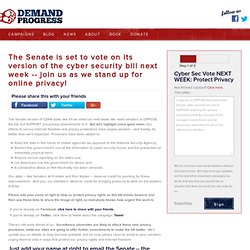 Cyber Sec Vote NEXT WEEK: Protect Privacy
Revisions that Sen. Joe Lieberman (I-Conn.) made to his Cybersecurity Act seem to have appeased privacy advocates who lobbied against an earlier version of the bill. Michelle Richardson, a legislative counsel for the American Civil Liberties Union (ACLU), told The Hill that Lieberman and other co-sponsors made "substantial changes" and undertook a "Herculean effort to build privacy protections" into the bill. Sharon Bradford Franklin, senior policy counsel at The Constitution Project, applauded the changes, saying they "go a long way toward alleviating our concerns." "The amendments address key civil liberties concerns that have dogged the cybersecurity debate," agreed Leslie Harris, president and CEO of the Center for Democracy and Technology. The statements mark a major shift for the privacy groups, which had urged the Senate to reject the previous version of Lieberman's bill to prevent an erosion of civil liberties.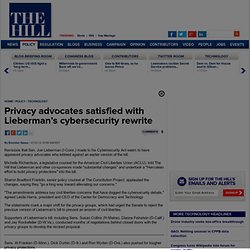 Privacy advocates satisfied with Lieberman's cybersecurity rewrite - The Hill's Hillicon Valley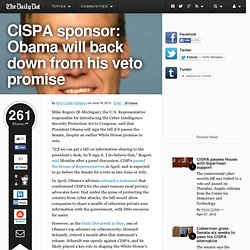 CISPA sponsor: Obama will back down from his veto promise
Mike Rogers (R-Michigan), the U.S. Representative responsible for introducing the Cyber Intelligence Security Protection Act to Congress, said that President Obama will sign the bill if it passes the Senate, despite an earlier White House promise to veto. "[I]f we can get a bill on information-sharing to the president's desk, he'll sign it. I do believe that," Rogers said Monday after a panel discussion. CISPA passed the House of Representatives in April, and is expected to go before the Senate for a vote in late June or July.
CISPA Bill Heads for The Senate: Tell Them No « Politics Dissected
CISPA: Next Steps
The Internet has been in an uproar since the Cyber Intelligence Sharing and Protection Act (CISPA) was rushed through the US House of Representatives on Thursday. Why the bill was rushed, the tally of its final count, and what happens next have all been hot in the news. My goal today is to bring you a simple, easily digestible picture of where we are in regards to CISPA, what might happen next, and what should be done. Now, as always, this post is not political in the normal sense.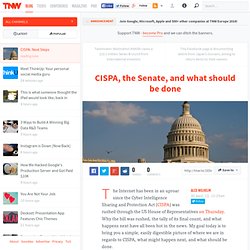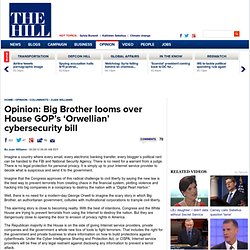 Opinion: Big Brother looms over House GOP's 'Orwellian' cybersecurity bill - TheHill.com
Imagine a country where every email, every electronic banking transfer, every blogger's political rant can be handed to the FBI and National Security Agency. There is no need for a warrant from a judge. There is no legal protection for personal privacy. It is simply up to your Internet service provider to decide what is suspicious and send it to the government. Imagine that the Congress approves of this radical challenge to civil liberty by saying the new law is the best way to prevent terrorists from creating chaos in the financial system, plotting violence and hacking into big companies in a conspiracy to destroy the nation with a "Digital Pearl Harbor."
CISPA goes undercover for Senate Vote, named Cybersecurity Act 2012, action needed!
Just what is the FBI's National Domestic Communications Assistance Center For?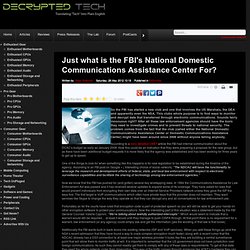 So the FBI has started a new club and one that involves the US Marshals, the DEA and apparently even the NSA. This clubs whole purpose is to find ways to monitor and decrypt data that transferred through electronic communications. Sounds fairly innocuous right? After all these law enforcement agencies should have the tools they need to investigate crimes and to prevent threats to national security. The problem comes from the fact that the club (called either the National Domestic Communications Assistance Center or Domestic Communications Assistance Center) might have been around since 2008 without anyone telling anybody.
Our friends in D.C. are telling us that the Senate vote on S.2105, the Obama-backed bill that contains the CISPA language, is going to happen as soon as they get back from Memorial Day recess. CISPA, in case you've forgotten, is the bill that would nullify all existing privacy laws and give corporations legal immunity for sharing your communications with the government. It would effectively end privacy on the internet.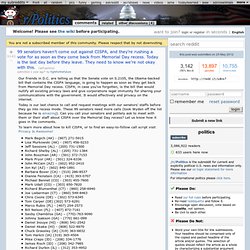 99 senators haven't come out against CISPA, and they're rushing a vote for as soon as they come back from Memorial Day recess. Today is the last day before they leave. They need to know we're not okay with this. : politics
May 27, 2012 The founder of the social news website Reddit and the online advocacy group Fight for the Future are teaming up to create a new warning and call-to-action system that will mobilize the computer community against Internet-unfriendly legislation. According to Forbes Staff Writer Andy Greenberg, 29-year-old Alexis Ohanian and the organization co-founded by Tiffiny Cheng and Holmes Wilson have joined forces to establish what they are calling the Internet Defense League, which is set to officially launch next month.
Online Activists Team Up To Create Internet 'Bat Signal'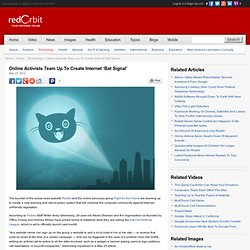 In a world (insert dramatical music here) where the forces of greed, evil and bad comb-overs are plotting to control the very lines of communication used for free speech there stands one group of rag tag heroes ready to fight them. Coming this summer … Ok so enough of the cheesy intro. After the headaches and pains of fighting both SOPA and PIPA some of the core activist groups (activists for a free and open internet) have decided to get together and create a method for notifying website owners that are interested in fighting this type of legislation when a new bill comes out. Reddit founder Alexis Ohanian and Fight for the Future (the same group that supplied many sites with the fake takedown code during the SOPA blackout) have gotten together and formed the Internet Defense League. Membership in the league is voluntary and all site owners have to do is sign up with an email address that they can send warning to.
The Internet Defense League is Moving Into Full Swing Against CISPA
Senate Democrats are quietly revamping cybersecurity legislation in an attempt to pick up Republican votes. The move is an acknowledgement that they currently lack the 60 votes needed to bring their preferred bill to the floor. "Undoubtedly we'll make some changes," a Senate Democratic aide told The Hill. But he said getting the legislation through the Senate "is not as hard of a lift as some people have made it out to be." The aide predicted that the entire Senate Democratic caucus will vote for the bill. The House passed its own measure, the Cyber Intelligence Sharing and Protection Act (CISPA), last month despite a veto threat from the White House.
Senate Dems modifying cybersecurity bill to pick up GOP votes - The Hill's Hillicon Valley
The People Trying To Ruin The Internet: John McCain
At the Voice, we have been regularly following internet policy developments. We figured it would be cool -- maybe even a public service? -- to ID people who keep pushing for web-killing proposals such as CISPA, SOPA, and PIPA in this new, occasional feature: "The People Trying To Ruin The Internet." Enjoy! Since the U.S.
A group of online activists, headed by Tiffiniy Cheng of Fight for the Future and Reddit co-founder Alexis Ohanian, have formed the Internet Defense League to warn web users of damaging legislation being crafted and organize website owners to protest in the name of Internet freedom. The initiative was inspired by the January 18 "blackout" that shut down SOPA and PIPA but will make it easier for anyone to participate. The idea is fairly simple: anyone with a website signs up using an email address, and whenever a bit of legislation that threatens the open Web pops up, the IDL will release a piece of code that webmasters can embed on their site to display a warning message. It should be noted that the warning message is not displayed automatically, as the decision to participate on each protest remains with the site owner. The league likens itself to an Internet version of the "bat signal", the idea is to get more people informed and ready to take action.
Internet Defense League seeks to protect online freedom
Analysis of CISPA: Will the government hire Facebook to spy on you?
White House: Twitter's Adopton of Do Not Track is "an Important Step"
U.K. gov't proposes terrifying new data surveillance program | Digital Trends
White House Hires a New Cybersecurity Boss
Major CISPA opponent steps down, jeopardizing White House's veto promise
Stop Big Brother - Stop CISPA | Democrats.com
CISPA: more heinous than SOPA, and it just passed
CISPA passes the House, privacy battle moves to Senate - Post Tech
Urge The President to Veto the "Cyber Intelligence Sharing and Protection Act of 2011" (CISPA).
Internet Freedom – CISPA | Worman for Congress
Sleazy business: CISPA 'pushed by spy & tech companies for profit'
Cispa finds six more sponsors as critics continue to attack new cyber spy bill | Technology
CISPA cybersecurity bill 'not being rushed through,' aide says | Security & Privacy
CISPA 'Pushed By Spy And Tech Companies For Profit'
CISPA isn't SOPA 2.0, but you should still be wary of the latest congressional tech bill
Debunking CISPA supporters' claims of harmlessness, inevitability
CISPA Isn't 'Son of SOPA' (But That's Not Saying Much) | Threat Level
Stop CISPA? Cybersecurity bill adds six new co-sponsors in two days | Digital Trends
Protests underway against CISPA cybersecurity info-sharing bill
CISPA battle heats up, as both sides fight to control the message | Digital Trends
White House questions CISPA cybersecurity bill - Tech Talk
CISPA Foes Meet, Seek Common Ground
Administration pushes against bipartisan House cybersecurity legislation - The Hill's Hillicon Valley
CISPA Sponsor Mike Rogers Says Protests Are Mere 'Turbulence' On Landing
Worse than SOPA & PIPA… CISPA is coming to censor the Internet!
UmeNow: Facebook and CISPA, Cyber Police State?
Speak Out Against CISPA: Join The Twitter Campaign And Contact Your Representative
Facebook Speaks Up On CISPA Cyber Threat Legislation Limitations
CISPA (aka SOPA 2.0) Pushed Forward by For-Profit Spying Lobby
Web freedom faces greatest threat ever, warns Google's Sergey Brin | Technology
CISPA and Facebook: Orwellian alliance or much ado about nothing?
New bipartisan House cybersecurity bill haunted by ghost of SOPA's failure - The Hill's Hillicon Valley
SOPA/PIPA: Deputizing Internet Intermediaries to Enforce IP Rights
MPAA Tech Policy Chief Quits, Comes Out Attacking SOPA/PIPA - Digital Video Forums
New CISPA Draft Narrows Cybersecurity Language as Protests Loom
Facebook weighs in on cybersecurity legislation
Facebook Responds to CISPA Controversy
Even worse than SOPA: New CISPA cybersecurity bill will censor the Web
Fascism Comes to the Internet: Introducing CISPA
Twitter Trackbacks for Say 'hello' to CISPA, it will remind you of SOPA [cnet.com
Move Over SOPA: Why CISPA Has Privacy Activists Up in Arms | Mobiledia
Facebook Defends CISPA, Denies Plans to Share User Data
Facebook defends CISPA while pledging not to share more data | Internet & Media
Facebook says it has 'no intention' to abuse CISPA
SOPA, CISPA and Other Cyber Laws: The Impact on Business
Big Brother is watching botnets: White House rolls out initiative to fight viruses
CISPA, Terrorising us into Giving up our Privacy Due to a Cyber Terrorism Threat ?
SOPA, CISPA and Other Cyber Laws: The Impact on Business
Privacy-eliminating CISPA Awaits Its Fate in the Senate
Tell Senate To Oppose Cyber Security Bill And Indefinite Detention
Who Needs CISPA? White House Unveils Voluntary Data Sharing Plan To Fight Botnets
NYTimes Reveals Details Of How US Created Stuxnet... And How A Programming Error Led To Its Escape
- fight Internet Piracy Videos
Stuxnet Was A US Operation... Now the push for SOPA, PIPA and CISPA by Congress Makes a Little More Sense...
WTF: SOPA, CISPA, FISA
How to Meet the Cyber-Threat against America in the 21st Century
Internet Defense League Hopes to Man a "Bat Signal" for Citizens of the Internet
Anonymous' Operation Facebook: Is it payback for CISPA?
: #CISPA cosponsor, twitter addresses – #cispa #opdefense #stopcispa #opblackout #cybersecurity #spying #privacy « GNU-Darwin Action Blog
Beyond CISPA: The cybersecurity bills you need to worry about right now
April 30, 2012 | With CISPA, Congress turns internet websites into police
New, Invasive Online Surveillance Bill Rears Its Head
US Senate must kill CISPA, SOPA 2.0 | The Daily Aztec
New Law Will Let the Feds Monitor Your Email | Lawyers.com
Senator Joe Lieberman's Cybersecurity Bill Faces Uphill Battle
Stop Big Brother - Stop CISPA | Democrats.com
Why the Government Can't Remain the Cybersecurity Czar
Mozilla Raises CISPA Privacy Concerns
Letting our lawmakers make laws about cybersecurity is probably a mistake
Mozilla Stand Against CISPA, Saying The Bill Will Infringes on Our Privacy
FBI Lobbies to Make Online Services Wiretap-Friendly by www
From SOPA to CISPA: The Power and Problems of Internet Activism | Speckled Axe
Twitter Pushes Back Against Subpoena For Protester's Tweets
Euro-virus extorts 'fines' from U.S. users with content-piracy accusations
Thom Hartmann: CISPA...the beginning of the end of online privacy?
Cyber Security Bill Raises Concerns Over Privacy
Reddit co-founder slams Facebook over CISPA support — RT Comments
Reddit co-founder won't buy Facebook stock over CISPA support
Mozilla Warns CISPA is "Alarming" Threat to Privacy
CISPA violates online privacy and will flood the government with too much data
Anonymous To Launch Operation Defense in Attempt to Stop CISPA