Secure Communities SECOMM GESTAPO
New american gestapo #OperationPaperclip
East Haven settles civil rights lawsuit for $450,000, changes in treatment of immigrants. EAST HAVEN >> The town has agreed to settle for $450,000 a lawsuit alleging its Police Department committed a pattern of civil rights violations against Latinos, the parties announced Monday.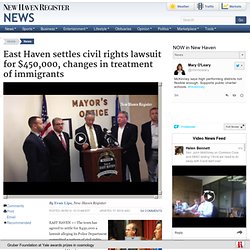 Plaintiffs hailed the settlement as a step toward changing the culture of the department. "I wish to emphasize that this settlement agreement is in no way an admission of wrongdoing on the part of the town," Mayor Joseph Maturo Jr. said, speaking in front of a podium just outside his Town Hall office, the same space where in January 2012 he announced the retirement of then-Police Chief Leonard Gallo after the arrests of four officers.
Jonathan Perez: ICE Director John Morton Kills The TRUST Act. In order to stop the California TRUST Act which had gained widespread support, Immigration Customs Enforcement's Director John Morton went as far as to blackmail the Governor of California into vetoing the TRUST Act.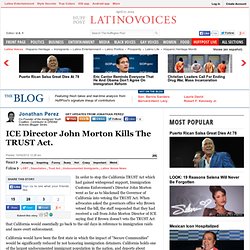 When advocates asked the governors office why Brown vetoed the bill, the staff responded that they had received a call from John Morton Director of ICE saying that if Brown doesn't veto the TRUST Act that California would essentially go back to the old days in reference to immigration raids and more overt enforcement. California would have been the first state in which the impact of "Secure Communities" would be significantly reduced by not honoring immigration detainers.
LA Won't Comply With Secure Communities: The California Report | The California Report. The Administration Deports Record Number of Illegal Immigrants. The Obama administration deported a record number of illegal immigrants for the fourth year in a row, according to the numbers released by the U.S.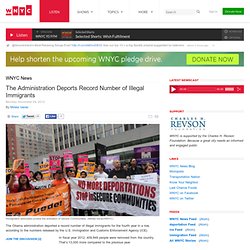 Immigration and Customs Enforcement Agency (ICE). In fiscal year 2012, 409,849 people were removed from the country. That's 13,000 more compared to the previous year. Laura E. Enriquez: Deportations and Immigration Enforcement: It's Not All Obama's Fault. As the election draws near, candidates are going head to head to fight for the Latino vote.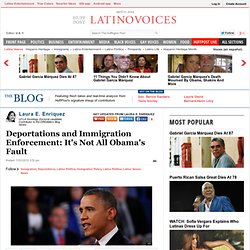 While Obama retains 73 percent of Latino registered voters, Republican campaign materials have tried to highlight his weak stance on immigration, citing his inaction on immigration reform and rising deportation numbers. While the number of deportations have in fact risen, we have to think about this more thoroughly. ICE sued for not turning over detention records. By Nancy LofholmThe Denver Post Posted: 10/25/2012 10:15:34 AM MDT|Updated: about a year ago A watchdog group that has been tracking records from Immigration and Customs Enforcement has filed suit after being turned down for more than two years in an attempt to gain access to information about detention of immigrants.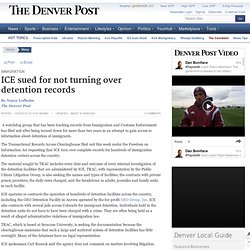 The Transactional Records Access Clearinghouse filed suit this week under the Freedom on Information Act requesting that ICE turn over complete records for hundreds of immigration detention centers across the country. Immigration-rights advocates criticize Gov. Brown's veto of Trust Act. Immigration-rights advocates are criticizing Gov.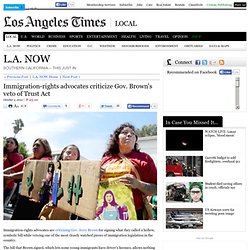 Jerry Brown for signing what they called a hollow, symbolic bill while vetoing one of the most closely watched pieces of immigration legislation in the country. The bill that Brown signed, which lets some young immigrants have driver's licenses, allows nothing beyond what is permitted under a new federal program granting a two-year reprieve from deportation. But the bill that the governor vetoed -- the so-called Trust Act -- would have barred local law enforcement officials from cooperating with federal authorities in detaining suspected illegal immigrants, except in the cases of serious or violent crime.
"Gov. Brown waited until the eleventh hour to veto the most ... impactful bill that would bring tremendous relief for the immigrant community," said Carlos Amador of Dream Team Los Angeles. Op-Ed: Pass the TRUST Act and Restore Faith in Police. By JONATHAN BIBRIESCA, Orange County Dream Team @ThisIsFusion Posted 09/28/2012, 06:56PM Updated 10/11/2013, 06:14PM When we're young, teachers instruct us that police are there for us if we ever face serious problems.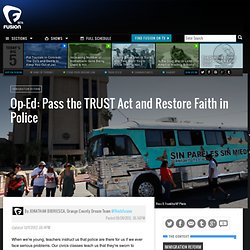 Our civics classes teach us that they're sworn to protect and serve. But for undocumented immigrants in California, seeing the police can mean the opposite: fear of deportation, losing jobs and being taken from loved ones. Michael Weiler, S.J.: California's TRUST Act Would Advance Social Justice, Uphold Core Religious Ideals. Co-authored by Bishop Marc Andrus, Rabbi Sharon Brous and Bishop Mark W.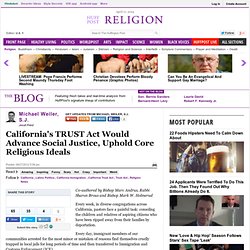 Holmerud Every week, in diverse congregations across California, pastors face a painful task: consoling the children and relatives of aspiring citizens who have been ripped away from their families by deportation. TRUST Act Vetoed: California Gov. Jerry Brown Calls Limits On Immigration Enforcement 'Flawed' WASHINGTON -- California Gov.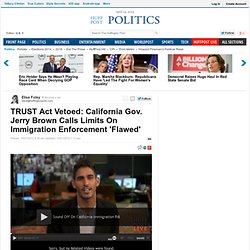 Jerry Brown vetoed a bill late Sunday to make California the "anti-Arizona" on immigration enforcement, after a long fight that took the bill into the national spotlight as a possible rebuke to a program the Obama administration has made key to its effort to remove undocumented immigrants. Brown did not announce his decision on the bill until close to midnight, Pacific time, as part of a spate of bills -- including one he did sign to allow driver licenses for some young undocumented immigrants -- that Brown needed to address before the end of September.
Even a few hours before, advocates weren't sure which way it would go, but in the end Brown ruled it "fatally flawed. " The TRUST Act, which was originally introduced by state Assemblyman Tom Ammiano, would have limited the state's law enforcement's interactions with federal immigration enforcement efforts. U.S. Citizen Sues FBI for Labeling Him 'Deportable' Under S-Comm. U.S.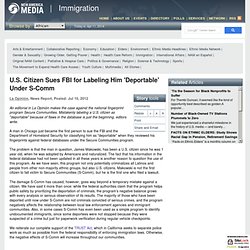 Citizen Sues FBI for Labeling Him 'Deportable' Under S-Comm La Opinión, News Report, Posted: Jul 10, 2012 An editorial in La Opinión makes the case against the national fingerprint program Secure Communities. Mistakenly labeling a U.S. citizen as "deportable" because of flaws in the database is just the beginning, editors write. Record Number of Deportations Continue Despite U.S. Review of Backlog. The New York Times reports that after seven months of an "ambitious" review by the Obama administration of all pending deportation orders fewer than 2 percent have been closed.
The Obama administration announced the deportation order reviews last August as a response to criticism they received for its record-breaking deportation rate that included DREAM Act-eligible youth, parents of U.S. citizen children and people who had never been convicted of anything. An excerpt from the NY Times story titled "Deportations Continue Despite U.S. Review of Backlog:" Under the review of more than 411,000 deportation cases, the first of its kind, fewer than 2 percent have been closed so far.
Immigration fingerprint program now statewide. De Blasio to Dept of Justice: "Secure Communities" will make NYC Less Secure | NYC Public Advocate. Mother of all flawed immigration policies  Mary Altaffer/AP Immigrants demonstrate against Secure Communities program during a rally last summer. The controversial program is expected to be activated across New York State on Tuesday. The announcement came just in time for Mother's Day: Secure Communities, the arbitrary and despised Department of Homeland Security program that requires states to identify immigrants for deportation, is expected to be activated across New York State, including in New York City, on Tuesday.
In a brave gesture Gov. ICE to Expand Secure Communities Program in Mass. and N.Y. - NYTimes.com. Obama administration officials have announced that a contentious fingerprinting program to identify illegal immigrants will be extended across Massachusetts and New York next week, expanding federal enforcement efforts despite opposition from the governors and immigrant groups in those states. In blunt e-mails sent Tuesday to officials and the police in the two states, Immigration and Customs Enforcement officials said the program, Secure Communities, would be activated "in all remaining jurisdictions" this Tuesday.
Last June, Gov. Deval Patrick of Massachusetts declined to sign an agreement with the immigration agency to expand Secure Communities beyond a pilot program in the Boston area since 2006. ICE ignores MA governor's objections, implements Secure Communities program. By End the Lie Governor Deval Patrick (second from right) (Image credit: Office of Governor Patrick) In yet another example of the federal government trampling on state's rights – a battle which has recently surfaced most visibly in the fight against states' legal medical marijuana programs which has turned into a war on the patients themselves and even their children – U.S. Immigrations and Customs Enforcement (ICE) has announced that they will completely ignore Massachusetts governor Deval Patrick's objections and implement the so-called Secure Communities program.
ICE informed leaders of local law enforcement that they would be implementing the program in coming days via email on May 8, with plants to begin the federal/state biometric data sharing program on May 15. For those who are unaware, the Secure Communities program is part of a much larger biometric information collection program which is going on nation-wide, centralizing data in the hands of federal agencies.
How "Secure Communities" makes us all insecure. The Massachusetts version of Arizona sheriff Joe Arpaio has something to celebrate. Bristol County Sheriff Thomas Hodgson, the man who brought low tech chain gangs to Massachusetts in 1999 and who (unsuccessfully) this year pushed Dickensian legislation to make inmates pay rent of $5 per day called the ICE announcement that it would implement high tech "Secure Communities" statewide in Massachusetts on May 15 "great news for law enforcement and citizens." But law enforcement and citizens of Massachusetts: Be warned!
The "Secure Communities" (S-Comm) program may be targeting immigrant communities, but it potentially affects everyone. Here's why. S-Comm is a program of biometric data collection and database interoperability. Secure Communities Costs Los Angeles County More Than $26 Million A Year: Report. California's 'anti-Arizona' immigration bill on way to governor's desk. Obama courts Hispanic supporters at NALEO conference in Orlando.
Arizona's SB 1070, racism, profiling & the Supreme Court. "Show me your papers" comes to Massachusetts - On Liberty blog. Homeland Security Secretary Napalitano Meets with Jewish Community Leaders. U. S. Legislative Immigration Update May 7, 2012 | Homeland Security Right Side News. ICE Ignores MA Governor's Objections, Implements Secure Communities Program : New Hampshire Undocumented Face Crackdown Starting this Week. Secure Communities program begins in Mass. Secure Communities arrives in Massachusetts | The Wicked Local Blog. Secure Communities program official in Mass. 'Secure Communities' immigration checks coming to Mass.
NY and MA Forced to Join Secure Communities Despite Opposition. CCR Condemns Activation of Secure Communities in New York City. Concerns as Koch rule shunted aside. New report highlights sexual abuse targeting farmworkers, including in North Carolina | Big Bite. ICE Announces Minor Deportation Policy Shift for Secure Communities. Immigration Reports Mask a Monster's Malice - Loma Linda, CA Patch. The Roundup for April 8, 2012. DHS Inspector General Fluffs the Success of Secure Communities. DHS Releases Two Reports on Secure Communities - NAM. N.C. Immigrant Rights Project director speaks to law students about pro bono work | News & Events | Wake Forest School of Law. Should fingerprints be passed along to FBI? Secure Communities, Irate Activists - Page 1 - News - Seattle. Secure Communities shift worries domestic violence prevention groups. Secure Communities Program Makes Communities Less Secure : Stop the Checkpoints. Feds Gave 'Conflicting' Answers on Controversial Immigration Program: Report.
Protesters rally against ICE's deportation program in Montgomery County. ACLU Reacts to Office of Inspector General's Reports on Secure Communities Program | ACLU of Arizona. At Worcester County jail, Brown argues for Secure Communities in state. Secure Communities activated in Montana, Washington. Sue-happy Obama will not use DOJ to enforce ICE detainers - National Immigration Reform. ROB WOUTAT | On guard, illegal aliens and drunk drivers. "ICE Cannot Reform Itself... There is No Suitable Solution for the Program Other Than its Termination"
Secure communities. Homeland Security Report Ducks Secure Communities Concerns. Whitewashing S-Comm's Immigration Enforcement Failures. Obama pledges to pursue immigration reform in second term. Repeal the "Stand Your Ground" Laws. The Border Wall: The Last Stand at Making the US a White Gated Community. Malloy stirs up feds with immigration policy. Groups Protest Undocumented Mom's Deportation to Mexico. US-VISIT About to Be Another Obama Casualty. Voto Latino: Secure Communities: The Real Cost of Failed Immigration Policy. Activists: Both 287g and Secure Communities must go - Univision. 287 (g) immigration program on chopping block - News14.com. Baltimore's mayor says thanks-but-no-thanks to ICE "Secure Communities" enforcement by city police. Richard Lazzara. Boughton Favors Starting 'Secure Communities' Program - Danbury, CT Patch. Obama Administration Working Hard to Keep Illegal Immigrants Out of Charlotte's Jail | The Meck Deck.
Over 80 Civil Rights Organizations Call on FBI to End Facilitation of ICE's "Secure Communities" Deportation Program. "OOPS": DHS' Secure Communities Arrests 3,600 U.S. Citizens | Turning the Tide. Catholic Church: Secure Communities program is flawed. Secure Communities immigration illegal immigration. Malloy agrees Secure Communities program needs caution | www.tribunact.com | Tribuna. Opposition Mounts against Border-Warning Bill. See how they voted this week: Beacon Hill Roll Call - Swampscott, MA - The Swampscott Reporter. Immigration rights groups urge FBI advisory board to end Secure Communities. DHS Expands Controversial Secure Communities Program. Immigration Watch International (2) ICE promises nationwide Secure Communities in 2013 | Boston Immigration Attorneys Blog.
ICE Official: 'Draconian' To Suspend Secure Communities Over Profiling Investigation. Asamblea de los Movimientos Sociales: The Treaty of Guadalupe Hidalgo 1848 Feb 2, 1848-2012 164 years of occupation! Anti-Mexican sentiment. In the current Immigration Debate and the Treaty of Guadalupe Hidalgo. AFL Calls for Suspension of Secure Communities | Turning the Tide. CAIR Coalition's Executive Director Testifies in Support of DC Bill to Limit Impact of Secure Communities | CAIR Coalition.
---