SECOMM gestapo
#operationpaperclip
Immigration program aimed at criminals deports many with no record. Maria Carmen's 6-year-old daughter last spent a morning at home with her father on a Wednesday in October before he went to work.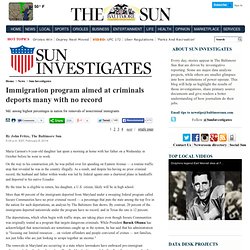 On the way to his construction job, he was pulled over for speeding on Eastern Avenue — a routine traffic stop that revealed he was in the country illegally. As a result, and despite his having no prior criminal record, the husband and father within weeks was led by federal agents onto a chartered plane in handcuffs and deported to his native Ecuador. Mayor-elect Walsh says he wants Boston to pull out of Secure Communities program - Politics. Activists keep immigration reform in national spotlight | Bay State Banner | Serving the African American communities of Greater Boston since 1965. In many ways, 2013 should have been a good year for immigration reform advocates.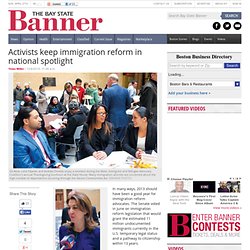 The Senate voted in June on immigration reform legislation that would grant the estimated 11 million undocumented immigrants currently in the U.S. temporary legal status and a pathway to citizenship within 13 years. But despite numerous immigration reform overtures, like his offer last week to move on immigration reforms piecemeal, President Obama has run up against the same wall of GOP opposition that has blocked so many of his administration's initiatives and nearly brought the federal government to a standstill.
One activist's frustration with the immigration stalemate boiled over last week when University of California Berkeley student Ju Hong heckled Obama, who was speaking on immigration issues in San Francisco's Chinatown neighborhood, urging him to stop deportations. As Secret Service agents moved in to remove Hong, the president stopped the agents, then spoke to the issue. - Opinion. Why Eva Longoria Is Saddened By Obama's Deportation Policy. Actress and political activist Eva Longoria may have played a prominent role in President Barack Obama's reelection campaign, but she's not entirely satisfied with the way his administration has handled immigration.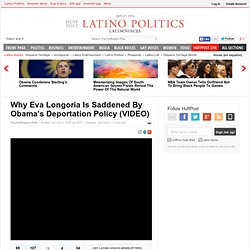 In an appearance on HuffPost Live on Tuesday, Longoria criticized the record-level deportations under Obama as well as the Secure Communities program, which requires local law enforcement to share fingerprint data with Immigration and Customs Enforcement in order to identify deportable immigrants. The Obama administration has deported roughly 400,000 immigrants per year, far surpassing his predecessors. Deportation Vehicles Blocked. Protestors gathered outside the Philadelphia Immigration and Customs Enforcement office Wednesday.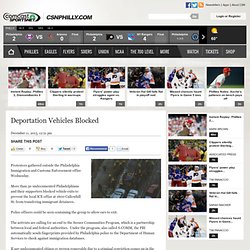 More than 50 undocumented Philadelphians and their supporters blocked vehicle exits to prevent the local ICE office at 1600 Callowhill St. from transfering immigrant detainees. Police officers could be seen containing the group to allow cars to exit. We must do what we can to right wrongs of Secure Communities program - Editorials. ICE detainer requests under Secure Communities raise Fourth Amendment issues. Immigration detainers sent to local jurisdictions by Immigration and Customs Enforcement under the Secure Communities program raise Fourth Amendment issues, writes a Colorado law professor.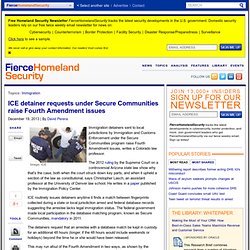 The 2012 ruling by the Supreme Court on a controversial Arizona state law show why that's the case, both when the court struck down key parts, and when it upheld a section of the law as constitutional, says Christopher Lasch, an assistant professor at the University of Denver law school. He writes in a paper published by the Immigration Policy Center. ICE routinely issues detainers anytime it finds a match between fingerprints collected during a state or local jurisdiction arrest and federal database records suggesting the arrestee lacks legal immigration status. Hola Arkansas - Eva Longoria calls stop to deportations. Actress and political activist Eva Longoria may have played a prominent role in President Barack Obama's reelection campaign, but she's not entirely satisfied with the way his administration has handled immigration.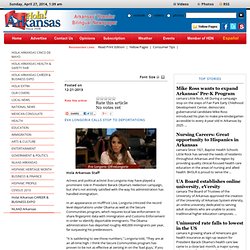 In an appearance on HuffPost Live, Longoria criticized the record level deportations under Obama as well as the Secure Communities program, which requires local law enforcement to share fingerprint data with Immigration and Customs Enforcement in order to identify deportable immigrants. The Obama administration has deported roughly 400,000 immigrants per year, far surpassing his predecessors. "It is saddening to see those numbers," Longoria told, "They are at an all-time high. Protesters halt downtown traffic with anti-deportation rally | Local News. Activists blocked M Street in front of the Fresno County Jail for about five hours on Monday as they protested deportations of undocumented persons by the U.S. government and the county's collaboration with federal immigration officers.
The protesters demanded that Sheriff Margaret Mims stop cooperating with federal Immigration and Customs Enforcement to hold undocumented arrestees for potential deportation under the Secure Communities program. Some of the marchers carried handmade signs calling for an end to deportations that separate families. The protest was planned as a rally in front of the Fresno County Courthouse by a group called Fresno Immigrant Youth in Action in collaboration with California Immigrant Youth Justice Alliance. Fewer immigrants held in New England for deportation. BOSTON (AP) — Federal officials say the number of immigrants jailed for deportation in New England plunged last year, despite the expansion of a program designed to identify people in the U.S. illegally.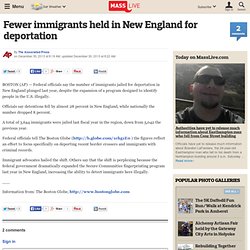 Officials say detentions fell by almost 28 percent in New England, while nationally the number dropped 8 percent. A total of 3,644 immigrants were jailed last fiscal year in the region, down from 5,042 the previous year. Federal officials tell The Boston Globe ( ) the figures reflect an effort to focus specifically on deporting recent border crossers and immigrants with criminal records. Immigrant advocates hailed the shift. Others say that the shift is perplexing because the federal government dramatically expanded the Secure Communities fingerprinting program last year in New England, increasing the ability to detect immigrants here illegally. Massachusetts Weighs Limiting Local Police Ties To Federal Immigration Officials. Massachusetts is poised to take up a measure that would curb the sharing of information on immigrants between local law enforcement authorities and federal immigration officials.
The proposed law, called "An Act To Restore Community Trust In Massachusetts Law Enforcement," more commonly known as "The Massachusetts Trust Act," takes aim at the controversial federal "Secure Communities" program, and could come to a vote this year. The underlying concern that led to the bill is apparently overzealous police officers, reporting undocumented immigrants who were arrested on minor charges to federal immigration agents. According to the Boston Globe, as of December 2012, only 46 percent of the 768 Massachusetts immigrants deported through Secure Communities had criminal records, far below the national average of 76 percent. US: Reject Extreme Immigration Enforcement Bill. (Washington, DC) – The United States House of Representatives should reject an expansive immigration enforcement bill that would worsen existing abuses within the US immigration system.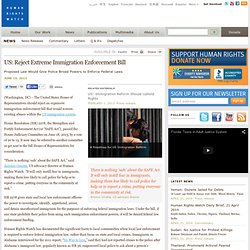 House Resolution (HR) 2278, the Strengthen and Fortify Enforcement Act (or "SAFE Act"), passed the House Judiciary Committee on June 18, 2013, by a vote of 20 to 15. It now may be referred to another committee or get sent to the full House of Representatives for consideration. "There is nothing 'safe' about the SAFE Act," said Antonio Ginatta, US advocacy director at Human Rights Watch. "It will only instill fear in immigrants, making them less likely to call police for help or to report a crime, putting everyone in the community at risk."
Michael Chertoff: Obama's immigration agenda. The three pillars of immigration reform remain largely what they were in 2007: enforcement, legal immigration and the status of illegal immigrants. What have we as a nation learned that will help ensure we fix this once and for all? Six years ago, as now, three interest groups were influential in the debate on immigration reform: those troubled that the United States had not achieved control of its borders and immigration flow; business groups unhappy with a cumbersome immigration system that does not satisfy labor markets and imposes complex regulations (including high-tech employers, which were frustrated that foreign graduates with advanced degrees were being forced to leave the United States, and employers in other economic sectors — such as agriculture — that cannot find enough American citizens to fill their labor requirements); and humanitarian groups seeking to prevent the exploitation of undocumented workers and to afford them legal status and a way to citizenship.
Obama is deporting immigrants faster than Bush. Republicans don't think that's enough. The GOP is toughening its stance on immigration in its 2012 party platform. But that's partly in response to Obama's own hawkish stance on immigration enforcement. In fact, both parties are now pushing different programs with the same goal: to increase enforcement of laws that target illegal immigration on the local level. (Source: AP) As of July, Obama deported 1.4 million illegal immigrants since the beginning of his administration — that's 1.5 times more immigrants on average than Bush deported every month, according to official numbers from the Department of Homeland Security*.
Reaction to DHS Friday Afternoon Announcement on Secure Communities and Deportation Rates. 12.21.2012 - Los Angeles, CA Today, the Immigration and Customs Enforcement Agency (ICE) announced revisions to the controversial Secure Communities deportation program. The National Day Laborer Organizing Network issued the following response: "There is broad consensus that the criminalization of immigrants driven by ICE has led to a deep, nationwide human rights crisis.
The fact that 409,000 families were separated this year should be evidence enough for the need to end programs like Secure Communities altogether. " - Pablo Alvarado, Executive Director "The announcement leaves unresolved the serious constitutional flaws at the heart of S-Comm and detainers. Calif. Gov. vetoes Trust Act, signs immigrant driver's licenses bill - Tucson Immigration. For those in Arizona concerned about issues related to immigration, it can be frustrating how difficult it often is to define precisely where our state stands on these issues. On the one hand, Arizona has been a vanguard in the struggle to impose state-legislated anti-immigrant laws, with its passage of SB 1070 in 2010. And the state has spawned some of the most prominent national figures in the fight against Latin American immigration to this country, including former State Sen. Russell Pearce, Gov. Obama Policy on Illegal Immigrants Is Challenged by Chicago.
At a news conference on Tuesday, Mayor said he would propose an ordinance that would bar police officers from turning over illegal immigrants to federal agents if the immigrants do not have serious criminal convictions or outstanding criminal warrants. In contrast to the Obama administration's long-running confrontation with officials in Arizona, who are mostly Republicans, the latest challenge to the president's immigration policies comes from Mr. Emanuel, his former chief of staff, and from other Democratic allies in 's hometown. U.S. citizen sues over detention under Secure Communities program. S-Comm and Stop and Frisk: A Threat to Society, A Letter from ED Abraham Paulos | Families for Freedom.
USDA Says Border Patrol Shouldn't Be Acting as Interpreters. 'Secure Communities' Goes into Effect: WGBH News. Fight Obama's anti-immigrant policy – 'Secure Communities' | black and pink. Racial Profiling Bill And Secure Communities Intersect. Sheriff Daron Hall announces the end of Davidson County's controversial deportation program, but questions remain | City Limits. Report: LA County spends $26 million a year to hold undocumented immigrants under Secure Communities. Secure Community Program Stays on Target After Three Months | Chelsea Record – Chelsea Massachusetts Newspaper. TRUST Act To Limit Secure Communities Heads To California Governor. Green light for Secure Communities. Feds mandate Secure Communities in Mass. Advocates, Lawmakers Protest Local Enforcement Of "Secure Communities" As Obama Administration Orders 'Secure Communities' Immigration Program, New York Pushes Back.
"Secure Communities" Program Takes Effect In City, Reaction Mixed. Young illegal immigrants coming out. The Vigilante Eye: ICE Is Flexing Its Muscle to Continue Separating Our Families « Immigration central issue in Democratic primary for Travis sheriff. The Cardozo Jurist The Cardozo Jurist. Is California the Next Secure Communities Battleground? | Lost in Detention | FRONTLINE. Homeland Security budget includes money for 'nationwide deployment' of Secure Communities. Global News Service - News and Press Release Distribution. Federal Biometric ID Program "Secure Communities" Expands to its 27th State. DHS Expands Controversial Secure Communities Program. Policy changes urge discretion, spark review of pending deportation cases. Call the White House on S-COMM! END IT, DON'T MEND IT! Secure Communities, Immigration Enforcement Initiative, Criticized By Michigan Reformers. Pablo Alvarado: "Secure Communities:" End it, Don't Mend it.
News | providencejournal.com | The Providence Journal. Amnesty International accuses U.S. immigration authorities of bias. Immigrants Stand with Trayvon Martin | Fair Immigration Reform Movement. The fate of immigrant rights for 2012. U.S. hostile towards illegal aliens, claims human rights report - National Law Enforcement. Secure Communities – THE HISPANIC BLOG. Immigration Enforcement Nets Thousands In Six-Day Operation. Langenberg -- Search and Get There Faster.
---