SECOMM gestapo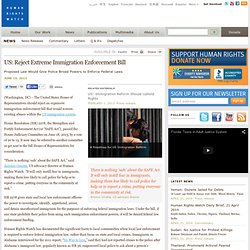 US: Reject Extreme Immigration Enforcement Bill
(Washington, DC) – The United States House of Representatives should reject an expansive immigration enforcement bill that would worsen existing abuses within the US immigration system .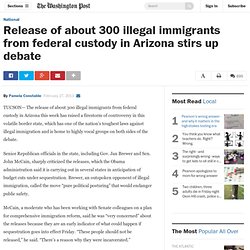 McCain, a moderate who has been working with Senate colleagues on a plan for comprehensive immigration reform, said he was "very concerned" about the releases because they are an early indicator of what could happen if sequestration goes into effect Friday. "These people should not be released," he said. "There's a reason why they were incarcerated."
Release of about 300 illegal immigrants from federal custody in Arizona stirs up debate
Michael Chertoff: Obama's immigration agenda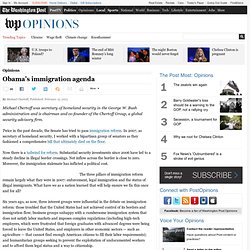 Michael Chertoff was secretary of homeland security in the George W. Bush administration and is chairman and co-founder of the Chertoff Group, a global security advisory firm. T wice in the past decade, the Senate has tried to pass immigration reform .
Obama is deporting immigrants faster than Bush. Republicans don't think that's enough.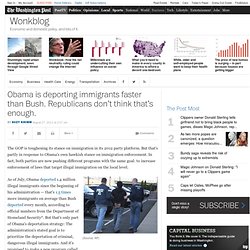 The GOP is toughening its stance on immigration in its 2012 party platform.
Reaction to DHS Friday Afternoon Announcement on Secure Communities and Deportation Rates
12.21.2012 - Los Angeles, CA Today, the Immigration and Customs Enforcement Agency (ICE) announced revisions to the controversial Secure Communities deportation program.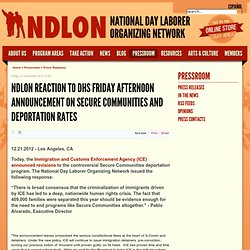 For those in Arizona concerned about issues related to immigration , it can be frustrating how difficult it often is to define precisely where our state stands on these issues.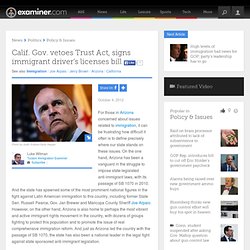 Calif. Gov. vetoes Trust Act, signs immigrant driver's licenses bill - Tucson Immigration
Obama Policy on Illegal Immigrants Is Challenged by Chicago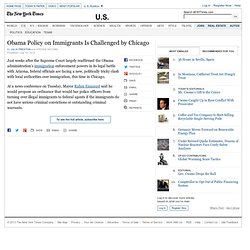 At a news conference on Tuesday, Mayor said he would propose an ordinance that would bar police officers from turning over illegal immigrants to federal agents if the immigrants do not have serious criminal convictions or outstanding criminal warrants. In contrast to the Obama administration's long-running confrontation with officials in Arizona, who are mostly Republicans, the latest challenge to the president's immigration policies comes from Mr. Emanuel, his former chief of staff, and from other Democratic allies in 's hometown.
U.S. citizen sues over detention under Secure Communities program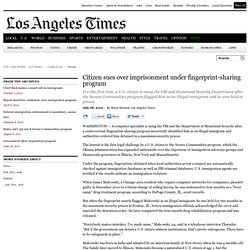 WASHINGTON — A computer specialist is suing the FBI and the Department of Homeland Security after a controversial fingerprint-sharing program incorrectly identified him as an illegal immigrant and authorities ordered him detained in a maximum-security prison.
The activation of Secure Communities (S-Comm) last month basically put New York City in the same category as Arizona, whose recent law, SB 1070, is regarded as the most draconian immigration law in the country. That is because in New York City, S-Comm is combined with the New York Police Department's (NYPD) policy of Stop and Frisk.
S-Comm and Stop and Frisk: A Threat to Society, A Letter from ED Abraham Paulos | Families for Freedom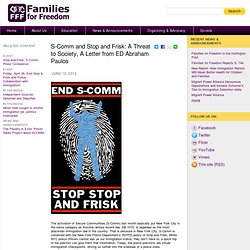 On Thursday, the U.S.
USDA Says Border Patrol Shouldn't Be Acting as Interpreters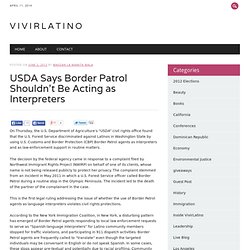 By Adam Reilly 0 Comments
'Secure Communities' Goes into Effect: WGBH News
The Obama administration is forcing police departments across the country to create partnerships with ICE (Immigration and Customs Enforcement) that will lead to the deportation of more and more people.
Fight Obama's anti-immigrant policy – 'Secure Communities' | black and pink
by Hugh McQuaid | May 17, 2012 4:43pm (1) Comment | Commenting has expired Posted to: Legal Google Hugh McQuaid Photo
Racial Profiling Bill And Secure Communities Intersect
Sheriff Daron Hall announces the end of Davidson County's controversial deportation program, but questions remain | City Limits
After nearly five years of controversies, bad headlines and a sustained cry of protest from Nashville's immigrant community, Davidson County Sheriff Daron Hall held a press conference Tuesday morning announcing that his office will no longer participate in the unpopular Immigration and Customs Enforcement program known as 287(g). Hall told reporters that when the city's memorandum of agreement with ICE for 287(g) expires on Oct. 8, his office will not seek renewal of its contract.
Chip Somodevilla/Getty Images
Report: LA County spends $26 million a year to hold undocumented immigrants under Secure Communities
Secure Community Program Stays on Target After Three Months | Chelsea Record – Chelsea Massachusetts Newspaper
TRUST Act To Limit Secure Communities Heads To California Governor
Green light for Secure Communities
Feds mandate Secure Communities in Mass.
Advocates, Lawmakers Protest Local Enforcement Of "Secure Communities"
As Obama Administration Orders 'Secure Communities' Immigration Program, New York Pushes Back
"Secure Communities" Program Takes Effect In City, Reaction Mixed
Young illegal immigrants coming out
The Vigilante Eye: ICE Is Flexing Its Muscle to Continue Separating Our Families «
Feds to activate Secure Communities program in Mass. despite objections from Gov. Patrick - Metro Desk - Local news updates from The Boston Globe
Sen. Rivera on Secure Communities
Immigration central issue in Democratic primary for Travis sheriff
The Cardozo Jurist The Cardozo Jurist
Is California the Next Secure Communities Battleground? | Lost in Detention | FRONTLINE
Homeland Security budget includes money for 'nationwide deployment' of Secure Communities
Federal Biometric ID Program "Secure Communities" Expands To Its 27th State
Global News Service - News and Press Release Distribution
Federal Biometric ID Program "Secure Communities" Expands to its 27th State
Latin American Herald Tribune - DHS Expands Controversial Secure Communities Program
Policy changes urge discretion, spark review of pending deportation cases
Call the White House on S-COMM! END IT, DON'T MEND IT!
Secure Communities, Immigration Enforcement Initiative, Criticized By Michigan Reformers
Pablo Alvarado: "Secure Communities:" End it, Don't Mend it
News | providencejournal.com | The Providence Journal
Amnesty International accuses U.S. immigration authorities of bias
Immigrants Stand with Trayvon Martin | Fair Immigration Reform Movement
The fate of immigrant rights for 2012
U.S. hostile towards illegal aliens, claims human rights report - National Law Enforcement
Secure Communities – THE HISPANIC BLOG
Immigration Enforcement Nets Thousands In Six-Day Operation
Rep. Lofgren on Homeland Security Inspector General's Secure Communities Reports - Congresswoman Zoe Lofgren