SanOnofre Nuclear Disaster Potential
San Onofre is Dead and So Is Nuclear Power
The sun sets on San Onofre. (Photo: dolanh/cc/flickr)From his California beach house at San Clemente, Richard Nixon once watched three reactors rise at nearby San Onofre. As of June 7, 2013, all three are permanently shut. It's a monumental victory for grassroots activism. it marks an epic transition in how we get our energy. In the thick of the 1970s Arab oil embargo, Nixon said there'd be 1000 such reactors in the US by the year 2000.
San Onofre nuclear power plant to shut down
The company said that it could maintain power supplies for southern California, barring an unusually hot summer or fires that damage transmission lines. Edison chief executive Theodore F. Craver Jr. said he spoke to California Gov. Jerry Brown (D) on Friday morning about plans to ensure stability of the electrical grid. "This is very much part of the uncertainty we are talking about, and we are anxious to resolve going forward," Craver said in a conference call with reporters.
U.S. helicopters over Bay Area scanning for radiation
By Sean Maher and Lisa Krieger Contra Costa Times Posted: 08/27/2012 08:14:14 AM PDT | Updated: about a year ago Helicopters will be flying low over San Francisco, Oakland, Berkeley and Pacifica through Saturday to record natural radiation levels, federal authorities said Monday. The flyovers are part of research by two federal security agencies to set baselines for radioactivity in the event of a nuclear accident or terrorism. The helicopters will fly a grid pattern about 300 feet above the ground, covering about 70 square miles for the Department of Homeland Security and the National Nuclear Security Administration. The Bay Area scans will include the areas near the Oakland-Berkeley border, along the coast in Pacifica and several areas in San Francisco.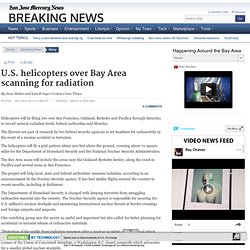 Last of Japan's 50 reactors goes offline for checks | News | DW.DE | 05.05
Greenpeace USA News & Blog
Seismic Activity and U.S. Nuclear Facilities
March 14, 2011 The map below depicts the locations of U.S. nuclear power facilities in gray, and locations of seismic activity in yellow. Data from the U.S. Geological Survey and the International Nuclear Safety Center. Following the devastation of last week's 8.9 scale earthquake and tsunami, Japanese citizens face new realities and threats stemming from damage to nuclear power plant facilities.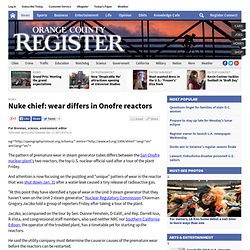 og="http://opengraphprotocol.org/schema/" xmlns="http://www.w3.org/1999/xhtml" lang="en" xml:lang="en"> The pattern of premature wear in steam generator tubes differs between the San Onofre nuclear plant's two reactors, the top U.S. nuclear official said after a tour of the plant Friday. And attention is now focusing on the puzzling and "unique" pattern of wear in the reactor that was shut down Jan. 31 after a water leak caused a tiny release of radioactive gas. "At this point they have identified a type of wear in the Unit 3 steam generator that they haven't seen on the Unit 2 steam generator," Nuclear Regulatory Commission Chairman Gregory Jaczko told a group of reporters Friday after taking a tour of the plant. Jaczko, accompanied on the tour by Sen. Dianne Feinstein, D-Calif., and Rep.
Nuke chief: wear differs in Onofre reactors
Nuke Notes: NRC: No timetable for restart at San Onofre
The visit by NRC Chairman Gregory Jaczko gives California Senator Diane Feinstein a chance to throw a curve ball in the form of the 50 mile evacuation zone It was opening day for baseball around the U.S. last week, but at Southern California Edison's San Onofre Nuclear Generating Station (SONGS), it was looking a lot more like an instance of the legend of the Mighty Case striking out. The utility still does not know what's causing the early and excessive wear on hundreds of steam tubes for the steam generators attached to the twin PWRs.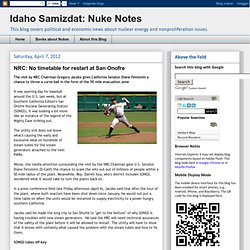 LOS ANGELES (AP) - The chief of the Nuclear Regulatory Commission will get a firsthand look at the troubled San Onofre nuclear plant in California, where the twin reactors have been sidelined for more than two months. The tour Friday by NRC Chairman Gregory Jaczko comes 10 days after the agency announced San Onofre will remain dark until Southern California Edison fixes a widespread problem with tubing that carries radioactive water. More than 300 alloy tubes at the plant located between San Diego and Los Angeles were so damaged they will be taken out of service
NRC chief heads to troubled Cal nuke plant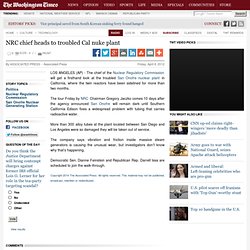 NRC chairman to visit nuclear power plant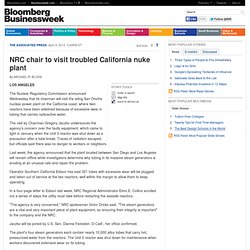 NRC chair to visit troubled California nuke plant
By MICHAEL R.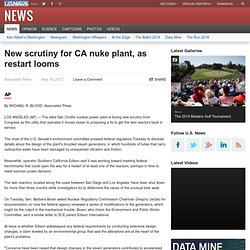 By MICHAEL R.
New scrutiny for CA nuke plant, as restart looms
Sen. Boxer seeks documents about San Onofre generator changes
Edison to brief Senate staff on San Onofre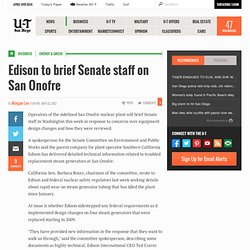 Operators of the sidelined San Onofre nuclear plant will brief Senate staff in Washington this week in response to concerns over equipment design changes and how they were reviewed. A spokesperson for the Senate Committee on Environment and Public Works said the parent company for plant operator Southern California Edison has delivered detailed technical information related to troubled replacement steam generators at San Onofre. California Sen.
NRC chairman to visit troubled San Onofre
og="http://opengraphprotocol.org/schema/" xmlns="http://www.w3.org/1999/xhtml" lang="en" xml:lang="en"> The chairman of the Nuclear Regulatory Commission will tour the stricken San Onofre nuclear plant on Friday, the latest sign of the seriousness with which the agency is taking steam-generator problems that are keeping both of the plant's reactors shut down. The chairman, Gregory Jaczko, will tour the plant with California Sen. Dianne Feinstein, and talk to reporters afterward. "He wants to visit the plant and meet with managers and get the latest information on their inspection of the steam generators, and also to look at other vital plant equipment," NRC spokesman Victor Dricks said.
A report authored by Fairewinds Associates warns that a more detailed study is needed on the alloy tubing in the plant's steam generators before the twin reactors at San Onofre are restarted, according to The Associated Press.
Southern California heating up as public and utility head for face-off over repairs
Nancy Fisher | 24th Street
The Sandpiper
014-evacuationmap-big.jpg (JPEG Image, 1200 × 1047 pixels) - Scaled (70%)
Google Image Result for http://files.abovetopsecret.com/images/member/86b080d23e58.jpg
Growing up, I used to race my station wagon down country roads, pushing the limits of the engine, my safety and bystanders' safety on the road beyond reason.
Erich Pica: San Onofre: We Can't Ignore the Warning Signs
PROTESTERS TO CALL FOR SHUT-DOWN OF SAN ONOFRE AT SEMPRA HEADQUARTERS AFTER SENATOR WARNS OF FUKUSHIMA THREAT TO U.S. | East County Magazine
Printer-friendly version "The radiation caused by the failure of the spent fuel pools in the event of another earthquake could reach the West Coast within days.
jet
Nuclear Fallout - Map of U.S. Nuclear Power Plants
San Onofre Power Plant Plans To Go Back Online