Relief Fund
New Udall, Bennet Welcome $62.8 Million from HUD for Flood Recovery Efforts. Humanitarian aid runs up against limits in Somalia | The Hungry World | Deutsche Welle | 07.11.2011. Abshiro Mohammed has built a makeshift roof over his head out of canvas and wooden sticks.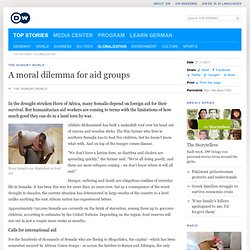 The thin farmer who lives in southern Somalia has to feed five children, but he doesn't know what with. And on top of the hunger comes disease. UN launches new aid appeal for famine-stricken Somalia | Africa | Deutsche Welle | 13.12.2011. The United Nations will require $1.5 billion (1.14 billion euros) to keep its lifesaving projects operational in Somalia next year.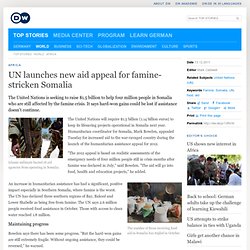 Humanitarian coordinator for Somalia, Mark Bowden, appealed Tuesday for increased aid to the war-ravaged country during the launch of the humanitarian assistance appeal for 2012. "The 2012 appeal is based on realistic assessments of the emergency needs of four million people still in crisis months after famine was declared in July," said Bowden. "The aid will go into food, health and education projects," he added. The number of those receiving food aid in Somalia has tripled in October.
An increase in humanitarian assistance has had a significant, positive impact especially in Southern Somalia, where famine is the worst. EMILY's List ups support for Warren - The Hill's Ballot Box. Elton John: Stopping the AIDS Epidemic in Its Tracks. World AIDS Day is a time for us to consider the state of the epidemic and the challenges we must overcome to achieve a world without AIDS.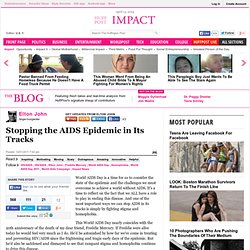 It's a time to reflect on the fact that we ALL have a role to play in ending this disease. And one of the most important ways we can stop AIDS in its tracks is simply by fighting stigma and homophobia. This World AIDS Day nearly coincides with the 20th anniversary of the death of my dear friend, Freddie Mercury. If Freddie were alive today he would feel very much as I do. He'd be astonished by how far we've come in treating and preventing HIV/AIDS since the frightening and tragic early days of the epidemic. The Blossom Bus: Help Rural Girls Get To School! Summary The Blossom Bus project employs local vehicles in rural India to transport Muslim minority girls to secondary school, clearing the single greatest obstacle to their continuing education.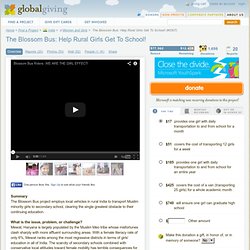 What is the issue, problem, or challenge? Mewat, Haryana is largely populated by the Muslim Meo tribe whose misfortunes clash sharply with more affluent surrounding areas. With a female literacy rate of only 6%, Mewat ranks among the most regressive districts in terms of girls' education in all of India. The scarcity of secondary schools combined with conservative local attitudes toward female mobility has terrible consequences for an adolescent girl in Mewat: if there is no school in her village, she is forced to drop out. Chancellor Linda Katehi Addresses Students of UC Davis. Immigrant of the Day: Linda Katehi (Greece) Friday, May 8, 2009 Immigrant of the Day: Linda Katehi (Greece) Our Immigrant of the Day is Linda Katehi, currently provost and vice chancellor of the University of Illinois at Urbana-Champaign.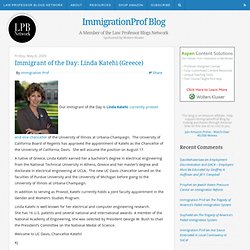 Democrats want war savings to fund new stimulus package. Democrats on the supercommittee have proposed that the savings from the end of the wars in Iraq and Afghanistan be used to pay for a new stimulus package, according to a summary of the $2.3 trillion plan obtained by The Hill.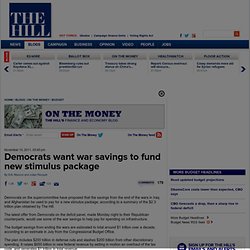 The latest offer from Democrats on the deficit panel, made Monday night to their Republican counterparts, would use some of the war savings to help pay for spending on infrastructure. The budget savings from ending the wars are estimated to total around $1 trillion over a decade, according to an estimate in July from the Congressional Budget Office. The plan includes $200 billion in defense cuts and slashes $200 billion from other discretionary spending. Fresh earthquake topples buildings in eastern Turkey | World | Deutsche Welle | 10.11.2011. A magnitude 5.6 earthquake struck in eastern Turkey late Wednesday, toppling two hotels, an apartment complex and at least 20 other buildings.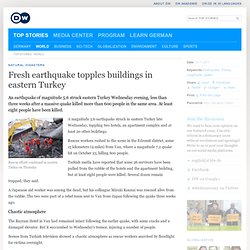 Rescue workers rushed to the scene in the Edremit district, some 15 kilometers (9 miles) from Van, where a magnitude 7.2 quake hit on October 23, killing 600 people. Turkish media have reported that some 26 survivors have been pulled from the rubble of the hotels and the apartment building, but at least eight people were killed. No Teachers to Teach HIgh School in Milwaukee. Milwaukee Public Schools (MPS) is the largest school district in Wisconsin.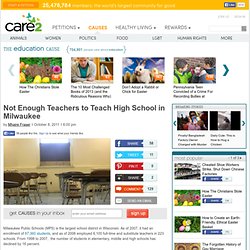 As of 2007, it had an enrollment of 87,360 students, and as of 2006 employed 6,100 full-time and substitute teachers in 223 schools. From 1998 to 2007, the number of students in elementary, middle and high schools has declined by 16 percent. In the last year, the number of teachers dropped four percent to 3,522. The Milwaukee Public Schools administration has removed two grades from a 6-12 school in Milwaukee because it can't find enough certified staff to teach, especially in the math and science courses. This comes about a month into the 2011-2012 school year. Drought Threatens Pacific Islanders' Survival. Military planes from Australia and New Zealand are rushing fresh water and desalination equipment to the island country of Tuvalu, which has declared a state of emergency after months of drought.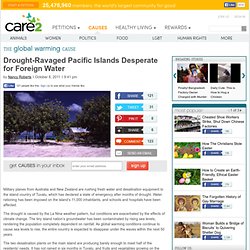 Water rationing has been imposed on the island's 11,000 inhabitants, and schools and hospitals have been affected. The drought is caused by the La Nina weather pattern, but conditions are exacerbated by the effects of climate change. The tiny island nation's groundwater has been contaminated by rising sea levels, rendering the population completely dependent on rainfall. As global warming conditions continue to cause sea levels to rise, the entire country is expected to disappear under the waves within the next 50 years.
The two desalination plants on the main island are producing barely enough to meet half of the residents' needs. Welfare Drug Testing Is Proposed, Questioned. By Teri Walker – A bill requiring welfare recipients to pass a drug test before receiving benefits will be taken up in the next legislative session, if the bill's sponsor has his way.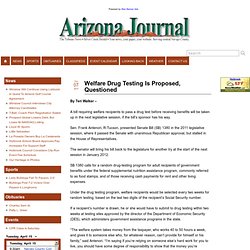 Sen. Frank Antenori, R-Tucson, presented Senate Bill (SB) 1380 in the 2011 legislative session, where it passed the Senate with unanimous Republican approval, but stalled in the House of Representatives. The senator will bring his bill back to the legislature for another try at the start of the next session in January 2012. How Non-Profits Are Using Social Media. Craigslist founder turned philanthropist Craig Newmark set out to discover which U.S. non-profits were the most effective social media users. It turns out, there doesn't appear to be a correlation between social media savvy and an organization's net worth.
"The deal is, it's not about money, it's about getting people to talk with each other to make people's lives better," says Newmark, who now focuses his energies on his non-profit craigconnects, which seeks to maximize the use of online tools for the common good. Tax prepares brace for new IRS fees, rules. The IRS, which plans to finalize the new fees in coming months, recently said it was open to ways to mitigate costs. To get certified, preparers will need to register and pass a competency test. Some will need to be fingerprinted, pass a background check with the FBI and take continuing education classes.
The IRS estimates the licensing fee for each tax preparer at between $250 and $275, but H&R Block expects the cost will be more than $400, including state fees and its own background-check expenses. Sluggish Donor Response To Pakistan Floods Disaster In The Making. By Eurasia Review International aid agency Oxfam has expressed alarm over the floods in Sindh and Balochistan provinces, as only $1.30 has been committed per person by international donors in the first 10 days of the UN appeal as opposed to $3.20 committed in the same period during last year's floods. Oxfam calls on the Government of Pakistan and the international donor community to dig deep into their resources and rapidly increase their funding to prevent the disaster from deteriorating further.
The agency warns that the situation of millions of people in Sindh and Balochistan will worsen unless more aid arrives. According to the latest figures, more than 8.8 million people in Sindh and 14,000 people in Balochistan so far have been affected by the 2011 monsoon rains. Pakistan floods: Children's needs must remain a priority. Any views expressed in this article are those of the author and not of Thomson Reuters Foundation. By Max Baldwin I have just got back from the opening ceremony of the child friendly spaces that Plan has set-up in Thatta District in the flood-affected Sindh province in Pakistan. Families who had to leave their homes in the neighbouring district of Badin were evacuated here by the local government.
Sindh floods: UN launches international appeal. UN offici­al says VIP moveme­nt hamper­ing relief work. UN official says VIP movement hampering relief work. PHOTO : AFP/ FILE UNITED NATIONS: United Nations Secretary-General Ban Ki-moon formally called on the international community to help Pakistan respond to the humanitarian needs of around six million people in flood-hit areas. "The secretary-general calls for solidarity of the international community in support of disaster management and risk reduction in Pakistan," his office said in a statement on Thursday. Over 300 killed, 6 million affected by floods in Pakistan.
---