Radioactive GOV.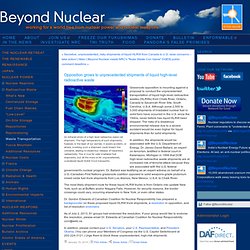 An infrared photo of a high-level radioactive waste rail shipment. The high temperature of such shipments, however, is the least of our worries.
Waste Transportation - Opposition grows to unprecedented shipments of liquid high-level radioactive waste
Court imposes heavy fine on nuclear waste handling plant in UK | Middle East Star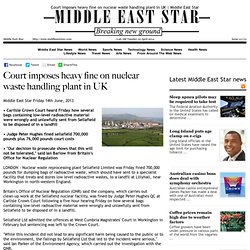 Middle East Star Friday 14th June, 2013
nuclearfreefuture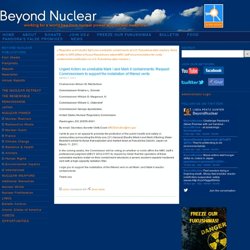 Chairwoman Allison M. Macfarlane Commissioner Kristine L.
Freeze our Fukushimas - Urgent Action on unreliable Mark I and Mark II containments: Request Commissioners to support the installation of filtered vents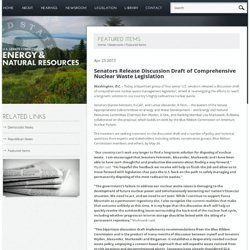 Senators Release Discussion Draft of Comprehensive Nuclear Waste Legislation - Featured Items - Newsroom - U.S. Senate Committee on Energy and Natural Resources
Washington, D.C. – Today, a bipartisan group of four senior U.S. senators released a discussion draft of comprehensive nuclear waste management legislation, aimed at re-energizing the efforts to reach a long-term solution to our country's highly radioactive nuclear waste.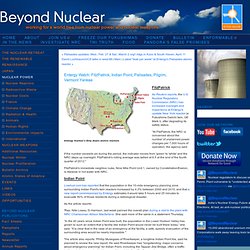 Entergy Nuclear's dirty dozen atomic reactors
NUCLEAR POWER - Entergy Watch: FitzPatrick, Indian Point, Palisades, Pilgrim, Vermont Yankee
New nuclear power plants provide clean energy
Part 2 How great is the risk?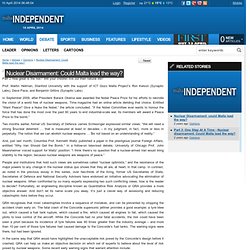 INDEPENDENT online
Behind Nuclear Breach, a Nun's Bold Fervor
Plymouth officials have embarked on an effort to unite communities with nuclear reactors across the country into a coalition that will fight for safer storage of nuclear waste at their plants. Selectwoman Belinda Brewster, who has spent a year planning last week's creation of the Coalition of Nuclear Communities, said the group will focus on safe handling of spent fuel, and would not get caught up in the broader debate over nuclear energy. "We're not going out as pro-nuke or anti-nuke," Brewster said.
Plymouth coalition formed to improve safety of storing nuclear waste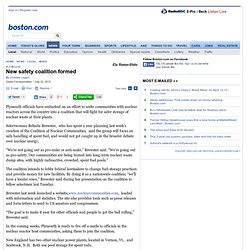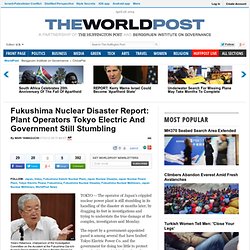 TOKYO -- The operator of Japan's crippled nuclear power plant is still stumbling in its handling of the disaster 16 months later, by dragging its feet in investigations and trying to understate the true damage at the complex, investigators said Monday. The report by a government-appointed panel is among several that have faulted Tokyo Electric Power Co. and the government for doing too little to protect the Fukushima Dai-ichi plant from the earthquake and tsunami that hit it in March 2011, and for mishandling the response when the damage set off three reactor meltdowns in the world's worst nuclear accident since Chernobyl. The investigators said the utility has yet to address problems within its own culture that contributed to its failings in the crisis, including employees "not fully trained to think for themselves."
Fukushima Nuclear Disaster Report: Plant Operators Tokyo Electric And Government Still Stumbling
Nuclear Japan Uranium Energy Radiation Gov 100 Safety Fukushima Usa Koodankulam Cesium Better Run
Mainichi: Gov't tells university researchers to stop radiation tests on Fukushima residents — "Testing people stirs uneasiness, so we would like you to stop it"
Kristen Iversen spent years in Europe looking for things to write about before realizing that biggest story she'd ever cover was in the backyard where she grew up. Iversen spent her childhood in Colorado close to the Rocky Flats nuclear weapons factory, playing in fields and swimming in lakes and streams that it now appears were contaminated with plutonium.
Under The 'Nuclear Shadow' Of Colorado's Rocky Flats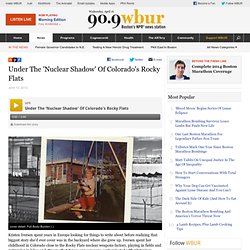 FALLOUT FORECAST & ALERT FOR UK 6.22.2012
Fallout Guide for Canada...week of June 25, 2012
Fallout Guide for Europe...week of June 25, 2012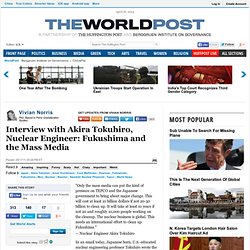 Vivian Norris: Interview with Akira Tokuhiro, Nuclear Engineer: Fukushima and the Mass Media
"Only the mass media can put the kind of pressure on TEPCO and the Japanese government to bring about major change. This will cost at least 10 billion dollars if not 20-30 billion to clean up.
I am the vice president for business development at Blue Castle Holdings, the Utah company proposing the development of a nuclear generating station near Green River.
Why consider nuclear energy for Utah - Moab Sun News: Opinion
Blue Castle Nuclear Project Says NRC License for Georgia Reactors Shows Predictability and New Jobs | HPCwire: HPC Market Watch
Boehner hands Democrats another gift: Reviving their 2012 coalition
IAEA, Iran begin new nuke talks - From the Wires
Finland's brilliant plan for dealing with nuclear waste: pulling a Keyser Söze
SExpand
N.Korea Comes Closer to Triggering Nuclear Arms Race
The U.S.
94 Organizations Urge Senate to Reject Possible Renomination of Kristine Svinicki to NRC
WASHINGTON - April 30 - Ninety-four national, regional and local organizations and small businesses today urged the Senate Environment Committee to reject the possible re-nomination of Kristine Svinicki to a second term at the Nuclear Regulatory Commission. In a letter sent to Senate Environment Committee Chair Barbara Boxer (D-Calif.) and Ranking Member James Inhofe (R-Okla.), the groups said that "…during her first term as an NRC Commissioner, Ms.
Regulatory Meltdown Goes Nuclear: Will Attacks on NRC's Jaczko Kill Post-Fukushima Upgrades?
Obama Sides with GOP Against Reid in Battle over Nuclear Regulator
Obama makes NRC nomination over Reid opposition | KRGV.com | CHANNEL 5 NEWS | Breaking News Breaking Stories
Fukushima Reactor 4 Release Would Doom Western USA - Technorati Green
Elder loses court fight over outback mining plan
Fulfill the vision: Protect Grand Canyon
Memorializing the "Non-Catastrophic" Fukushima nuclear disaster
Yucca Mountain May Get Second Life
Letters: Nuclear energy and Darrell Issa
The Worst Yet to Come? Why Nuclear Experts Are Calling Fukushima a Ticking Time-Bomb | Personal Health
Jaczko: No Schedule for SONGS Restart
NRC sends inspectors to Progress NC Harris reactor
Politicians urge the NRC to further prolong its review of the Pilgrim nuclear reactor's license | Mass. Market
Talk of restart at San Onofre 'clearly premature'
Disaster Prevention and Nuclear Safety Network for Nuclear Environment/ English Top Page
Radiation Network
Fukushima hot particles By Marco kaltofen
Question for BRAWM team about "Americium"
Fairewinds Energy Education
Fig Tree - Marco Kaltofen, WPI researcher aids nuclear clean up
Head Researcher: Boulder, Colorado a "hot spot" for Fukushima fallout — None of their other US or Canadian samples came close to Boulder's contamination, except Portland which was even higher
Radiation from Japanese nuclear plant found in Colorado: Health dept. says no need to panic
San Francisco Bay View - National Black Newspaper of the Year
US reduces expenses by using depleted uranium in wars
Top Japanese Officials endorse new nuclear safety standards created in less than one week
Radioactive Water Leaks from Japan's Fukushima Plant
Nitrogen injection at Fukushima Daiichi stopped for third time in last month
Radioactive Seawater Impact Map (update: March 2012)
Fukushima Reactor 4: Life On Planet Earth in the Balance
just ask NRC at radioactive.gov.usa by shankargallery Apr 9
Fukushima Daiichi Nuclear Plant Weekly Review
Tepco's Cheapskate Tactics Put World at Risk
Cesium contamination in Japan found over 300km from Fukushima Daiichi
Fukushima, again - In The Aggregate – Arizona's political blogs
Are Fish Affected by Radioactive Kelp Off Our Coast? - Belmont Shore-Naples, CA Patch
Fukushima Radiation: Still a Threat?
<h1>Dr Rima Recommends<br />Natural Solutions for a Weaponized World…</h1>
Japan Fukushima Disaster: Nuclear Reactor Still Has Fatally High Radiation Levels, Little Water
Experts: Radiation at Fukushima Plant Far Worse Than Thought
Fukushima Radiation Moving Steadily Across Pacific
Open warfare: four NRC commissioners versus Chairman Jaczko | Atomic Insights
The Truth About the US Postal Service
Repeat Performance: NRC approves COL for V.C. Summer
Eyeballing 104 Nuclear Reactors at 63 Power Plants
Clean Energy Insight - Moving Energy Forward » Blog Archive » An Inside View: US Federal Government Approves Yet Another Nuclear Energy Plant for Construction
As Fukushima Worsens, US Approves New Nukes
PinonRidgeMill<->SheepMountainAlliance
Energy Fuels Gets More Time On Colorado Mill Payments
Nuclear Engineer Arnie Gundersen: Fukushima Meltdown Could Result in 1 Million Cases of Cancer