PrionInfection.Gov
(CBS/AP) SEOUL, South Korea - Two major South Korean retailers pulled U.S. beef from their stores Wednesday following the discovery of mad cow disease in a U.S. dairy cow, but reaction elsewhere in Asia and the world was largely muted. Japan said there's no reason to restrict imports. Canada likewise said that the newly discovered case wouldn't affect trade with the U.S. and the United Kingdom said no extra precautions or bans would be instituted. South Korea's No. 2 and No. 3 supermarket chains, Home Plus and Lotte Mart, said they halted sales of U.S. beef to calm worries among South Koreans. But within hours, Home Plus had resumed sales and cited a government announcement of increased inspections.
World reaction to U.S. mad cow case largely muted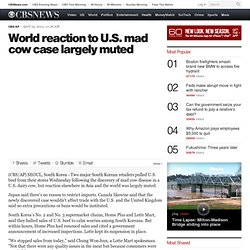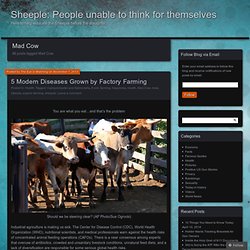 Mad Cow | Sheeple: People unable to think for themselves
Industrial agriculture is making us sick. The Center for Disease Control (CDC), World Health Organization (WHO), nutritional scientists, and medical professionals warn against the health risks of concentrated animal feeding operations (CAFOs). There is a near consensus among experts that overuse of antibiotics, crowded and unsanitary livestock conditions, unnatural feed diets, and a lack of diversification are responsible for some serious global health risks. As Dr.
Don't expect a lot of Irish or French steak to land on American dinner tables anytime soon now that the U.S. has lifted its ban on imports of European Union beef, which it imposed 15 years ago because of fears over "mad cow" disease. With the European Union barely a net exporter of beef as it is, last week's final rule overhauling U.S. import regulations for bovine spongiform encephalopathy, as the disease is scientifically known, may have served more as a quid pro quo aimed at helping the United States and European Union broker the massive Transatlantic Trade and Investment Partnership deal. Continue Reading "It's important in terms of setting a precedent; if the U.S. opens up, it will probably help to open to other markets as well, but it's not earth-shattering in terms of trade," said Ralph Ichter, a former agriculture counselor at the French Embassy who now represents French agriculture interests in Washington. (Also on POLITICO: Full agriculture policy coverage)
Lifting European Union beef ban may aid transatlantic deal - Adam Behsudi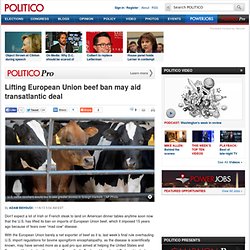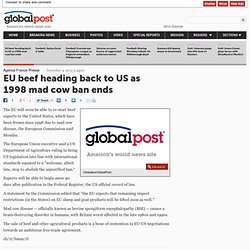 EU beef heading back to US as 1998 mad cow ban ends
Advertisement Please support our site by enabling javascript to view ads. The EU will soon be able to re-start beef exports to the United States, which have been frozen since 1998 due to mad cow disease, the European Commission said Monday.
The U.S. Department of Agriculture (USDA) issued new regulations Friday that align the federal protections against mad cow disease with international standards. The long-awaited rule, issued by the USDA's Animal and Plant Health Inspection Service (APHIS), drew praise from lawmakers from both sides of the aisle, who said it would help to open more international markets to U.S. beef products.
USDA adjusts mad cow rules | TheHill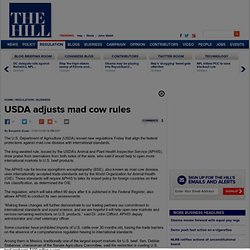 A survey of more than 32,000 appendix samples has revealed that 16 samples were positive for the abnormal "prion proteins" found in variant CJD patients, a degenerative brain disease acquired from exposure to contaminated meat products. The appendix operations were carried out between 2000 and 2012 and the samples were taken anonymously from patients attending more than 40 hospitals in Britain in order to assess the prevalence of vCJD in the population. So far only 177 people in the UK have been diagnosed with vCJD, along with about a further 50 patients in other countries. Scientists do not know how many people may be incubating the lethal disease without showing symptoms because as yet there is no simple blood test for prion proteins. Scientists are assuming there is a pool of people who are incubating the brain disease because it takes many years and sometimes decades for the first symptoms to show.
Human form of 'mad cow' disease twice as prevalent as previously thought, study reveals - Science - News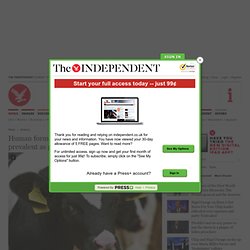 U.S. confirms case of mad cow disease | Video | Reuters.com
You are responsible for reading, understanding and agreeing to the National Law Review's (NLR's) and the National Law Forum LLC's Terms of Use and Privacy Policy before using the National Law Review website. The National Law Review is a free to use, no-log in database of legal and business articles. The content and links on www.NatLawReview.com are intended for general information purposes only.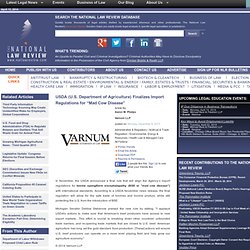 USDA (U.S. Department of Agriculture) Finalizes Import Regulations for "Mad Cow Disease"
Watch Mad cow disease discovered in u s cattle at california dairy Online Free HD Quality
Mad Cow Disease Found in California
We Feed Cows Chicken Poop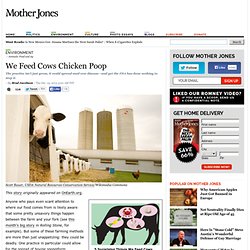 This story originally appeared on OnEarth.org. Anyone who pays even scant attention to where our food comes from is likely aware that some pretty unsavory things happen between the farm and your fork (see this month's big story in Rolling Stone, for example). But some of these farming methods are more than just unappetizing: they could be deadly. One practice in particular could allow for the spread of bovine spongiform encephalopathy, or BSE, the gruesome and fatal neurodegenerative disorder more commonly known as mad cow disease.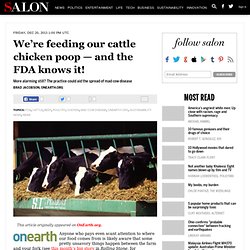 We're feeding our cattle chicken poop — and the FDA knows it!
Anyone who pays even scant attention to where our food comes from is likely aware that some pretty unsavory things happen between the farm and your fork (see this month's big story in Rolling Stone, for example). But some of these farming methods are more than just unappetizing: they could be deadly. One practice in particular could allow for the spread of bovine spongiform encephalopathy, or BSE, the gruesome and fatal neurodegenerative disorder more commonly known as mad cow disease.
Docket Browser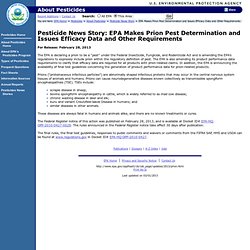 For Release: February 28, 2013 The EPA is declaring a prion to be a "pest" under the Federal Insecticide, Fungicide, and Rodenticide Act and is amending the EPA's regulations to expressly include prion within the regulatory definition of pest. The EPA is also amending its product performance data requirements to clarify that efficacy data are required for all products with prion-related claims. In addition, the EPA is announcing the availability of final test guidelines concerning the generation of product performance data for prion-related products.
Makes Prion Pest Determination and Issues Efficacy Data and Other Requirements | Pesticides
Scientists from the University of Southampton have identified the molecular system that contributes to the harmful inflammatory reaction in the brain during neurodegenerative diseases. An important aspect of chronic neurodegenerative diseases, such as Alzheimer's, Parkinson's, Huntington's or prion disease, is the generation of an innate inflammatory reaction within the brain. Results from the study open new avenues for the regulation of the inflammatory reaction and provide new insights into the understanding of the biology of microglial cells, which play a leading role in the development and maintenance of this reaction. Dr Diego Gomez-Nicola, from the CNS Inflammation group at the University of Southampton and lead author of the paper, says: "The understanding of microglial biology during neurodegenerative diseases is crucial for the development of potential therapeutic approaches to control the harmful inflammatory reaction.
Scientists identify molecular system that could help develop potential treatments for neurodegenerative diseases
Butler (2006) emphasises the importance of psychiatrists being aware of prion disease. We feel that psychiatrists in low- and middle-income countries also need to be aware of these disorders. The low prevalence rate in such countries might be attributable to underdiagnosis and underreporting.
Prion disease in Sri Lanka
IS SCHIZOPHRENIA A PRION DISEASE? at The Psych Guru
Alzheimer's disease and other forms of dementia may spread within nerve networks in the brain by moving directly between connected neurons. Recent experiments in which researchers transplanted post-mortem, human brain extracts from dementia patients into genetically modified mice have resulted in disease. In the engineered mice, over the course of 22 months, abnormal tau spread from the entorhinal cortex into the neocortex, which is similar to human progression of Alzheimer's.
In naturally acquired transmissible spongiform encephalopathies, the pathogenic agents or prions spread from the sites of initial peripheral uptake or replication to the brain where they cause progressive and fatal neurodegeneration. Routing via the peripheral nervous system is considered as one of the main pathways to attain the central nervous system. Replication of prions in Schwann cells is viewed as a potentially important parameter for efficient prion spread along nerves. Here we used a Cre-loxP mouse transgenetic approach to disrupt PrPC specifically in myelinating Schwann cells. Despite the use of infection routes targeting highly myelinated nerves, there was no alteration in mouse prion pathogenesis, suggesting that conversion-dependent, centripetal spread of prions does not crucially rely on PrPC expressed by myelinating Schwann cells.
Targeted knock-down of cellular prion protein expression in myelinating Schwann cells does not alter mouse prion pathogenesis
Behavior of Prions in the Environment: Implications for Prion Biology
Shannon L. Bartelt-Hunt mail, Jason C. Bartz mail
US Boys Experiencing Puberty At Younger Age Eurasia Review
GOP scrambles for farm bill votes - The Hill - covering Congress, Politics, Political Campaigns and Capitol Hill | TheHill.com
'Mad Cow' Detectable Earlier in Autonomic Nervous System - Southern Hills Cardiology
U.S. beef exports to Korea decline 24 percent: USMEF
Plague Inc. Prion Brutal Guide
California Cows Unhappy About Mad Cow Disease
USDA Quarantines Second California Farm in Mad Cow Disease Investigation
Is the US sending all its mad cows to us?
Ghana, Business Advice, Jobs, News, Business Directory, Real Estate, Finance, Forms, Auto
L-type Strain of Mad Cow Disease Raises Concern
Mad Cow Reported, USDA Filling in Details
Parkinson's protein causes disease spread in animal model
Not Only the Cows Are Mad
- CNA ENGLISH NEWS
Human Prion Diseases - Infectious Diseases - Other forms of dementia - Dementia - Alzheimer Europe
4 Proofs the USDA Doesn't Care About Your Health
Mad Cow Disease May Infect Through Milk Despite USDA Claims
Prions in Milk from Ewes Incubating Natural Scrapie
- CNA ENGLISH NEWS
Mad Cow Disease Remains Rare Since Discovery in U.K.: Factsheet
10 Facts About Mad Cow Diseases
Can Milk Transmit Mad Cow Disease?
- CNA ENGLISH NEWS
Sick cow killed after random mutation warps brain cells and makes it lame in fourth ever case of mad cow disease in the U.S.
California Mad Cow Case No Reason For Panic
Bovine Spongiform Encephalopathy (BSE)
Brain-Wasting Prions Amass Before Dealing Deathblow | Wired Science
Oral and nasal mucosal pathways of prion infection in chronic wasting disease. - Nathaniel David Denkers - Bok (9781244661325
Chronic Wasting Disease and Potential Transmission to Humans - Vol. 10 No. 6 - June 2004
Possible Way To Prevent Brain Cell Death Discovered
Mad cow disease confirmed at California dairy
prions.indd
Intracerebral inoculation of pathological α-synuclein initiates a rapidly progressive neurodegenerative α-synucleinopathy in mice
Fatal Flaws by Jay Ingram: column
JAMA Network | Topic Collection | Prion Diseases
Prion funding cut short-sighted