PrionInfection.Gov
Docket Browser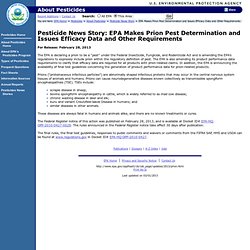 For Release: February 28, 2013 The EPA is declaring a prion to be a "pest" under the Federal Insecticide, Fungicide, and Rodenticide Act and is amending the EPA's regulations to expressly include prion within the regulatory definition of pest. The EPA is also amending its product performance data requirements to clarify that efficacy data are required for all products with prion-related claims. In addition, the EPA is announcing the availability of final test guidelines concerning the generation of product performance data for prion-related products.
Makes Prion Pest Determination and Issues Efficacy Data and Other Requirements | Pesticides
Scientists from the University of Southampton have identified the molecular system that contributes to the harmful inflammatory reaction in the brain during neurodegenerative diseases. An important aspect of chronic neurodegenerative diseases, such as Alzheimer's, Parkinson's, Huntington's or prion disease, is the generation of an innate inflammatory reaction within the brain. Results from the study open new avenues for the regulation of the inflammatory reaction and provide new insights into the understanding of the biology of microglial cells , which play a leading role in the development and maintenance of this reaction. Dr Diego Gomez-Nicola, from the CNS Inflammation group at the University of Southampton and lead author of the paper, says: "The understanding of microglial biology during neurodegenerative diseases is crucial for the development of potential therapeutic approaches to control the harmful inflammatory reaction.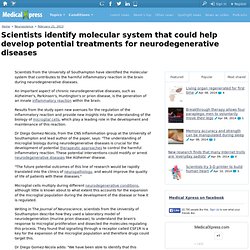 Scientists identify molecular system that could help develop potential treatments for neurodegenerative diseases
Butler ( 2006 ) emphasises the importance of psychiatrists being aware of prion disease. We feel that psychiatrists in low- and middle-income countries also need to be aware of these disorders. The low prevalence rate in such countries might be attributable to underdiagnosis and underreporting.
Prion disease in Sri Lanka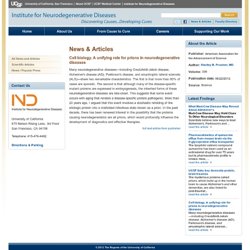 Cell biology. A unifying role for prions in neurodegenerative diseases | Institute for Neurodegenerative Diseases | University of California
Many neurodegenerative diseases—including Creutzfeldt-Jakob disease, Alzheimer's disease (AD), Parkinson's disease, and amyotrophic lateral sclerosis (ALS)—share two remarkable characteristics. The first is that more than 80% of cases are sporadic. The second is that although many of the disease-specific mutant proteins are expressed in embryogenesis, the inherited forms of these neurodegenerative diseases are late-onset.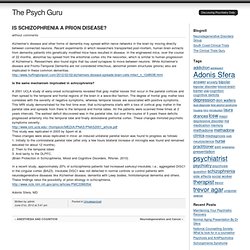 IS SCHIZOPHRENIA A PRION DISEASE? at The Psych Guru
Alzheimer's disease and other forms of dementia may spread within nerve networks in the brain by moving directly between connected neurons. Recent experiments in which researchers transplanted post-mortem, human brain extracts from dementia patients into genetically modified mice have resulted in disease. In the engineered mice, over the course of 22 months, abnormal tau spread from the entorhinal cortex into the neocortex, which is similar to human progression of Alzheimer's.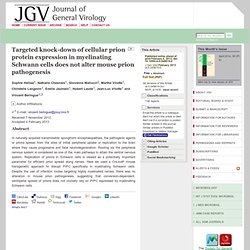 In naturally acquired transmissible spongiform encephalopathies, the pathogenic agents or prions spread from the sites of initial peripheral uptake or replication to the brain where they cause progressive and fatal neurodegeneration. Routing via the peripheral nervous system is considered as one of the main pathways to attain the central nervous system. Replication of prions in Schwann cells is viewed as a potentially important parameter for efficient prion spread along nerves. Here we used a Cre-loxP mouse transgenetic approach to disrupt PrPC specifically in myelinating Schwann cells. Despite the use of infection routes targeting highly myelinated nerves, there was no alteration in mouse prion pathogenesis, suggesting that conversion-dependent, centripetal spread of prions does not crucially rely on PrPC expressed by myelinating Schwann cells.
Targeted knock-down of cellular prion protein expression in myelinating Schwann cells does not alter mouse prion pathogenesis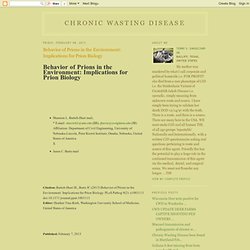 Behavior of Prions in the Environment: Implications for Prion Biology
Shannon L. Bartelt-Hunt mail , Jason C. Bartz mail
By Eurasia Review -- (October 21, 2012) A study conducted by the American Academy of Pediatrics (AAP) has documented that boys in the U.S. are experiencing the onset of puberty six months to two years earlier than reported in previous research. The study, "Secondary Sexual Characteristics in Boys: Data from the Pediatric Research in Office Settings Network," will be published in the November 2012 Pediatrics and published online Oct. 20 to coincide with the AAP National Conference & Exhibition in New Orleans.
US Boys Experiencing Puberty At Younger Age Eurasia Review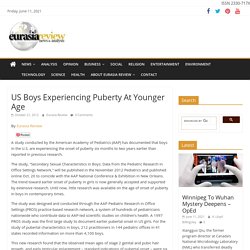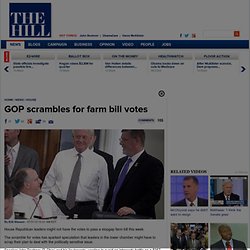 GOP scrambles for farm bill votes - The Hill - covering Congress, Politics, Political Campaigns and Capitol Hill | TheHill.com
House Republican leaders might not have the votes to pass a stopgap farm bill this week. The scramble for votes has sparked speculation that leaders in the lower chamber might have to scrap their plan to deal with the politically sensitive issue. Speaker John Boehner (R-Ohio) and his lieutenants, wanting to avoid an intraparty battle on a $957 billion five-year bill approved by the House Agriculture Committee, scheduled a vote on a one-year farm program extension that includes drought relief provisions.
'Mad Cow' Detectable Earlier in Autonomic Nervous System - Southern Hills Cardiology
Prions detectable in autonomic nervous system before central nervous system WEDNESDAY, July 11 (HealthDay News) -- Prions responsible for bovine spongiform encephalopathy (BSE) are detectable in the autonomic nervous system before the central nervous system, according to a study published online July 11 in The American Journal of Pathology . Martin Kaatz, D.V.M., from the Friedrich-Loeffler-Institute in Greifswald-Isle of Riems, Germany, and colleagues examined the route of infectious prions from the gut to the central nervous system in preclinical and clinical BSE-infected calves. Tissue samples were collected from the gut, central nervous system, and autonomic nervous system from animals that had been infected with BSE 16 to 44 months earlier. The researchers found that pathological prions were present in the follicles and/or enteric nervous system of the distal ileum in almost all animals.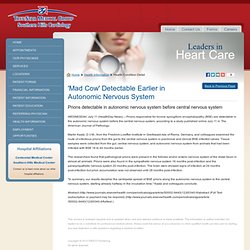 U.S. beef exports to Korea decline 24 percent: USMEF
U.S. beef exports to Korea decline 24 percent: USMEF By Lee Chi-dong WASHINGTON, July 15 (Yonhap) -- U.S. beef exports to South Korea dropped 24 percent in the first five months of 2012 from a year earlier, but the reduction is not associated with mad cow concerns, the U.S. Meat Export Federation (USMEF) said Sunday. The U.S. exported 51,128 tons of beef to South Korea from January till May, down 24 percent from 67,638 tons in the same period last year, it said. South Korea was the third-largest importer, following Canada and Mexico during the five months.
Plague Inc. Prion Brutal Guide
USDA Quarantines Second California Farm in Mad Cow Disease Investigation
( Beyond Pesticides , May 7, 2012) The U.S. Department of Agriculture (USDA) has quarantined a second California farm as part of its ongoing investigation into a confirmed incidence of Bovine Spongiform Encephalopathy (BSE), first reported on April 24. USDA quarantined the second farm because it is operated in close association with the dairy that housed the BSE-infected cow before its condition was detected. Additionally, USDA is investigating the ranch where the BSE-infected cow was raised 10 years ago. USDA also announced that of the two progeny known to have been born to the BSE-infected cow in the past two years, one was stillborn and the second, after being humanely euthanized, tested negative for BSE.
LAHORE - After the confirmation of Mad Cow Disease in California farms by United States Department of Agriculture (USDA), it is mandatory to stop import of live animals from such country, as prescribed under the OIE Rules/guidelines. According to Punjab Agriculture and Meat Company's spokesman, this was stated by PAMCO former CEO Dr Hamid Jalil. The CEO had also urged the federal and provincial governments to impose a ban on import of live cattle from US to save Pakistan from this dangerous disease.
Is the US sending all its mad cows to us?
Ghana, Business Advice, Jobs, News, Business Directory, Real Estate, Finance, Forms, Auto
Indonesia suspends US beef imports over mad cow disease News Date: 7th May 2012 An Indonesian senior official said on Thursday that Indonesia will suspend imports of U.S. beef from Thursday because of a confirmed U.S. case of mad cow disease, a local media reported here. Vice Agriculture Minister Rusman Heriawan said that government gives no time frame for Indonesia's stoppage of imports, adding that the government would wait for further developments.
Consumers Union Urges Usda To Conduct Thorough Investigation Of California Case And Expand Testing Yonkers, NY - infoZine - Consumers Union, the advocacy arm of Consumer Reports, has called on the U.S. Department of Agriculture (USDA) and the U.S. Food and Drug Administration (FDA) to take new measures to detect and prevent mad cow disease in U.S. beef and dairy cows, in light of USDA's announcement last week of a new case in a California dairy cow. In letters to USDA Secretary Tom Vilsack and FDA Commissioner Margaret Hamburg, Consumers Union said that finding a case of mad cow in the USDA's current very small testing program is a "warning flag." USDA tests only 40,000 of the 35 million cattle slaughtered in the U.S. annually.
L-type Strain of Mad Cow Disease Raises Concern
Mad Cow Reported, USDA Filling in Details
Parkinson's protein causes disease spread in animal model
Not Only the Cows Are Mad
- CNA ENGLISH NEWS
Human Prion Diseases - Infectious Diseases - Other forms of dementia - Dementia - Alzheimer Europe
4 Proofs the USDA Doesn't Care About Your Health
Mad Cow Disease May Infect Through Milk Despite USDA Claims
Prions in Milk from Ewes Incubating Natural Scrapie
- CNA ENGLISH NEWS
Mad Cow Disease Remains Rare Since Discovery in U.K.: Factsheet
10 Facts About Mad Cow Diseases
Can Milk Transmit Mad Cow Disease?
- CNA ENGLISH NEWS
Sick cow killed after random mutation warps brain cells and makes it lame in fourth ever case of mad cow disease in the U.S.
California Mad Cow Case No Reason For Panic
Bovine Spongiform Encephalopathy (BSE)
Brain-Wasting Prions Amass Before Dealing Deathblow | Wired Science
Oral and nasal mucosal pathways of prion infection in chronic wasting disease. - Nathaniel David Denkers - Bok (9781244661325
Chronic Wasting Disease and Potential Transmission to Humans - Vol. 10 No. 6 - June 2004
Possible Way To Prevent Brain Cell Death Discovered
Mad cow disease confirmed at California dairy
prions.indd
Prion-like behaviour and tau-dependent cytotoxicity of pyroglutamylated amyloid-[bgr] : Nature
Intracerebral inoculation of pathological α-synuclein initiates a rapidly progressive neurodegenerative α-synucleinopathy in mice
Fatal Flaws by Jay Ingram: column
JAMA Network | Topic Collection | Prion Diseases
Prion funding cut short-sighted