Polyurethane Foams
at the time of incident, lead particulate foams would cover facilty them concrete shell Dec 1
FUKUSHIMA RADIATION PLANET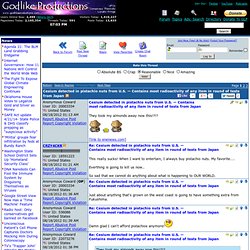 Cesium detected in pistachio nuts from U.S. — Contains most radioactivity of any item in round of tests from Japan
Edit: need a better source Quoting: the mighty Atom Ahhh, your erased text about tobacco causing more risk It is an interesting side-track, the study of radio-isotopes in tobacco.
A New Weapon Against Nukes: Social Media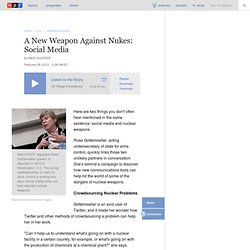 New START negotiator Rose Gottemoeller speaks to reporters in 2010 in Washington, D.C. The acting undersecretary of state for arms control is looking into ways social media tools can help regulate nuclear weapons. Brendan Smialowski / Getty Images Here are two things you don't often hear mentioned in the same sentence: social media and nuclear weapons. Rose Gottemoeller, acting undersecretary of state for arms control, quickly links those two unlikely partners in conversation.
'Uranium-eating' bacteria to clean-up radioactive sites
Ranger Mine - a uranium mine in Kakadu National Park, Australia. SYDNEY: Some bacteria have the capacity to stabilise uranium contaminated sites, and if they are used they could reduce the chances of these sites contaminating major waterways and ecosystems, U.S. scientists have said.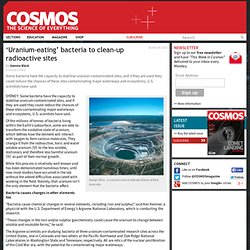 Jaczko votes against Pilgrim plant license extension, suggests changes in relicensing process
The Nuclear Regulatory Commission - on a 4-1 vote with outgoing Chairman Gregory Jaczko opposed - has authorized the director of the Office of Nuclear Reactor Regulation to renew the operating license of the Pilgrim Nuclear Power Station for an additional 20 years. The Commission's authorization was revealed, first, through a Staff Requirements Memorandum (SRM) that was issued this morning. NRC staff had previously requested authorization to renew Pilgrim's license though some contentions remain under appeal. Under NRC policy, a decision to renew a license before completion of the hearing requires Commission approval. The authorization given today specifies that if the renewed license is set aside on appeal, the previous license would be reinstated.
Pilgrim will get new 20-year license - Kingston, MA - Wicked Local Kingston
One unresolved problem with the Fukushima Daiichi disaster is the radioactive particles contamination worldwide, and especially in Japan. Dispersed low level contamination poses a particular challenge to those charged with its remediation. Many techniques are not efficient below certain concentration thresholds or entail more severe impacts on certain environmental compartments than the contamination itself. In such cases justification for remediation may not be given on radiation protection grounds, but remediation may still be demanded by the public. A Japanese research group says they have succeeded in developing a building material that could filter most radioactive cesium from contaminated water by using zeolite powder instead of sand. Zeolites are microporous, aluminosilicate minerals commonly used as commercial adsorbents."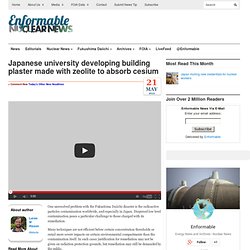 Japanese university developing building plaster made with zeolite to absorb cesium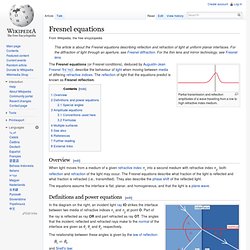 Partial transmission and reflection amplitudes of a wave travelling from a low to high refractive index medium. The Fresnel equations (or Fresnel conditions), deduced by Augustin-Jean Fresnel ( pron.: / f r ɛ ˈ n ɛ l / ), describe the behaviour of light when moving between media of differing refractive indices . The reflection of light that the equations predict is known as Fresnel reflection . [ edit ] Overview
Fresnel equations
X-ray reflectivity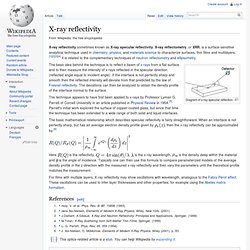 X-ray reflectivity sometimes known as X-ray specular reflectivity , X-ray reflectometry , or XRR , is a surface-sensitive analytical technique used in chemistry , physics , and materials science to characterize surfaces, thin films and multilayers. [ 1 ] [ 2 ] [ 3 ] [ 4 ] It is related to the complementary techniques of neutron reflectometry and ellipsometry . The basic idea behind the technique is to reflect a beam of x-rays from a flat surface and to then measure the intensity of x-rays reflected in the specular direction (reflected angle equal to incident angle). If the interface is not perfectly sharp and smooth then the reflected intensity will deviate from that predicted by the law of Fresnel reflectivity . The deviations can then be analyzed to obtain the density profile of the interface normal to the surface. The technique appears to have first been applied to x-rays by Professor Lyman G.
Concepts common to small-angle X-ray scattering and small-angle neutron scattering are described in the overarching lemma small-angle scattering . Small-angle X-ray scattering (SAXS) is a small-angle scattering (SAS) technique where the elastic scattering of X-rays (wavelength 0.1 ... 0.2 nm ) by a sample which has inhomogeneities in the nm-range, is recorded at very low angles (typically 0.1 - 10°). This angular range contains information about the shape and size of macromolecules , characteristic distances of partially ordered materials, pore sizes, and other data.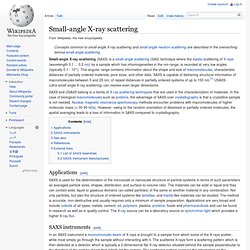 Small-angle X-ray scattering
This is an X-ray diffraction pattern formed when X-rays are focused on a crystalline material, in this case a protein. Each dot, called a reflection, forms from the coherent interference of scattered X-rays passing through the crystal. X-ray scattering techniques are a family of non-destructive analytical techniques which reveal information about the crystal structure , chemical composition, and physical properties of materials and thin films. These techniques are based on observing the scattered intensity of an X-ray beam hitting a sample as a function of incident and scattered angle, polarization, and wavelength or energy.
X-ray scattering techniques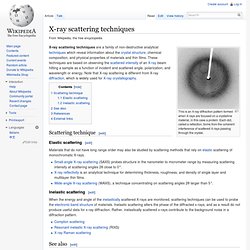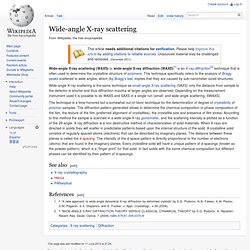 Wide-angle X-ray scattering
Wide-angle X-ray scattering (WAXS) or wide-angle X-ray diffraction (WAXD) [ 1 ] is an X-ray-diffraction [ 2 ] technique that is often used to determine the crystalline structure of polymers . This technique specifically refers to the analysis of Bragg peaks scattered to wide angles, which (by Bragg's law ) implies that they are caused by sub-nanometer-sized structures. Wide-angle X-ray scattering is the same technique as small-angle X-ray scattering (SAXS) only the distance from sample to the detector is shorter and thus diffraction maxima at larger angles are observed.
Showing 1 to 43 of 43 matching Articles Results per page: Export (CSV) Influence of sodium oxide content on bioactive glass properties Journal of Materials Science: Materials in Medicine (1999) 10: 697-701 , December 01, 1999 By Wallace, K.
AuthorMapper
Hong-Ru Lin
AuthorMapper
Showing 1 to 100 of 131 matching Articles Results per page: Export (CSV) Microencapsulation of PCMs with a polystyrene shell
Polymer - Structure–property behavior of segmented polyurethaneurea copolymers based on an ethylene–butylene soft segment
1. Introduction 2. Experimental
Department of Chemical Engineering, National Central University, Chung-li, Taiwan 32054, Republic of China Macromolecules , 1998 , 31 (4), pp 1312–1320 DOI: 10.1021/ma970913m
Studies on the First DSC Endotherm of Polyurethane Hard Segment Based on 4,4'-Diphenylmethane Diisocyanate and 1,4-Butanediol - Macromolecules
1. Introduction 2. Silicate clay reinforcement
Materials Science and Engineering: R: Reports - Structural and mechanical properties of polymer nanocomposites
Polymer Journal - Figure 10 for article: Simultaneous small-angle X-ray scattering/wide-angle X-ray diffraction study of the microdomain structure of polyurethane elastomers during mechanical deformation
X-ray studies of the structure of polyurethane hard segments
Access : Simultaneous small-angle X-ray scattering|[sol]|wide-angle X-ray diffraction study of the microdomain structure of polyurethane elastomers during mechanical deformation : Polymer Journal
Access : Nanocasting nanoporous inorganic and organic materials from polymeric bicontinuous microemulsion templates : Polymer Journal
Polymer Journal - Abstract of article: Influence of Filler Types and Contents on Foaming Structures in ABS Microcellular Foams
Formation and characterization of polyurethane--vermiculite clay nanocomposite foams.