PHILANTHROPY
Magazine Honors Philanthropic Innovators in Education, Arts. Creative philanthropic approaches to schooling in Los Angeles and the arts in Chicago won recognition in the 2012 Innovator of the Year Awards handed out by The Wall Street Journal's WSJ Magazine.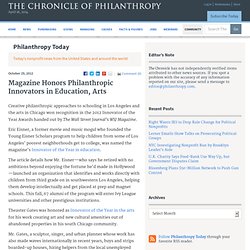 Eric Eisner, a former movie and music mogul who founded the Young Eisner Scholars program to help children from some of Los Angeles' poorest neighborhoods get to college, was named the magazine's Innovator of the Year in education. The article details how Mr. Eisner—who says he retired with no ambitions beyond enjoying the fortune he'd made in Hollywood—launched an organization that identifies and works directly with children from third grade on in southwestern Los Angeles, helping them develop intellectually and get placed at prep and magnet schools. This fall, 67 alumni of the program will enter Ivy League universities and other prestigious institutions. Average Sum Donated by the Affluent Dropped in Last Two Years - Donors. By Maria Di Mento While 95 percent of the country's wealthiest households gave to charity last year, the average dollar amount they donated declined by 7 percent compared with 2009, when the last results were available, according to a study to be released this week.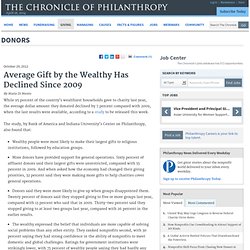 The study, by Bank of America and Indiana University's Center on Philanthropy, also found that: Wealthy people were most likely to make their largest gifts to religious institutions, followed by education groups. More donors have provided support for general operations. Sixty percent of affluent donors said their largest gifts were unrestricted, compared with 55 percent in 2009. Sandy Upends N.Y. Charity-Gala and Cultural Seasons. Numerous nonprofit groups scheduled to told fundraising and awards galas this week have canceled or postponed the event as Hurricane Sandy tore through New York, Bloomberg writes.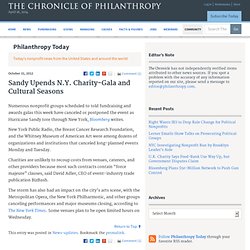 New York Public Radio, the Breast Cancer Research Foundation, and the Whitney Museum of American Art were among dozens of organizations and institutions that canceled long-planned events Monday and Tuesday. Charities are unlikely to recoup costs from venues, caterers, and other providers because most such contracts contain "force majeure" clauses, said David Adler, CEO of event-industry trade publication BizBash. The storm has also had an impact on the city's arts scene, with the Metropolitan Opera, the New York Philharmonic, and other groups canceling performances and major museums closing, according to The New York Times.
New Grants From Foundations and Corporations for October 25, 2012 - New Grants. Calif. Judge Says Ariz. Nonprofit Must Disclose Documents. Voter-Fraud Ads Paid for by Wisc. Venture Capitalist. The head of a Wisconsin venture-capital fund paid for billboards in his state and Ohio warning of the penalties for committing voter fraud, writes the Milwaukee Journal Sentinel.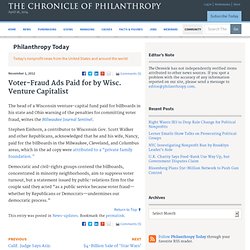 Stephen Einhorn, a contributor to Wisconsin Gov. Scott Walker and other Republicans, acknowledged that he and his wife, Nancy, paid for the billboards in the Milwaukee, Cleveland, and Columbus areas, which in the ad copy were attributed to a "private family foundation." Democratic and civil-rights groups contend the billboards, concentrated in minority neighborhoods, aim to suppress voter turnout, but a statement issued by public-relations firm for the couple said they acted "as a public service because voter fraud—whether by Republicans or Democrats—undermines our democratic process." Return to Top. Prospecting. Lowe's has given $1-million to local relief and rebuilding efforts.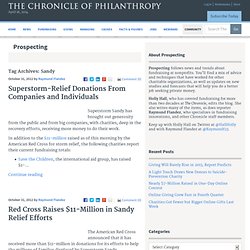 (Photo courtesy of Business Wire) Superstorm Sandy has brought out generosity from the public and from big companies, with charities, deep in the recovery efforts, receiving more money to do their work. In addition to the $11-million raised as of this morning by the American Red Cross for storm relief, the following charities report their current fundraising totals: Save the Children, the international aid group, has raised $1-… Nonprofits say it's hard to find minority board members - In Other News. Ava Youngblood is founder and CEO of Youngblood Executive Search in Chicago.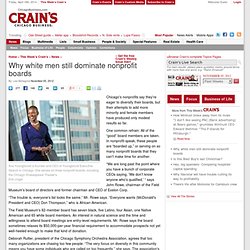 She serves on three nonprofit boards, including the Chicago Shakespeare Theater's. Erik Unger. Millan Foundation. S.C. Governor Vetoes Funds for Arts Commission. Wielding her line-item veto on South Carolina's budget, Gov.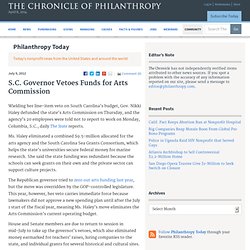 Nikki Haley defunded the state's Arts Commission on Thursday, and the agency's 20 employees were told not to report to work on Monday, Columbia, S.C., daily The State reports. Ms. Oxfam Awareness Campaign Centers on U.S. Food Habits. Global humanitarian group Oxfam has launched a campaign aimed at educating American families about the social and environmental impact of how they buy, prepare, and discard food, according to The New York Times.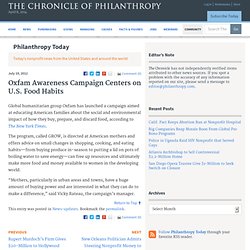 The program, called GROW, is directed at American mothers and offers advice on small changes in shopping, cooking, and eating habits—from buying produce in-season to putting a lid on pots of boiling water to save energy—can free up resources and ultimately make more food and money available to women in the developing world. "Mothers, particularly in urban areas and towns, have a huge amount of buying power and are interested in what they can do to make a difference," said Vicky Rateau, the campaign's manager. Hospitals Face Fiscal Hit in Law's Provision on Illegal Aliens. Hospitals in poor urban and rural communities that treat large numbers of illegal immigrants are facing a significant financial blow with implementation of President Obama's health-care law, says The New York Times.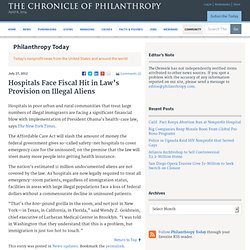 The Affordable Care Act will slash the amount of money the federal government gives so-called safety-net hospitals to cover emergency care for the uninsured, on the premise that the law will steer many more people into getting health insurance. The nation's estimated 11 million undocumented aliens are not covered by the law. New Grants From Foundations and Corporations for July 19, 2012 - New Grants. Queen inundated with letters after Diamond Jubilee. The Queen has received an exceptional number of letters and messages of goodwill following the Diamond Jubilee weekend, taking the total to over 130,000 letters and messages in Her Majesty's Diamond Jubilee year.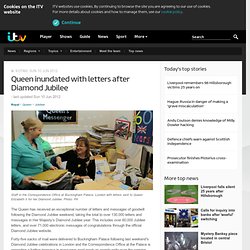 This includes over 60,000 Jubilee letters, and over 71,000 electronic messages of congratulations through the official Diamond Jubilee website. Forty-five sacks of mail were delivered to Buckingham Palace following last weekend's Diamond Jubilee celebrations in London and the Correspondence Office at the Palace is expecting a further increase in messages next week as people write over the coming days. It has been a particularly busy period for the Correspondence Office, with the 60,000 Jubilee letters in 2012, far exceeding the figure of 26,000 in 2011 over the same five-month period. Big Companies Slowly Increase Their Charitable Giving - The Giveaway. America's big companies are slowly increasing the amount they give to charity since making big cuts in their philanthropy during the recession, but they are still donating far less than they did before the hard times began in 2007, according to preliminary results of a new study that were released today.
The downturn has also reinforced a trend that has swept corporate philanthropy in the past decade, as more and more companies have decided to focus their giving to one or two causes rather than supporting a broad range of groups. Just 4 percent of the 144 companies in the study said they support a wide array of causes. Media Mogul Barry Diller Gives $30-Million to Hollywood Fund. The Motion Picture & Television Fund announced a $30-million contribution Tuesday from entertainment executive Barry Diller, the largest gift to date in the charity's $350-million endowment campaign, The Hollywood Reporter and The Wall Street Journal write.
Mr. Diller, the chairman of IAC/InterActiveCorp., made the donation through the Diller-von Furstenberg Family Foundation, which he runs with his partner, fashion designer Diane von Furstenberg. Wells Fargo Launches $100-Million Environmental Program. Banking giant Wells Fargo said Tuesday that it will award $100-million in grants to universities and nonprofit green groups over the next eight years to pursue environmental programs, reports the San Francisco Business Times. The effort began with a $15-million, five-year commitment to the National Fish and Wildlife Foundation. The larger grant program will aim to promote sustainable agriculture and forestry, land and water conservation, urban ecosystems, and clean energy. Return to Top. Hospital Merger Has Big Implications for NYC Health Care. Two major nonprofit New York City hospital systems have reached agreement on a merger that The New York Times says could profoundly change how medical care is delivered in the city.
NYU Langone Medical Center and Continuum Health Partners announced on Wednesday a pact that would unite a highly specialized academic hospital with a network encompassing several community-oriented facilities. Subject to final approval by both organizations' boards and regulators, the merger would create one of New York's largest health-care entities, with potentially significant competitive advantages in the lucrative Manhattan market, according to the Times. Like similar consolidations around the country, the move is driven in large part by the new federal health-care law that demands more efficient, lower-cost hospital operations. George Soros Fund Appoints New Leader to Oversee U.S. Grants - The Giveaway. Kenneth H. Zimmerman (Photo by Ed Kashi) George Soros's philanthropy network today named Kenneth H. Zimmerman, a civil-rights lawyer and former Obama administration official, to oversee its U.S. operations.
Mr. Opinion: Is Profit or Mission Key to Change.org? Eli Broad and Mark Zuckerberg Give N.J. Schools $630,000. Hundreds of N.Y. City Charities Lose Tax Breaks. Working With Businesses on Social Networks - Social Good. Foundation Giving Did Not Keep Pace With Inflation in 2011 - The Giveaway. 10 Inspiring Non-Profits on Instagram. N.Y. Mulls For-Profit Solution for Struggling Brooklyn Hospitals. Charity-Abuse Scandal Brings Down Penn St. President, Football Legend.
How a New Foundation Listens to Its Community - Making Change. 3dfd1115's Archive on #PhilChat Containing 312 Tweets. S Role in the Economy - The Giveaway. Occupy Wall Street Raises More Than $450,000 - News. RSPB and National Trust may lose millions due to EU reforms | Environment. Ex-Louisiana Legislator Jailed in Plot to Loot Charities. Celebrities May Be Overrated as Online Fund Raisers - Online Fund Raising. Five Older People Honored for Solving Social Problems - Awards. New Group to Endorse Politicians Who Pledge to Strengthen Nonprofits - Government & Politics Watch. N.J. Governor Unveils Plan to Privatize State Parks - State Watch. Big Manhattan Project Heralds 'Museum Mile' on West Side. Wikipedia Opens India Office, First Outside U.S. Senators Seek to Preserve Low Nonprofit Postal Rates - Prospecting. What Nonprofits Can Learn From Occupy Wall Street - Social Good. $150-Million Gift Will Help Stanford Train Entrepreneurs in Poor Countries - About Donors.
Making Social Change Happen One Person at a Time - Bolder Giving. In the Arts: N.Y.'s Folk Art Museum Gets Cash Lifeline. Little-Known Okla. Tycoon Spends Billions to Fight Poverty. As Poverty Deepens, Giving to the Poor Declines. Doris Duke Charitable Foundation Commits $50 Million to Support Individual Artists.
---