Occupy Wall St
Power Failures and Flooding Test Resolve in Lower Manhattan and Red Hook. Robert Stolarik for The New York Times Members of the New York National Guard patrolled streets in Red Hook, Brooklyn, on Monday night.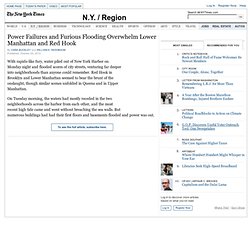 More Photos » On Tuesday morning, the waters had mostly receded in the two neighborhoods across the harbor from each other, and the most recent high tide came and went without breaching the sea walls. Refugee protest march pitches up in Berlin. Photo: Jessica Ware Published: 12 Oct 2012 08:45 GMT+02:00Updated: 12 Oct 2012 08:45 GMT+02:00 A group of refugees arrived in Berlin this week after marching nearly 600 kilometres from Bavaria to protest conditions facing asylum seekers in Germany.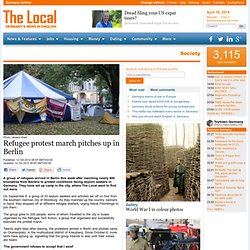 NYPD makes more arrests as OWS continues to occupy Federal Hall steps. Protesters estimate at least ten people were arrested as Occupy Wall Street continued its daily presence on the steps of Federal Hall, though police did not have a final count Friday afternoon.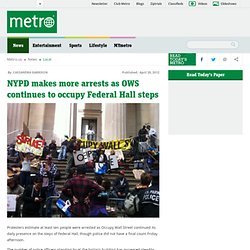 The number of police officers standing by at the historic building has increased steadily through the week. Today, metal barricades blocked Wall Street in front of Federal Hall and also lined the bottom of the building's steps in what appears to be an effort to prevent protesters from blocking the sidewalk. Revolution 99 Updates: Moscow – Chicago Sister Cities on the Front Lines. Chomsky: Occupy Wall Street "Has Created Something That Didn't Really Exist" in U.S. — Solidarity Noam Chomsky says the Occupy movement has helped rebuild class solidarity and communities of mutual support on a level unseen since the time of the Great Depression.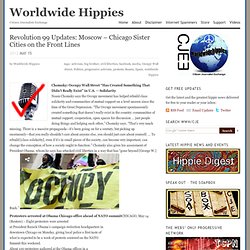 "The Occupy movement spontaneously created something that doesn't really exist in the country: communities of mutual support, cooperation, open spaces for discussion … just people doing things and helping each other," Chomsky says. "That's very much missing. There is a massive propaganda—it's been going on for a century, but picking up enormously—that you really shouldn't care about anyone else, you should just care about yourself. … To rebuild [class solidarity], even if it's in small pieces of the society, can become very important, can change the conception of how a society ought to function." Attempt to denigrate Occupy full of lies. Addressing Pay and Protesters at Morgan Stanley's Annual Meeting. Scott Eells/Bloomberg NewsJames Gorman, chief executive of Morgan Stanley.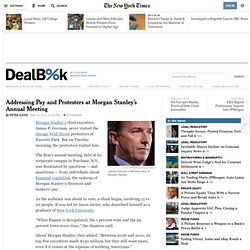 Morgan Stanley's chief executive, James P. Gorman, never visited the Occupy Wall Street protesters at Zuccotti Park. But on Tuesday morning, the protesters visited him. The firm's annual meeting, held at its corporate campus in Purchase, N.Y., was dominated by questions — and assertions — from individuals about financial regulation, the makeup of Morgan Stanley's directors and bankers' pay.
As the audience was about to vote, a chant began, involving 15 to 20 people. The Occupy Files: DHS Investigated Anonymous and Kept Tabs on Political Hackers. (Photo: Ramtin Amiri) Protesters wearing a Guy Fawkes mask and maybe a black hat or cape have been a common sight at Occupy protests across the country.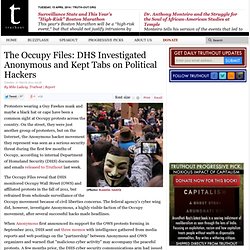 On the street, they were just another group of protesters, but on the Internet, the Anonymous hacker movement they represent was seen as a serious security threat during the first few months of Occupy, according to internal Department of Homeland Security (DHS) documents and emails released to Truthout last week. The Occupy Files reveal that DHS monitored Occupy Wall Street (OWS) and affiliated protests in the fall of 2011, but refrained from wholesale surveillance of the Occupy movement because of civil liberties concerns. The federal agency's cyber wing did, however, investigate Anonymous, a highly visible faction of the Occupy movement, after several successful hacks made headlines. Occupy Wall Street Group Offers Detailed Critique of Volcker Rule. But one group formed from the Occupy movement has taken a less-visible approach: submitting to the U.S.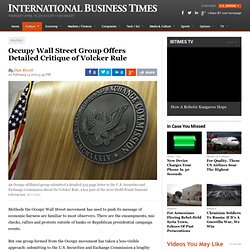 Securities and Exchange Commission a lengthy comment on the Volcker Rule, a key piece of the 2010 Dodd-Frank financial reform law that will ban banks from using their own money to make speculative bets, a practice known as proprietary trading. Occupy the SEC Monday took advantage of the open public comment period typical in federal rule-making and submitted a 325-page letter outlining ways the finalized Volcker Rule can be a strong curb on the kind of proprietary trading that helped bring down the U.S. economy in 2008.
Though a rule's public comment period is a venue for industry stakeholders and trade groups, Occupy the SEC member Alexis Goldstein said in an interview the group's letter gives it a voice in the rule-making process "that's not the voice of the banks, not the voice of the financial lobby. " Occupying the Volcker Rule. Occupy the SEC Goes Big on the Volcker Rule. This article has been archived, and is no longer available on this website.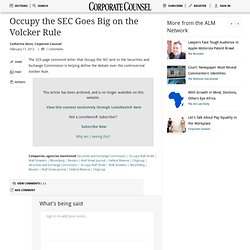 LexisNexis® is now the exclusive third party online distributor of the broad collection of current and archived versions of ALM's legal news publications. LexisNexis® customers will be able to access and use ALM's content by subscribing to the LexisNexis® services via lexis.com® and Nexis®. This includes content from The National Law Journal®, The American Lawyer®, Law Technology News®, The New York Law Journal® and Corporate Counsel®, as well as ALM's other newspapers, directories, legal treatises, published and unpublished court opinions, and other sources of legal information. The OccupyUSA Blog for Tuesday (May 8), With Frequent Updates. Share Live-blogging OWS daily since October 1.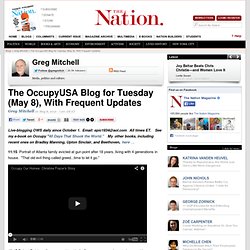 Email: epic1934@aol.com. All times ET. See my e-book on Occupy "40 Days That Shook the World. " City Evict Occupy Honolulu Feb.2. #F5 Occupy Super Bowl Live Stream War Room | nn99. Occupying NATO and the G-8 in Chicago | The Bloomington Alternative. Adbusters Magazine, the Vacnouver-based online publication that helped launch the Occupy Wall Street movement, posted a tactical briefing on its website on Jan. 25 calling for 50,000 protesters to participate in a showdown in Chicago at the May NATO and G-8 summits.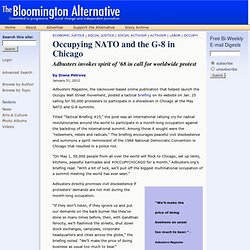 Titled "Tactical Briefing #25," the post was an international rallying cry for radical revolutionaries around the world to participate in a month-long occupation against the backdrop of the international summit. Among those it sought were the "redeemers, rebels and radicals. " The briefing encourages peaceful civil disobedience and summons a spirit reminiscent of the 1968 National Democratic Convention in Chicago that resulted in a police riot. "On May 1, 50,000 people from all over the world will flock to Chicago, set up tents, kitchens, peaceful barricades and #OCCUPYCHICAGO for a month," Adbusters.org's briefing read. WePay: The Online Payment Start-Up Behind Occupy Wall Street. Occupy. How Elite Media Strategies Marginalize the Occupy Movement. I took the decision by Foreign Affairs to report on the Occupy Wall Street protests as a sign that the movement was having some success. Not surprisingly, however, this favorite journal of foreign policy pundits offers "expert" commentary that reinforces a theme that has dominated corporate media coverage of the OWS movement.
Rory McVeigh's online essay, "How Occupy Wall Street Works" presents a highly misleading image of OWS protests that reinforces the mainstream media representation of most left-wing political protests as disorganized, violence-prone mobs. Robert Reich: Wall Street antics endanger capitalism. Wall Street is its own worst enemy. It should have welcomed new financial regulation as a means of restoring public trust. Instead, it's busily shredding new regulations and making the public more distrustful than ever. The Street's biggest lobbying groups have just filed a lawsuit against the Commodities Futures Trading Commission, seeking to overturn its new rule limiting speculative trading in food, oil and other commodities.
Occupy Wall Street Video: NYPD targets Media - D12. Anti-Wall Street activists march on West Coast ports. The OccupyUSA Blog for Tuesday (Dec. 13), With Frequent Updates. Share I've been live-blogging OWS here daily since October 1. Email: epic1934@aol.com. All times ET. My new e-book is "40 Days That Shook the World: From Occupy Wall Street to Occupy Everywhere. " Most of my other books here. Rochelle Gurstein: The Creative Potential Of Occupy Wall Street's Cooperative Power. The night before the first big Occupy Wall Street rally at Foley Square in early October, I went to my local bookstore to hear Chris Lehmann speak about his new book, Rich People Things, which explores, with penetrating hilarity, the follies of the "one percent." During the discussion, a number of us were struck by the way the obscenely wealthy few are proud to be an "elite" in contrast to the way the term, along with kindred ideas like taste, discrimination, and distinction, have been completely discredited—vilified—in matters of culture.
From there the discussion turned to the poverty of our language of dissent and revolt, the resourcelessness of our political imaginations. 'Law and Order: SVU' Set Dismantled After Wall Street Protesters Stormed In. December 10, 2011 16:21:09 GMT In addition to being harassed by more than 100 protesters, the set did not have an official permit from the city. The production of "" was forcefully shut down when more than 100 Occupy Wall Street (OWS) protesters stormed in the set.
Occupy Wall Street Campaign: Reliving Marx and moving beyond, Oriya Column. Occupy Wall St: citizen journalists and buggy whips. Time magazine picks Occupy Wall Street as the top news story of 2011. Teach-In November2and3. DOCS #OWS. Occupy. New York Leads Nation in Tax Payments: The Ticker. Occupy Wall Street And Homelessness: Millions Spent To Evict Camps, While Cutting Shelter Funds.
Vortrag des Deutsche-Bank-Chefs: "Occupy"-Aktivisten bremsen Ackermann aus. Occupy Wall Street? How about Occupy Rooftops, Solar Mosaic's new campaign. Super Committee's Failure Is A Win For Occupy Movement, Some Progressives Say. Occupy Wall Street's first fatality (VIDEO) Caught on Camera: Ten Shockingly Violent Police Assaults on Occupy Protesters.
Linda Katehi, UC Davis Chancellor, Confronted By Students. Shocking Images Show Escalating Violence Against OWS. Former U.S. Poet Laureate Robert Hass Beaten At Occupy Berkeley. Greek police fire teargas at anti-austerity protesters - GREECE. Occupy Wall Street protesters clash with police - USA. Occupy Wall Street protesters clash with police. Dems criticize eviction of Occupy protesters. Occupy Wall Street: New York Police Department Evicts Protesters, Clears Zuccotti Park [LATEST UPDATES] Occupy Wall Street Crackdown: Celebs Tweet Their Reactions. Judge upholds eviction of Wall Street protesters. Armed Citizen Militia Shows Up At Occupy Phoenix. Lawmakers Buy Shares in Companies Affected by Debate, CBS Says. How Congress Is Getting Rich Off Of Wall Street - Wall Street - eWallstreeter. » EXCLUSIVE: Financial Documents Suggest GOP Rep. Bachus Profited from 'Insider Trading' on TARP Bailout - Big Government.
What's Next for Occupy Wall Street? Glenn Greenwald: Elite Media Biased Against Occupy Wall Street. Goldman Raises Legal Loss Estimate. College of New Jersey students greet Goldman Sachs recruiters with occupy-themed protest. Occupy Wall Street Joins an Assembly of Struggles in Athens. Bankers boycott Mario Batali restaurants after celebrity chef compared them to 'Stalin or Hitler'
Police arrest Occupy protesters at Berkeley. Guns, Prisons, Crime, and Immigration - Alec Exposed. Stop For-Profit Prisons. Kucinich to #OccupyWallStreet: Don't Forget the War. This Video Shows Protester Scott Olsen Moments Before He Was Injured By The Oakland Police. Occupy Wall Street: The Most Important Thing in the World Now | Truthout.
Sounds of Outrage Heard on Wall Street.
Goldman Sachs v. Occupy Wall Street: A Greg Palast Investigation. We Are Not Your Human Resources. US bankers stole billions'
---