ObamaFascism
never buys art Nov 26
Russ Tice Does the NSA have something on President Barack Obama? Maybe, according to former intelligence analyst and whistler-blower Russell Tice.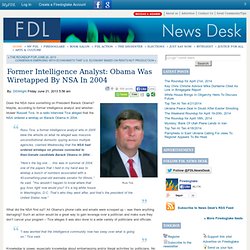 Former Intelligence Analyst: Obama Was Wiretapped By NSA In 2004
Bush-era whistleblower: Obama was NSA wiretap victim in 2004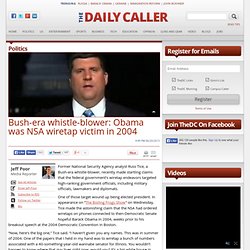 Former National Security Agency analyst Russ Tice, a Bush-era whistle-blower, recently made startling claims that the federal government's wiretap endeavors targeted high-ranking government officials, including military officials, lawmakers and diplomats.
Russ Tice, Bush-Era Whistleblower, Claims NSA Ordered Wiretap Of Barack Obama In 2004
Furor Over Colorado Bill to Give Secret Service Agents Police Powers
Colorado Governor John Hickenlooper is expected to sign into law a bill that would give the U.S.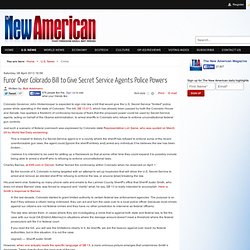 By Madison Ruppert Editor of End the Lie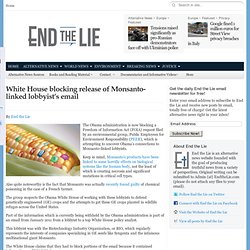 White House blocking release of Monsanto-linked lobbyist's email
Immigration program sidesteps democratic process and good sense
Action Alert | Electronic Frontier Foundation
In defense of Obama's drones - Terrorism
To hear some people tell it, the United States hovers on the brink of tyranny.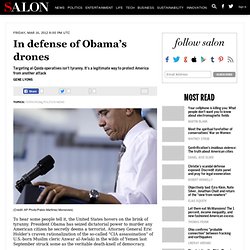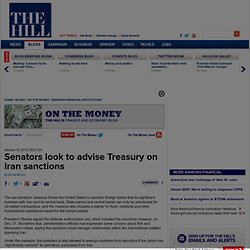 Senators look to advise Treasury on Iran sanctions - The Hill's On The Money
A pair of senators is trying to advise the Obama administration on how to implement a new measure placing tough sanctions on the Iranian economy.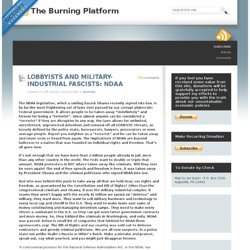 LOBBYISTS AND MILITARY-INDUSTRIAL FASCISTS: NDAA
The NDAA legislation, which a smiling Barack Obama recently signed into law, is by far the most frightening set of laws ever passed by our corrupt plutocratic Federal government. It allows people to be taken away "indefinitely" and forever for being a "terrorist". Since almost anyone can be considered a "terrorist" if they are disruptive in any way, the laws allows for unlimited, unrestricted, unprotected detention and removal off all DOMESTIC threats, as loosely defined by the police state, bureaucrats, lawyers, prosecutors or even average people.
NEW CAMPAIGN: Repeal Indefinite Detention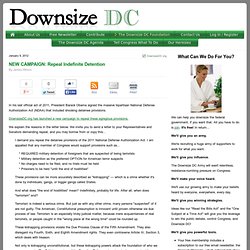 In his last official act of 2011, President Barack Obama signed the massive bipartisan National Defense Authorization Act (NDAA) that included shocking detainee provisions. We explain the reasons in the letter below.
On December 31, 2011, while still on vacation in balmy Hawaii, Obama signed into law a bill — approved by both houses in Congress — which now makes it legal for the military to detain — indefinitely — any and all U.S. citizens without charge or trial.
A ray of light on that new "Detain US Citizens" NDAA law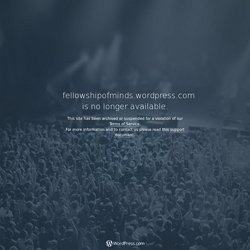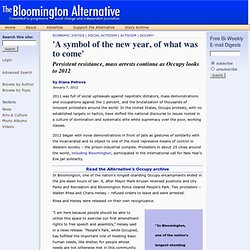 2011 was full of social upheavals against nepotistic dictators, mass demonstrations and occupations against the 1 percent, and the brutalization of thousands of innocent protesters around the world.
'A symbol of the new year, of what was to come' | The Bloomington Alternative
9 January 2012 "The tide of war is receding," President Barack Obama declared, not once, but twice on Thursday in his brief remarks at the Pentagon introducing a new defense guidance strategy that formally announces an aggressive US buildup toward military confrontation with China. The WSWS needs your support!
The Pentagon's strategy review: A blueprint for world war