NDAA OBAMA
Time to repeal the Patriot Act, NDAA and abolish DHS. June 23, 2013 Many Americans have known for a long time that the IRS is a rogue agency that will readily break the law to accomplish its "mission.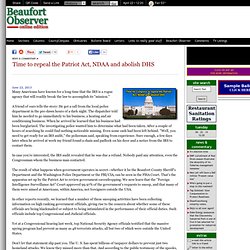 " A friend of ours tells the story: He got a call from the local police department in the pre-dawn hours of a dark night. The dispatcher told him he needed to go immediately to his business, a heating and air conditioning business. When he arrived he learned that his business had been burglarized. 16 Counties Defy Obama NDAA Indefinite Detention : Open Topic Discussion - Page 2 - Peak Oil News and Message Boards. Obama = Bush III The Romney campaign and/or people on behalf of the Romney campaign engaged in rampant and documented election fraud against Ron Paul(regardless of whether or not he would have been able to garner enough votes to win nationally).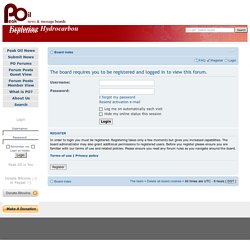 The courts are tied up with repeated cases and complaints, thousands of which have documentation to support them, most of which will go unaddressed and the perpetrators of these crimes unpunished. Obama's Bush-Era Incoherence on Constitutionality of NDAA. Reporter Ben Swann asked President Obama why administration lawyers are fighting the injunction.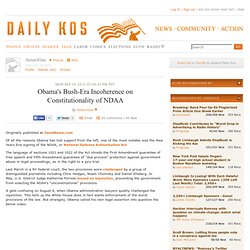 Obama vacillates, saying his "first job is to keep the American people safe". But then, Obama implies he opposed the idea of detaining US citizens, having the provision in the bill held hostage by Congress in an otherwise vital defense funding bill. Civil liberties are left out of the 2012 Democratic Platform | Rocky Mountain Collegian. The 2008 Democratic Platform promised, "We will restore our constitutional traditions, and recover our nation's founding commitment to liberty under law."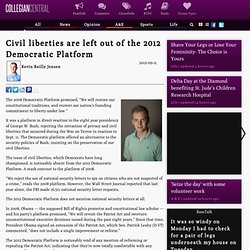 It was a platform in direct reaction to the eight year presidency of George W. Bush, rejecting the retraction of privacy and civil liberties that occurred during the War on Terror in reaction to Sept. 11. Jill Stein vs Barack Obama: Why We Should Elect Our First Woman President in 2012. Obama has betrayed those of us who voted for hope and change.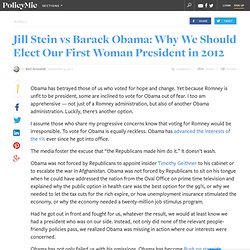 Yet because Romney is unfit to be president, some are inclined to vote for Obama out of fear. I too am apprehensive — not just of a Romney administration, but also of another Obama administration. Belligerent Act | Unlawful Dissent. Comprehensive article by Brett Warnke about the worldwide trend of governments cracking down on dissent.
[SOURCE: Counterpunch] New Laws Around the Globe Don't Curb Inequity, They Undercut Social Protests and Gag Free Speech by Brett Warnke Only a month after swearing in, President Obama was given the first "Economic Intelligence Briefing" by his sunny CIA director, Leon Panetta. Federal judge blocks indefinite detention law. By Agence France-PresseWednesday, September 12, 2012 20:35 EDT NEW YORK — A New York federal judge shot down part of a controversial anti-terror law Wednesday that journalists and scholars worry could see them locked up indefinitely for speaking their minds.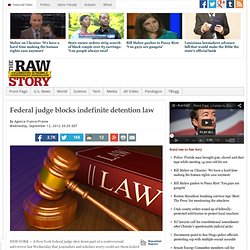 Judge Katherine Forrest issued a ruling that permanently blocked a section of the National Defense Authorization Act signed by President Barack Obama at the end of last year authorizing the detention of US citizens accused of supporting terror groups. The suit was brought by activists, including former New York Times journalist Chris Hedges and outspoken academic Noam Chomsky, who said the law was vague and could be used to curtail reporters' and other civilian citizens' right to free speech guaranteed under the US Constitution's First Amendment. The Battle Over NDAA's Police-State Provisions Continues in Court. (Image: Judge's gavel via Shutterstock)The Obama administration continues to defend its right to violate the rights of the people it is supposed to govern.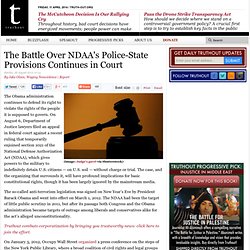 On August 6, Department of Justice lawyers filed an appeal in federal court against a recent ruling that temporarily enjoined section 1021 of the National Defense Authorization Act (NDAA), which gives powers to the military to indefinitely detain U.S. citizens — on U.S. soil — without charge or trial. The case, and the organizing that surrounds it, will have profound implications for basic constitutional rights, though it has been largely ignored by the mainstream media. Follow the Defense Dollars -- If You Can.
By JOE NEWMAN Remember last summer when everyone thought the sky was falling?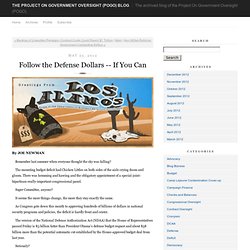 The mounting budget deficit had Chicken Littles on both sides of the aisle crying doom and gloom. There was hemming and hawing and the obligatory appointment of a special-joint-bipartisan-really-important congressional panel. Super Committee, anyone? It seems the more things change, the more they stay exactly the same. The Truth Denied Breaking News - SECRECY IN GOVERNMENT, NDAA, and the likes! Steve Susman, Zach Grady, & John Fitzgerald will not back down! What do you do when The Truth just won't go AWAY?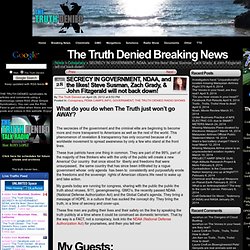 The secrecies of the government and the criminal elite are beginning to become more and more transparent to Americans as well as the rest of the world. This phenomenon of revelation & transparency has only occurred because of a worldwide movement to spread awareness by only a few who stand at the front lines. These true patriots have one thing in common. Mongering Fear: The Establishment Attacks. Podcast: Play in new window | Download (Duration: 6:57 — 6.4MB) "Mongering fear…" That's what establishment hawks Charles Stimson and David Rivkin say the Tenth Amendment Center and other organizations are doing by pushing back against the new "indefinite detention" powers in Sections 1021 and 1022 of the National Defense Authorization Act (NDAA) of 2012.
But, even in the face of yet another unconstitutional federal act, the People of the United States just gained an important ally in defense of their Constitution: the Commonwealth of Virginia, and state employees in particular. Virginia Governor Bob McDonnell just signed into law House Bill 1160 (HB1160), which would prohibit state agencies from participating in unconstitutional detentions under the NDAA.
Stimson and Rivkin are mighty upset about this too. BIG BROTHER'S GETTING BIGGER. By Jack A. Smith Government surveillance and attacks on the privacy of American citizens were bad enough under the Bush regime but they are getting even worse during the Obama years. In addition to retaining President George W. Political opposites unite against the NDAA. Wednesday, April 4, 2012 at 2:18 pm by Amy E. Ferrer The Occupy movement and the Tea Party are seemingly polar opposites on the American political spectrum, and with partisan politics bringing federal and state legislatures to a standstill, one could be forgiven for presuming that Occupiers and Tea Partiers would never think of working together.
But thankfully for our constitutional rights, that assumption would be wrong. Across the country, people are coming together from opposite sides of the political universe to demand that the National Defense Authorization Act (NDAA) and its unconstitutional detention provisions be repealed or nullified. The following video shows just one example of these strange bedfellows, when local Occupy activists stood alongside area Tea Party representatives for a joint demonstration in Medford, OR. 45 Years 'Beyond Vietnam' 45 Years 'Beyond Vietnam' Angela Keaton, April 05, 2012 Long time antiwar activist Phil Restino of Central Florida Veterans For Peace sent us this letter on the anniversary of Martin Luther King, Jr.'s assassination: Hello All,
Chris Hedges Challenges NDAA in Court. Pulitzer Winning Reporter: US Being Transformed Into A Gulag By Military Industrial Complex. WOW!!! INDEFINITE DETENTION OF AMERICANS - NDAA Bill Passed by Obama Supported by MCcain. New National Defense Authorization Act Authorizes Indefinite Detention of U.S. Citizens. Journalists, Activists Challenge NDAA Law. 'Obama signed US into Police State' ACLU, media to argue against censorship in 9/11 mastermind trial. Obama fights ban on indefinite detention of Americans. Obama Fights to Keep NDAA | P.A.N.D.A. People Against The NDAA. Chris Hedges: When Empires Emplode + Update on the NDAA Lawsuit. Behind the scenes: Obama and the NDAA. Obama Admin. Files Appeal of NDAA Injunction. What Happens Next With Indefinite Detention. Arrested Liberty re "NDAA v. Food" Obama Can Now Imprison You For Life WITHOUT Trial Or Charges. One-man 'march' attracts police scrutiny in Russia.
Sad News For Obama. Bloom is finally off the Rose in the Desert - PostPartisan. New INHOFE SUPPORTS FY13 NDAA, CONCERNED WITH OBAMA'S SOCIAL AGENDA. New Impact Aid Provisions Included in Defense Authorization Act.
Udall, Tipton agree with Obama directive on detainees - Pueblo Chieftain: Colorado State And Regional News. Virginia's Anti-NDAA Bill Set to Become Law; Ariz. Joins the Fight | NDAA: Liberty Preservation Act. Human Rights Petition: Tell Congress, N.D.A.A. Approval is Treason. NDAA Approved Equipment. Now You Know Why The NDAA Passed!!! They Profit Off Us In Jail.. Gear companies dragged into civil liberty politics.
Lobbying Spending Database - SureFire LLC, 2011. SureFire Responds to NDAA Rumors - Soldier Systems. SureFire, LLC. NDAA internet war on American human rights defenders - National Human Rights. Surefire LLC. Obama does possess surefire campaign strategy. SureFire - Flashlights - Weapon Lights - Tactical Equipment. Lobbied for the NDAA Indef Detent Bill Given $23 Mil Contract for Night Raid Equipment.
Anonymous: Night Raid Equipment-Maker Lobbied for NDAA, Singles Out Sen. Rob Portman. Bill of Rights Defense Committee Director Warns Public of NDAA. Opposition grows to the 2012 National Defense Authorization Act (NDAA) Bill of Rights Defense Committee Director Warns Public of NDAA : Patriot Newswire. Students fight National Defense Authorization Act | BG Reports. US president has powers of a dictator' OPEN LETTER TO CONGRESS: NDAA - AN INTOLERABLE ACT. President Obama Signs Indefinite Detention Bill Into Law s1867 .avi.
Pulitzer Prize Winner Sues ObamaNazi Over NDAA. How to Recall US Senators and Congressmen. 'Indefinite Detention' Bill Passes Senate 93-7. Obama's U-Turn On Indefinite Detention Bill a "Historic Tragedy" For Rights. Julian Assange Interview with Michael Hastings – NDAA Implications. Obama, the Hitman: Killing Due Process. The president must go. Government could strip citizenship from Americans under Enemy Expatriation Act. AMERICANS IGNORED NDAA PRECEDENTS AT THEIR PERIL<br>Claims foreign writer | BREAKING NEWS. The Real Problem with the National Defense Authorization Act by Laurence M. Vance. Recall Package for State Legislators to Enact a Recall Law for U.S. Senators and Congressmen in Your State. » Nightly News: Obama Signs Draconian NDAA Citizen Detention Bill Alex Jones.
Who Cares? Apparently, You. Top 3 Congressional Bills in Jan 2012 regard Civil Liberties | That's My Congress. Devvy Kidd -- 36 States Did Not Ratify 17th Amendment - What Will States Do? Enemy Expatriation Act Could Strip Americans of Citizenship. One Lonely State Representative Opposes Indefinite Detention. The NDAA: Just one more link in the chain of tyranny. Problematizing the Section 1251 Report. Occupy DC Protesters Gather at Capitol as House Returns. Lummis to Sponsor Bill Fighting Sections of NDAA | Sheridan Media - Serving Sheridan Wyoming & Buffalo Wyoming With News, Weather & Sports. National Defense Authorization Act (NDAA): Image Gallery (Sorted by Oldest) Human Rights Petition: REPEAL NDAA (The National Defense Authorization Act.
Bill introduced to allow US government to strip Americans of their citizenship - OpenGlobe. Occupy Lubbock members protest near Neugebauer's Lubbock office. Ron Paul Criticizes Lindsey Graham, NDAA Detention Clause On House Floor. How Not to Celebrate Liberty. Videos - Detaining Sen. Levin Over NDAA. 2012's Civil Liberties Apocalypse Has Already Happened. SOPA Beaten Back, Now for NDAA Military Detention of Americans. To the State Houses. Ron Paul NDAA Debate: Candidate Introduces Legislation to Defang Controversial Bill [VIDEO]
The Answer To The NDAA: Nullification – Maine Tenth Amendment Center. If You Can be Dismembered Without Due Process, What's a Little Detention? Congressman Ron Paul Introduces Bill to Repeal NDAA's Indefinite Detention. Judging Obama.
---