Movies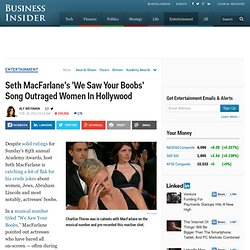 YouTube Charlize Theron was in cahoots with MacFarlane on the musical number and pre-recorded this reaction shot. Despite solid ratings for Sunday's 85th annual Academy Awards, host Seth MacFarlane is catching a lot of flak for his crude jokes about women, Jews, Abraham Lincoln and most notably, actresses' boobs. In a musical number titled "We Saw Your Boobs," MacFarlane pointed out actresses who have bared all on-screen — often during emotionally-charged or rape scenes.
Seth MacFarlane Boobs Song Angered Hollywood Women
8 Hilariously Candid Quotes By Jennifer Lawrence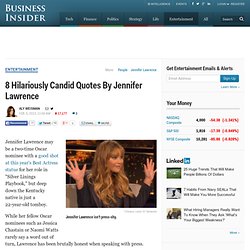 "Chelsea Lately"/E! Networks Jennifer Lawrence isn't press-shy.
Academy of Motion Picture Arts and Sciences I want to Become an Academy Museum Insider! Watch the Oscar Nominations 86th Oscars® Nominations Announced Oscar® Production Team Announced Oscar.com Goes Behind The Scenes Of Nominations With First Installment Of Exclusive Inside The Oscars® Video Series
Oscars.org | Academy of Motion Picture Arts and Sciences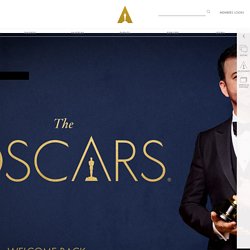 Entertainment News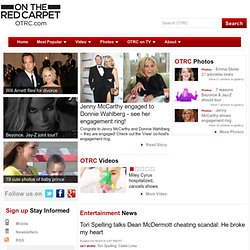 Advertisement Five Vine videos teasing the anticipated trailer for "Game Of Thrones" season 4 were released on Friday, Jan. 10. A day earlier, the premiere date for the fourth season of the popular HBO fantasy-adventure series was announced -- the show will return on April 6. The trailer is set to be released on Sunday, Jan. 12, at 8:58 p.m. ET, before the debut of the cable channel's new series, "True Detective."
The Oscars 2012 | Academy Awards 2012
Alternative Cinema Strikes Back
New! Article Is Spike Jonze's 'Her' the ultimate Bechdel test brainteaser? It's actually pretty ambiguous!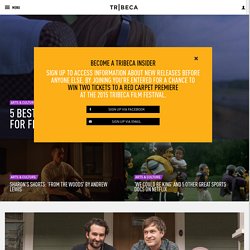 Ben Gazzara, star of "Anatomy of a Murder" and "The Killing of a Chinese Bookie" has died at age 81. The actor, who was a favorite of director John Cassavetes, died of pancreatic cancer at Bellevue Hospital Center, his lawyer, Jay Julien, told the New York Times. He was a contemporary of higher-profile stars Marlon Brando and Rod Steiger and also studied at the famed Actors Studio in Manhattan. He conquered Broadway, originating the role of Brick in "Cat on a Hot Tin Roof," but didn't capitalize on his rising star when Hollywood came calling. "When I became hot, so to speak, in the theater, I got a lot of offers," he told Charlie Rose in a 1998 interview. "I won't tell you the pictures I turned down because you would say, 'You are a fool.'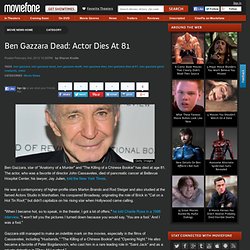 Ben Gazzara Dead: Actor Dies At 81
Movie theater stocks slide amid Wall Street rally
The stock market staged a big rally Tuesday, but it didn't include some of the nation's top theater circuits. Shares in Regal Entertainment and Carmike Cinemas took a hit in the wake of investor concerns about disappointing ticket sales at movie theaters, especially in the final months of 2011. Shares in Regal -- the nation's largest circuit -- closed at $11.62, down 3% for the day and 16% in the last month. Shares in the fourth biggest chain, Carmike, closed at $6.59, down 4% for the day and 9% for the month. The price drops came after Piper Jaffray analyst James Marsh lowered his earnings estimates and his ratings on the stocks of both cinema companies, citing an estimated overall 5% decline in fourth quarter box-office revenue. The fourth quarter results "are likely to represent a massive disappointment to investors, studios and exhibitors alike,'' Marsh wrote in a report Tuesday.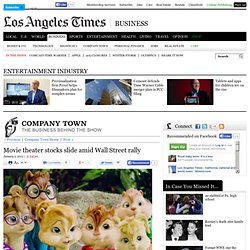 Fremaux set to take full control at Cannes
Thierry Fremaux, the Cannes Film Festival's delegate general since 2007, looks set to take full control at the world's premier film fest. The new balance of power, approved by Cannes' board of directors Tuesday, also sees Gilles Jacob's mandate as fest prexy extended to cover the 2013 and 2014 editions. Fremaux, whose title won't change, is already responsible for programming the Official Selection, which includes the competition, out-of-competition slots, Special Screenings and Un Certain Regard.