Movies
Seth MacFarlane Boobs Song Angered Hollywood Women
8 Hilariously Candid Quotes By Jennifer Lawrence
Entertainment News
Alternative Cinema Strikes Back
One For Me / One For Them
Ben Gazzara, star of "Anatomy of a Murder" and "The Killing of a Chinese Bookie" has died at age 81. The actor, who was a favorite of director John Cassavetes, died of pancreatic cancer at Bellevue Hospital Center, his lawyer, Jay Julien, told the New York Times .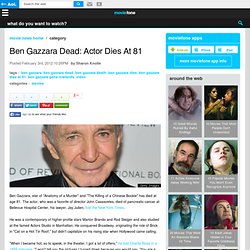 Ben Gazzara Dead: Actor Dies At 81
Movie theater stocks slide amid Wall Street rally
The stock market staged a big rally Tuesday, but it didn't include some of the nation's top theater circuits. Shares in Regal Entertainment and Carmike Cinemas took a hit in the wake of investor concerns about disappointing ticket sales at movie theaters , especially in the final months of 2011.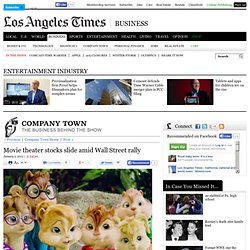 Fremaux set to take full control at Cannes
Thierry Fremaux, the Cannes Film Festival's delegate general since 2007, looks set to take full control at the world's premier film fest. The new balance of power, approved by Cannes' board of directors Tuesday, also sees Gilles Jacob's mandate as fest prexy extended to cover the 2013 and 2014 editions. Fremaux, whose title won't change, is already responsible for programming the Official Selection, which includes the competition, out-of-competition slots, Special Screenings and Un Certain Regard.