Medea Benjamin
Medea Benjamin Surprised Obama Drones Speech Protest Worked. WASHINGTON -- Even Medea Benjamin was surprised she managed to get into President Barack Obama's major national security address at National Defense University on Thursday.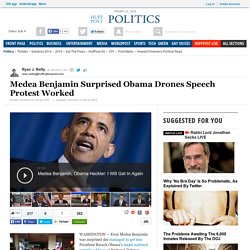 The long-time Code Pink protestor (and HuffPost blogger ) is a fixture on Capitol Hill and well known to most D.C. reporters. "I had my head down for about two hours and was talking on the phone for about two hours. "That Woman Is Worth Paying Attention To": Medea Benjamin Explains Why She Disrupted Obama's Speech. This is a rush transcript.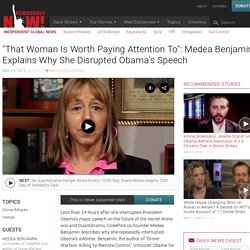 Copy may not be in its final form. JUAN GONZÁLEZ: To discuss President Obama's first major address on counterterrorism strategy since he was re-elected, we're joined now by three guests. In Washington, D.C., Medea Benjamin is the co-founder of CodePink and author of Drone Warfare: Killing by Remote Control . AMY GOODMAN : She repeatedly interrupted President Obama's speech Thursday in an exchange that ended with him saying, quote, "The voice of that woman is worth paying attention to. " President Obama on Drones. Obama Heckled During Guantánamo Speech. Press Coverage: Medea Benjamin Disrupts Obama's Speech on Guantanamo. May 23, 2013 Obama heckled during Guantanamo Speech , Video, NY Times Obama limits use of U.S. drone strikes, offers steps to close Guantanamo, Haaretz.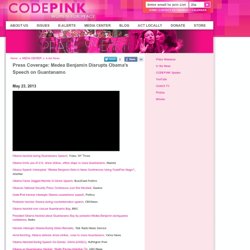 The Satanic Capitalist | Medea Benjamin Interview: Money In Politics Works... Amy Goodman Interviews Medea Benjamin on Code Pink's Disruption of Thursday's Brennan CIA Confirmation Hearing. Americans Take Anti-Drone Stance Directly to Pakistan. "You're not really going to Pakistan, are you?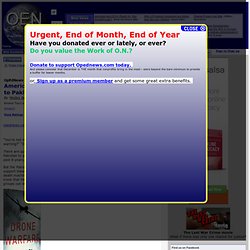 " "You've seen the State Department travel warning? " "Don't they hate us over there? " There are questions our friends and relatives are asking as we embark on a delegation to Pakistan to protest the drone attacks that have killed so many innocent Pakistanis over the past 8 years. Colin Powell: Another War Criminal Cashes In. One could be forgiven for thinking there's anything honorable or honest about Colin Powell.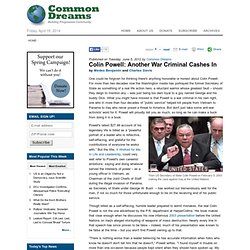 For more than two decades now the Washington media has portrayed the former Secretary of State as something of a real life action hero, a reluctant warrior whose greatest fault – should they deign to mention any – was just being too darn loyal to a guy named George and his buddy Dick. What you might have missed is that Powell is a war criminal in his own right, one who in more than four decades of "public service" helped kill people from Vietnam to Panama to Iraq who never posed a threat to America. But don't just take some anti-war activists' word for it: Powell will proudly tell you as much, so long as he can make a buck from doing it in a book. Then US Secretary of State Colin Powell on February 5, 2003 making the case against Iraq at the United Nations.
Medea Benjamin - Tablet Magazine. Drone Warfare: Killing by Remote Control. Medea Benjamin: Drones kill innocent civilians and antagonize whole populations - Bio Medea Benjamin is co-founder of the peace group CODEPINK and the human rights organization Global Exchange.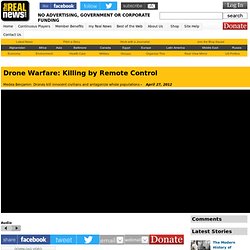 She has been organizing against U.S. military interventions, promoting the rights of Palestinians and calling for no war on Iran. Her latest work includes an effort to stop CIA drone attacks, and she is the author of a new book, "Drone Warfare: Killing by Remote Control." Transcript. Video: Medea Benjamin on Drones. Drones and the Dream of Remote Control in the Borderlands. Drones along the U.S. boundaries with Mexico and Canada are coming under criticism from an unexpected source: the Department of Homeland Security (DHS)—or, more specifically, the department's Office of the Inspector General (OIG).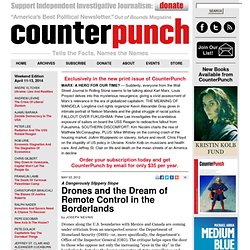 The critique helps open the door to those who oppose not only the increasing "eyes in the sky" in the borderlands, but also the larger apparatus of state surveillance and repression. The OIG, charged with promoting "effectiveness, efficiency, and economy in the Department of Homeland Security's programs and operations," has undertaken an audit of the "unmanned aerial vehicle" program of U .S.
Customs and Border Protection (CBP). Building Opposition to the Obama Administration's Expanded Use of Drones. CODEPINK press conference at National Press Club on Drone Summit The United States Constitution and international law make it illegal to kill someone without due process except in armed conflict or where they pose an imminent threat and there is no other option available, staff attorney Maria Lahood of the Center for Constitutional Rights (CCR) explains.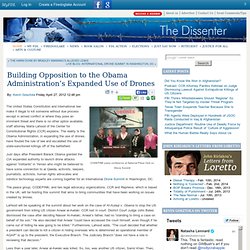 The reality is the Obama Administration, in expanding the use of drones, have flouted the rule of law and escalated the use of state-sanctioned killings off of the battlefield. Just days after President Barack Obama granted the CIA expanded authority to launch drone attacks against "militants" in Yemen who might be believed to have some connection to al Qaeda, activists, lawyers, journalists, activists, human rights advocates and robotics technology experts are coming together for an international Drone Summit in Washington, DC. Medea Benjamin speaks truth to power 'Shame on You': John Brennan on US Drone Warfare. Counterterrorism adviser John Brennan spoke at the Woodrow Wilson International Center in Washington DC on April 30 to mark the one-year anniversary of the killing of Osama bin Laden.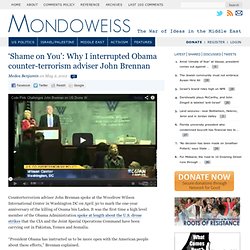 It was the first time a high level member of the Obama Administration spoke at length about the U.S. drone strikes that the CIA and the Joint Special Operations Command have been carrying out in Pakistan, Yemen and Somalia. "President Obama has instructed us to be more open with the American people about these efforts," Brennan explained. I had just co-organized a Drone Summit over the weekend, where Pakistani lawyer Shahzad Akbar told us heart-wrenching stories about the hundreds of innocent victims of our drone attacks. We saw horrific photos of people whose bodies were blown apart by Hellfire missiles, with only a hand or a slab of flesh remaining.
Obama National Security Chief Calls Drone Strikes "Just," "Wise," But Concedes We Attacked Militants Knowing Civilians Would Be Killed. By Richard Silverstein As we near the first anniversary of the assassination of Osama bin Laden (tomorrow) and the 2012 presidential election, the Obama administration is trying to prove how much hair it has on its chest regarding national security.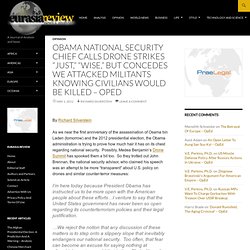 Possibly, Medea Benjamin's Drone Summit has spooked them a bit too. So they trotted out John Brennan, the national security advisor, who claimed his speech was an attempt to be more "transparent" about U.S. policy on drones and similar counter-terror measures: I'm here today because President Obama has instructed us to be more open with the American people about these efforts…I venture to say that the United States government has never been so open regarding its counterterrorism policies and their legal justification.
Drones Flying Under the Radar. An undated handout photo of a US Air Force MQ-9 Reaper, a drone aircraft aimed with laser-guided munitions and Hellfire missiles. (Photo: Lt. Col. Leslie Pratt / US Air Force via The New York Times) CodePink on Michelle Obama's message to them in SF: "Keep up the great work" | Politics Blog. First Lady Michelle Obama, accepting an anti-war petition at a fundraiser in San Francisco last week, told the CodePink member who presented her with 20,000 signatures, "Keep up the great work," the organization's co-founders say. CodePink co-founder Medea Benjamin wrote a blogpost today about the First Lady's visit. In it, she related what she said happened behind the scenes when Kristin Hull, a CodePink supporter – one who paid to get into the $500 a head fundraiser – personally met up with Michelle Obama at the California Academy of Sciences last Friday.
After Hull handed Mrs. Against US War-Making: Glen Ford David Swanson Medea Benjamin moderated by Jeff Cohen. US Drone Warfare: Robots Kill, But The Blood Is on Our Hands. Even if you've been reading everything you could about drones, attending peace conferences, and protesting in the lobbies of drone companies like General Atomics, you will learn a great deal from this book. In fact, I'm willing to bet that even if you "pilot" drones from a desk for a living you will learn a great deal from this book. And if you have not been paying attention to drones, then you really need to read this book. Drones' new weapon: P.R. Stung by mounting hostility from the left and right, America's drone industry is fighting back.
"We're going to do a much better job of educating people about unmanned aviation, the good and the bad," said Michael Toscano, president of the Association of Unmanned Vehicle Systems International, the industry's trade group in Washington. "We're working on drafting the right message and how to get it out there." The P.R. blitz comes after drones suffered a round of negative attention last week. Conservative columnist Charles Krauthammer called for a ban on drones in U.S. airspace, and two other conservative commentators endorsed the idea of shooting down unmanned aircraft flown by U.S. law enforcement agencies. (Opposition to the U.S. government's deployment of unmanned vehicles had previously come from left-liberal groups concerned about civilian casualties in the drone war in Pakistan and potential threats to civil liberties at home.) Medea Benjamin on the protests. NATO Protests In Fortress Chicago.
While no mass arrests took place, downtown loop fully militarized - Transcript VOICEOVER: While protesters denounced U.S. militarism abroad during the 2-day NATO summit, the city of Chicago found itself the target of a robust campaign of militarization. Why I Interrupted Obama Counterterrorism Adviser John Brennan | United For Peace and Justice. Drone Warfare: Killing by Remote Control.
'Shame on You': Why I Interrupted Obama Counter-Terrorism Adviser John Brennan. CODEPINK : Index. Jailed for Sailing to Gaza, Challenging the Blockade.
---