Libertarian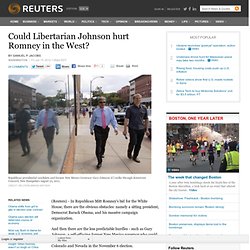 WASHINGTON (Reuters) - In Republican Mitt Romney's bid for the White House, there are the obvious obstacles: namely a sitting president, Democrat Barack Obama, and his massive campaign organization. And then there are the less predictable hurdles - such as Gary Johnson, a self-effacing former New Mexico governor who could complicate Romney's efforts to challenge Obama in New Mexico, Colorado and Nevada in the November 6 election. Johnson, 59, is the Libertarian Party's nominee for president and, by most measures, a fringe candidate.
Could Libertarian Johnson hurt Romney in the West?
As Ron Paul, Inc. Flutters, Can Libertarian Presidential Candidate Gary Johnson Fill The Void? | Silver Vigilante
As Ron Paul support wanes as an outcome of disunity within his campaign, it is important to investigate the 2012 Libertarian Party presidential candidate, Gary Johnson, and his viability as the political leader of the movement for freedom and liberty, peace and truth, in the United States. I suspect that, if the Ron Paul campaign is silent on the confusion emanating from its ranks, and does not supply an aggressive pro-freedom and liberty message with an explanation to its supporters, blogging about and perhaps media coverage of Gary Johnson will increase. But, Gary Johnson's philosophical dedication to the freedom movement is not steadfast enough to be sustained in a high-pressure national campaign, and the truth movement must recognize this or risk truly compromising itself by supporting a lukewarm libertarian candidate who fails to make a showing in the national election. Gary Johnson is the 2012 Libertarian Party presidential candidate.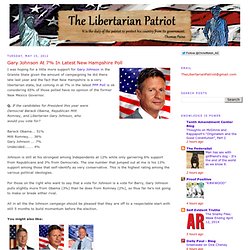 I was hoping for a little more support for Gary Johnson in the Granite State given the amount of campaigning he did there late last year and the fact that New Hampshire is a very libertarian state, but coming in at 7% in the latest PPP Poll is ok considering 65% of those polled have no opinion of the former New Mexico Governor. Q. If the candidates for President this year were Democrat Barack Obama, Republican Mitt Romney, and Libertarian Gary Johnson, who would you vote for? Barack Obama... 51% Mitt Romney.... 38% Gary Johnson ... 7% Undecided....... 4% Johnson is still at his strongest among Independents at 12% while only garnering 6% support from Republicans and 3% from Democrats. The one number that jumped out at me is his 13% support among those that self-identify as very conservative.
The Libertarian Patriot: Gary Johnson At 7% In Latest New Hampshire Poll
Video of the Day: Gary Johnson Ad
Libertarians In The News! | Libertarian Party of Indiana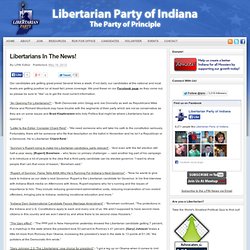 Our candidates are getting great press! Several times a week, if not daily, our candidates at the national and local levels are getting positive (or at least fair) press coverage. We post these on our Facebook page as they come out, so please be sure to "like" us to get the most current information. "An Opening For Libertarians?"
Gary Johnson, Libertarian Candidate
New Libertarian Nominee Gary Johnson Slams Republicans For Gay Staffer Flap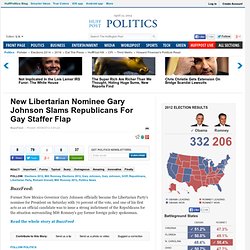 Former New Mexico Gov. Gary Johnson makes a statement in the Fox News/Google GOP Debate at the Orange County Convention Center on September 22, 2011 in Orlando, Florida. (Photo by Phelan M. Ebenhack-Pool/Getty Images)
Presidential Race Takes Libertarian Tilt In Nev.
The Libertarian Party held its convention in Las Vegas over the weekend, choosing a presidential and vice-presidential nominee. NPR's David Welna reports that it came as no surprise that the Libertarian Party put Gary Johnson at the top of its ticket. Copyright © 2012 NPR. For personal, noncommercial use only. See Terms of Use.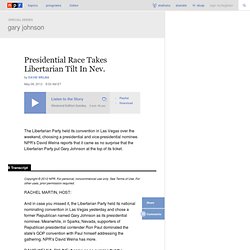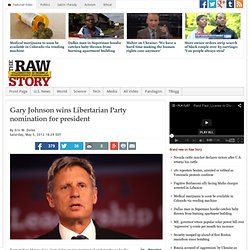 By Eric W. DolanSaturday, May 5, 2012 18:29 EDT Former New Mexico Gov.
Gary Johnson wins Libertarian Party nomination for president
Libertarians nominate ex-Governor Gary Johnson for president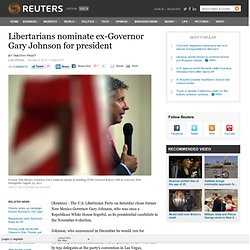 By Timothy Pratt LAS VEGAS Sat May 5, 2012 11:20pm EDT LAS VEGAS (Reuters) - The U.S.
Don't Forget Gary Johnson! How the Libertarian Could Shake Up 2012
The budget-busting, pro-gay marriage former governor got the Libertarian party's nod at a Las Vegas convention this weekend. Michael Ames on why he's shaping up to be a November spoiler. It's fitting that Gary Johnson made his Libertarian presidential campaign official at a Las Vegas casino.