Libertarian
Could Libertarian Johnson hurt Romney in the West?
As Ron Paul, Inc. Flutters, Can Libertarian Presidential Candidate Gary Johnson Fill The Void? | Silver Vigilante
As Ron Paul support wanes as an outcome of disunity within his campaign, it is important to investigate the 2012 Libertarian Party presidential candidate, Gary Johnson, and his viability as the political leader of the movement for freedom and liberty, peace and truth, in the United States.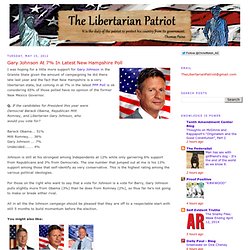 I was hoping for a little more support for Gary Johnson in the Granite State given the amount of campaigning he did there late last year and the fact that New Hampshire is a very libertarian state, but coming in at 7% in the latest PPP Poll is ok considering 65% of those polled have no opinion of the former New Mexico Governor. Q.
The Libertarian Patriot: Gary Johnson At 7% In Latest New Hampshire Poll
Video of the Day: Gary Johnson Ad
Libertarians In The News! | Libertarian Party of Indiana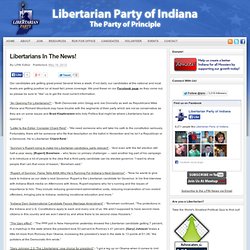 Our candidates are getting great press!
Gary Johnson, Libertarian Candidate
When Gary goes to Washington, we all go...
Gary Johnson 2012
New Libertarian Nominee Gary Johnson Slams Republicans For Gay Staffer Flap
Presidential Race Takes Libertarian Tilt In Nev.
The Libertarian Party held its convention in Las Vegas over the weekend, choosing a presidential and vice-presidential nominee.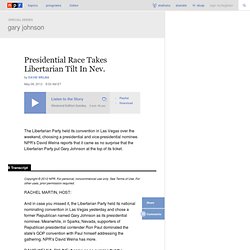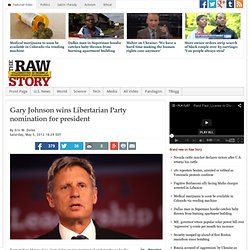 By Eric W. Dolan Saturday, May 5, 2012 18:29 EDT Former New Mexico Gov.
Gary Johnson wins Libertarian Party nomination for president
Libertarians nominate ex-Governor Gary Johnson for president
Don't Forget Gary Johnson! How the Libertarian Could Shake Up 2012
It's fitting that Gary Johnson made his Libertarian presidential campaign official at a Las Vegas casino. In the past, the Libertarians have favored philosophic purity over government experience, but this year they're taking a gamble: that the former New Mexico governor can make them a legitimate alternative party. In an era of infinite political dysfunction, Johnson is rolling the dice with a brand of fiscal responsibility and social tolerance that could make him a real threat in November.