Human Rights
In the past year, we applauded two Illinois courts for protecting every citizen's right to record on-duty police, and ruling that a law criminalizing the act is unconstitutional. We similarly pointed to Boston, where a court forced the city to pay someone they arrested for filming the cops. Of course, it's pretty concerning that this was ever in question to begin with—normally, the argument that "you don't need privacy unless you've got something to hide" is fallacious for a number of reasons, but that doesn't extend to people who are empowered and armed, ostensibly with the consent of the citizenry and on the condition that they follow their own strict code of behavior. The fact that there is a clear push to let officers operate without public scrutiny is intolerable on every level. But, perhaps worse still, there is the fact that police don't always need a law to protect them from the public's lenses—they can just take matters into their own hands.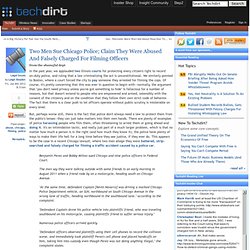 Two Men Sue Chicago Police; Claim They Were Abused And Falsely Charged For Filming Officers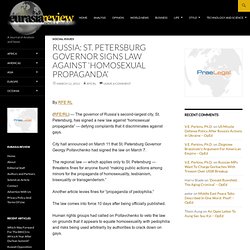 By RFE RL (RFE/RL) — The governor of Russia's second-largest city, St. Petersburg, has signed a new law against "homosexual propaganda" — defying complaints that it discriminates against gays. City hall announced on March 11 that St. Petersburg Governor Georgy Poltavchenko had signed the law on March 7.
Russia: St. Petersburg Governor Signs Law Against 'Homosexual Propaganda'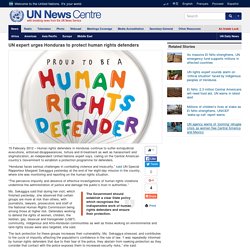 Human rights defenders in Honduras continue to suffer extrajudicial executions, enforced disappearances, torture and ill-treatment as well as harassment and stigmatization, an independent United Nations expert says, calling on the Central American country's Government to establish a protection programme for defenders. "Honduras faces serious challenges in combating violence and insecurity," said UN Special Rapporteur Margaret Sekaggya yesterday at the end of her eight-day mission in the country, where she was monitoring and reporting on the human rights situation. "The pervasive impunit y and absence of effective investigations of human rights violations undermine the administration of justice and damage the public's trust in authorities."
expert urges Honduras to protect human rights defenders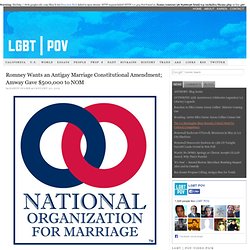 Romney Wants an Antigay Marriage Constitutional Amendment; Amway Gave $500,000 to NOM
With the Jan. 24 release of Mitt Romney's 2010 tax returns and a summation from 2011, the nation got a glimpse of how committed he is to his Mormon faith – tithing the expected 10% of his income to the Church of Jesus Christ of Latter-day Saints, also known as the Mormon Church. In 2010, that contribution was $1.5 million or about 7% percent of his adjusted gross income. In 2011, Romney tithed $2.6 million, or 12.4 percent of his income, according to the Christian Science Monitor. This is significant, considering the role the Mormon Church played in passing Prop 8 in California in 2008.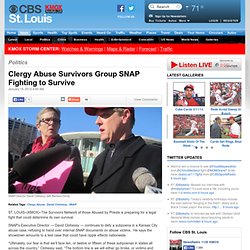 ST. LOUIS–(KMOX)–The Survivors Network of those Abused by Priests is preparing for a legal fight that could determine its own survival. SNAP's Executive Director — David Clohessy — continues to defy a subpoena in a Kansas City abuse case, refusing to hand over internal SNAP documents on abuse victims.
Clergy Abuse Survivors Group SNAP Fighting to Survive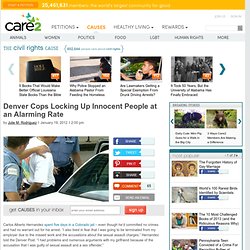 Denver Cops Locking Up Innocent People at an Alarming Rates
Carlos Alberto Hernandez spent five days in a Colorado jail – even though he'd committed no crimes and had no warrant out for his arrest. "I also lived in fear that I was going to be terminated from my employer due to the missed work and the accusations about the sexual assault charges," Hernandez told the Denver Post. "I had problems and numerous arguments with my girlfriend because of the accusation that I was guilty of sexual assault and a sex offender." Carlos isn't the only one. In 2007, Stephen Tendell was arrested after police booked a man who'd stolen his identity, who then failed to appear in court.
With Walt Disney World as a backdrop, Obama called Thursday for streamlining and speeding up the visa process for certain applicants in China and Brazil, the fastest-growing markets for U.S. travel. "I want America to be the top tourist destination in the world," he said. Among the changes proposed by Obama were allowing interviews to be waived for some very low-risk applicants such as individuals from any country renewing visas or, in Brazil, younger or older first-time applicants. The changes have been called for for years by travel, business and retail advocates, who argue that visa delays hamper economic growth and cost billions of dollars and thousands of jobs. The airline association said Thursday that "streamlining and enhancing the visa application process for international visitors to the United States without compromising our national security is of vital importance to the U.S. airlines."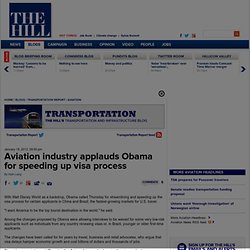 Aviation industry applauds Obama for speeding up visa process - The Hill's Transportation Report
Internet access is integral to human rights | Al-Masry Al-Youm: Today's News from Egypt
Egypt soldier and Bedouin killed in gunfight over land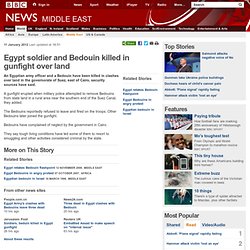 11 January 2012Last updated at 16:51 An Egyptian army officer and a Bedouin have been killed in clashes over land in the governorate of Suez, east of Cairo, security sources have said. A gunfight erupted when military police attempted to remove Bedouins from state land in a rural area near the southern end of the Suez Canal, they added. The Bedouins reportedly refused to leave and fired on the troops. Other Bedouins later joined the gunfight.
Vinton Cerf | Internet | Human Rights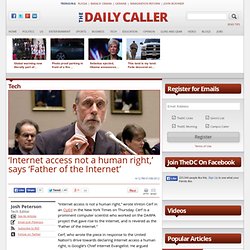 "Internet access is not a human right," wrote Vinton Cerf in an OpEd in the New York Times on Thursday. Cerf is a prominent computer scientist who worked on the DARPA project that gave rise to the Internet, and is revered as the "Father of the Internet." Cerf, who wrote the piece in response to the United Nation's drive towards declaring Internet access a human right, is Google's Chief Internet Evangelist. He argued that "technology is an enabler of rights, not a right itself."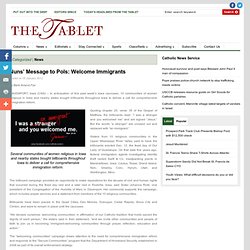 Posted on 05 January 2012. by Barb Arland-Fye DAVENPORT, Iowa (CNS) – In anticipation of this past week's Iowa caucuses, 10 communities of women religious in Iowa and nearby states bought billboards throughout Iowa to deliver a call for comprehensive immigration reform. Several communities of women religious in Iowa and nearby states bought billboards throughout Iowa to deliver a call for comprehensive immigration reform.
The Tablet | Diocese of Brooklyn
A new chapter for the Milwaukee Teachers Education Association
It's a new era for public education unions in Wisconsin, and Bob Peterson and the MTEA are adjusting to life after collective bargaining. January 4th, 2012 | The president of the Milwaukee Teachers Education Association says even if Gov. Scott Walker is recalled, it's not likely collective bargaining will be revived anytime soon. MTEA president Bob Peterson
Sheriff Joe Failed To Investigate Over 400 Sex Crimes
Written by Tanya Somanader Arizona's infamous Sheriff Joe Arpaio (R) spends a lot of time playing politics and apparently no time doing his actual job. The AP reports that, over a three-year period ending in 2007, Arpaio "inadequately investigated" or in some instances didn't even work more than 400 sex-crimes reported to his office. The cases "include dozens of alleged child molestations."
Saudi Woman Faces Flogging For Driving
A Saudi Arabian woman whose sentence of ten lashes for driving was initially pardoned by King Abdullah in September could still face flogging, even after no one less than Princess Ameerah al-Taweel, wife of King Abdallah's billionaire nephew Al-Waleed Ibn Talal and a longstanding champion of women's right to drive, announced on Twitter in September that she would not face such a cruel punishment. In July, Shaima Jastaniah was arrested for driving in the coastal city of Jeddah. A number of Saudi women had sought to break the ban on women driving in June by getting behind the wheel, after computer security consultant Manal al-Sharif not only drove but videotaped herself doing so and uploaded the video to YouTube. Sharif was imprisoned for several days in May and released on bail, on the grounds that she not drive, not talk to the media and return for questioning as requested.
Bernie Sanders Files Amendment To Overturn Citizens United
Care2 recently brought you the news of two city councils that passed symbolic resolutions to support constitutional amendments that would undo the Supreme Court's disastrous Citizens United v. Federal Election Commission ruling. The votes, which took place in Los Angeles, California, and Albany, New York, were both unanimous, and met with widespread approval among Occupy Wall Street participants.
Afghan Girls and Mother Disfigured in Acid Attack
It really blows my mind when I think of the countless ways mankind has found to inflict violence against women around the world. Acid attacks are one of the violent forms of assault that is most common in countries like Cambodia, Afghanistan, India, Bangladesh and Pakistan. A recent story from Afghanistan left four women – 3 daughters and their mother – disfigured from an acid attack. The perpetrators were after the family's oldest daughter because her father had denied one of the men's requests for her hand in marriage.
Op-Ed: Does US Senate Commit Treason with NDAA Bill?
Arizona Puts Profit Over Prisoners' Progress With New Fee
Transgender woman tasered in crotch by rangers when they found out she was born a man
Copyright Office Once Again Preparing To Throw Citizens A Fair Use Bone
Shutdown fight rings out the year
Podcast: Thom Hartmann; Corporate Personhood Update; Supreme Court Justices Are Kings of America
Watch: Fans Camping Out for Versace for H&M are Mistaken for Occupy Wall Street Protesters
TV boss goes on trial for showing 'Persepolis' - TUNISIA
Villages shelled as Syrian conflict escalates - SYRIA
Arab League confirms suspension of Syria - SYRIA
EXCLUSIVE: Yemen's Saleh 'to step down within 90 days' - YEMEN
Obama's Uncle In Criminal Court Thursday; Faces Deportation
Klout Automatically Created Profiles, Including Minors
Rock the Vote: Student Voting Rights
Egyptian women's group calls on men to try the veil
atomic agency completes review of Japan's response to nuclear disaster
Members Of Congress And Federal Employees Are Living The High Life At Our Expense
The Shadow CIA And Bush White House Assassinated Afghan Hero Ahmad Shah Massoud Two Days Before 9/11
Private prison industry grows despite critics - TODAY News
A priest's view of Penn State - Guest Voices
LK Advani | Jan Chetna Yatra | Akali Dal Worker | Protest | Bhatinda | Punjab | Bomb | Chennai | Tamil Nadu
Lack of data hinders pay gap comparison
Company Sues Ex-Employee Because He Kept His Personal Twitter Account & Followers
New Report Documents Torture in Sri Lanka (Video)
Diana DeGette for Congress
Obama: GOP goals would hurt women
Schools to Prison Pipeline, Today's Civil Rights Issue | JJIE.org
House Passes Let Women Die Act
Arizona Celebrates "Sharp Decrease In Abortion" Due To Lack of Providers
Anti-Extremist Laws in Russia Misused to Target Human Rights, Religious Groups
Occupy Wall Street's Moral Ground by Kathleen Moore
In Oregon, Voters Break Through the Spin to Help Make Decisions That Work by Tyrone Reitman
Nigeria Pushes on with Draconian Anti-Gay Bill
Michigan City Can't Pay Bills, Goes Dark Instead
UN culture agency grants Palestinians full membership - FRANCE
Human Rights Rapporteur On Iran | Editorials | Editorial
Human rights inaction 'a disgrace'
Media for Democracy and Human Rights in the Pacific
New USAJobs site for federal job seekers continues to frustrate many
Amish men jailed for refusal to pay fines, court costs
Oakland Police Use Rubber Bullets, Flash Grenades and Smoke Bombs to Evict Occupy Oakland
Rethinking the TSA: No Longer Accepting Police Repression in Exchange for Safety
As Global Population Surpasses 7 Billion, Two Clear Strategies for a Sustainable Future
Senate Rejects Big Piece of Obama Jobs Bill
Afghanistan militias and police 'committing abuses'
U.S. Requests for Google User Data Spike 29 Percent in Six Months | Threat Level
TSA and America's Misplaced Rage
Elementary and Secondary Education
Hollywood occupies Wall Street: A love story
Treaty of Guadalupe Hidalgo
IBM putting Watson to work in health insurance
Poor People Have Rights Too