HomoPhobia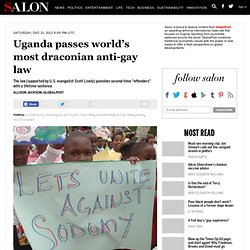 Homosexuality is already illegal in Uganda, but that wasn't enough for the socially conservative country's lawmakers who have just passed a long-shelved law toughening the penalties for gay acts. The draconian anti-gay bill, which Ugandan politicians on Friday hailed as a victory against "evil," punishes anyone caught engaging in homosexual acts for a second time with life imprisonment. Anyone who fails to report gay people will also be put behind bars and the public promotion of homosexuality, including discussions by rights groups, is now illegal. "This is a victory for Uganda. I am glad the parliament has voted against evil," David Bahati, who championed the legislation, told Agence France-Presse. "Because we are a God-fearing nation, we value life in a holistic way.
Uganda passes world's most draconian anti-gay law
On 3 December 2012, Ms Tolekan Ismailova sent a request to the chairman of the State Committee for National Security (SCNS) of the Republic of Kyrgyzstan to investigate the circumstances around a warning that she had received earlier this year from the Detective Officer of the 5th Department of the SCNS, Mr Soodonbekov. Tolekan Ismailova is a prominent human rights defender in Kyrgyzstan and the Chairperson of the human rights centre 'Citizens Against Corruption'. On 28 September 2012, Mr Soodonbekov issued an official warning to Tolekan Ismailova due to the scheduled screening of the LGBT documentary 'I Am Gay and Muslim' at a human rights film festival co-organized by Citizens Against Corruption.
Kyrgyzstan: Update – Request for Investigation Filed by Human Rights Defender Ms Tolekan Ismailova
Jerry Brown, California Governor, Signs SB 1172, Bill Banning Gay Conversion Therapy For Minors
California Governor Jerry Brown on Saturday signed a historic bill that will protect lesbian, gay, bisexual and transgender (LGBT) minors from "reparative" therapies administered by mental health professionals aimed at altering sexual orientation or gender identities and expressions. Senate Bill 1172, which the National Center for Lesbian Rights notes was co-sponsored by the NCLR, Equality California, Gaylesta, Courage Campaign, Lambda Legal, and Mental Health America of Northern California, and supported by dozens of organizations, is the first law of its kind in the United States and will become effective on January 1, 2013. "Conversion" or "reparative" therapies include a wide variety of techniques from counseling to shock therapy to -- in extreme cases -- exorcism, used in an attempt to "cure" individuals of their homosexual and transgender orientations and identities.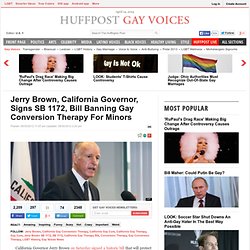 OLYMPIA, Wash. — The state of Washington has advised the Catholic diocese in Yakima, Wash., that its plans to conduct a special collection to benefit the campaign to defeat the state's marriage equality law is illegal under the state's campaign finance laws.
Washington advises Catholic diocese that anti-gay marriage collection is illegal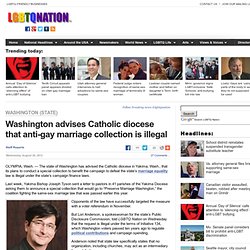 Gay marriage advocates gain corporate support - Abby Phillip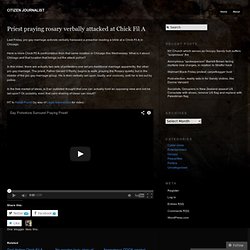 Last Friday, pro gay marriage activists verbally harassed a preacher reading a bible at a Chick Fil A in Chicago.
Priest praying rosary verbally attacked at Chick Fil A « Citizen Journalist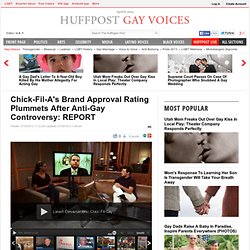 Chick-Fil-A's Brand Approval Rating Plummets After Anti-Gay Controversy: REPORT
OreoIn June 2012, Oreo posted a photo of a rainbow sextuple-stacked cookie to its <a href="https://www.facebook.com/oreo" target="_hplink">Facebook</a> page in honor of Pride month.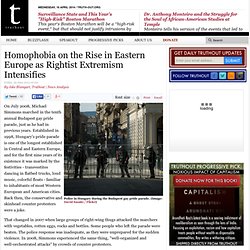 Police in Hungary during the Budapest gay pride parade. (Image: David Sasaki / Flickr)On July 2008, Michael Simmons marched in the tenth annual Budapest gay pride parade, just as he had in previous years. Established in 1998, Hungary's pride parade is one of the longest established in Central and Eastern Europe, and for the first nine years of its existence it was marked by the festivities - transvestites dancing in flatbed trucks, loud music, colorful floats - familiar to inhabitants of most Western European and American cities.
Homophobia on the Rise in Eastern Europe as Rightist Extremism Intensifies
Half-Naked Abercrombie Models Perform 'Call Me Maybe' [VIDEO]
Abercrombie & Fitch challenged its male models around the world to record themselves lip-syncing and dancing to this summer's most-viral song, "Call Me Maybe." The results of the mission (see above) show topless men freely getting their Carly Rae Jepsen on in New York City subways and in front of France's Eiffel Tower, among other global landmarks.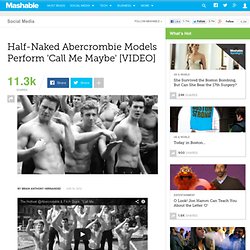 Gay marriage tangle for White House – live US political coverage | World news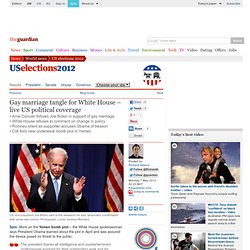 5pm: More on the Yemen bomb plot – the White House spokeswoman says President Obama learned about the plot in April and was assured the device posed no threat to the public: The president thanks all intelligence and counterterrorism professionals involved for their outstanding work and for serving with the extraordinary skill and commitment that their enormous responsibilities demand. 4.20pm: This just in – a scoop by the Associated Press:
Repugnant man defends repugnant team: Lanny Davis loves Redskins' name! Who do you call to confront the president when he calls your sports team's name racist? Why, Lanny Davis, of course Jim Newell Monday, Oct 7, 2013 02:30 PM CEST Business Lanny Davis Right-wing media's newest fixation even more idiotic than usual
Joe Biden's real gay marriage motive? - Opening Shot
Let Biden be Biden - Joe Biden
President Obama joins list of world leaders to snub Sochi Olympics Neither the president or Vice President Joe Biden will attend the winter games Katie Mcdonough Tuesday, Dec 17, 2013 11:04 PM UTC Life 2014 Sochi Olympics American empire is over: Somebody tell John Kerry!
Young Iraqi men stoned to death for Western, gay, Emo appearance
Shia militants in Iraq have been targeting young men identified as Emo's, who they perceive to be gay, due to their Western style of appearance. At least 58 youths have allegedly been brutally stoned to death with concrete blocks in the last six weeks.