HomoPhobia
Uganda passes world's most draconian anti-gay law. Homosexuality is already illegal in Uganda, but that wasn't enough for the socially conservative country's lawmakers who have just passed a long-shelved law toughening the penalties for gay acts.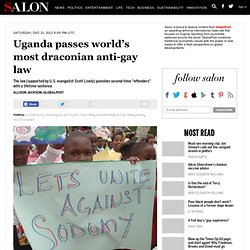 The draconian anti-gay bill, which Ugandan politicians on Friday hailed as a victory against "evil," punishes anyone caught engaging in homosexual acts for a second time with life imprisonment. Anyone who fails to report gay people will also be put behind bars and the public promotion of homosexuality, including discussions by rights groups, is now illegal.
"This is a victory for Uganda. I am glad the parliament has voted against evil," David Bahati, who championed the legislation, told Agence France-Presse. "Because we are a God-fearing nation, we value life in a holistic way. Kyrgyzstan: Update – Request for Investigation Filed by Human Rights Defender Ms Tolekan Ismailova. On 3 December 2012, Ms Tolekan Ismailova sent a request to the chairman of the State Committee for National Security (SCNS) of the Republic of Kyrgyzstan to investigate the circumstances around a warning that she had received earlier this year from the Detective Officer of the 5th Department of the SCNS, Mr Soodonbekov.
Tolekan Ismailova is a prominent human rights defender in Kyrgyzstan and the Chairperson of the human rights centre 'Citizens Against Corruption'. On 28 September 2012, Mr Soodonbekov issued an official warning to Tolekan Ismailova due to the scheduled screening of the LGBT documentary 'I Am Gay and Muslim' at a human rights film festival co-organized by Citizens Against Corruption. Jerry Brown, California Governor, Signs SB 1172, Bill Banning Gay Conversion Therapy For Minors.
California Governor Jerry Brown on Saturday signed a historic bill that will protect lesbian, gay, bisexual and transgender (LGBT) minors from "reparative" therapies administered by mental health professionals aimed at altering sexual orientation or gender identities and expressions.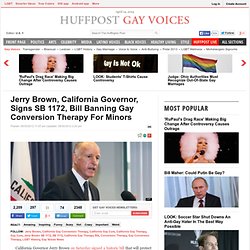 Senate Bill 1172, which the National Center for Lesbian Rights notes was co-sponsored by the NCLR, Equality California, Gaylesta, Courage Campaign, Lambda Legal, and Mental Health America of Northern California, and supported by dozens of organizations, is the first law of its kind in the United States and will become effective on January 1, 2013. "Conversion" or "reparative" therapies include a wide variety of techniques from counseling to shock therapy to -- in extreme cases -- exorcism, used in an attempt to "cure" individuals of their homosexual and transgender orientations and identities. Washington advises Catholic diocese that anti-gay marriage collection is illegal. OLYMPIA, Wash. — The state of Washington has advised the Catholic diocese in Yakima, Wash., that its plans to conduct a special collection to benefit the campaign to defeat the state's marriage equality law is illegal under the state's campaign finance laws.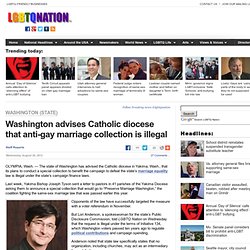 Last week, Yakima Bishop Joseph Tyson sent a letter to pastors in 41 parishes of the Yakima Diocese asking them to announce a special collection that would go to "Preserve Marriage Washington," the coalition fighting the same-sex marriage law that was passed earlier this year. Joseph Tyson Opponents of the law have successfully targeted the measure with a voter referendum in November. Gay marriage advocates gain corporate support - Abby Phillip. Priest praying rosary verbally attacked at Chick Fil A « Citizen Journalist. Last Friday, pro gay marriage activists verbally harassed a preacher reading a bible at a Chick Fil A in Chicago.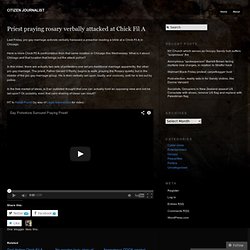 Here is more Chick Fil A confrontation from that same location in Chicago this Wednesday. What is it about Chicago and that location that brings out the attack police? In this video, there are actually two sets of protesters-one set pro-traditional marriage apparently, the other pro gay marriage. Chick-Fil-A's Brand Approval Rating Plummets After Anti-Gay Controversy: REPORT. OreoIn June 2012, Oreo posted a photo of a rainbow sextuple-stacked cookie to its <a href=" target="_hplink">Facebook</a> page in honor of Pride month.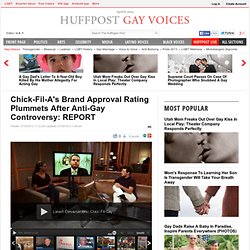 While the responses were mostly positive, some commenters were outraged, even calling for a <a href=" target="_hplink">boycott</a> of the product. Still, Basil Maglaris, Kraft's associate director of corporate affairs, <a href=" target="_hplink">said</a> that the positive comments on the post "far outweighed" the negative ones.Betty CrockerThe staple of American domesticity is part of the General Mills family of products, which has been <a href="
Homophobia on the Rise in Eastern Europe as Rightist Extremism Intensifies. Police in Hungary during the Budapest gay pride parade.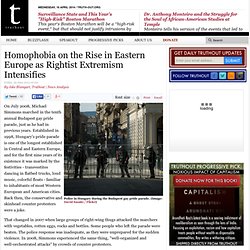 (Image: David Sasaki / Flickr)On July 2008, Michael Simmons marched in the tenth annual Budapest gay pride parade, just as he had in previous years. Established in 1998, Hungary's pride parade is one of the longest established in Central and Eastern Europe, and for the first nine years of its existence it was marked by the festivities - transvestites dancing in flatbed trucks, loud music, colorful floats - familiar to inhabitants of most Western European and American cities. Half-Naked Abercrombie Models Perform 'Call Me Maybe' Abercrombie & Fitch challenged its male models around the world to record themselves lip-syncing and dancing to this summer's most-viral song, "Call Me Maybe.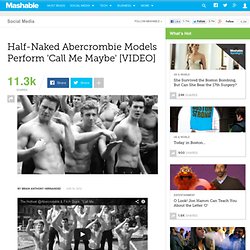 " The results of the mission (see above) show topless men freely getting their Carly Rae Jepsen on in New York City subways and in front of France's Eiffel Tower, among other global landmarks. "Call Me Maybe" hit number one on Billboard's Hot 100 songs chart Wednesday in its 16th week on the list, besting Gotye's long-standing "Somebody That I Used to Know. " The tune previously hit number one on Billboard's Digital Songs chart and iTunes singles chart in May. Lip-dubs similar to Abercrombie & Fitch's from the Harvard baseball team and Miss USA contestants as well as covers from late-night host Jimmy Fallon, web celebrity Tay Zonday and YouTube musicians (see below) have helped "Call Me Maybe" become a chart-topper. SEE ALSO: 'Call Me Maybe' Mashup of 75 Videos Will Haunt You. The media's next move on same-sex marriage. Gay marriage tangle for White House – live US political coverage | World news.
5pm: More on the Yemen bomb plot – the White House spokeswoman says President Obama learned about the plot in April and was assured the device posed no threat to the public: The president thanks all intelligence and counterterrorism professionals involved for their outstanding work and for serving with the extraordinary skill and commitment that their enormous responsibilities demand. 4.20pm: This just in – a scoop by the Associated Press: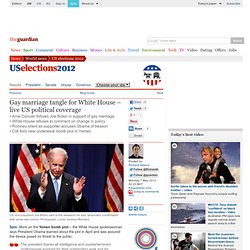 Joe Biden's real gay marriage motive? - Opening Shot. No one knows quite what to make of Joe Biden's apparent endorsement of same-sex marriage on Sunday.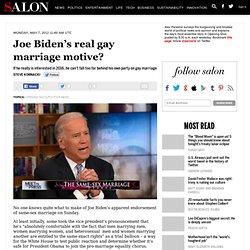 At least initially, some took the vice president's pronouncement that he's "absolutely comfortable with the fact that men marrying men, women marrying women, and heterosexual men and women marrying another are entitled to the same exact rights" as a trial balloon – a way for the White House to test public reaction and determine whether it's safe for President Obama to join the pro-marriage equality chorus. But the speed and force with which Obama's camp downplayed Biden's statement (and Biden's own subsequent clarification that he, like Obama, is merely "evolving" on gay marriage) suggests it may just have been just another of the off-script moments to which the vice president is prone. Let Biden be Biden - Joe Biden. For cryin' out loud. Sunday morning on "Meet the Press" Vice President Joe Biden went completely Joe Biden on the issue of marriage equality, telling David Gregory "I am absolutely comfortable with the fact that men marrying men, women marrying women and heterosexual men marrying women are entitled to the same exact rights," and crediting "Will and Grace."
That's the Joe Biden we know and love. Here's the exchange: GREGORY: Have your views evolved? BIDEN: The good news is that as more and more Americans come to understand what this is all about is a simple proposition. Young Iraqi men stoned to death for Western, gay, Emo appearance. Shia militants in Iraq have been targeting young men identified as Emo's, who they perceive to be gay, due to their Western style of appearance. At least 58 youths have allegedly been brutally stoned to death with concrete blocks in the last six weeks. Iraqi youth identified as fans of the "Emo" trend are part of a subculture that is associated with being gay. Iraqi Morality Police have issued a statement vowing to eliminate the trend, saying "The Emo phenomenon or devil worshipping is being followed by the Moral Police who have the approval to eliminate (the phenomenon) as soon as possible since it's detrimentally affecting the society and becoming a danger.
" (Al-Akhbar) "They wear strange, tight clothes that have pictures on them such as skulls and use stationary that are shaped as skulls. They also wear rings on their noses and tongues, and do other strange activities. "