HomoPhobia
On 3 December 2012, Ms Tolekan Ismailova sent a request to the chairman of the State Committee for National Security (SCNS) of the Republic of Kyrgyzstan to investigate the circumstances around a warning that she had received earlier this year from the Detective Officer of the 5th Department of the SCNS, Mr Soodonbekov. Tolekan Ismailova is a prominent human rights defender in Kyrgyzstan and the Chairperson of the human rights centre 'Citizens Against Corruption' . On 28 September 2012, Mr Soodonbekov issued an official warning to Tolekan Ismailova due to the scheduled screening of the LGBT documentary 'I Am Gay and Muslim' at a human rights film festival co-organized by Citizens Against Corruption.
Kyrgyzstan: Update – Request for Investigation Filed by Human Rights Defender Ms Tolekan Ismailova
Jerry Brown, California Governor, Signs SB 1172, Bill Banning Gay Conversion Therapy For Minors
California Governor Jerry Brown on Saturday signed a historic bill that will protect lesbian, gay, bisexual and transgender (LGBT) minors from "reparative" therapies administered by mental health professionals aimed at altering sexual orientation or gender identities and expressions. Senate Bill 1172, which the National Center for Lesbian Rights notes was co-sponsored by the NCLR, Equality California, Gaylesta, Courage Campaign, Lambda Legal, and Mental Health America of Northern California, and supported by dozens of organizations, is the first law of its kind in the United States and will become effective on January 1, 2013. "Conversion" or "reparative" therapies include a wide variety of techniques from counseling to shock therapy to -- in extreme cases -- exorcism, used in an attempt to "cure" individuals of their homosexual and transgender orientations and identities.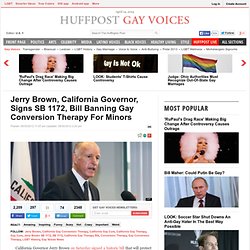 OLYMPIA, Wash. — The state of Washington has advised the Catholic diocese in Yakima, Wash., that its plans to conduct a special collection to benefit the campaign to defeat the state's marriage equality law is illegal under the state's campaign finance laws.
Washington advises Catholic diocese that anti-gay marriage collection is illegal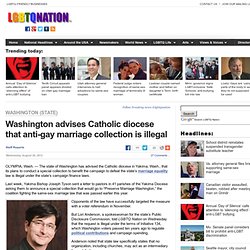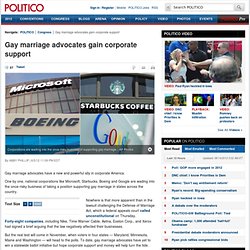 Gay marriage advocates gain corporate support - Abby Phillip
Gay marriage advocates have a new and powerful ally in corporate America.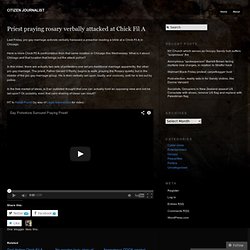 Last Friday, pro gay marriage activists verbally harassed a preacher reading a bible at a Chick Fil A in Chicago.
Priest praying rosary verbally attacked at Chick Fil A « Citizen Journalist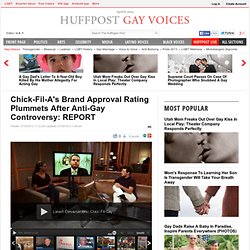 Chick-Fil-A's Brand Approval Rating Plummets After Anti-Gay Controversy: REPORT
Oreo In June 2012, Oreo posted a photo of a rainbow sextuple-stacked cookie to its <a href="https://www.facebook.com/oreo" target="_hplink">Facebook</a> page in honor of Pride month.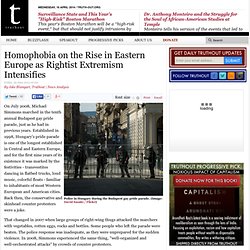 Police in Hungary during the Budapest gay pride parade. (Image: David Sasaki / Flickr ) On July 2008, Michael Simmons marched in the tenth annual Budapest gay pride parade, just as he had in previous years. Established in 1998, Hungary's pride parade is one of the longest established in Central and Eastern Europe, and for the first nine years of its existence it was marked by the festivities - transvestites dancing in flatbed trucks, loud music, colorful floats - familiar to inhabitants of most Western European and American cities.
Homophobia on the Rise in Eastern Europe as Rightist Extremism Intensifies
Half-Naked Abercrombie Models Perform 'Call Me Maybe' [VIDEO]
Abercrombie & Fitch challenged its male models around the world to record themselves lip-syncing and dancing to this summer's most-viral song, " Call Me Maybe ." The results of the mission (see above) show topless men freely getting their Carly Rae Jepsen on in New York City subways and in front of France's Eiffel Tower, among other global landmarks.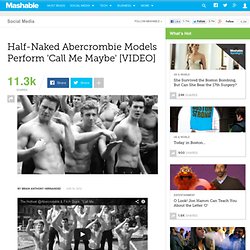 The media's next move on same-sex marriage
Gay marriage tangle for White House – live US political coverage | World news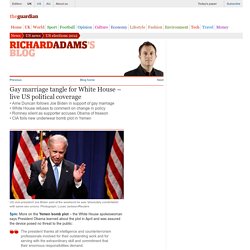 5pm: More on the Yemen bomb plot – the White House spokeswoman says President Obama learned about the plot in April and was assured the device posed no threat to the public:
Steve Kornacki blows "Up" Salon senior writer named new host of brainy MSNBC weekend show Kerry Lauerman Tuesday, Mar 19, 2013 4:57 PM UTC Entertainment Steve Kornacki , MSNBC , up , TV The GOP's phony silver lining No, GOP governors haven't stumbled on a magic formula for the national party
Joe Biden's real gay marriage motive? - Opening Shot
Let Biden be Biden - Joe Biden
The week in 10 pics From March Madness to Michele Bachmann's craziness, a look at the images that defined the week SLIDE SHOW Jacob Sugarman Saturday, Mar 23, 2013 1:00 PM UTC Life slideshow , The week in 10 pics Russian hackers release sensitive information on stars including Beyoncé, Jay-Z, Biden and Clinton
Young Iraqi men stoned to death for Western, gay, Emo appearance
Shia militants in Iraq have been targeting young men identified as Emo's, who they perceive to be gay, due to their Western style of appearance. At least 58 youths have allegedly been brutally stoned to death with concrete blocks in the last six weeks.