GREED PROMO
Yahoo Working On Two Deals Worth $150-$200 Million
The 10 Richest People In The World
Partner Day At Goldman
The list of new Goldman Sachs partners is out! The bank tapped 70 new "partnership managing directors." That is a much smaller class compared to the 110 tapped in 2010. Phone calls from Lloyd Blankfein and Gary Cohn letting the bankers know they've made partner should have started around 8:30 a.m.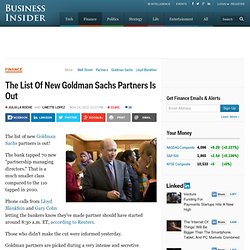 The Highest (and Lowest) Paying College Majors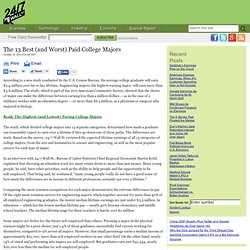 According to a new study conducted by the U.S. Census Bureau, the average college graduate will earn $2.4 million over his or her lifetime. Engineering majors, the highest-earning major, will earn more than $3.6 million. The study, which is part of the 2011 American Community Survey, showed that the choice of major can make the difference between earning less than a million dollars — as in the case of a childcare worker with an education degree — or more than $6.5 million, as a physician or surgeon who majored in biology. Read: The Highest (and Lowest) Paying College Majors
IMF warns Lehman Bros meltdown could happen again | Economy | News
Let us not delude ourselves: without growth, the future of the global economy is in jeopardy IMF Managing Director Christine Lagarde issued a blunt warning to the Fund's 188 member countries today that they were losing momentum in reforming the global financial system. "Let us not delude ourselves: without growth, the future of the global economy is in jeopardy," she said. "One lesson is clear from history: reducing public debt is incredibly difficult without growth. High debt, in turn, makes it harder to get growth," she said. She said the global financial system was not much safer than in 2008, when the collapse of Lehman Brothers triggered a global meltdown.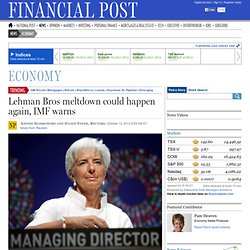 IMF: Greece Will Need A Third Bailout
Ben Bernanke As A Child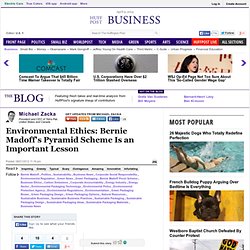 Michael Zacka: Environmental Ethics: Bernie Madoff's Pyramid Scheme Is an Important Lesson
2008 Richard Webb, used under a Creative Commons Attribution-ShareAlike license Mention "unethical business practices" and no doubt Bernie Madoff comes to mind, who bilked investors of $18 billion in a pyramid scheme prosecutors called the largest fraud in U.S. history. But perhaps we should also consider the Fukushima Daiichi nuclear crisis from an ethical standpoint.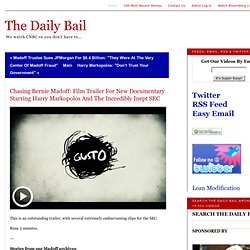 This is an outstanding trailer, with several extremely embarrassing clips for the SEC. Runs 2 minutes. Stories from our Madoff archives: Madoff Trustee Sues JPMorgan For $6.4B: "They Were At The Very Center Of Fraud"
Chasing Bernie Madoff: Film Trailer For New Documentary Starring Harry Markopolos And The Incredibly Inept SEC
BREAKING: Bernard Madoff's Brother Peter To Plead Guilty, Forfeits $143 Billion, Will Serve 10 Years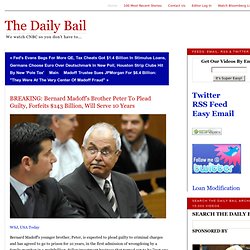 WSJ, USA Today Bernard Madoff's younger brother, Peter, is expected to plead guilty to criminal charges and has agreed to go to prison for 10 years, in the first admission of wrongdoing by a family member in a multibillion-dollar investment business that turned out to be "just one big lie." The collapse 3½ years ago of Bernard Madoff's Ponzi scheme wiped out the life savings of hundreds of investors, caused losses at funds and banks all over the world, and triggered a criminal investigation that has resulted in the guilty pleas of seven people, including Bernard Madoff. Madoff also agreed to the criminal forfeiture of $143 billion, including all of his real estate and personal property. The $143 billion, representing the amount of money believed to have flowed through the business accounts during the multi-decade Ponzi scheme, is included in the criminal forfeiture agreement, though authorities know that Peter Madoff's assets would never approach that figure.
This is a rush transcript. Copy may not be in its final form. JUAN GONZÁLEZ: JPMorgan Chase CEO Jamie Dimon testified on Capitol Hill Wednesday for the first time since his bank lost up to $3 billion in a risky speculative bet. Dimon apologized for the loss but failed to explain how the money was actually lost. He also continued his voice his opposition to new banking regulations.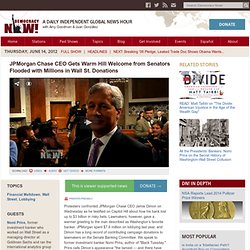 JPMorgan Chase CEO Gets Warm Hill Welcome From Senators Flooded With Millions in Wall St. Donations
'The Strauss-Kahns': a tale of sex, secrets and politics - FRANCE
Lloyd Blankfein Courtroom Sketch
Andrew Ross Sorkin Is Out With His List Of Questions For Jamie Dimon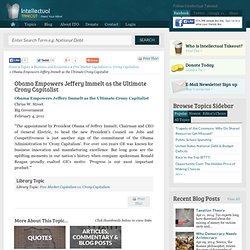 Looking for an internship? If so, Intellectual Takeout has an opportunity for you. We have plenty of work to do as well as ideas to spread, and we need your help to get it done. If you're interested in an internship with Intellectual Takeout, you likely share our passion and you're excited about the possibility of working for a great cause. That said, you might have a few questions about what "...
Obama Empowers Jeffery Immelt as the Ultimate Crony Capitalist | Intellectual Takeout (ITO)
An American influx at glamour fest
Goldman commodities crown slips as traders exit
Nestled in the diplomatic enclave of the capital city here sits the Leela Palace hotel. This week, its ninth floor has been home to the board of Goldman Sachs .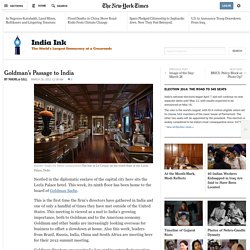 Goldman's Passage to India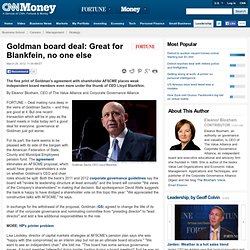 Goldman board deal: Great for Blankfein, no one else
By Eleanor Bloxham, CEO of The Value Alliance and Corporate Governance Alliance
Anyone Left To Beat On Goldman Sachs?
Stress-tested banks set to hike dividends
By Ronald D. Orol, MarketWatch WASHINGTON (MarketWatch) — The Federal Reserve is expected to allow a number of the big U.S. banks to hike dividends to as much as 26% of earnings as part of the latest round of stress test results to be released Thursday afternoon, according to analysts and attorneys.
Top on the list of the highest dividend earners are Sunil Shah, a director at KCB (Sh134.1 million), James Mwangi, the chief executive of Equity Bank (pictured) with a payout of Sh127.6 million, the family of the Nelson Muguku of Equity Bank (Sh75.1 million) and Gideon Muriuki, the CEO Cooperative Bank (Sh20.1 million). They have become the new oligarchs of Kenya's equity market. . Photo/FILE The super profits announced by Kenya's banking sector last year have earned individuals with significant shareholding in listed lenders millions of shillings in dividends. The sector's profitability touched a new high, buoyed by increased uptake of loans as the gloom that hung over the economy in the preceding years receded, paving way for a 7.7 per cent growth in pretax profits to Sh80 billion in the year to November.
Top bank investors earn millions in dividends  
Shuttered LPS unit hit with criminal charges
In the great mortgage meltdown that continues to afflict banks, MERS and its bank-owners attracted a massive volume of criticism, which allowed Lender Processing Services to fly under the radar of public criticism.
Big Bank CEOs Walk Away With Big Bucks in 2011
Lloyd Blankfein: From Humble Beginnings to CEO of Goldman Sachs | Rags To Riches
Bankers are the victims of their own inflated pay
Children 'dumped in streets by Greek parents who can't afford them'
jamie dimon: Latest News, Videos, Photos | Times of India
Taibbi: Where most of us have shame, the rich have an "extra set of balls"
Retired Banker Takes Big Loss on State Parkway Condo - Deal Estate - December 2011
Finance, not protest is taming the banks - Business Analysis & Features - Business