Goldman BAIN RomneyMORMON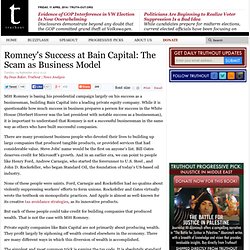 Mitt Romney is basing his presidential campaign largely on his success as a businessman, building Bain Capital into a leading private equity company.
Romney's Success at Bain Capital: The Scam as Business Model
Beijing - As the Chinese government forges ahead on a multibillion-dollar effort to blanket the country with surveillance cameras, one American company stands to profit: Bain Capital, the private equity firm founded by Mitt Romney. In December, a Bain-run fund in which a Romney family blind trust has holdings purchased the video surveillance division of a Chinese company that claims to be the largest supplier to the government's Safe Cities program, a highly advanced monitoring system that allows the authorities to watch over university campuses, hospitals, mosques and movie theaters from centralized command posts.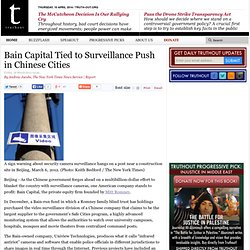 Bain Capital Tied to Surveillance Push in Chinese Cities
Romney response to Bain story: Outsourcing vs. offshoring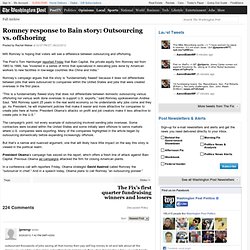 Mitt Romney is hoping that voters will see a difference between outsourcing and offshoring.
According to Federal Election Commission records, someone going by the name of Robert Diamond, with a job description of "President" of Barclays PLC, pledged $220 to Bachmann in June last year. Sadly, closer inspection of the entry suggests that Diamond isn't quite who he claims to be – and not just because Diamond was promoted from president to chief executive of Barclays at the beginning of last year, and could afford a lot more than a mere $200 donation. The residence given for Robert Diamond was a Bronx address – which a quick search on Google Maps shows to be a high-rise block of flats next to a busy highway.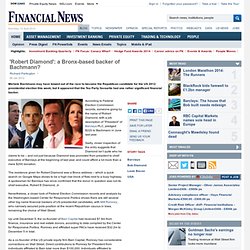 'Robert Diamond': a Bronx-based backer of Bachmann?