Goldman BAIN RomneyMORMON
Romney's Success at Bain Capital: The Scam as Business Model. Mitt Romney is basing his presidential campaign largely on his success as a businessman, building Bain Capital into a leading private equity company.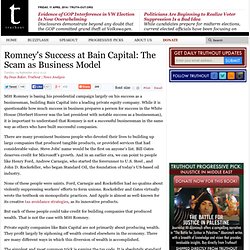 While it is questionable how much success in business prepares a person for success in the White House (Herbert Hoover was the last president with notable success as a businessman), it is important to understand that Romney is not a successful businessman in the same way as others who have built successful companies. There are many prominent business people who devoted their lives to building up large companies that produced tangible products, or provided services that had considerable value. Steve Jobs' name would be the first on anyone's list. Bain Capital Tied to Surveillance Push in Chinese Cities. Beijing - As the Chinese government forges ahead on a multibillion-dollar effort to blanket the country with surveillance cameras, one American company stands to profit: Bain Capital, the private equity firm founded by Mitt Romney.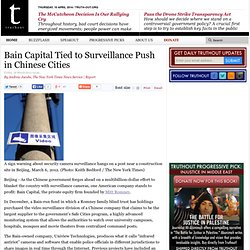 In December, a Bain-run fund in which a Romney family blind trust has holdings purchased the video surveillance division of a Chinese company that claims to be the largest supplier to the government's Safe Cities program, a highly advanced monitoring system that allows the authorities to watch over university campuses, hospitals, mosques and movie theaters from centralized command posts. The Bain-owned company, Uniview Technologies, produces what it calls "infrared antiriot" cameras and software that enable police officials in different jurisdictions to share images in real time through the Internet. Romney response to Bain story: Outsourcing vs. offshoring. Mitt Romney is hoping that voters will see a difference between outsourcing and offshoring.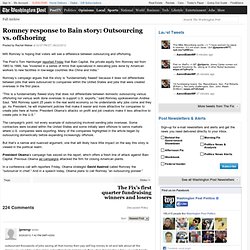 The Post's Tom Hamburger reported Friday that Bain Capital, the private equity firm Romney led from 1983 to 1999, has "invested in a series of firms that specialized in relocating jobs done by American workers to new facilities in low-wage countries like China and India." Romney's campaign argues that the story is "fundamentally flawed" because it does not differentiate between jobs that were outsourced to companies within the United States and jobs that were created overseas in the first place. "This is a fundamentally flawed story that does not differentiate between domestic outsourcing versus offshoring nor versus work done overseas to support U.S. exports," said Romney spokeswoman Andrea Saul. "Mitt Romney spent 25 years in the real world economy so he understands why jobs come and they go. 'Robert Diamond': a Bronx-based backer of Bachmann? According to Federal Election Commission records, someone going by the name of Robert Diamond, with a job description of "President" of Barclays PLC, pledged $220 to Bachmann in June last year.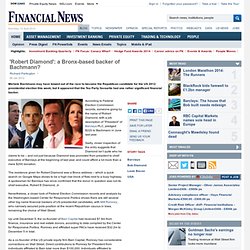 Sadly, closer inspection of the entry suggests that Diamond isn't quite who he claims to be – and not just because Diamond was promoted from president to chief executive of Barclays at the beginning of last year, and could afford a lot more than a mere $200 donation. The residence given for Robert Diamond was a Bronx address – which a quick search on Google Maps shows to be a high-rise block of flats next to a busy highway.