Drones UAV
Drones redrum
Drone lasers. Is congressional drone oversight working? In the Bureau's latest investigation into the tactic of 'double-tap' strikes on rescuers, our field researcher's findings appear to directly contradict an account of a strike attributed to staffers of the Congressional bodies charged with overseeing CIA drone strikes.
The House and Senate intelligence committees are responsible for scrutinising the highly classified CIA drone programme. Details of CIA drone strikes are withheld from all other members of Congress. Dianne Feinstein, chair of the Senate Select Committee on Intelligence (SSCI) has said her committee devotes 'significant time and attention to the drone programme' and since 2010 has met each month to 'review strike records and question every aspect of the program including legality, effectiveness, precision, foreign policy implications and the care taken to minimise noncombatant casualties.' Afghan Peace Volunteer: Drones Bury Beautiful Lives. By VCNV By Kathy Kelly (Below is a transcript of an interview with Raz Mohammad, an Afghan Peace Volunteer, with questions prepared by Maya Evans of Voices for Creative Non Nonviolence UK.)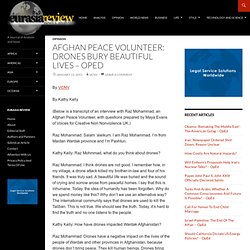 Raz Mohammad: Salam 'aleikum. I am Raz Mohammad. Republican lawmakers worry government will abuse use of drones - The Hill's Floor Action. Congress must check the government's authority to use surveillance drones on U.S. citizens before the government starts abusing the new technology, say two lawmakers spearheading legislation in the House and Senate.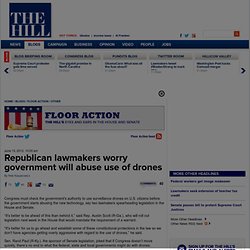 "It's better to be ahead of this than behind it," said Rep. Austin Scott (R-Ga.), who will roll out legislation next week in the House that would mandate the requirement of a warrant. "It's better for us to go ahead and establish some of these constitutional protections in the law so we don't have agencies getting overly aggressive with regard to the use of drones," he said. William Pfaff: Drone Warfare Foretells an Ever-Expanding and Illegal War. Drone Warfare Foretells an Ever-Expanding and Illegal War Posted on Jun 12, 2012 By William Pfaff The disclosure that current American drone warfare operations are directed from the presidential office in the White House, with the president himself selecting persons to be assassinated by unmanned American drone aircraft in the Muslim countries where the United States now is militarily engaged, has ignited protests on moral, legal, political and strategic grounds.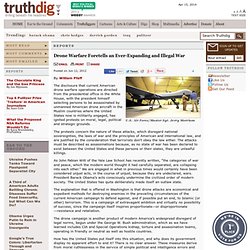 The protests concern the nature of these attacks, which disregard national sovereignties, the laws of war and the principles of American and international law, and are justified by the consideration that terrorists don't obey the law either. DRONES.
Home of the Drones: America's Remote Wars out of Control. Remotely Piloted War: How Drone War Became The American Way of Life In the American mind, if Apple made weapons, they would undoubtedly be drones, those remotely piloted planes getting such great press here.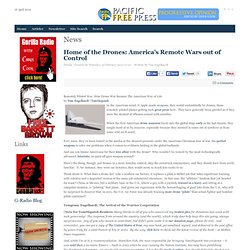 They have generally been greeted as if they were the sleekest of iPhones armed with missiles. When the first American drone assassins burst onto the global stage early in the last decade, they caught most of us by surprise, especially because they seemed to come out of nowhere or from some wild sci-fi novel. Ever since, they've been touted in the media as the shiniest presents under the American Christmas tree of war, the perfect weapons to solve our problems when it comes to evildoers lurking in the global badlands. And can you blame Americans for their love affair with the drone? North Waziristan Agency: Eight militants killed in drone attacks. The first attack took place in the Esokhe­l sub-divisi­on of Mir Ali and the second in Khusha­li, killin­g eight in total.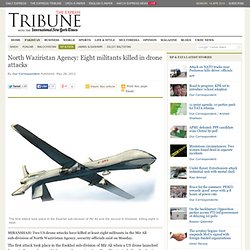 The first attack took place in the Esokhel sub-division of Mir Ali and the second in Khushali, killing eight in total. MIRANSHAH: Two US drone attacks have killed at least eight militants in the Mir Ali sub-division of North Waziristan Agency, security officials said on Monday. The first attack took place in the Esokhel sub-division of Mir Ali when a US drone launched four missiles on a house which was under construction.
Six militants, including five foreigners were killed. Pollution-Sniffing Robotic Fish to the Rescue. Look over there, swimming through the waves.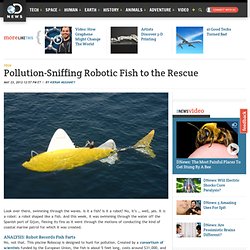 Is it a fish? Is it a robot? No, it's … well, yes. It is a robot: a robot shaped like a fish. Medea Benjamin Killer Drones Are Coming to US Skies 05/12 by Shift Shapers. First it was spy cameras, then it was unmanned planes with cameras.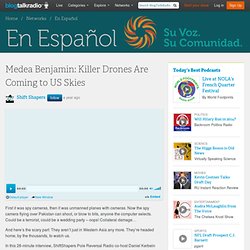 Now the spy camera flying over Pakistan can shoot, or blow to bits, anyone the computer selects. Could be a terrorist, could be a wedding party – oops! Collateral damage… And here's the scary part: They aren't just in Western Asia any more. US selling combat drones to undisclosed countries. US rethinking its secrecy policies on use of drones. Stars and Stripes Published: May 18, 2012 The United States is weighing changes in policy that would lift some of the secretary enveloping its use of drone strikes, according to a report in The Wall Street Journal.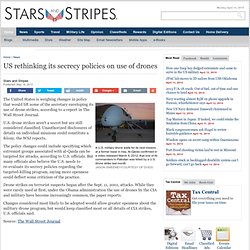 U.S. drone strikes aren't a secret but are still considered classified. Pakistani award-winning drone filmmaker denied right to enter U.S. - National Human Rights. Youth's drone movie creating international buzz possibly prompting Obama administration to reconsider its weapon of choice 'secrets' As the Obama administration considers changing its policy of secrecy enshrouding its controversial drone attack campaign, a regular part of U.S. global counterterrorism operations human rights defenders agree is among greatest of all abuses, a young Pakistani filmmaker of the award-winning movie creating a buzz about drones, The Other Side, has been denied entry into the United States to receive his prestigious award at the National Film Festival for Talented Youth in Seattle.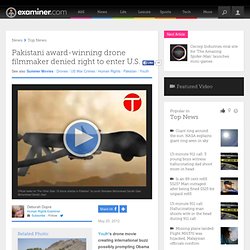 His film follows a child whose entire family was killed by a drone. "Under the Obama administration, drone strikes by the Central Intelligence Agency and the military have become increasingly common as a primary tool in U.S. national-security strategy,' reports The Wall Street Journal Thursday. (Watch Children killed in Drone attacks in Pakistan.flv, YouTube here.) US relents and grants visa to lawyer for CIA drone strike victims in Pakistan | World news. Shahzad Akbar told the Guardian: 'They weren't being really smart because it gave me more importance and more of an audience.'
Photograph: Mian Kursheed/Reuters The US government has granted a visa to a lawyer representing civilian victims of drone strikes in Pakistan who is due to speak at a Washington conference this weekend, following months of pressure by activists and lawyers. After a 14-month delay in his visa application, which began after he sued the CIA over drone strikes in Pakistan, Shahzad Akbar will now be able to attend the drone summit. Akbar, a Pakistani lawyer who founded the Islamabad-based human rights organisation, Foundation for Fundamental Rights, said he was grateful for the pressure brought to bear on the government by the conference organisers, their supporters and those who covered the story.
Interview with Shahzad Akbar on drone strikes. Attorney Shahzad Akbar | peacenews.org. On drones and divestment. Medea Benjamin is a petite woman with enormous courage and energy. She co-founded the California-based human rights organization Global Exchange and the women's peace group Code Pink. She has just written a book on drones, a task that inspired her to co-host a drone summit in Washington, D.C., last weekend.The CIA and US Joint Special Command have been carrying out drone strikes in Pakistan, Yemen and Somalia since 2004. Few Americans know about the consequences of this policy. In Pakistan alone, there have been 300 strikes, which, by some estimates, have killed up to 2,000 civilians.
On Monday, counter-terrorism adviser John Brennan gave a speech on drones at the Woodrow Wilson International Center for Scholars in Washington, D.C. US drone strike kills 10 in Pakistan. US drone strike kills 10 in Pakistan A U.S. drone attack has killed at least 10 people in a Pakistani tribal district along the Afghan border early on Saturday, security officials said. The Pakistani officials said two missiles hit Shawal area, some 70 kilometers (45 miles) west of Miranshah, the main town in North Waziristan. Officials had earlier put the death toll at six. Saturday's attack was the second strike since Pakistan's parliament in March approved new guidelines on relations with the United States, which included a call for an end to drone attacks on Pakistani territory.
Pakistan says the drone strikes are counterproductive and undermine government efforts to separate tribes from militants, violate Pakistan's sovereignty, kill civilians and fuel anti-US sentiment. The Drone War in Pakistan Part III: Update on Shahzad Akbar - Aslan Media. MEDIA SERVICE » Jeremy Scahill: US Has Become 'Nation of Assassins' ANGLO AMERICA, 7 May 2012 by Common Dreams staff – TRANSCEND Media Servivce US Peace Conference Puts Face to Drone Victims. PressTV: 'US arms dealers profit from drone strikes' Jeremy Scahill: US Has Become 'Nation of Assassins' The Drone Summit, the Lunchbox and the Invisibility of Charred Children.
Drone victims' defender speaks - Democratic Underground. Pakistan Government Sued by Drone Victims for Complicity in CIA Attacks. Shahzad Akbar. Fighting the Injustice of the US Drone Programme. PHC moved against drone strikes. Pakistani Lawyer Shahzad Akbar at the Drone Summit - Pt. 1. Shahzad Akbar's Campaign against Drones | Global Policy Forum. Why is the New York Times enabling a U.S. government smear campaign against reporters exposing the drone wars? The vagaries of 'precision' in targeted killing « Robot Futures. The Political Drones Get Louder. Insight: Predator games by Wajahat S Khan. A complex in context. Obama Administration Silencing Pakistani Drone-Strike Lawyer. Activists to challenge Obama over human cost of CIA drone strikes | World news. US launches drone war on unidentified targets. The 'Drone War' Expands. Drone Warfare: Killing by Remote Control. Activist Medea Benjamin Disrupts Brennan Drone Speech. Obama 2012 Election » Blog Archive » CODEPINK's Medea Benjamin interrupts Brennan to condemn drone strikes.
CODEPINK's Medea Benjamin interrupts Brennan to condemn drone strikes. Obama National Security Chief Calls Drone Strikes "Just," "Wise," But Concedes We Attacked Militants Knowing Civilians Would Be Killed. Waking Up to the Drones by Kelley B. Vlahos. Bin Laden death used to bolster Obama. US drone strikes create 'anti-Americanism' Drone Summit: Killing and Spying by Remote Control. Smaller, Quicker, Secret, Robotic: Inside America's New Space Force | Danger Room.
Inside America's Drone HQ. Location Of 63 Secret Killer Drone Bases Inside The US Revealed. Cocos Islands could be new base for the US killing machine. Robotic Aircraft Controlled by Human Hand Gestures | Wired Science. Our immoral drone war - Pakistan. ADTI Develops UAV and Drone Technology for Commercial Markets. Obama 2013 budget: DARPA, NASA, drones, and other technology spending. The Army's New Long-Lasting Surveillance Drone Can Probably See Your House from Here* Rare Photographs Show Ground Zero of the Drone War | Danger Room. Briefs: X-37B in orbit for a year; Working sat up for sale | Portal to the Universe. Robots in space. U.S. Air Force space plane marks one year in orbit. Is The Air Force's X-37B Space Plane Spying On A Chinese Satellite? Boeing X-37 « The 1000yr Old Man. Boeing x-37b « Nepal – the country of the Mt. Everest and the Buddha. Is the X-37B space plane spying on China? Drones: invisible to radar but vulnerable to primitive viruses?
New Evidence Suggests China's Hacking Into US Drones Using Adobe Reader And Internet Explorer. Oh my: Majorities of liberal Democrats now support drone strikes, keeping Gitmo open. LAPD To Realtors: Please Stop Flying Drones Over California. Intel News. Secrecy Obstructs Accountability: How the Drone War Will Help Get Obama Reelected. Why Obama's 'targeted killing' is worse than Bush's torture | Mary Ellen O'Connell. NDAA AUTHORIZED PREDATOR DRONES OVER AMERICA. Military and Consumer Drones Have Gone to the Birds. DARPA to Produce One-Minded Drone Swarms Controlled By Smart ... | BrokenControllers.com. DoD contracts: laser targeting and UAV imaging. ER/MP Gray Eagle: Enhanced MQ-1C Predators for the Army. Navy drone to launch from sub's trash chute - Technology & science - Innovation.
Raytheon gets Air Force contracts for UAV targeting systems. Military Drones Get 1.8 Gigapixel Cameras. Under Obama, an emerging global apparatus for drone killing. Rise of the drone: From Calif. garage to multibillion-dollar defense industry. The booming drone sector. 'Technology to replace human pilots in civil aircraft exists' Report: US Drones Helping Local Police Agencies. CIA's Drone War In Pakistan Will Use Afghan Bases | Danger Room. US drone 'preliminary act of war" against Iran, says UK professor.
Video - Spionage-Flugzeug abgefangen: Iran will US-Drohne nicht zurückgeben - Politik.
---