Drones UAV
drones redrum Dec 10
In the Bureau's latest investigation into the tactic of 'double-tap' strikes on rescuers, our field researcher's findings appear to directly contradict an account of a strike attributed to staffers of the Congressional bodies charged with overseeing CIA drone strikes.
Is congressional drone oversight working?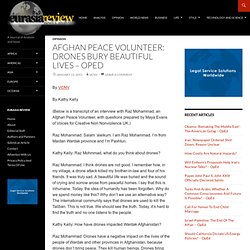 Afghan Peace Volunteer: Drones Bury Beautiful Lives
Home » Opinion » Afghan Peace Volunteer: Drones Bury Beautiful Lives – OpEd
Republican lawmakers worry government will abuse use of drones - The Hill's Floor Action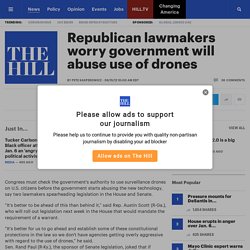 Congress must check the government's authority to use surveillance drones on U.S. citizens before the government starts abusing the new technology, say two lawmakers spearheading legislation in the House and Senate. "It's better to be ahead of this than behind it," said Rep. Austin Scott (R-Ga.), who will roll out legislation next week in the House that would mandate the requirement of a warrant.
William Pfaff: Drone Warfare Foretells an Ever-Expanding and Illegal War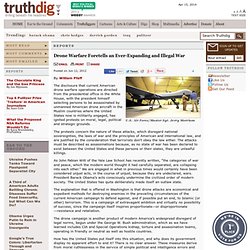 Drone Warfare Foretells an Ever-Expanding and Illegal War
DigitalGlobe Surveillance Spy Espionage
Home of the Drones: America's Remote Wars out of Control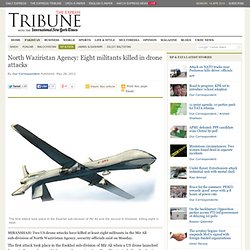 The first attack took place in the Esokhe­l sub-divisi­on of Mir Ali and the second in Khusha­li, killin­g eight in total.
North Waziristan Agency: Eight militants killed in drone attacks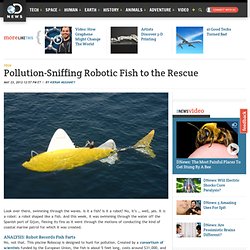 Look over there, swimming through the waves.
Pollution-Sniffing Robotic Fish to the Rescue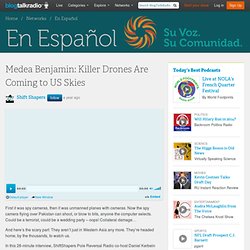 First it was spy cameras, then it was unmanned planes with cameras.
Medea Benjamin Killer Drones Are Coming to US Skies 05/12 by Shift Shapers
US selling combat drones to undisclosed countries
Published: May 18, 2012
US rethinking its secrecy policies on use of drones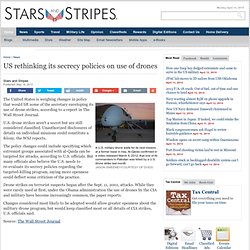 Youth's drone movie creating international buzz possibly prompting Obama administration to reconsider its weapon of choice 'secrets' As the Obama administration considers changing its policy of secrecy enshrouding its controversial drone attack campaign, a regular part of U.S. global counterterrorism operations human rights defenders agree is among greatest of all abuses, a young Pakistani filmmaker of the award-winning movie creating a buzz about drones, The Other Side, has been denied entry into the United States to receive his prestigious award at the National Film Festival for Talented Youth in Seattle.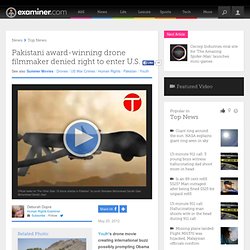 Pakistani award-winning drone filmmaker denied right to enter U.S. - National Human Rights
US relents and grants visa to lawyer for CIA drone strike victims in Pakistan | World news
The US government has granted a visa to a lawyer representing civilian victims of drone strikes in Pakistan who is due to speak at a Washington conference this weekend, following months of pressure by activists and lawyers.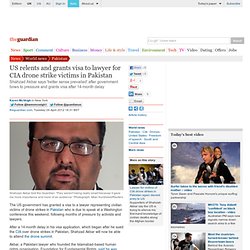 Interview with Shahzad Akbar on drone strikes
Attorney Shahzad Akbar | peacenews.org
Medea Benjamin is a petite woman with enormous courage and energy. She co-founded the California-based human rights organization Global Exchange and the women's peace group Code Pink.
On drones and divestment
US drone strike kills 10 in Pakistan A U.S. drone attack has killed at least 10 people in a Pakistani tribal district along the Afghan border early on Saturday, security officials said.
US drone strike kills 10 in Pakistan
The Drone War in Pakistan Part III: Update on Shahzad Akbar - Aslan Media
Details
MEDIA SERVICE » Jeremy Scahill: US Has Become 'Nation of Assassins'
ANGLO AMERICA, 7 May 2012
PressTV: 'US arms dealers profit from drone strikes'
Jeremy Scahill: US Has Become 'Nation of Assassins'
The Drone Summit, the Lunchbox and the Invisibility of Charred Children
Drone victims' defender speaks - Democratic Underground
Pakistan Government Sued by Drone Victims for Complicity in CIA Attacks
Shahzad Akbar
Fighting the Injustice of the US Drone Programme
Petition challenges govt's complicity and inaction over drone attacks
PHC moved against drone strikes
Pakistani Lawyer Shahzad Akbar at the Drone Summit - Pt. 1
Shahzad Akbar's Campaign against Drones | Global Policy Forum
Why is the New York Times enabling a U.S. government smear campaign against reporters exposing the drone wars?
The vagaries of 'precision' in targeted killing « Robot Futures
The Political Drones Get Louder
Insight: Predator games by Wajahat S Khan
A complex in context
Obama Administration Silencing Pakistani Drone-Strike Lawyer
Activists to challenge Obama over human cost of CIA drone strikes | World news
US launches drone war on unidentified targets
The 'Drone War' Expands
Drone Warfare: Killing by Remote Control
Activist Medea Benjamin Disrupts Brennan Drone Speech
Obama 2012 Election » Blog Archive » CODEPINK's Medea Benjamin interrupts Brennan to condemn drone strikes
CODEPINK's Medea Benjamin interrupts Brennan to condemn drone strikes
Obama National Security Chief Calls Drone Strikes "Just," "Wise," But Concedes We Attacked Militants Knowing Civilians Would Be Killed
Waking Up to the Drones by Kelley B. Vlahos
Bin Laden death used to bolster Obama
US drone strikes create 'anti-Americanism'
Drone Summit: Killing and Spying by Remote Control
Smaller, Quicker, Secret, Robotic: Inside America's New Space Force | Danger Room
Inside America's Drone HQ
Location Of 63 Secret Killer Drone Bases Inside The US Revealed
Cocos Islands could be new base for the US killing machine
Robotic Aircraft Controlled by Human Hand Gestures | Wired Science
Our immoral drone war - Pakistan
ADTI Develops UAV and Drone Technology for Commercial Markets
Obama 2013 budget: DARPA, NASA, drones, and other technology spending.
The Army's New Long-Lasting Surveillance Drone Can Probably See Your House from Here*
Rare Photographs Show Ground Zero of the Drone War | Danger Room
Briefs: X-37B in orbit for a year; Working sat up for sale | Portal to the Universe
Robots in space
U.S. Air Force space plane marks one year in orbit
Is The Air Force's X-37B Space Plane Spying On A Chinese Satellite?
Boeing X-37 « The 1000yr Old Man
Boeing x-37b « Nepal – the country of the Mt. Everest and the Buddha
Is the X-37B space plane spying on China?
Drones: invisible to radar but vulnerable to primitive viruses?
New Evidence Suggests China's Hacking Into US Drones Using Adobe Reader And Internet Explorer
Oh my: Majorities of liberal Democrats now support drone strikes, keeping Gitmo open
LAPD To Realtors: Please Stop Flying Drones Over California
Secrecy Obstructs Accountability: How the Drone War Will Help Get Obama Reelected
Why Obama's 'targeted killing' is worse than Bush's torture | Mary Ellen O'Connell | Comment is free
NDAA AUTHORIZED PREDATOR DRONES OVER AMERICA
Military and Consumer Drones Have Gone to the Birds
DARPA to Produce One-Minded Drone Swarms Controlled By Smart ... | BrokenControllers.com
DoD contracts: laser targeting and UAV imaging
ER/MP Gray Eagle: Enhanced MQ-1C Predators for the Army
Navy drone to launch from sub's trash chute - Technology & science - Innovation
Raytheon gets Air Force contracts for UAV targeting systems
Military Drones Get 1.8 Gigapixel Cameras
Under Obama, an emerging global apparatus for drone killing
Rise of the drone: From Calif. garage to multibillion-dollar defense industry
The booming drone sector
'Technology to replace human pilots in civil aircraft exists'
Report: US Drones Helping Local Police Agencies
CIA's Drone War In Pakistan Will Use Afghan Bases | Danger Room
US drone 'preliminary act of war" against Iran, says UK professor
Video - Spionage-Flugzeug abgefangen: Iran will US-Drohne nicht zurückgeben - Politik