Corporate Art News
George Clooney Tells Britain to Return Greek Art Treasures. BERLIN — George Clooney said the U.K. should return Greek art treasures in its possession, during a press conference for his film "The Monuments Men" at the Berlin Film Festival Saturday.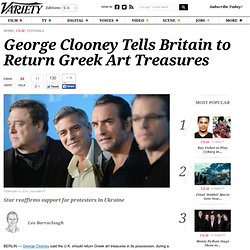 Asked by a Greek journalist whether Greece should claim its historic monuments back from Britain, he said: "I think you have a very good case to make about your artifacts. Maybe it wouldn't be a bad thing if they were returned. "I think that is a good idea. To His Collection of Steinways, Hedge Fund Titan Adds Their Maker. Fred R.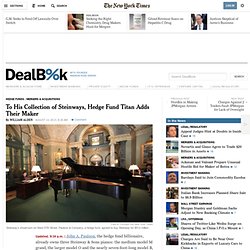 Conrad/The New York TimesSteinway's showroom on West 57th Street. Paulson & Company, a hedge fund, agreed to buy Steinway for $512 million. Updated, 9:16 p.m. | John A. Paulson, the hedge fund billionaire, already owns three Steinway & Sons pianos: the medium model M grand, the larger model O and the nearly seven-foot-long model B, together worth tens of thousands of dollars. The Getty Gets It: 'Open Content, An Idea Whose Time Has Come' Techdirt has published a number of posts that explore the issue of whether art organizations can stop people sharing images of works in their collections when the latter are indisputably in the public domain.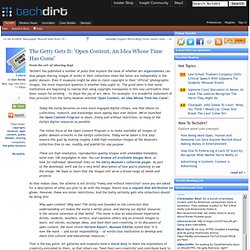 Even if museums might be able to claim copyright in their "official" photographic images, the more important question is whether they ought to. The good news is that some institutions are beginning to realize that using copyright monopolies in this way contradicts their basic reason for existing -- to share the joy of art. Here, for example, is a wonderful statement of that principle from the Getty Museum entitled "Open Content, An Idea Whose Time Has Come": Today the Getty becomes an even more engaged digital citizen, one that shares its collections, research, and knowledge more openly than ever before. Lies like truth | Public Art — Beyond Murals and Sculptures. I took a public art walking tour around Denver recently.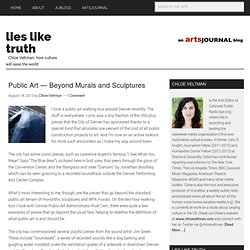 The stuff is everywhere. I only saw a tiny fraction of the 350-plus pieces that the City of Denver has sponsored thanks to a special fund that allocates one percent of the cost of all public construction projects to art. And I'm now on an active lookout for more such encounters as I make my way around town. Bending for Sonnabend: Should MoMA Break Precedent by Mounting a Dealer-Tribute Show?
Robert Rauschenberg, "Canyon," 1959, a 2012 gift from Family of Ileana Sonnabend, flanked by two major Rauschenberg combines–"Rebus" (left) and "Bed," at Museum of Modern ArtPhoto by Lee Rosenbaum UPDATE: More on this, here.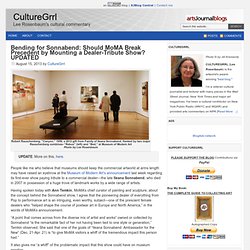 People like me who believe that museums should keep the commercial artworld at arms length may have raised an eyebrow at the Museum of Modern Art's announcement last week regarding its first-ever show paying tribute to a commercial dealer—the late Ileana Sonnabend, who died in 2007 in possession of a huge trove of landmark works by a wide range of artists.
Having spoken today with Ann Temkin, MoMA's chief curator of painting and sculpture, about the concept behind the Sonnabend show, I agree that the pioneering dealer of everything from Pop to performance art is an intriguing, even worthy, subject—one of the prescient female dealers who "helped shape the course of postwar art in Europe and North America," in the words of MoMA's announcement. Is it Worth it to Pay for a Gallery Show? | Your Art Links. Your art has been sitting in your studio unseen for months and you are desperate for a gallery show.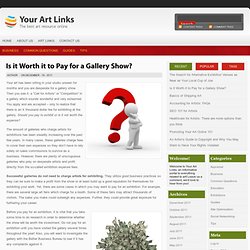 Then you see it: a "Call for Artists" or "Competition" in a gallery which sounds wonderful and very esteemed. You apply and are accepted – only to realize that there is an X thousand dollar fee for exhibiting at the gallery. Should you pay to exhibit or is it not worth the expense? Carlyle Buys Getty Images From Hellman & Friedman. Carlyle Group LP (CG), the world's second-largest private-equity firm, agreed to buy photo archive Getty Images Inc. from Hellman & Friedman LLC in a deal valued at $3.3 billion.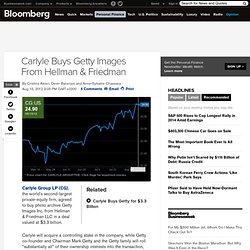 Carlyle will acquire a controlling stake in the company, while Getty co-founder and Chairman Mark Getty and the Getty family will roll "substantially all" of their ownership interests into the transaction, Washington-based Carlyle said today in a statement. Getty Images' management, including co- founder and Chief Executive Officer Jonathan Klein, will also invest "significant equity" in the company, Carlyle said. The price is less than the $4 billion that San Francisco- based Hellman & Friedman was seeking, a person familiar with the matter said yesterday. For What It's Worth | Why does the Indianapolis Museum of Art have Free Admission? Preamble: I know what I don't know.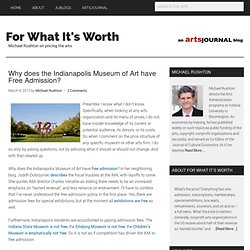 Specifically, when looking at any arts organization and its menu of prices, I do not have insider knowledge of its current or potential audience, its donors, or its costs. So when I comment on the price structure of any specific museum or other arts firm, I do so only by asking questions, not by advising what it should or should not change. From Black Power to Migrants' Power. "There have been the singing nun and the flying nun, but the hippest of all is Los Angeles's painting nun," noted Newsweek in its 1967 cover story on Sister Corita Kent, the artist, activist, and teacher, whose first career survey, as The Saratogian reports, opened at the Francis Young Tang Teaching Museum at Skidmore college this week.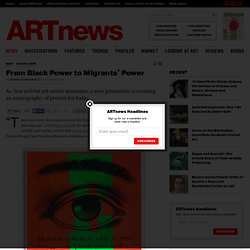 Corita Kent, E eye love, 1968, serigraph. Despite her edgy Pop sensibility, influential friends like Ben Shahn and Buckminster Fuller, and posthumous shows in various museums, along with a 2009 exhibition at Zach Feuer Gallery, Sister Corita never became a presence in the mainstream art world. No doubt this is partly because of her vocation (she was a Sister of the Immaculate Heart of Mary, which she joined in 1936 and left in 1968), and the fact that she was a printmaker, rather than a painter. Corita Kent, for emergency use soft shoulder, 1966, serigraph. After the flood - artforum.com / scene & herd. Left: Sweeping the water out of Gagosian Gallery, West Twenty-First Street, where a Henry Moore sculpture show was partially installed before Sandy.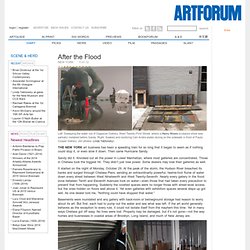 Right: Soaked and oxidizing Carl Andre plates drying on the sidewalk in front of Paula Cooper Gallery. (All photos: Linda Yablonsky) THE NEW YORK art business has been a speeding train for so long that it began to seem as if nothing could stop it, or even slow it down. Then came Hurricane Sandy. Sandy did it.
Liam Neeson's 'Taken 2' Salary. Getty Liam Neeson earned a cool $10 million to return as retired CIA agent, Bryan Mills in "Taken 2. " "Taken 2" has helped the box office return from its September slump earning nearly $50 million at theaters, so it would only make sense leading man Liam Neeson was paid a decent sum to return as retired CIA agent Bryan Mills. According to The Hollywood Reporter, Neeson received more than $10 million. That's a pay boost of more than ten times his million dollar salary for "Taken. " Clapton to Sell Richter for $20 Million, 20 Times Price. Eric Clapton is selling a painting by Gerhard Richter valued at $20 million -- almost 20 times what he paid for it in 2001. The 1994 oil-on-canvas "Abstraktes Bild (809-4)" is one of a series of three Richter paintings bought by the U.K. -born rock guitarist for $3.4 million in total at Sotheby's (BID) New York in November 2001.
At the time, this was an auction record for a lot containing abstracts by the German artist. Executed predominantly in red, dark blue and yellow, the work is being re-offered by Sotheby's in London for its "Frieze Week" auction of contemporary artworks on Oct. 12. It has an estimate of 9 million pounds ($14.5 million) to 12 million pounds, according to a news release issued today. John Moores Painting Prize won by Sarah Pickstone. 15 September 2012Last updated at 14:20 GMT Sarah Pickstone's winning entry is titled Stevie Smith and the Willow Artist Sarah Pickstone has won the £25,000 John Moores Painting Prize for a work inspired by poet Stevie Smith.
The award is billed as Britain's most prestigious painting prize. Manchester-born Pickstone based the winning painting on an illustration by Stevie Smith to accompany her 1957 poem Not Waving But Drowning. Judge Fiona Banner described the work, titled Stevie Smith and the Willow, as "an enigmatic double portrait that grapples with the creative self". Metropolitan Museum fashion exhibition outdraws art blockbuster. With many art museums pondering how to boost attendance – and some critics, curators and museum directors wondering whether maximizing crowds is really the best measure of success -- it's worth noting that Prada beat Picasso in recent blockbuster shows at the Metropolitan Museum of Art. The Met announced Friday that "three widely acclaimed and highly attended exhibitions" this year had boosted New York City's economy by $781 million, with out-of-towners who came to the shows pouring an estimated $78.1 million into city and state tax coffers. But perhaps most interesting from a Los Angeles perspective, given this summer's debate over whether the Museum of Contemporary Art is putting too much emphasis on populist appeal, is that the Met's fashion blockbuster, "Schiaparelli and Prada: Impossible Conversations," outdrew "The Steins Collect: Matisse, Picasso and the Parisian Avant-Garde."
Barack Obama's Art Collection. Art Barack Obama's Art Collection Posted by Corinna Kirsch on Tue, Aug 28, 2012 at 10:13 AM Photo by Richard FrasierPresident Barack Obama presents artist Frank Stella with a 2009 National Medal of Arts award. As we parade into election season, any second spent thinking about anything other than politics seems downright un-American. Botticelli Painting's Fate up to Bankruptcy Judge - Bankruptcy Beat. 20 TV Shows With the Most Social Media Buzz This Week. The Oatmeal Shows Off the $211,223 it Raised for Charity.
How Etsy Turns Artists Into Entrepreneurs [INFOGRAPHIC] Yves Saint Laurent Designer Fashion Exhibit | VISIT DENVER. Writer-director Nora Ephron dies at 71 - Entertainment News, Obituary. Everyone's An Artist Now. (Oh, Really?) In Lieu Of Advertising, Substitute Teacher's Art Brightens Times Square. Zum Tode von Ray Bradbury: Endzeitprophet mit Schreibmaschine - Kultur. Street artist behind 'sunbathers' takes credit on Facebook. Armed police called out to Australian academic meeting. Gustav Klimt: 150th Anniversary Celebration At Neue Galerie (PHOTOS) Michael Jones McKean To Build Rainbow Over Bemis Center For Contemporary Arts (PHOTOS, INTERVIEW)
---