Corporate Art News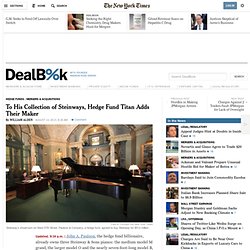 Fred R.
To His Collection of Steinways, Hedge Fund Titan Adds Their Maker
Techdirt has published a number of posts that explore the issue of whether art organizations can stop people sharing images of works in their collections when the latter are indisputably in the public domain.
The Getty Gets It: 'Open Content, An Idea Whose Time Has Come'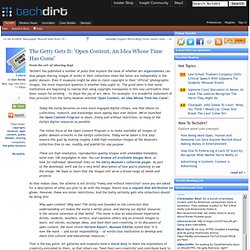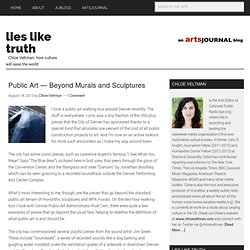 lies like truth | Public Art — Beyond Murals and Sculptures
I took a public art walking tour around Denver recently.
Robert Rauschenberg, "Canyon," 1959, a 2012 gift from Family of Ileana Sonnabend, flanked by two major Rauschenberg combines–"Rebus" (left) and "Bed," at Museum of Modern Art Photo by Lee Rosenbaum
CultureGrrl | Bending for Sonnabend: Should MoMA Break Precedent by Mounting a Dealer-Tribute Show?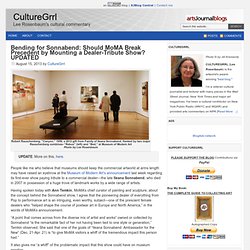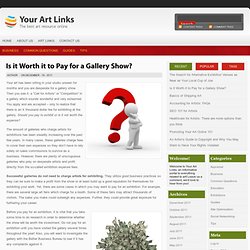 Your art has been sitting in your studio unseen for months and you are desperate for a gallery show.
Is it Worth it to Pay for a Gallery Show? | Your Art Links
Carlyle Group LP (CG) , the world's second-largest private-equity firm, agreed to buy photo archive Getty Images Inc. from Hellman & Friedman LLC in a deal valued at $3.3 billion.
Carlyle Buys Getty Images From Hellman & Friedman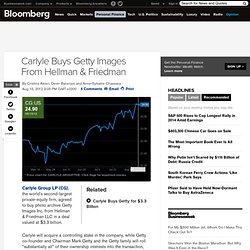 For What It's Worth | Why does the Indianapolis Museum of Art have Free Admission?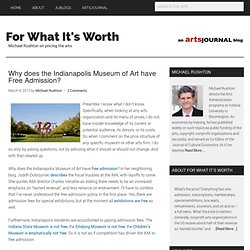 Preamble: I know what I don't know. Specifically, when looking at any arts organization and its menu of prices, I do not have insider knowledge of its current or potential audience, its donors, or its costs. So when I comment on the price structure of any specific museum or other arts firm, I do so only by asking questions, not by advising what it should or should not change.
From Black Power to Migrants' Power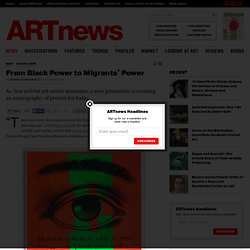 "There have been the singing nun and the flying nun, but the hippest of all is Los Angeles's painting nun," noted Newsweek in its 1967 cover story on Sister Corita Kent , the artist, activist, and teacher, whose first career survey , as The Saratogian reports , opened at the Francis Young Tang Teaching Museum at Skidmore college this week. Corita Kent, E eye love , 1968, serigraph.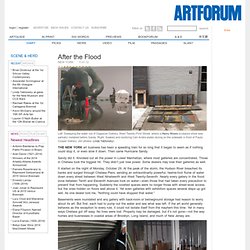 after the flood - artforum.com / scene & herd
Left: Sweeping the water out of Gagosian Gallery, West Twenty-First Street, where a Henry Moore sculpture show was partially installed before Sandy. Right: Soaked and oxidizing Carl Andre plates drying on the sidewalk in front of Paula Cooper Gallery.
Liam Neeson's 'Taken 2' Salary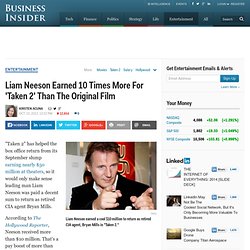 "Taken 2" has helped the box office return from its September slump earning nearly $50 million at theaters , so it would only make sense leading man Liam Neeson was paid a decent sum to return as retired CIA agent Bryan Mills.
<p>You need to enable Javascript to play media on Bloomberg.com</p> Play
Clapton to Sell Richter for $20 Million, 20 Times Price
John Moores Painting Prize won by Sarah Pickstone
15 September 2012 Last updated at 10:20 ET Sarah Pickstone's winning entry is titled Stevie Smith and the Willow
Metropolitan Museum fashion exhibition outdraws art blockbuster
Pablo Picasso's portrait of Gertrude Stein, 1905-06. (Metropolitan Museum of…)
Barack Obama's Art Collection
Art Barack Obama's Art Collection
By Jacqueline Palank
Botticelli Painting's Fate up to Bankruptcy Judge - Bankruptcy Beat
20 TV Shows With the Most Social Media Buzz This Week
The Oatmeal Shows Off the $211,223 it Raised for Charity
How Etsy Turns Artists Into Entrepreneurs [INFOGRAPHIC]
Yves Saint Laurent Designer Fashion Exhibit | VISIT DENVER
Writer-director Nora Ephron dies at 71 - Entertainment News, Obituary
Everyone's An Artist Now. (Oh, Really?)
In Lieu Of Advertising, Substitute Teacher's Art Brightens Times Square
Ketchikan gallery shows exhibit exploring 'The Art of Scientific Illustration'
Zum Tode von Ray Bradbury: Endzeitprophet mit Schreibmaschine - Kultur
Street artist behind 'sunbathers' takes credit on Facebook
Armed police called out to Australian academic meeting
Gustav Klimt: 150th Anniversary Celebration At Neue Galerie (PHOTOS)
Michael Jones McKean To Build Rainbow Over Bemis Center For Contemporary Arts (PHOTOS, INTERVIEW)