Batteries
piezoelectric harvesting batteries Jun 28
▶ A 2,000 YEAR OLD ELECTRIC BATTERY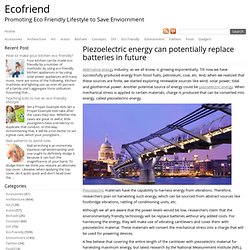 Piezoelectric energy can potentially replace batteries in future
Piezoelectric energy can potentially replace batteries in future
To illustrate the application of vibration-powered electricity generators the example is given of installing them in a remote control for a television or set-top box, where it is possible to use the remote after shaking it to generate power.
Vibration harvesters designed to replace AA, AAA batteries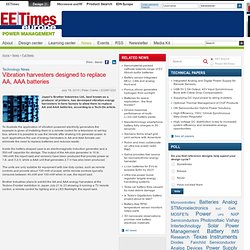 Tesla Motors Inc. (TSLA), already adding a network of fast-charging stations for its luxury electric cars, is readying a service to rapidly swap a car's battery with a charged pack for added convenience. The company, based in Palo Alto, California, announced last week plans for a June 20 press conference at its design studio in Hawthorne, California, to show "a way for the Tesla Model S to be recharged faster than you could fill a gas tank."
Tesla Plans Model S Battery Swap as Fast Refueling Option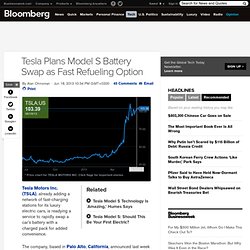 Photo by Shutterstock
Energy-Generating Knee Strap Could Spell the End of Batteries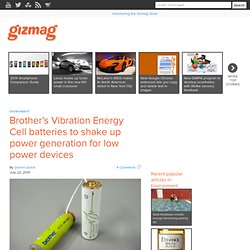 Brother's AA-size Vibration Energy Cell battery prototype whose generator and rechargeable battery are installed in two different cases (Image: Tech-On) A number of kinetic energy chargers have been hitting the market in recent years including the nPower PEG. Researchers have also been working to improve the technology, developing such devices as the Kinetic Energy Cell and a tiny generator that derives electrical energy from the vibrations and movements that occur within its environment.
Brother's Vibration Energy Cell batteries to shake up power generation for low power devices
(PhysOrg.com) -- NEC, which has been working on what is called "organic radical battery" (ORB) technology for some years, has announced its latest ORB breakthrough, the 0.3mm thick ORB. According to Geek.com, the output rated as 5kW/L with a capacity of 3mAh.
NEC goes ultra-thin with 0.3mm-thick batteries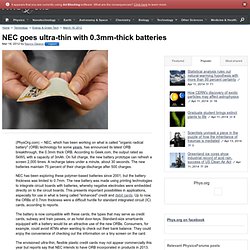 Researchers at Rice University in Texas have created a paintable battery that can be used anywhere.
This Paintable Battery Can Be Used Virtually Anywhere [VIDEO]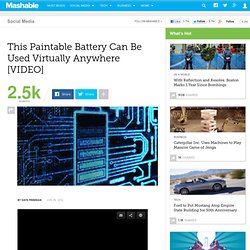 Dual-charged Approach to Battery Testing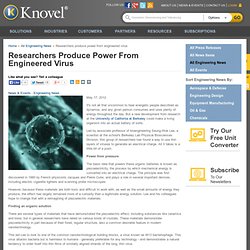 Researchers produce power from engineered virus
Thursday, 17 May 2012 08:09
Fail: Green car battery maker goes bankrupt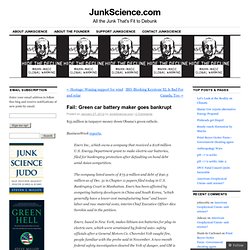 $55 million in taxpayer money down Obama's green rathole. BusinessWeek reports,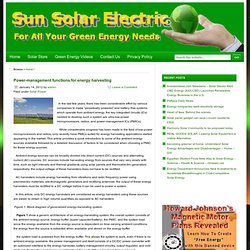 In the last few years, there has been considerable effort by various companies to make "perpetually powered" and battery-free systems which operate from ambient energy. the key integrated circuits (ICs) needed to develop such a system are ultra-low-power microprocessors, radios, and power-management ICs (PMICs). While considerable progress has been made in the field of low-power microprocessors and radios, only recently have PMICs suited for energy harvesting applications started appearing in the market. This article provides a quick introduction to some of the ambient energy sources available followed by a detailed discussion of factors to be considered when choosing a PMIC for these energy sources.
piezoelectric materials : Sun Solar Electric
California Energy Commission Adopts New Battery Charger Standards
SAN FRANCISCO (KCBS)— Battery chargers aren't the most energy efficient devices and their growing presence in homes has a state energy commission concerned. New rules are being adopted to save consumers on money and electricity.
New Effort to Keep Battery Chargers From Wasting Your Power
It's been dubbed "vampire power"--the electricity that is sucked out of your home by inefficiencies and devices that draw electricity whenever they're plugged in, even when they're not turned on. For nearly four decades, California's Energy Commission has led a crusade to drive a stake into vampire power by setting efficiency standards for a wide range of appliances, from refrigerators to flatscreen televisions. California even beat the federal government to the punch by a year by moving to phase out the classic 100 watt lightbulb with the improvements in lighting efficiency that have occurred since Thomas Edison's day.
How to Conserve Battery Life on Your iPhone ~ LockerGnome
Ahlstrom acquires 49% stake in US Li-ion battery separator company Porous Power Technologies Finland-based Ahlstrom, a global high-performance materials company, has signed an agreement to invest in Porous Power Technologies, LLC, a US-based developer of highly porous, laminable separator membranes for Li-ion batteries. (Earlier post.) Under the agreement, Ahlstrom will subscribe for approximately 49% of the shares in Porous Power while the remaining 51% of the shares will be held by the current owners of Porous Power. Ahlstrom has an option to acquire the remaining shares at a later stage. Battery separators, which keep the anode and cathode from touching each other and short-circuiting, are vitally important in the performance and safety of electric vehicles.
Ahlstrom acquires 49% stake in US Li-ion battery separator company Porous Power Technologies
The Perfect Power Tool for the iPad-Packing World Traveler - Alexis Madrigal - Technology
From your gadget-obsessed sister (who lives for her iPad) to your garden-obsessed uncle (who thinks apple is a fruit) A special report The iPad and iPhone have great battery life, but sometimes life still outruns lithium ion. While an increasing number of planes and trains have power outlets, many still don't, which means you can get stuck with no juice at precisely the time (a transcontinental flight, say) that you don't want to be. That's why we're recommending the New Trent IMP99D, a simple gadget that serves as a USB charger and spare battery for your devices. For a little more than $60, you can extend the battery life of your iPhone 4 more than 6 times. New Trent says that you can use your phone for 45 hours using its battery without plugging it in.
Apple Certified Battery Case for iPad 2 Released by MiLi Power - Gadgets and Technology News
Suzuki to Launch E-Scooter with Detachable Battery: #evworld
PHOTO CAPTION: Suzuki e-Lets Scooter Electric e-Lets scooter has range of up to 30 km and speed of 30 km/h on level roads. Published: 12-Dec-2011 Suzuki Motor Corporation will launch the e-Let's, an electric scooter which has an enhanced usability by equipping a detachable battery, while keeping the user-friendliness of a 50cm3 engine powered scooter. The e-Let's will be launched on 9 January, 2012*1.
American Vanadium Seeks Partners to Build Battery Technology