Art
BROWSE OCDesigns_PwinArt& Other Products. Jan Baltzell: Light That Moves. Nude Paintings of Leaders Cause Stir in South Africa and Canada. Painting of Zuma Draws Attacks in South Africa.
Occupy Wall Street Artists. Home / GALERİ MANÂ. Artist Celebrity. 37,000 Year Old Art Reveals Complex Lives of Early Humans. Anthropologists working in southern France have concluded that a 1.5 metric ton block of engraved limestone constitutes the earliest evidence of wall art.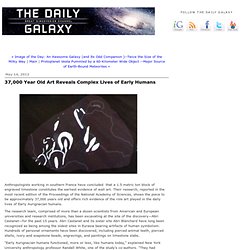 Their research, reported in the most recent edition of the Proceedings of the National Academy of Sciences, shows the piece to be approximately 37,000 years old and offers rich evidence of the role art played in the daily lives of Early Aurignacian humans. The research team, comprised of more than a dozen scientists from American and European universities and research institutions, has been excavating at the site of the discovery—Abri Castanet—for the past 15 years.
Galleria Lazzara - Houston's newest and most exciting art venue. Damion R. Lazzara. Intuos4. SMUGMUG photo. Supporting the arts is good business. Slideshow MICZEK PHOTOGRAPHYJASON E.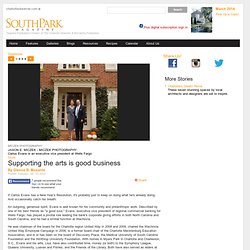 MICZEK - MICZEK PHOTOGRAPHYCarlos Evans is an executive vice president at Wells Fargo. MICZEK PHOTOGRAPHYJASON E. MICZEK - MICZEK PHOTOGRAPHYCarlos and Lisa Evans are pictured at their Charlotte home 11/10/2011 with a painting by West Fraser of Charleston, SC. Importance of Curators in the Indian Art Industry « Breathe Arts. It was only in 1994 that the term 'curator' was first used in India, when art critic and cultural theorist Geeta Kapur was invited to select works from the collection of the National Gallery of Modern Art.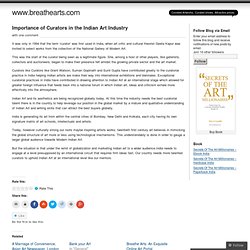 This was the start of the curator being seen as a legitimate figure. She, among a host of other players, like gallerists, collectors and auctioneers, began to make their presence felt amidst the growing private sector and the art market.
RichardLazzara
'Road to Mecca' at American Airlines Theater. FORGET STOCKS AND BONDS: Art Has Been Crushing Equities Over The Last Decade. Sacred Word and Image: Five World Religions exhibition at Phoenix Art Museum. PHOENIX, AZ.- Sacred Word and Image: Five World Religions, an exhibition opening on January 4, 2012 at Phoenix Art Museum, features the written word and painted image as expressed in the cultures of Buddhism, Hinduism, Islam, Judaism and Christianity throughout the past 1500 years.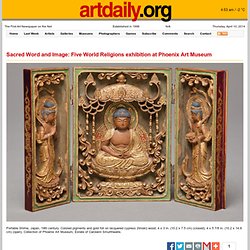 The exhibition, on view through March 25, 2012, draws from the collections of Phoenix Art Museum and several prominent private collections, and includes a variety of materials used to document mankind's significant thoughts and beliefs, including everything from paper, palm leaf and vellum, to wood, lacquer, metal and ivory. Commented Dr. Louvre museum still world's most visited - MUSEUMS. Birger Sandzén in Colorado. Denver Post: "This highly accessible exhibition is a must-see for Sandzen admirers, impressionism fans and anyone who enjoys rich, expressive paintings of the Colorado landscape.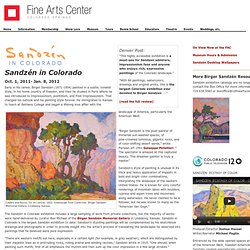 " "With 66 paintings, watercolors, drawings and original prints, this is the largest Colorado exhibition ever devoted to Birger Sandzen . Richard Lazzara (shankargallery) Sumeru aghora SHANKAR | Yoga Life Today. Life is Better with Art in it.
Tribeca / Downtown - Masters & Pelavin - ART IN A BOX: BENEFIT EVENT. Masters & Pelavin and Art in a Box are pleased to announce our 2011 Benefit Holiday Exhibition & Online Sale to empower children at risk through art.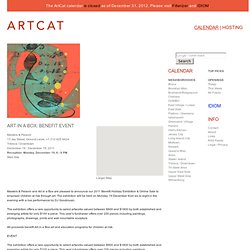 The exhibition will be held on Monday 19 December from six to eight in the evening with a live performance by DJ Goodmusic. The exhibition offers a rare opportunity to select artworks valued between $900 and $1800 by both established and emerging artists for only $100 a piece. This year's fundraiser offers over 200 pieces including paintings, photographs, drawings, prints and wall mountable sculpture. All proceeds benefit Art in a Box art and education programs for children at risk. Chelsea - Miyako Yoshinaga Art Prospects - SUPERNATUREAL. MIYAKO YOSHINAGA art prospects is pleased to present SUPERNATUREAL, a group exhibition that includes work by Osamu James Nakagawa, Ingo Günther, Terry Taylor, Yu Yamauchi and the collaborative team Robyn Voshardt & Sven Humphrey.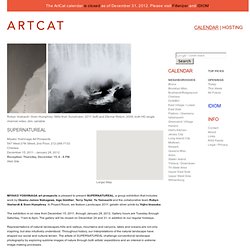 In Project Room, we feature Landscape 2011; gelatin silver prints by Yojiro Imasaka. The exhibition is on view from December 15, 2011, through January 28, 2012. Chelsea - Lori Bookstein Fine Art - Anne Tabachnick: Paintings. Anne Tabachnick: Paintings Lori Bookstein Fine Art 138 Tenth Avenue, 212-750-0949 Chelsea December 8, 2011 - January 14, 2012 Reception: Tuesday, December 13, 6 - 8 PM Web Site Lori Bookstein Fine Art is pleased to present a survey of paintings by Anne Tabachnick.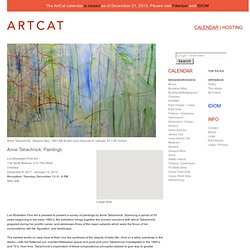 Scorpions EN - DW-WORLD.DE. Rudolf Schenker at the Jerome C.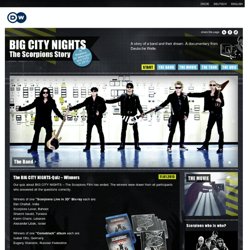 Daniel Overlook on Mullholland Drive. The Scorpions made a stop in LA on their farewell tour around the world. Our documentary film crew was on location, and we bring you this report by producer Daniel Remsperger: The father of film graphics - Imprint. Sotheby's important Russian art evening auction brings £5.6/$8.7 million. LONDON.- This evening, Sotheby's Important Russian Art auction which was exceptionally well-attended brought £5,597,000/$8,657,999 (est. £5,755,000-8,415,000).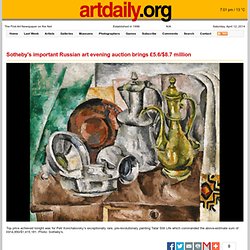 The sale achieved sellthrough rates of 66.7% by lot and 74.6% by value, and established two new artist records for Alexander Golovin and Pavel Kovalevsky. The top-selling lot of this evening's auction was Petr Konchalovsky's exceptionally rare, pre-revolutionary painting Tatar Still Life, dated 1916. The painting saw competition from 5 bidders and realised the above-estimate sum of £914,850/$1,415,181 (est. £500,000-700,000).
The painting first belonged to influential Polish art critic Waldemar George who presented the painting as a wedding gift to Louis Gautier-Chaumet, editor-in-chief of "La Presse" newspaper, where George served as art critic. Sotheby's New York announces the sale of the contract that founded Apple Computer Company. NEW YORK, N.Y.- On 13 December 2011 Sotheby's New York is to offer the founding partnership agreement of the Apple Computer Company – the firm that revolutionized technology, business, personal computing and the world. The 1976 document, which once belonged to Ronald G.
Wayne, one of Apple's founders along with Steven P. Jobs and Stephen G. Wozniak, is the first chapter in the story of one of America's most important companies. The contract, along with the agreement documenting Ron Wayne's withdrawal from the company for $800, will be offered as a single lot in the Fine Books and Manuscripts sale and is estimated to fetch $100/150,000. The complete collection of Elizabeth Taylor opens December 3 at Christie's in New York. NEW YORK, N.Y.- Over Thanksgiving weekend, a team of practiced installers convened at Christie's flagship headquarters in Rockefeller Center to begin construction and installation of one of the most anticipated exhibitions in U.S. auction history: the complete Collection of Elizabeth Taylor.
This stunning display of nearly 2,000 individual items from the personal collection of America's last great film star and fashion icon will open to the public on Saturday, December 3 for an unprecedented ten-day exhibition that runs through December 12. Christie's has devoted all 300,000 square feet of its facility to this museum-quality exhibition of Elizabeth Taylor's collections of jewelry, fashion, accessories, fine art, film memorabilia, costumes and decorative items.
British Library puts 19th century newspapers online, plans to digitize 40 million pages. LONDON.- The newspaper coverage was troubling: London's huge international showcase was beset by planning problems, local opposition and labor woes — and the transport was a mess. It sounds like the 2012 Olympics, but this was the Great Exhibition of 1851 generating stories of late trains, unscrupulous landlords and dangerous overcrowding. Coverage of the event is found in 4 million pages of newspapers from the 18th and 19th centuries being made available online Tuesday by the British Library, in what head of newspapers Ed King calls "a digital Aladdin's Cave" for researchers. The online archive is a partnership between the library and digital publishing firm Brightsolid, which has been scanning 8,000 pages a day from the library's vast periodical archive for the past year and plans to digitize 40 million pages over the next decade.
Couture Fashion Week - Fashion Week, Fashion Show Tickets. Is Art Patron Ronald Lauder What's Wrong With America?, Occupy Wall Street Plans Gallery Of Its Own, and More. – Not So Laudable: It's notable, isn't it, that in the run-up to that bacchanal of affluent excess known as Art Basel Miami Beach the New York Times has chosen Ronald Lauder, the famed art collector and Neue Galerie co-founder, as its poster child for the tax-eluding "superelite" behind the "widening income gap between the richest and the rest of society"? Buying his first artwork — a Schiele — with his allowance and then buying himself onto the Met's board at 32, Lauder (son of Estee, brother of Whitney patron Leonard) has artfully kept his tax dollars from philistine government hands through a virtuosic mastery of loop-hole-finding legerdemain.
Read all about it here. Major retrospective of art of painter Takao Tanabe opens at Burnaby Art Gallery. Occupy Wall Street Supporter Makes Jay-Z "Scrooge" Sculpture. Collection of 300 drawings made during Rodin's last thirty years on view at the Musée Rodin. Bonhams offers two masterpieces of American landscapes by Russian painter in $14 Million Russian sale. First individual exhibition in Poland of works by the world famous artist Wolfgang Tillmans. Lucretius. Art review: 'Leonardo da Vinci: Painter at the Court of Milan' - latimes.com. Vatican to take legal action over Benetton pope-kissing ad - ITALY. Benetton ads draw criticism from White House, Vatican. Modern & Post-War British Art | Event Detail / Sotheby's | Auctions > Modern & Post-War British Art - Catalogue. Photographies | Event Detail / Sotheby's | Auctions > Photographies - Catalogue. First ever overview of painted partying in the Golden Age at the Frans Hals Museum.
Martin Lawrence Gallery marks 120th anniversary of Erté with retrospective exhibition. Guggenheim Museum in Bilbao shows Georg Baselitz' "Mrs. Lenin and the Nightingale" After the sell-off – what happens to EMI Classics? How social guilt can change our media consumption habits — or just make us lie about them. Unpopular choice for Biennale president withdraws. Videos. Historians in Body Armor - NPS Staffers Document Ancient Towers in Afghanistan. United through a Berlin Wall artwork - latimes.com. Berlin's 10 Hottest Fall Art Shows. Irascibility Pays Off as Clyfford Still Leads Sotheby's to a White-Hot $316 Million Postwar Art Sale. How a Calligraphy Pen Rewrote Steve Jobs' Life. South Africa artifacts indicate a 100,000-year-old art studio - latimes.com. How small galleries can make a hit on the global stage.
Support your local Taos artists - The Taos News: Blogs. Sketch-leaves for Elgar's unfinished masterpiece at Bonhams. Forgotten Jewish Dada-ists Get Their Due.
---