Art by richardlazzara
#BuyMyArt,#HandMadeInAmerica,#ArtForSale,#RichardLazzara#ShankarGallery,#Boulder Feb 22
Portfolio Richard Lazzara (Shankar Gallery)
118 consciousness reaping
119 only to appear again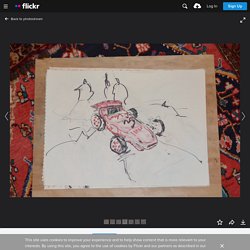 Hey, wait a minute! We noticed that you may be using an unsupported browser. All the basics will still work, but to get the most out of Flickr please upgrade to the latest version of Chrome , Safari , Firefox , or Internet Explorer .
DSC_0015
DSC_0016
DSC_0018
DSC_0019
DSC_0020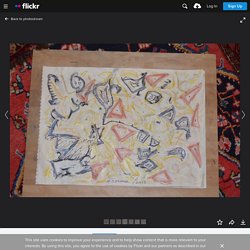 DSC_0021
Hey, wait a minute! We noticed that you may be using an unsupported browser. All the basics will still work, but to get the most out of Flickr please upgrade to the latest version of Chrome , Safari , Firefox , or Internet Explorer .
DSC_0022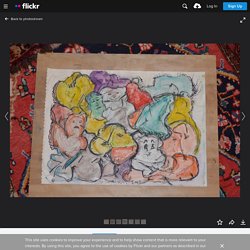 <div class="info"><span class="msg-icon"></span><p> To take full advantage of Flickr, you should use a JavaScript-enabled browser and <a href="http://www.macromedia.com/shockwave/download/download.cgi?P1_Prod_Version=ShockwaveFlash">install the latest version of the Adobe Flash Player</a>. </p></div> keyboard shortcuts: ← previous photo → next photo L view in light box F favorite < scroll film strip left > scroll film strip right ? show all shortcuts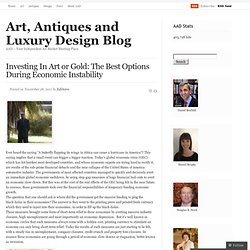 Ever heard the saying "A butterfly flapping its wings in Africa can cause a hurricane in America"? This saying implies that a small event can trigger a bigger reaction. Today's global economic crisis (GEC) which has hit hardest most developed countries, and whose economic experts are trying hard to rectify it, are results of the sub-prime financial debacle and the near collapse of the United States of America automotive industry. The governments of most affected countries managed to quickly and decisively avert an immediate global economic meltdown, by using stop-gap measures of huge financial bail-outs to avert an economic slow-down.
Investing In Art or Gold: The Best Options During Economic Instability « Art, Antiques and Luxury Design Blog
DSCN2407
Мои твиты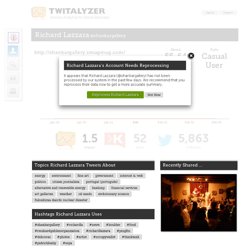 Tips for Searching Twitalyzer To get the most from Twitalyzer's search functionality consider the following: You can prefix your search with "@" to indicate a Twitter user You can prefix your search with "#" to indicate a Twitter hashtag Additionally, if you want to dig more deeply into our data, please use our Explore Report .
@shankargallery
If you're visiting Boulder County this summer, you're in for a treat—several, in fact. Long revered for its gazillion things to do outdoors, the county also offers a host of cultural outings, festivals, art gatherings and musical events. But first, let's touch on the great outdoors.
Boulder Colorado CO Attractions, Event Highlights, Fun Stuff to Do in Boulder County | Boulder Magazine Events Online - Daily Events Calendar - Boulder Arts & Crafts Gallery 40th Birthday Ribbon Cutting and Exhibit Opening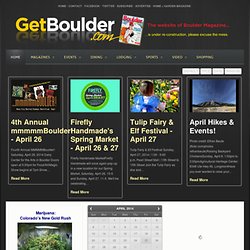 Richard Lazzara
NEW IDEAS ABOUT ART by richard lazzara
Museums' Brave New Turf - After Hours
What do New York painter Chuck Close, L.A. artist Laddie John Dill and the estate of L.A. sculptor Robert Graham have in common? They are lead plaintiffs in a pair of class-action lawsuits filed Tuesday against the New York operations of Sotheby's and Christie's, alleging that the auction houses violated the California Resale Royalty Act. The 1977 California statute, a rare attempt in the U.S. to provide visual artists with a financial cut of appreciating artworks they made but no longer own, grants artists 5% of the proceeds from the resale of their artwork under certain conditions. One is that the seller lives in California or the sale occurs in California. The law applies only to "fine art" -- defined as "an original painting, sculpture, or drawing, or an original work of art in glass."
Artists sue Christie's and Sotheby's for 'resale royalties'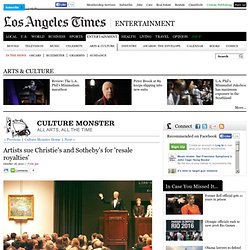 Artists vs. Auction Houses: Litigating the California Resale Royalty Law - CultureGrrl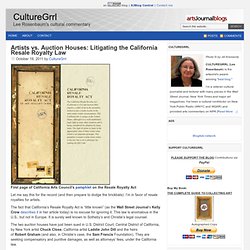 First page of California Arts Council's pamphlet on the Resale Royalty Act Let me say this for the record (and then prepare to dodge the brickbats): I'm in favor of resale royalties for artists. The fact that California's Resale Royalty Act is "little known" (as the Wall Street Journal's Kelly Crow describes it in her article today) is no excuse for ignoring it.
shankargallery on HuffingtonPost
Carolina May 2011 by Richard Lazzara - a set on Flickr
Red Leaf Day
Red Leaf Day
shankargallery , ArtforSale , richardlazzara , art , gallery , boulder , colorado , usa , americanartist , culture , community , shankar , lingam , yatra , yantra , mandala , advaita , yoga, keykover , satsang , sumi-e , varanasi , CollectiveIntelligence , funding , health , freespeech , America , beautiful , everyone , love , ArtPhoto , wisdom , collection , freedom , creativity , encouragement , discovery, expressionism , soul , awareness , energy , synergy , variety , myspace , photoblog , opensource , photostream , word , liberty , design , citizens , sustainable , friends , freeaccess , humanrights , digitalart , profile , oldskool , culture ,CreativeCommons ,streaming , meditation , xanga , blogspot , wordpress , slide , absolutearts , thangka , marketplace , flickr, family , network , ZooomrFoto , QuantumPhysics,
Richard Lazzara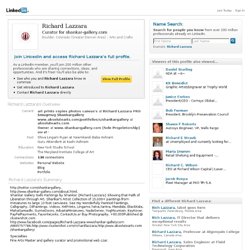 Painting - Praemium Imperiale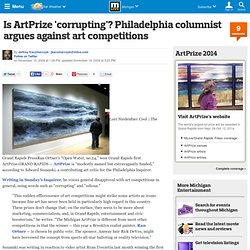 GRAND RAPIDS -- ArtPrize is "modestly named but extravagantly funded," according to Edward Sozanski, a contributing art critic for the Philadelphia Inquirer. Writing in Sunday's Inquirer, he voices general disapproval with art competitions in general, using words such as "corrupting" and "odious." "This sudden efflorescence of art competitions might strike some artists as ironic because fine art has never been held in particularly high regard in this country. These prizes don't change that; on the surface, they seem to be more about marketing, commercialism, and, in Grand Rapids, entertainment and civic boosterism," he writes. "The Michigan ArtPrize is different from most other competitions in that the winner -- this year a Brooklyn realist painter, Ran Ortner -- is chosen by public vote. The sponsor, Amway heir Rick DeVos, might have borrowed the concept from sports all-star balloting or reality television."
Is ArtPrize 'corrupting'? Philadelphia columnist argues against art competitions
also, keep in mind that not everyone needs an audio interface. if you are only recording one track at a time or are recording more than one track but are fine with mixing it as you record you can use a much cheaper and oodles simpler analog mixing board/mixer. i struggled for over a year with a USB audio interface box i bought for home recording and it was ALWAYS a hassle - either really high latency, dropped sections, or it would take 15-20 minutes of fiddling with system prefs and settings in software to get it to work right. i finally went to my local music store and picked up a behringer analog mixer for $49 which has 8-Inputs (2 mic, 2 stereo, 1 stereo tape/CD), builtin EQ, effects send/receive, and the mic jacks have phantom power and the line inputs work great for electric instruments, a headphone out and I use an RCA-to-mini-1/8th-stereo plug to connect directly into the mic jack on my mac mini. It's simple, always works, and has real knobs and buttons.
@shankargallery
Richard Lazzara (shankargallery) on Twitter
Have an account? Sign in New to Twitter? Join Today » Forgot password?
Richard Lazzara
Richard Lazzara
The SmugMug Blog
An intractable problem solved by a bold stroke