Nature and design
karl blossfeldt photography - Google Search
to the growing network of biomimicry educators. Whether you work with youth, university, or informal student groups, you'll find a host of resources on this site to help you bring biomimicry into your teaching practice. BEN membership is free. Please register or log-in to access all site features Featured Resource:
Biomimicry Education Network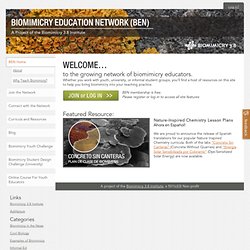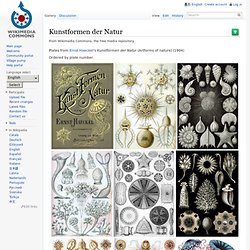 Plates from Ernst Haeckel's Kunstformen der Natur (Artforms of nature) (1904) Ordered by plate number. 2.
LAGI-2012
Hoberman Sphere (Octahedron)
by: Mirjam Visser, 2012-02-05 15:48:01 UTC Sustainability Aspects: Software to help you design lightweight structure, based on mother nature, with up 70% less material The Story Biomimicry & Lightweight Design With energy conservation being a current hot topic, a lot is talked about lightweight construction. Often, nature has already provided us with the solution.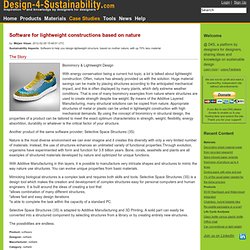 Software for lightweight constructions based on nature | Design-4-Sustainability
The Land Art Generator Initiative has put together this free 73-page Field Guide to Renewable Energy Technologies. We hope that it is a source of inspiration to all designers, homeowners, urban planners, students, artists, and anyone else interested in a clean energy future. Solar (ECO) System By Antonio Maccà and Flavio Masi Designed for Site #3 in Abu Dhabi, on Airport Road adjacent to Masdar City for the 2010 LAGI competition.MORE > The Land Art Generator Initiative (LAGI) brings together artists, architects, scientists, landscape architects, engineers, and others in a first of its kind collaboration.
Land Art Generator Initiative :: Renewable Energy Can Be Beautiful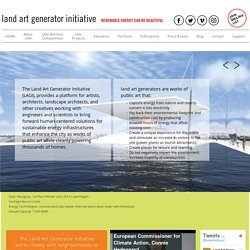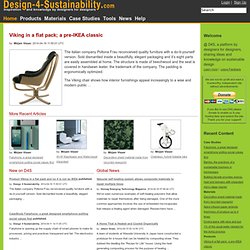 by: Mirjam Visser, 2014-04-16 11:50:01 UTC The italian company Poltona Frau reconceived quality furniture with a do-it-yourself version. Sold dismantled inside a beautifully, elegant packaging and it's eight parts are easily assembled at home. The structure is made of beechwood and the seat is covered in handsewn leater, the trademark of the company.
Home | Design-4-Sustainability
The biomimicry design spiral is a tool that uses nature as a model and measurement in the creation of systems, products and services. Different species and (eco) systems in nature have found solutions to energy provision, temperature control, resource minimization and many other challenges humans are facing today. The Design Spiral is a method that seeks to make use of the knowledge found in nature. This is a brief description of the steps involved in the method: 1) Identify the function (Image: identifiera funktionen)
Design Spiral - SVID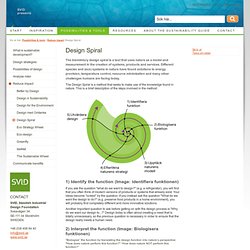 SENSORS AND SENSING. Organisms sense physical stimuli (e.g, fluid motion, sound pressure, etc) with structures or processing schemes that often are quite different from that employed in human-built systems, particularly because humans are so visually oriented. However, an organism's ability to gather information efficiently is often key to their survival, and organisms must perform these tasks under conditions of limited processing power or materials.
Center for Biologically Inspired Design at Georgia Tech