JQuery_MOBO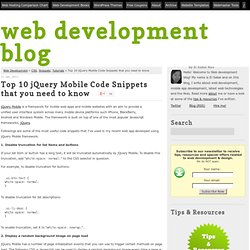 Top 10 jQuery Mobile Code Snippets that you need to know - Web Development Blog
jQuery Mobile is a framework for mobile web apps and mobile websites with an aim to provide a unified user interface system across many mobile device platforms such iPhone, BlackBerry, Android and Windows Mobile.
View topic - jQuery Mobile Application Programming • MarketTorrent
Topic Category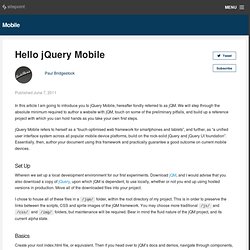 Hello jQuery Mobile » BuildMobile
In this article I am going to introduce you to jQuery Mobile, hereafter fondly referred to as jQM.
jQuery mobile cheat sheet | brooky's blog
As with any new technology, getting started is often the hardest part.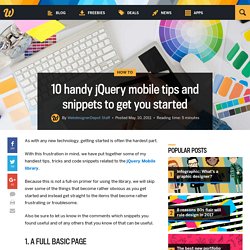 10 handy jQuery mobile tips and snippets to get you started
The jQuery Project has just announced a new mobile framework called jQuery Mobile to be available later this year.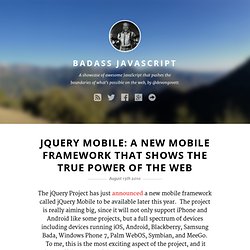 jQuery Mobile: A New Mobile Framework That Shows the True Power of the Web
10 handy jQuery mobile tips and snippets to get you started
Simple App Creation Using jQuery Mobile
Introduction jQuery has successfully reached the world of mobile phones.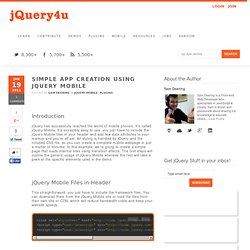 50 jQuery Mobile Development Tips
We have collected 50 jQuery mobile tips and tutorials , 10 mobile plugins , 10 mobile website demos , 10 free mobile themes , 10 new mobile frameworks , 10 mobile cheat sheets and more stuff to help you get that mobile website started and up and running in no time!