News
Web Designer Wall – Design Trends and Tutorials
Tutorial9 - The Best Resources for Designers, Every Day.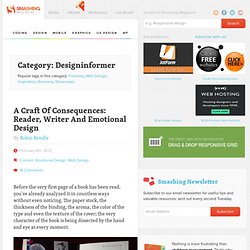 A Craft Of Consequences: Reader, Writer And Emotional Design Before the very first page of a book has been read, you've already analyzed it in countless ways without even noticing. The paper stock, the thickness of the binding, the aroma, the color of the type and even the texture of the cover; the very character of the book is being dissected by the hand and eye at every moment.
Design Informer - The Latest in Web and Graphic Design
PSDFAN - Adobe Photoshop Tutorials, Design Articles and Resources
Noupe Design Blog
Home - Marcofolio.net
Speckyboy Design Magazine | Web Design, Web Development and Graphic Design Resources
10Steps.SG - Best Photoshop Tutorials for Beginners
Blog.SpoonGraphics
MyInkBlog | A Resource For All Things Design
SpyreStudios - Web-Design and Development Magazine
Feedgrids
Web Design Blog, Tutorials and Inspiration | Web Design Ledger
Illusion - The Most Amazing Creations in Art, Photography, Design, Technology and Video.
Design Instruct: A Web Magazine for Designers and Digital Artists
Six Revisions - Web Design Articles, News, Tutorials
Smashing Magazine
Camp Creative Group | Graphic and Web Design
101 Best Websites - CSS Showcase, Flash and Javascript portfolio
The Best Designs » Web Design and CSS Gallery » The Best of Web Design
Behance Network :: Gallery
noquedanblogs.com | Blog de inspiraci?n .
Ads of the World™ | Creative Advertising Archive & Community
LikeCOOL, Coolest Gadget Magazine.
Home
Design Observer
Advertising, media, marketing and PR news & jobs - Brand Republic