News
Web Designer Wall – Design Trends and Tutorials
Tutorial9 - The Best Resources for Designers, Every Day.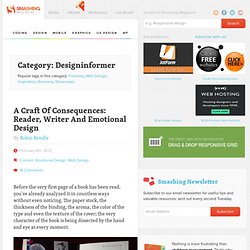 A Craft Of Consequences: Reader, Writer And Emotional Design Before the very first page of a book has been read, you've already analyzed it in countless ways without even noticing. The paper stock, the thickness of the binding, the aroma, the color of the type and even the texture of the cover; the very character of the book is being dissected by the hand and eye at every moment.
Design Informer - The Latest in Web and Graphic Design
(Photo Effects - Tutorials) I know that the PSDFAN community loves photo manipulation. However, I recognise that it can be a tricky skill to learn.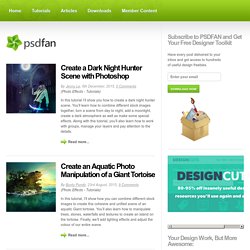 PSDFAN - Adobe Photoshop Tutorials, Design Articles and Resources
Jan 23 2014 SVG is the new standard for vector images in the browser. Vector editors such as Adobe Illustrator allow to directly save to that format and modern browsers have no problems to properly display SVG. As SVG graphics consist of markup, they can be created and maintained using your favorite text editor, just as you do with your HTML. It is even possible to style SVG with CSS, though you'll need to know about quite a few differences in doing so, compared to styling HTML. Read more
Noupe Design Blog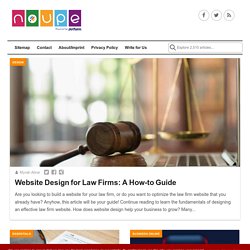 About the author: Garry Smith is a seasoned writer that is professionally dedicated to CSS Chopper, a premier web development and outsourcing company. The organization is fortified with qualified developers for Magento, e-commerce technologies etc. to render outstanding business solutions. For most web developers, delivering the images to the low-bandwidth mobile devices could not be less than any brain teaser, where they feel like they have been stuck in a complex task, just like searching a needle in the dry haystack! Well, it could screw-up the brain!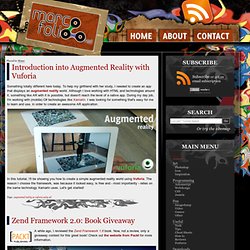 Home - Marcofolio.net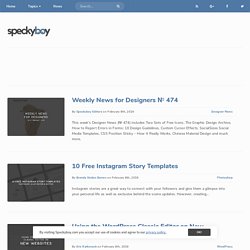 What we have for you today are a selection of free high-resolution corporate identity mockup templates that will allow you to create your own professional personal branding with ease. The templates are all in PSD… Collaboration is how things are accomplished these days. With collaboration, we can reach incredible creative heights.
Speckyboy Design Magazine | Web Design, Web Development and Graphic Design Resources
10Steps.SG - Best Photoshop Tutorials for Beginners
Blog.SpoonGraphics
Free Pack of 12 Distressed Halftone Pattern Textures Halftone screen patterns are a key ingredient of retro design, but it can be difficult to find or create realistic screentone style resources. Photoshop and Illustrator can produce halftone effects, but the result is a series of perfectly formed circles which don't look very antique at all and fail to capture that grungy rock poster vibe. I've manually created a collection of distressed halftone patterns by hand to achieve that authentic printed appearance.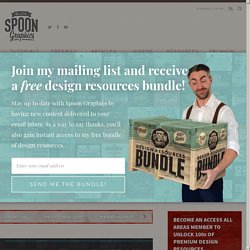 MyInkBlog | A Resource For All Things Design
SpyreStudios - Web-Design and Development Magazine
Feedgrids For our first inspirational list of 2014 we decided to gather examples of white type in web design. I'm always browsing css galleries and other sites to find nice things to show here, and I noticed that a lot of sites use the dark/colorful background white type combo. This is why I decided to dedicate a list to it. Whether you are using a beautiful background image, a texture, or even a big video, overlaying white type can create a very dramatic effect. Check out the examples we have here and give white type a try in your next project.
Web Design Blog, Tutorials and Inspiration | Web Design Ledger
Illusion - The Most Amazing Creations in Art, Photography, Design, Technology and Video.
Design Instruct: A Web Magazine for Designers and Digital Artists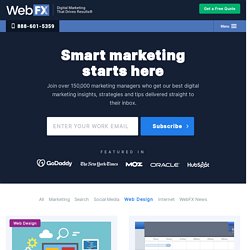 Six Revisions - Web Design Articles, News, Tutorials
The Future of WordPress Starting with just a simple line of code 11 years ago, WordPress has evolved to become the platform of more than 74 million websites. Even with a vast array of competitors offering similar functionality, WordPress still dominates the CMS market with a 21.9% market share. continue reading »
Smashing Magazine
Interview With Khajag Apelian"Type Design Is Not Only About Drawing Letters" Having started his career studying under some of the best typographic minds in the world, Khajag Apelian not only is a talented type and graphic designer, unsurprisingly, but also counts Disney as a client, as well as a number of local and not-for-profit organizations throughout the Middle East. Even more impressive is Khajag's willingness to take on work that most people would find too challenging. Designing a quality typeface is a daunting task when it's only in the Latin alphabet. Khajag goes deeper still, having designed a Latin-Armenian dual-script typeface in four weights, named "Arek", as well as an Arabic adaptation of Typotheque's Fedra Display.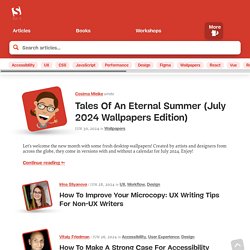 Web Design & Development XHTML, CSS, PHP, Web Standards, Search Engine Optimization, WordPress and Expression Engine development, Custom Content Management Systems Graphic Design Business Cards, Letterhead, Envelopes, Post Cards, Brochures, Posters, Signs, Sell Sheets, Folders Identity & Branding
Camp Creative Group | Graphic and Web Design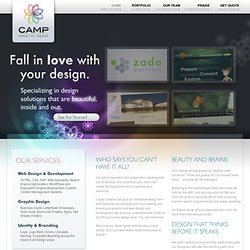 Looking for HTML 5 sites? Are you getting bored of the usual CSS showcase galleries? Are you looking to the future of HTML and CSS and want some inspiration and tutorials for the next big change on the internet? We've just launched a new 101 Best HTML 5 Sites gallery, why not take a look and tell everyone!
101 Best Websites - CSS Showcase, Flash and Javascript portfolio
The Best Designs » Web Design and CSS Gallery » The Best of Web Design
Behance Network :: Gallery
noquedanblogs.com | Blog de inspiraci?n .
Ads of the World™ | Creative Advertising Archive & Community
LikeCOOL, Coolest Gadget Magazine.
Home
The best of non-profit advertising and marketing for social causes Posted by Marc van Gurp | 16-01-2014 17:00 | Category: Fundraising, Homelessness, Poverty, Women's Issues As a society we're completely obsessed with celebrity culture, meanwhile, some single mothers struggle every day just to provide the basics for their children.
Design Observer
Advertising, media, marketing and PR news & jobs - Brand Republic