House
Birds of a Feather Family Tree - Introduction - MarthaStewart.com. Enchanting Garland. Paper-Cutout Night-Lights. Southern Charm Mason Jar Chandelier. Kroken Published on February 17th, 2011 | by Jules IKEAHacker Materials: Kroken-ceiling mounted utensil rack, Hemma-black cord set, Mason JarsDescription: We hand-crafted this chandelier comprised of twelve (12) wide mouth Mason jars lit from within by compact fluorescent bulbs.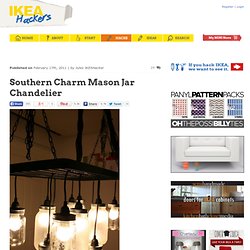 Custom wall sized clipboards. Wall Décor Published on February 5th, 2011 | by Jules IKEAHacker Materials: Side panels of IKEA floor display bins Description: Find an IKEA display bin that is missing the bottom.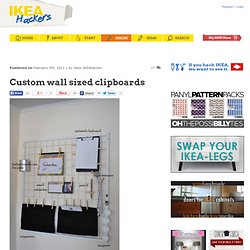 Buy all 4 of the side pieces. Bygel Hanging Shower Rack Hack. Bathroom Published on February 11th, 2011 | by Jules IKEAHacker Materials: Bygel Rail, Blanken Shower Shelf, Bygel metal "S" hooksDescription: Not really a hack, more of a Hackea, I used to have one of those cool shelves in the corner of my shower on an extension pole.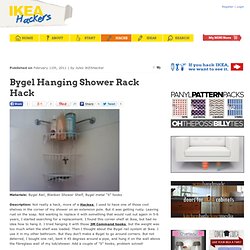 But it was getting rusty. Leaving rust on the soap. Cute bulletin board. Materials: IKEA Tyst placemats Description: I wanted a very large cork bulletin board for my new workstation, but they are so ugly!
Plus a large one is expensive. I bought these Tyst cork placemats which proved to be much cheaper ($10 for two 4-packs). And much cuter! 1. Mitt tävlings bidrag - staden som aldrig sover | isabella | LIVET HEMMA | IKEA. Här kommer mitt bidrag till tävlingen!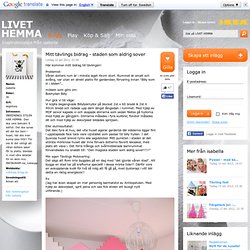 Problemet: Våran dotters rum är i minsta laget 4kvm stort. Rummet är smalt och avlång, var utan en direkt platts för garderober, förvaring innan "Billy kom in i bilden".. Nyttja frame becomes a notice board. Materials: Nyttja wooden frame Description: Before, to note to buy or to do list, I used a piece of durable plastic (right) .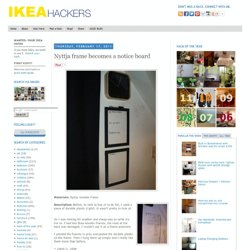 It wasn't pretty to look at. So I was looking for another and cheap way to write my list on. Candleholder vs. towelholder. My cherry blossom lantern, inspired by Joey. Lighting Published on February 24th, 2011 | by Jules IKEAHacker Materials: Regolit lamp Description: When I saw Joey's cherry blossom lantern, I immediately fell in love with it.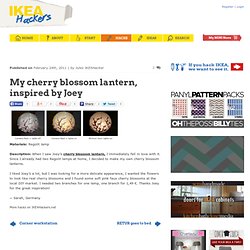 Since I already had two Regolit lamps at home, I decided to make my own cherry blossom lanterns. Besta Boas Chalkboard Room Divider. Besta Published on March 2nd, 2011 | by Jules IKEAHacker Materials: Besta Boas TV storage unit, medium-density fiberboard, chalkboard paint, industrial strength velcro Description: We recently moved into a 1000 sq. ft. apartment and quickly discovered that our large couches only fit in one configuration in the living room.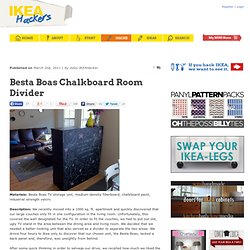 Party balloon keeper. Lighting change ups! Lighting Published on September 28th, 2010 | by Jules IKEAHacker Materials: All Ikea parts changed to make more interesting Description: Red Vases from the Valentines section I turned upside down and glued to the base of the plastic Ikea Lampan in red.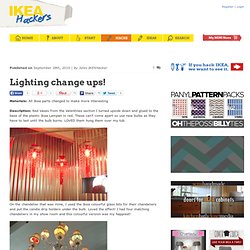 Blinding! Lindmon Published on March 18th, 2011 | by Jules IKEAHacker Materials: Lindmon wooden blind, wood glue Description: Put the blind into the shut position so that all of the slats are lying flat, and lay this on the floor.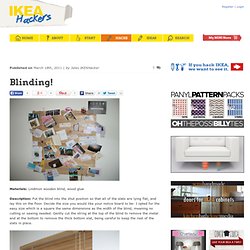 RATIONELL jewelry display. Rationell Published on May 6th, 2010 | by Jules IKEAHacker Materials: Rationell cutlery tray, white paint, velvet foil, little hooks, large bolts and nuts Description: I removed all the removable dividers from the cutlery tray, to create larger compartments. All the dividers were thrown away, except for the knife divider. The whole thing and the knife divider was painted white. Geektastic lighting. Hemma Published on March 22nd, 2011 | by Jules IKEAHacker Materials: Hemma Cord Set, copper wire, blank printed circuit boardsDescription: I wanted to create some lighting for my apartment that would have a very geeky feel. Makeup vanity for small spaces. Bedroom Published on March 23rd, 2011 | by Jules IKEAHacker Materials: Ekby Gruvan shelf; Vika Curry legs; Godmorgon box; Kolja mirror; Gilbert stoolDescription: My bedroom isn't very large so I needed a small makeup vanity. I'm the type that likes to see all my makeup because if I don't see it, I won't use it.
The Ekby Gruvan works great for this reason. Connect 4 Vika Curry legs to a Ekby Gruvan shelf (I used the 48 1/2 inch). Repurposing spice racks into children's bookshelves. Bekvam Published on March 30th, 2011 | by Jules IKEAHacker Nothing hacked but it's a nice idea which I thought deserved to be shared. ~ Jules Materials: BEKVAM Spice Racks Description: We wanted bookshelves for our children's room that had books facing out, but all of the existing shelves we found were entirely too expensive. These fit the bill and fit perfectly into the small space available to add them. Mosaic serving tray. A Grono mosaic lamp. KVARTA clock art. Coffee Table Train Set. Dignitet display.
---