House
Birds of a Feather Family Tree - Introduction - MarthaStewart.com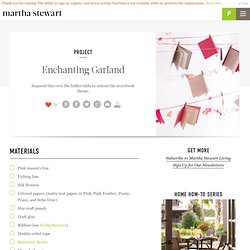 Suspend this over the buffet table to extend the storybook theme. Martha Stewart Living, May 2011 Tools and Materials
Enchanting Garland - Martha Stewart Crafts
Paper-Cutout Night-Lights - Martha Stewart Crafts
These one-of-a-kind night-lights with paper-cutout designs are a charming addition to any child's room. Tools and Materials Bird or koala template Colored card stock (We used green card stock for the birds and brown for the koala.) Craft knife Screw punch Spray adhesive Night-light with half shade Mod Podge Paintbrush Paper Cutout Nightlights How-To 1. Print the bird or koala template onto colored card stock. 2.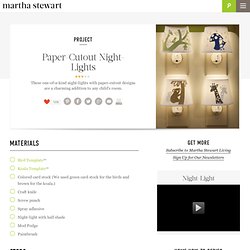 How to Make a Woodgrain Magnetic Memo Board and Tool Storage
Southern Charm Mason Jar Chandelier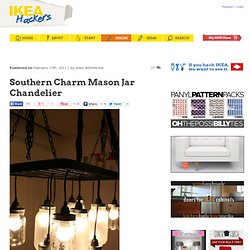 Materials: Kroken-ceiling mounted utensil rack, Hemma-black cord set, Mason Jars Description: We hand-crafted this chandelier comprised of twelve (12) wide mouth Mason jars lit from within by compact fluorescent bulbs. The design is a reflection of old-school Southern hospitality repositioned in a contemporary artistic framework. We began by drilling holes into the tops of each jar.
Custom wall sized clipboards
Bygel Hanging Shower Rack Hack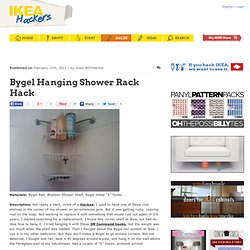 Materials: Bygel Rail, Blanken Shower Shelf, Bygel metal "S" hooks Description: Not really a hack, more of a Hackea , I used to have one of those cool shelves in the corner of my shower on an extension pole. But it was getting rusty. Leaving rust on the soap. Not wanting to replace it with something that would rust out again in 5-6 years, I started searching for a replacement. I found this corner shelf at Ikea, but had no idea how to hang it.
Cute bulletin board
Materials: IKEA Tyst placemats Description: I wanted a very large cork bulletin board for my new workstation, but they are so ugly! Plus a large one is expensive. I bought these Tyst cork placemats which proved to be much cheaper ($10 for two 4-packs). And much cuter! 1.
Mitt tävlings bidrag - staden som aldrig sover | isabella | LIVET HEMMA | IKEA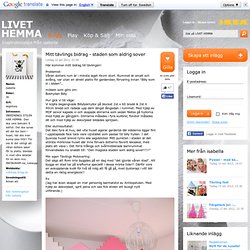 Här kommer mitt bidrag till tävlingen! Problemet: Våran dotters rum är i minsta laget 4kvm stort. Rummet är smalt och avlång, var utan en direkt platts för garderober, förvaring innan "Billy kom in i bilden"..
Nyttja frame becomes a notice board
Materials: Nyttja wooden frame Description: Before, to note to buy or to do list, I used a piece of durable plastic (right) . It wasn't pretty to look at. So I was looking for another and cheap way to write my list on.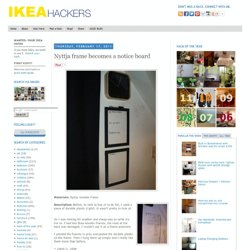 Candleholder vs. towelholder
My cherry blossom lantern, inspired by Joey
Materials: Regolit lamp Description: When I saw Joey's cherry blossom lantern, I immediately fell in love with it. Since I already had two Regolit lamps at home, I decided to make my own cherry blossom lanterns.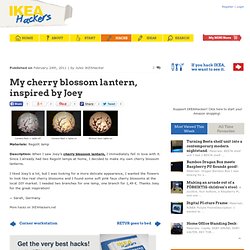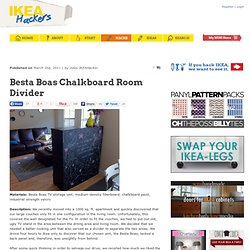 Materials: Besta Boas TV storage unit, medium-density fiberboard, chalkboard paint, industrial strength velcro Description: We recently moved into a 1000 sq. ft. apartment and quickly discovered that our large couches only fit in one configuration in the living room. Unfortunately, this covered the wall designated for the TV. In order to fit the couches, we had to put our old, ugly TV stand in the area between the dining area and living room.
Besta Boas Chalkboard Room Divider
Party balloon keeper
Lighting change ups!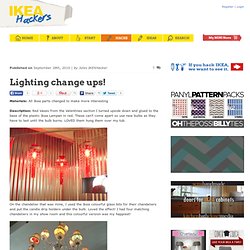 Materials: All Ikea parts changed to make more interesting Description: Red Vases from the Valentines section I turned upside down and glued to the base of the plastic Ikea Lampan in red. These can't come apart so use new bulbs as they have to last until the bulb burns. LOVED them hung them over my tub.
Blinding!
Materials: Lindmon wooden blind, wood glue Description: Put the blind into the shut position so that all of the slats are lying flat, and lay this on the floor. Decide the size you would like your notice board to be: I opted for the easy size which is a square the same dimensions as the width of the blind, meaning no cutting or sawing needed. Gently cut the string at the top of the blind to remove the metal and at the bottom to remove the thick bottom slat, being careful to keep the rest of the slats in place.
RATIONELL jewelry display
Geektastic lighting
Makeup vanity for small spaces
Repurposing spice racks into children's bookshelves
Tolsby - A cheap and easy earring display
Mosaic serving tray
A Grono mosaic lamp
KVARTA clock art
Coffee Table Train Set
Dignitet display
how to hack a bowl sink
Printed house