Social media
The Top 5 Social Media Managing Tools. Let's be honest: managing social media accounts can be overwhelming.
Tweeting, Facebooking, checking in on Foursquare, questioning on Quora, updating your LinkedIn, pinning on Pinterest, admiring your Klout score....it is exhausting. Logging in to so many disconnected social media accounts can be a daunting and inefficient. What you need is a dashboard - a place to consume your daily intake of social media in one healthy dose. As such, here are the top 5 social media aggregation sites and dashboards, including highlights and breakdowns of what each site or app does: 1. 5 Trends Affecting How We Connect Through Social Media. Yuli Ziv is the founder & CEO of Style Coalition, a network of independent online publishers in the fashion and lifestyle vertical, based in NYC.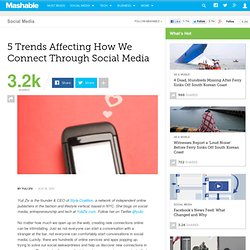 She blogs on social media, entrepreneurship and tech at YuliZiv.com. Follow her on Twitter @yuliz. No matter how much we open up on the web, creating new connections online can be intimidating. Just as not everyone can start a conversation with a stranger at the bar, not everyone can comfortably start conversations in social media. How A 13 Year Old Gained 16,000 Fans In 96 Hours. Logan Ludwig is 13 years old.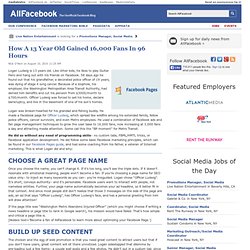 Like other kids, he likes to play Guitar Hero and hang out with his friends on Facebook. 58 days ago he found out that his grandfather, a decorated police officer of 19 years, was dying of stage 4 lung cancer. Because of a loophole, his employer, the Washington Metropolitan Area Transit Authority, had denied him benefits and cut his pension from $3000/month to $700/month. Officer Ludwig was forced to sell his home, declare bankruptcy, and live in the basement of one of his son's homes. Logan was broken-hearted for his grandad and fishing buddy. He made a Facebook page for Officer Ludwig, which spread like wildfire among his extended family, fellow police officers, cancer survivors, and even Metro employees. 4 Steps for Managing Social Media Attention. Soren Gordhamer is the organizer of the Wisdom 2.0 Conference, which brings together staff from Google, Facebook, and Twitter with others to explore living wisely in our modern age.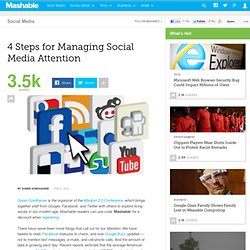 Mashable readers can use code 'Mashable' for a discount when registering. There have never been more things that call out for our attention: We have tweets to read, Facebook statuses to check, and now Google Buzz updates — not to mention text messages, e-mails, and cell phone calls. How to Get the Social-Media Generation Behind Your Cause - Adver. HOW TO: Better Serve the Social Media Customer. Maria Ogneva is the Director of Social Media at Attensity, a social media engagement and voice-of-customer platform that helps the social enterprise serve and collaborate with the social customer.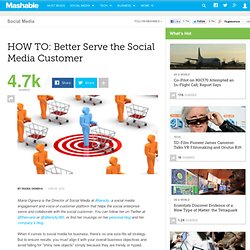 You can follow her on Twitter at @themaria or @attensity360, or find her musings on her personal blog and her company's blog. When it comes to social media for business, there's no one-size-fits-all strategy. But to ensure results, you must align it with your overall business objectives and avoid falling for "shiny new objects" simply because they are trendy or hyped. For example, a new business or "first mover" may want to focus on establishing thought leadership, while a more mature business should aim for customer support.
In all cases, creating a product that actually solves problems for customers, present and future, should be every business's top priority — and you should be using social media to help you figure out what that product is. 5 Social Media Trends to Watch Right Now. This post originally appeared on the American Express OPEN Forum, where Mashable regularly contributes articles about leveraging social media and technology in small business.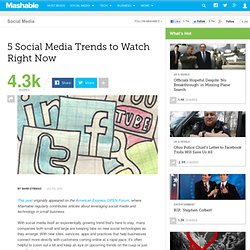 With social media itself an exponentially growing trend that's here to stay, many companies both small and large are keeping tabs on new social technologies as they emerge. With new sites, services, apps and practices that help businesses connect more directly with customers coming online at a rapid pace, it's often helpful to zoom out a bit and keep an eye on upcoming trends on the cusp or just over the horizon.
5 Ways to Clean Up Your Social Media Identity. There's an implicit pressure on social media enthusiasts to be connected in more than one way.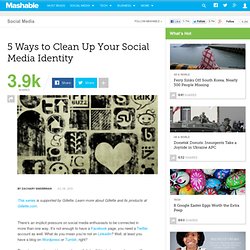 It's not enough to have a Facebook page, you need a Twitter account as well. What do you mean you're not on LinkedIn? Well, at least you have a blog on Wordpress or Tumblr, right? There is no requirement to spread your digital self thin, but many of us are still juggling more than one online profile (I'm currently balancing at least five). Each of these profiles offers us a chance to connect with new communities in different ways, but each network needs to be managed and updated.
---