Documents
Justin Smith State Social Gaming Industry Gdc 2010 San Francisco. 10 Key SEO Strategies Every Facebook Page Owner Should Know. Facebook Pages are increasingly becoming a "second home page" for businesses online.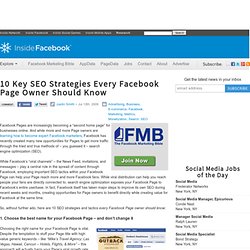 And while more and more Page owners are learning how to become expert Facebook marketers, Facebook has recently created many new opportunities for Pages to get more traffic through the tried and true methods of – you guessed it – search engine optimization (SEO). While Facebook's "viral channels" – the News Feed, invitations, and messages – play a central role in the spread of content through Facebook, employing important SEO tactics within your Facebook Page can help your Page reach more and more Facebook fans.
While viral distribution can help you reach people your fans are directly connected to, search engine optimization exposes your Facebook Page to Facebook's entire userbase. How to Make Money with Facebook Ads - Facebook Advertising Guide. According to Facebook, there are over 300 million active Facebook users.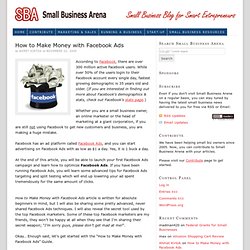 While over 50% of the users login to their Facebook account every single day, fastest growing demographic is 35 years old and older. (If you are interested in finding out more about Facebook's demographics & stats, check out Facebook's stats page.) Whether you are a small business owner, an online marketer or the head of marketing at a giant corporation, if you are still not using Facebook to get new customers and business, you are making a huge mistake.
Facebook has an ad platform called Facebook Ads, and you can start advertising on Facebook Ads with as low as $1 a day. Yes, it is 1 buck a day. 7 of the Best #GDC Slideshows for Indie Social Game Designers - Strategic PR with Social Media. Profiling the Facebooks of the World - Advertising Age - Digital. 24 iPhone Apps to Improve Your Social Networking. I'm a sucker for iPhone apps.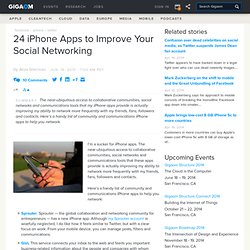 The near-ubiquitous access to collaborative communities, social networks and communications tools that these apps provide is actually improving my ability to network more frequently with my friends, fans, followers and contacts. Here's a handy list of community and communications iPhone apps to help you network: Sprouter. Teens Experiencing Facebook Fatigue [STUDY] Online gaming site Roiworld surveyed 600 teens ages 13 to 17 in late April and found that teens spend two hours per day online on average, 80% of which is spent using a social network.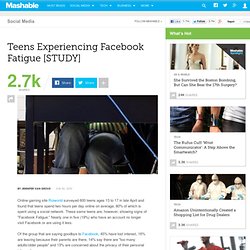 These same teens are, however, showing signs of "Facebook Fatigue. " Nearly one in five (19%) who have an account no longer visit Facebook or are using it less. Of the group that are saying goodbye to Facebook, 45% have lost interest, 16% are leaving because their parents are there, 14% say there are "too many adults/older people" and 13% are concerned about the privacy of their personal information. While interest in Facebook may be waning, it's still the most popular social network among teens — 78% have created a profile and 69% still use it.
YouTube ranks second; 64% of teens claim to have a YouTube profile and continue to use the site.
---