Twitter
12 Most Clever Twitter Tools. There are a multitude of websites to enhance your Twitter experience.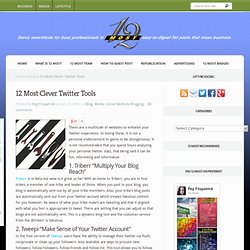 In listing these, it is not a personal endorsement to game or be disingenuous. It is not recommended that you spend hours analyzing your personal Twitter stats, that being said it can be fun, interesting and informative. 1. Triberr "Multiply Your Blog Reach" 12 Most Helpful Tips for Conversing in a Twitter Chat. "As if Twitter wasn't chaotic enough, now we have Twitter Chats?!"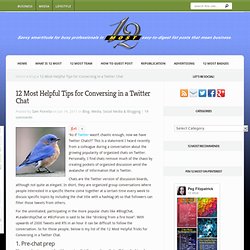 This is a statement I heard recently from a colleague during a conversation about the growing popularity of organized chats on Twitter. Personally, I find chats remove much of the chaos by creating pockets of organized discussion amid the avalanche of information that is Twitter. 12 Most Beneficial Ways for Businesses to Engage on Twitter. Using Twitter for business is nothing new.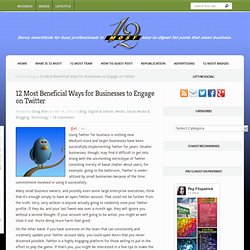 Medium-sized and larger businesses have been successfully implementing Twitter for years. Smaller businesses, though, may find it difficult to get into. Along with the unrelenting stereotype of Twitter consisting merely of banal chatter about users, for example, going to the bathroom, Twitter is under-utilized by small businesses because of the time commitment involved in using it successfully.
Many small business owners, and possibly even some large enterprise executives, think that it's enough simply to have an open Twitter account. Www.jeffbullas.com/2010/07/16/how-to-write-a-mind-blowing-headline-for-twitter/ The latest Twitter statistics show that Twitters growth last year was over 1,300% with the latest numbers revealed by Twitter at their Chirp conference for developers in April showing Total number of users at 105 million (12 months ago that number was 8 million) Twitter received 180 million unique visitors a month to its website.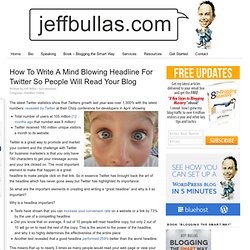 Twitter is a great way to promote and market your content and the challenge with Twitter for business marketers is that you only have 140 characters to get your message across and your link clicked on. The most important element to make that happen is a great headline to make people click on that link. So in essence Twitter has brought back the art of the headline which has never gone away but Twitter has highlighted its importance.
Www.jeffbullas.com/2011/04/11/the-marketing-secret-about-twitter-that-most-people-dont-know/ Twitter is maybe the most misunderstood and under estimated social media marketing tool in the social media top 5 including Facebook, YouTube and LinkedIn.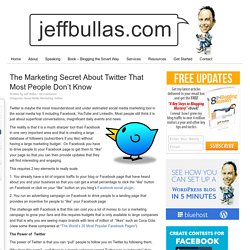 Most people still think it is just about superficial conversations, insignificant daily events and news. The reality is that it is a much sharper tool than Facebook in one very important area and that is creating a large database of followers (subscribers if you like) without having a large marketing budget. My One Year Anniversary on Twitter — How I've Used It and What I've Learned. It has been one year since I activated my Twitter account.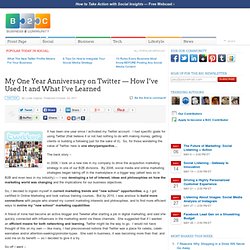 I had specific goals for using Twitter (that believe it or not had nothing to do with making money, getting clients or building a following just for the sake of it). So, for those wondering the value of Twitter, here is one story/perspective… The back story – In 2006, I took on a new role in my company to drive the acquisition marketing strategy in one of our B2B divisions.
Would You Follow Yourself on Twitter? By Laurel Miltner | Posted | 3 Comments | Filed in: Social Media If you're using Twitter for business, and/or to build your personal brand, it's important to have a strategy.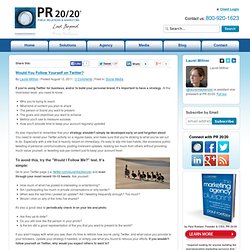 At the most basic level, you need to know: Who you're trying to reachWhat kind of content you plan to shareThe person or brand you want to presentThe goals and objectives you want to acheiveMetrics you'll use to measure successHow you'll allocate time to keep your account regularly updated It's also important to remember that your strategy shouldn't simply be developed early on and forgotten about. How to Use Twitter to Promote Your Site. If you have ever dabbled with Twitter, you'll know that the concept is really quite simple: you have 140 characters to use to update your followers.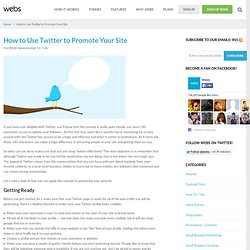 At first this may seem like a novelty fad or something fun to play around with, but Twitter has proven to be a huge and effective tool when it comes to promotions. As it turns out, those 140 characters can make a huge difference in attracting people to your site and getting them to stay. So what can you do to make sure that you are using Twitter effectively? The main objective is to remember that although Twitter was made to let you tell the world what you are doing, that is not where the real magic lays. 120 Tweetable Tips on How to Achieve Social Media Success. Recently, we asked individuals to share their best social media tip but with a catch – the tip could not exceed 140 characters so that it could be easily shared on Twitter.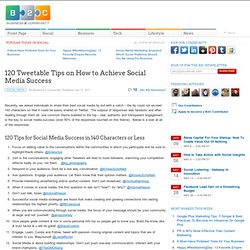 The outpour of responses was fantastic and after reading through them all, one common theme bubbled to the top – real, authentic and transparent engagement is the key to social media success (over 50% of the responses touched on this theme). Below is a look at all of the responses.
Seven Reasons People Will Retweet You. We all want to get retweeted.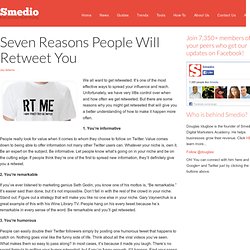 It's one of the most effective ways to spread your influence and reach. Unfortunately, we have very little control over when and how often we get retweeted. But there are some reasons why you might get retweeted that will give you a better understanding of how to make it happen more often. 1. Five Ways to Use Twitter for Marketing That You Might Not Know About - Fox Small Business Center. I like to think of Twitter as a live networking event where you can jump into a conversation at any time. It's a great tool for communicating information to followers but also for engaging with them.
However, I've learned that many people, even those who are on Twitter frequently, use it only for sharing information -- not for starting a two-way dialogue. That's a lot like walking into an event and shouting at people but not listening to their responses. It just doesn't work. 3 Key Items You Can't Afford To Leave Out Of Your Twitter Bio. When people sign up for Twitter, the first thing on their mind is usually not their bio. They leave it blank, or hammer out a sentence or two about their love of their two dogs, and move on to the good stuff: tweeting, following, discovering what influence means, learning how to retweet.
But if you leave your bio only half finished, you're not optimizing your Twitter presence. Here are three things you can't afford to leave out of your Twitter bio if you want to target the right audience, grow your follower count, and network with interesting people. A link to a web presence other than Twitter. 5 Tips to Increase your Twitter Exposure « Twitter Tips And Updates From Buffer. 381 Flares Filament.io 381 Flares × In order to get Buffer off the ground, Twitter was one of the most important channels we used. And this was not only in terms of traffic. A lot of it came down meeting amazing new people and having insightful conversations with people I wouldn't otherwise have reached. Another factor was to receive feedback and provide support in a way that couldn't be any faster So here is a list of 5 quick tips, which helped me a great deal to make the most of Twitter.
How to successfully manage your Twitter followers - by Natalia Jones. Natalia Jones's image for: "How to Successfully Manage your Twitter Followers" Caption: Location: Image by:
Shallie Bey onTwitter
---