Mind Mapping
6 Excellent Brainstorming and Mindmapping Sites. From basic all-accessible (students, PR folks, etc) multi-person live brainstorming dashboards TO feature-rich, techy diagram creation tools.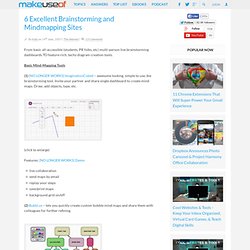 Basic Mind-Mapping Tools (1) [NO LONGER WORKS] ImaginationCubed – awesome looking, simple to use, live brainstorming tool. Invite your partner and share single dashboard to create mind maps. Draw, add objects, type, etc. 15 Useful Online Mind Mapping and Brainstorming Tools. Concept mapping and Mind mapping software are used to create diagrams of relationships between concepts, ideas or other pieces of information.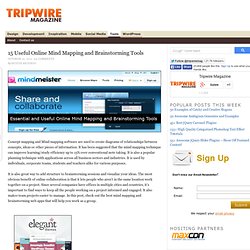 It has been suggested that the mind mapping technique can improve learning/study efficiency up to 15% over conventional note taking. It is also a popular planning technique with applications across all business sectors and industries. It is used by individuals, corporate teams, students and teachers alike for various purposes. It is also great way to add structure to brainstorming sessions and visualize your ideas. The most obvious benefit of online collaboration is that it lets people who aren't in the same location work together on a project.
11 Free Mind Mapping Applications & Web Services. Mind mapping is a way of taking notes, capturing ideas, exploring concepts and breaking down information into a more readily understood format.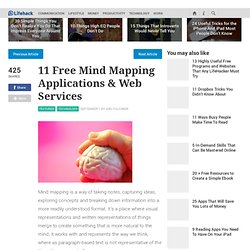 It's a place where visual representations and written representations of things merge to create something that is more natural to the mind; it works with and represents the way we think, where as paragraph-based text is not representative of the thought process at all. There are a million and one uses for mind mapping. You can use it to study for a big exam. You can use it brainstorm new article ideas, or flesh out what needs to be covered in the business plan for a new venture. Learn how to draw Mind Maps - MindMapping Training MindTools. A Powerful Approach to Note-Taking (Also known as Mind Mapping, Concept Mapping, Spray Diagrams, and Spider Diagrams) "Mind Map" is a trademark of the Buzan Organization (see www.buzan.com).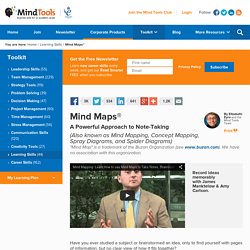 We have no association with this organization. Record ideas memorably with James Manktelow & Amy Carlson. Thirty Day Challenge - Mind Mapping.
---