Entrepreneurship Blogs
UpStart Bootcamp : Online Course
The Safest Small Business Startup Strategies Are Virtual, Guerrilla, and Flexible
Our continually struggling economy, at least on ground-level, is sending aspiring entrepreneurs mixed messages. On one hand, there's enormous incentive to stake your claim at a time when competition is low and human resources are high.On the other hand, the still-unknowable future state of our national and global economies is enough to intimidate even the most ardent of entrepreneurs. While we often can't make up our minds as to whether to invest our capital into budding businesses or stow it away in StorageMart lockers for fear of an economic Armageddon, there are ways to make your enterprising dreams come true while minimizing the risk of these uncertain times: Virtualization The lingering frailty of the real estate market means that at any moment another crisis could lead to rising rent as mortgages skyrocket. For start-ups renting office space, this could devastate the budget for monthly expenses.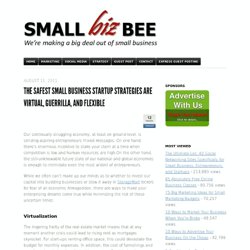 Small Business Leadership Speaker: Are you as smart as a GOOSE? Posted by Marvin LeBlanc on Fri, Oct 28, 2011 @ 12:16 PM As you're running your business on a day-to-day basis (yes including all the dirty work, meetings, client calls, hassles, heartaches and headaches)… do you ever stop and wonder if there's an easier way? Does the thought occur to you – as it has to me oh so many times – that this whole work and business thing should simply NOT be this hard. Finally, has it occurred to you to ask the key question, "How can I make it easier on my team – my customers – and myself?" Animals can teach humans so much if we simply observe.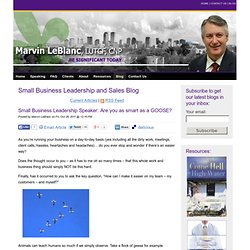 Small Business Leadership Speaker: Are you as smart as a GOOSE?
Own business | How to start a business | Business model set-up
PKF Texas - The Entrepreneur's Playbook®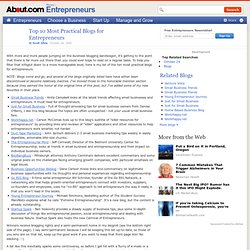 With more and more people jumping on the business blogging bandwagon, it's getting to the point that there is far more out there than you could ever hope to read on a regular basis. To help you filter that infoglut down to a more manageable level, here is my list of the ten most practical blogs for entrepreneurs. NOTE: Blogs come and go, and several of the blogs originally listed here have either been discontinued or become relatively inactive. I've moved those to the honorable mention section because they earned the honor at the original time of this post, but I've added some of my new favorites in their place.
Top 10 Most Practical Blogs for Entrepreneurs
Rich: I'm here today with my good friend Scott McQuade at Outdoor Retailer and I just heard his story. For all you Zigzagers you've just got to hear this. Scott, would you mind sharing with us how your wife got into the wholesale off-price business please? Scott: Absolutely. I'd be thrilled to. I was a third generation retailer and president of a family chain in the northeast.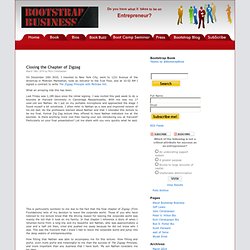 BootstrapBusiness.org | How to Start A Small Business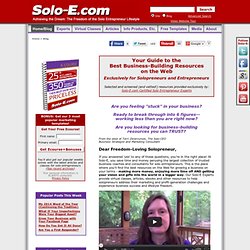 From the desk of Terri Zwierzynski, The Solo-CEO Business Strategist and Marketing Consultant Dear Freedom-Loving Solopreneur, If you answered 'yes' to any of these questions, you're in the right place! At Solo-E, you save time and money perusing the largest collection of trusted business coaches and consultants for solo entrepreneurs. This is the place where you'll find the best resources on the Web for growing a business on your terms - making more money, enjoying more time off AND getting your vision and gifts into the world in a bigger way. Our Solo-E Experts provide virtual classes, articles, ebooks and other resources to help solopreneurs address their marketing and profit-generation challenges and experience business success and lifestyle freedom.
Solo Entrepreneur Blog | Business Building Resources for the Solo Entrepreneur
Welcome to Innovation America
Last week, there was a Business Insider article measuring the percent of female founded companies that NYC seed funds invest in. Brooklyn Bridge Ventures came in first, with a whopping 61%. Lerer Ventures was second, with just under 20%. So, clearly, I'm making some kind of a portfolio-wide bet there, right?
- Thisisgoingtobebig.com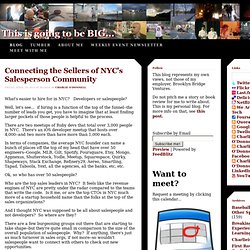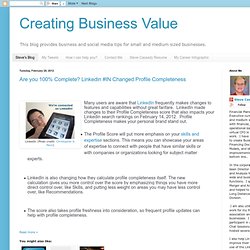 Creating Business Value
Many of us face challenging economic times with uncertain tax and new mandates that causes business planning challenges. It's been my experience that success in small business has as much to do with avoiding operational mistakes as it does with doing the overall economic environment. With many small businesses not making it during the past several years, I want to highlight 12 common mistakes made by business owners so that you can avoid them. 1. Focus A common mistake is lack of focus.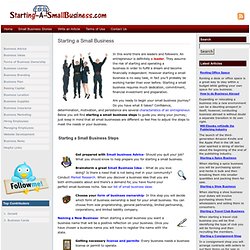 starting a small business
In this world there are leaders and followers. An entrepreneur is definitely a leader. They assume the risk of starting and operating a business in order to fulfill a dream and become financially independent. However starting a small business is no easy task, in fact you'll probably be working harder than ever before.
The Frugal Entrepreneur | Small Business Tips, Resources, & Frugality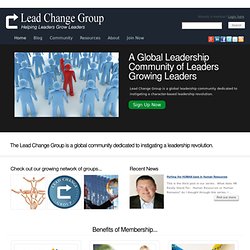 Lead Change Group - Leaders Growing Leaders
Community of Peers You don't have to volunteer to follow in order to learn about leadership. Rather than position ourselves as experts and you as someone who needs to listen to what we say, we invite you to join the c... Find out more Character-based Leadership Character-based leadership is leadership that emanates from who you are.
Business Tools - Master Mentors Series
Start My Consulting Business
The Top 25 Blogs All Marketers Must Read
Creating A Blog Is Easy; Building A Community Requires So Much More
According to Technorati over 175,000 news blogs and roughly 1.6 million posts are created each day – a staggering number. So with that in mind, it is apparent that creating a blog is easy. You can sign-up for Google's Blogger and be blogging in minutes or go the more advanced route and secure your own domain name/hosting and install a blogging platform such as WordPress and be up and running in a day or so.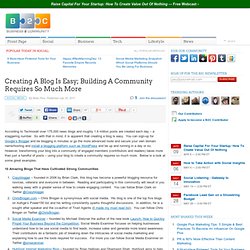 Bud to Boss
2 Day Intense BIZ-Building Boot-Camp June 14 & 15, 2012 – Charleston, NC July 26 & 27, 2012 – Newport Beach, CA "HELP! I'm Stuck!
Get Your Business to Work! | Helping Entrepreneurs & Contractors Get Their Business to Work
Content Marketing Institute
Start a Business Smart with Small Business News & Advice | StartupSmart
7 Reasons You Shouldn't Give Up on the Dream | EntrepreneurHeat
The way of the entrepreneur is fraught with danger. You've got to climb mountains of skepticism and cross chasms of underfunding, where beneath you the skeletons of ill-fated startups lie… and there's only that thin rope of your own determination keeping you up there, alive. Nobody said being an entrepreneur was easy, but I bet some days you didn't expect it would be quite so hard.
Chris Ducker | Virtual Assistants | Passive Income | Personal Branding | 4 Hour Work Week
I have a huge opportunity for you to learn more about the Theory of Constraints and the TOC Thinking Processes. The Odyssey Program is coming up this July 18 to 25 in San Jose, CA. It's short notice, but it's a great deal. You can attend both the regular session (first 5 days) and the alumni session (last 3 days) which are normally $3500 together for only $1600 for both. And that's all inclusive (ALL meals, accomodations, materials are included). Why?
Maximizing Profitability with Theory of Constraints
Inspire Business Concepts - Your Home For Guaranteed Inspiration
New: Sales, Marketing and Financial Services for Small Business Learn more about our new consulting services affordable for every small business budget and every entrepreneur. Improve your business, grow your sales, generate more leads, improve your bottomline and grow your profit... Excel Dashboard Excel Dashboard For Business Reporting.
Guide for Small Businesses
Karen Leland: Bring Social Media Sanity To Your Small Business
Home - Fox Small Business Center
Hot Sauce! The Secret Sauce for Entrepreneurs
Joshua D. White | Entrepreneur Development & Business Growth | Strategy, Marketing & Innovation
OPEN Forum
How to Create a Technology Based Company
Internet Home Business For Moms
Business Blog Rankings From Wikio – Sneak Peek!
Get big or sell up
Blog growth, balance & street smarts | Fastgrowth Advisors - Business Advisors
Perceptions, Biases, & Stereotypes: Accepting Differences in Thinking in Business & Life