Entrepreneurship Blogs
UpStart Bootcamp : Online Course
The Safest Small Business Startup Strategies Are Virtual, Guerrilla, and Flexible
Our continually struggling economy, at least on ground-level, is sending aspiring entrepreneurs mixed messages. On one hand, there's enormous incentive to stake your claim at a time when competition is low and human resources are high.On the other hand, the still-unknowable future state of our national and global economies is enough to intimidate even the most ardent of entrepreneurs.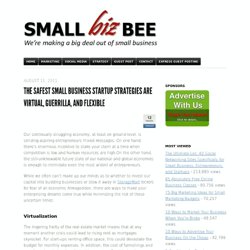 Small Business Leadership Speaker: Are you as smart as a GOOSE? Posted by Marvin LeBlanc on Fri, Oct 28, 2011 @ 12:16 PM As you're running your business on a day-to-day basis (yes including all the dirty work, meetings, client calls, hassles, heartaches and headaches)… do you ever stop and wonder if there's an easier way? Does the thought occur to you – as it has to me oh so many times – that this whole work and business thing should simply NOT be this hard. Finally, has it occurred to you to ask the key question, "How can I make it easier on my team – my customers – and myself?" Animals can teach humans so much if we simply observe.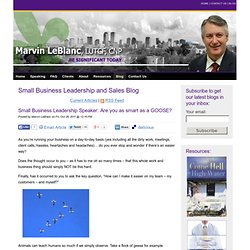 Small Business Leadership Speaker: Are you as smart as a GOOSE?
Teaching Business Owners To Become Millionaires
Own business | How to start a business | Business model set-up
PKF Texas - The Entrepreneur's Playbook®
How A Teenage Entrepreneur Made Several Millions Online | The Greatest Business Ideas In The Internet.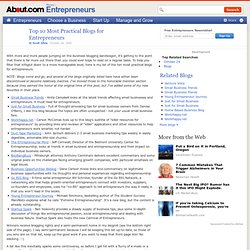 With more and more people jumping on the business blogging bandwagon, it's getting to the point that there is far more out there than you could ever hope to read on a regular basis.
Top 10 Most Practical Blogs for Entrepreneurs
BootstrapBusiness.org | How to Start A Small Business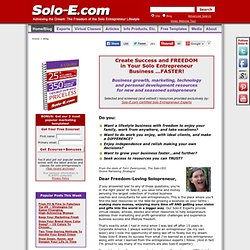 From the desk of Terri Zwierzynski, The Solo-CEO Business Strategist and Marketing Consultant
Solo Entrepreneur Blog | Business Building Resources for the Solo Entrepreneur
Welcome to Innovation America
- Thisisgoingtobebig.com
Creating Business Value
starting a small business
The Frugal Entrepreneur | Small Business Tips, Resources, & Frugality
Lead Change Group - Leaders Growing Leaders
Business Tools - Master Mentors Series
Welcome to "The Master Mentors Series" ... a cutting-edge and thought-provoking collection of exclusive interviews between Brad Sugars and a collection of celebrated entrepreneurs, thought innovators and influence makers in the world of industry and beyond. Listen to these interviews today to discover the insights and secrets top business visionaries use to drive their individual success. Brad Sugars speaks with Jeff Gitomer .
Never Heel
Start My Consulting Business
The Top 25 Blogs All Marketers Must Read
Creating A Blog Is Easy; Building A Community Requires So Much More
Social Media By Brian Rice , Published July 20, 2011 According to Technorati over 175,000 news blogs and roughly 1.6 million posts are created each day – a staggering number.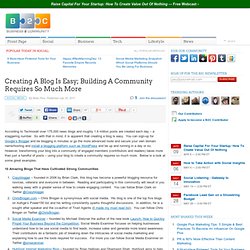 Bud to Boss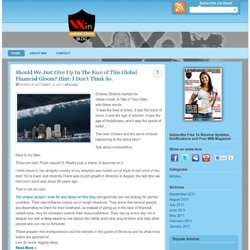 Win Learning Center Blog | Win Learning Center Blog
Should We Just Give Up In The Face of This Global Financial Gloom? Hint: I Don't Think So. Charles Dickens started his classic novel, A Tale of Two Cities with these words: "It was the best of times, it was the worst of times, it was the age of wisdom, it was the age of foolishness, and it was the epoch of belief…"
Get Your Business to Work! | Helping Entrepreneurs & Contractors Get Their Business to Work
Content Marketing Institute
Start a Business Smart with Small Business News & Advice | StartupSmart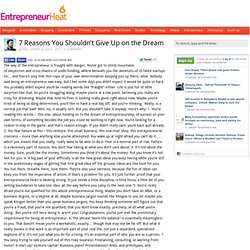 7 Reasons You Shouldn't Give Up on the Dream | EntrepreneurHeat
The way of the entrepreneur is fraught with danger. You've got to climb mountains of skepticism and cross chasms of underfunding, where beneath you the skeletons of ill-fated startups lie… and there's only that thin rope of your own determination keeping you up there, alive. Nobody said being an entrepreneur was easy, but I bet some days you didn't expect it would be quite so hard.
Chris Ducker | Virtual Assistants | Passive Income | Personal Branding | 4 Hour Work Week
Maximizing Profitability with Theory of Constraints
Inspire Business Concepts - Your Home For Guaranteed Inspiration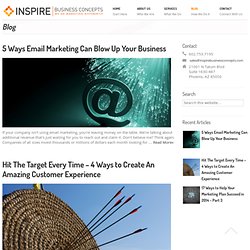 The Shocking Truth About Budget Hosting It never ceases to amaze me how many business owners and entrepreneurs we come across who are willing to spend thousands of dollars on a top of the line results-optimized™ website, but don't want to spend more than a couple of bucks per month on hosting. As a lifelong computer geek, that kind of logic sends my head spinning. Quality hosting is one of the most important components of a results-optimized™ website.
Guide for Small Businesses
Business & Management | Articles, Experts & Forum
Every morning, I walk across the street from my townhouse and take a stroll by the San Francisco Bay.
Karen Leland: Bring Social Media Sanity To Your Small Business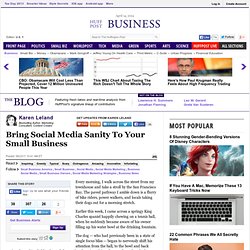 Home - Fox Small Business Center
Hot Sauce! The Secret Sauce for Entrepreneurs
VCs invested $28.3 Billion in 3,267 deals in 2012.
How To Master The Ultimate Sales Tool: Perfect Recall
Joshua D. White | Entrepreneur Development & Business Growth | Strategy, Marketing & Innovation
How to Create a Technology Based Company
Internet Home Business For Moms
Peak Performance » Company Founder
Business Blog Rankings From Wikio – Sneak Peek!
On the 5th of every month, Wikio.com publishes its updated ranking of blogs, in various categories, including business blogs. This month they gave us a sneak peek at the new rankings for the Business Blog category. For blog rankings, Wikio takes into account the number of tweets and the weight and number of other sites linking to the blogs, among other things.
Most business commentators have been waiting for years for the rush of baby boomer entrepreneurs to sell up and hit the beach in retirement mode. It was supposed to happen prior to the GFC, but the pesky global downturn got in the way. As the economy slowly recovers, talk of a mass baby boomer exodus is now underway again.
Get big or sell up
It worked for them. Will it work for me?
Blog growth, balance & street smarts | Fastgrowth Advisors - Business Advisors
Perceptions, Biases, & Stereotypes: Accepting Differences in Thinking in Business & Life