Entrepreneurship Blogs
UpStart Bootcamp : Online Course. The Safest Small Business Startup Strategies Are Virtual, Guerrilla, and Flexible. Our continually struggling economy, at least on ground-level, is sending aspiring entrepreneurs mixed messages.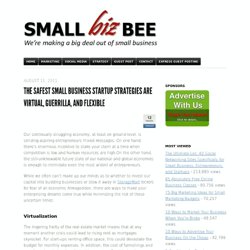 On one hand, there's enormous incentive to stake your claim at a time when competition is low and human resources are high.On the other hand, the still-unknowable future state of our national and global economies is enough to intimidate even the most ardent of entrepreneurs. While we often can't make up our minds as to whether to invest our capital into budding businesses or stow it away in StorageMart lockers for fear of an economic Armageddon, there are ways to make your enterprising dreams come true while minimizing the risk of these uncertain times: Virtualization The lingering frailty of the real estate market means that at any moment another crisis could lead to rising rent as mortgages skyrocket.
For start-ups renting office space, this could devastate the budget for monthly expenses. Small Business Leadership Speaker: Are you as smart as a GOOSE? Small Business Leadership Speaker: Are you as smart as a GOOSE?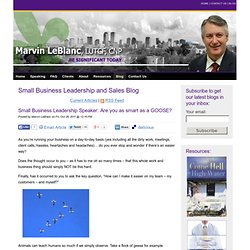 Posted by Marvin LeBlanc on Fri, Oct 28, 2011 @ 12:16 PM As you're running your business on a day-to-day basis (yes including all the dirty work, meetings, client calls, hassles, heartaches and headaches)… do you ever stop and wonder if there's an easier way? Does the thought occur to you – as it has to me oh so many times – that this whole work and business thing should simply NOT be this hard. Finally, has it occurred to you to ask the key question, "How can I make it easier on my team – my customers – and myself?" Animals can teach humans so much if we simply observe.
Own business | How to start a business | Business model set-up. PKF Texas - The Entrepreneur's Playbook® Top 10 Most Practical Blogs for Entrepreneurs. With more and more people jumping on the business blogging bandwagon, it's getting to the point that there is far more out there than you could ever hope to read on a regular basis.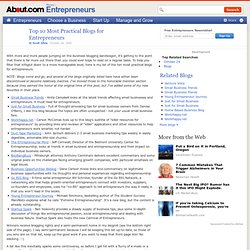 To help you filter that infoglut down to a more manageable level, here is my list of the ten most practical blogs for entrepreneurs. NOTE: Blogs come and go, and several of the blogs originally listed here have either been discontinued or become relatively inactive. I've moved those to the honorable mention section because they earned the honor at the original time of this post, but I've added some of my new favorites in their place.
BootstrapBusiness.org | How to Start A Small Business. The Suitcase Entrepreneur. Solo Entrepreneur Blog | Business Building Resources for the Solo Entrepreneur. Do you: Want a lifestyle business with freedom to enjoy your family, work from anywhere, and take vacations?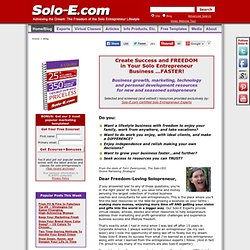 Want to do work you enjoy, with ideal clients, and make a DIFFERENCE? Enjoy independence and relish making your own decisions? Want to grow your business faster...and further? Welcome to Innovation America. - Thisisgoingtobebig.com. Creating Business Value. Starting a small business. The Frugal Entrepreneur | Small Business Tips, Resources, & Frugality. Lead Change Group - Leaders Growing Leaders. Business Tools - Master Mentors Series. Start My Consulting Business. The Top 25 Blogs All Marketers Must Read. Creating A Blog Is Easy; Building A Community Requires So Much More.
According to Technorati over 175,000 news blogs and roughly 1.6 million posts are created each day – a staggering number.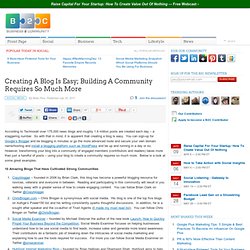 So with that in mind, it is apparent that creating a blog is easy. You can sign-up for Google's Blogger and be blogging in minutes or go the more advanced route and secure your own domain name/hosting and install a blogging platform such as WordPress and be up and running in a day or so. Bud to Boss. Get Your Business to Work! | Helping Entrepreneurs & Contractors Get Their Business to Work. Content Marketing Institute. Start a Business Smart with Small Business News & Advice | StartupSmart.
7 Reasons You Shouldn't Give Up on the Dream | EntrepreneurHeat. The way of the entrepreneur is fraught with danger.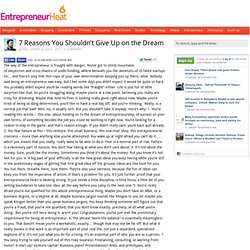 You've got to climb mountains of skepticism and cross chasms of underfunding, where beneath you the skeletons of ill-fated startups lie… and there's only that thin rope of your own determination keeping you up there, alive. Nobody said being an entrepreneur was easy, but I bet some days you didn't expect it would be quite so hard. Chris Ducker | Virtual Assistants | Passive Income | Personal Branding | 4 Hour Work Week.
Maximizing Profitability with Theory of Constraints. Inspire Business Concepts - Your Home For Guaranteed Inspiration. Guide for Small Businesses. Business & Management | Articles, Experts & Forum. Karen Leland: Bring Social Media Sanity To Your Small Business. Every morning, I walk across the street from my townhouse and take a stroll by the San Francisco Bay.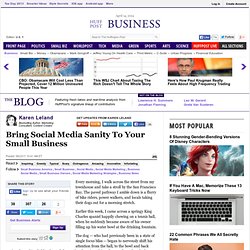 The paved pathway I amble down is a flurry of bike riders, power walkers, and locals taking their dogs out for a morning stretch. Earlier this week, I came across a springy King Charles spaniel happily chewing on a tennis ball, when he suddenly became aware of his owner filling up his water bowl at the drinking fountain. The dog -- who had previously been in a state of single focus bliss -- began to nervously shift his attention from the ball, to the bowl and back again. Home - Fox Small Business Center.
Hot Sauce! The Secret Sauce for Entrepreneurs. Licensing May be the Best Business Model for You March 20, 2014 by Jimmy Lewin and Akira Hirai Let's face it, not every inventor, scientist, or engineer is cut out to be a great businessperson.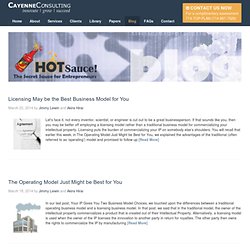 If that sounds like you, then you may be better off employing a licensing model rather than a traditional business model for commercializing your intellectual property. Blog. Speaking Speed Have you ever been talking with someone and they speak so slllooowwwlllyyy, that you want to shake them?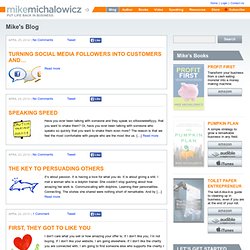 Or, have you ever been talking with someone who speaks so quickly that you want to shake them even more? Joshua D. White | Entrepreneur Development & Business Growth | Strategy, Marketing & Innovation.
OPEN Forum. Small Business and Small Business Information for the Entrepreneur. How to Create a Technology Based Company. Internet Home Business For Moms. Michael E Gerber. Business Blog Rankings From Wikio – Sneak Peek! On the 5th of every month, Wikio.com publishes its updated ranking of blogs, in various categories, including business blogs.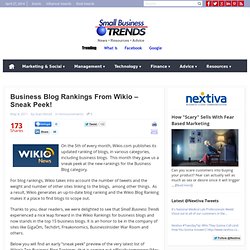 This month they gave us a sneak peek at the new rankings for the Business Blog category. For blog rankings, Wikio takes into account the number of tweets and the weight and number of other sites linking to the blogs, among other things. Get big or sell up. Blog growth, balance & street smarts | Fastgrowth Advisors - Business Advisors. It worked for them. Will it work for me? April 17th, 2012 During a recent meeting, I was asked about an early viral video campaign I developed way back in 2006. My client loved what we had accomplished and asked whether he should do the same thing. My answer: "Maybe, maybe not. Perceptions, Biases, & Stereotypes: Accepting Differences in Thinking in Business & Life. Whether or not we like to admit it, we all view the world through the lens of our personal biases and stereotypes. It's an unavoidable fact of human nature.
If you accept it and go with it, you'll only gain- both in business and in life. Lately, I have come across several provocative articles on the topic of perceptions and stereotypes. Here are a few of the notable ones:
---