Employee Strategy
Motivating Employees: Little Ways to Make Their Day. Smiles are nice.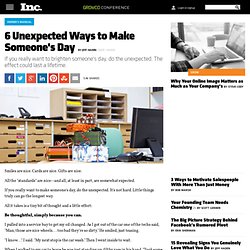 Cards are nice. Gifts are nice. All the "standards" are nice--and all, at least in part, are somewhat expected. Six Reasons Why People Are Amazing - and Three Reasons They Aren't. Some people think you can't teach customer service.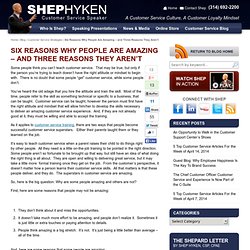 That may be true, but only if the person you're trying to teach doesn't have the right attitude or mindset to begin with. There is no doubt that some people "get" customer service, while some people don't. You've heard the old adage that you hire the attitude and train the skill. Most of the time, people refer to the skill as something technical or specific to a business, that can be taught. Customer service can be taught, however the person must first have the right attitude and mindset that will allow him/her to develop the skills necessary to deliver an amazing customer service experience. COOPERATION. 8 Surefire Ways to Demotivate Your Employees. Ever notice how a new employee's enthusiasm eventually wears off?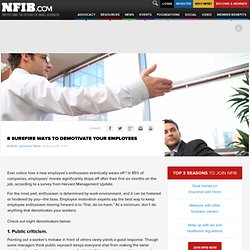 In 85% of companies, employees' morale significantly drops off after their first six months on the job, according to a survey from Harvard Management Update. For the most part, enthusiasm is determined by work environment, and it can be fostered or hindered by you—the boss. Employee motivation experts say the best way to keep employee enthusiasm moving forward is to "first, do no harm." At a minimum, don't do anything that demotivates your workers. Why Good People Can't Get Jobs: Chasing After the 'Purple Squirrel' Wharton management professor Peter Cappelli's most recent book — Why Good People Can't Get Jobs: The Skills Gap and What Companies Can Do About It — has inspired a reaction from just about every group with a stake in today's workforce: employers, employees, recruiters, academics and media commentators.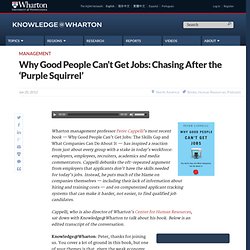 Cappelli debunks the oft-repeated argument from employers that applicants don't have the skills needed for today's jobs. Instead, he puts much of the blame on companies themselves — including their lack of information about hiring and training costs — and on computerized applicant tracking systems that can make it harder, not easier, to find qualified job candidates. How Great Bosses Motivate Employees. Best Leadership Tool for Managing Employees. When an otherwise solid employee consistently struggles in one performance area, it's easy to view them almost solely through the perspective of that weakness.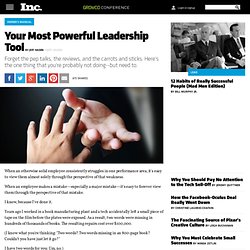 When an employee makes a mistake—especially a major mistake—it's easy to forever view them through the perspective of that mistake. I know, because I've done it. Years ago I worked in a book manufacturing plant and a tech accidentally left a small piece of tape on the film before the plates were exposed. Change Your Employees' Minds, Change Your Business - Scott Keller and Kaleen Love. By Scott Keller and Kaleen Love | 1:37 PM March 1, 2012 Many business leaders don't care why employees do anything as long as they follow the company's rules, processes, cultural norms and laws.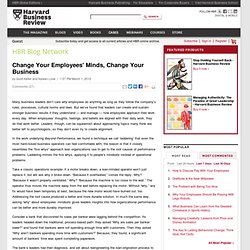 But we've found that leaders can create and sustain stronger business results if they understand — and manage — how employees approach their work every day. When employees' thoughts, feelings, and beliefs are aligned with their daily work, they do that work better. Leaders, though, can be squeamish about approaching topics many think are better left to psychologists, so they don't even try to create alignment. 4 Essentials of Employee Engagement.
4 Essentials of Employee Engagement Posted by Joe Jones on Fri, Dec 02, 2011 @ 11:31 AM With organizations clamoring for their team members to be more effective and efficient while "on the clock", and take stronger ownership in their work;
12 Most Exalting Phrases Leaders Share with their Teams. Leaders have a tremendous impact on their organization, because the phrases they share with their teams can either produce distrust and apathy or ignite passion and commitment.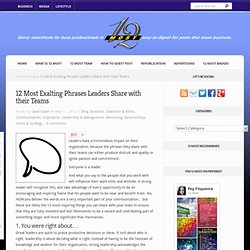 Everyone is a leader. And what you say to the people that you work with will influence their work ethic and attitude. A strong leader will recognize this, and take advantage of every opportunity to be an encouraging and inspiring flame that his people want to be near and benefit from. Yes, HOW you deliver the words are a very important part of your communication… but these are likely the 12 most inspiring things you can share with your team to ensure that they are fully invested and feel themselves to be a valued and contributing part of something larger and more significant than themselves. Punching above your weight: Tips for small startups taking on the big guys. Boxing, mixed martial arts and wrestling employ weight classes to ensure the competition is fair and you're tested on skill, not size.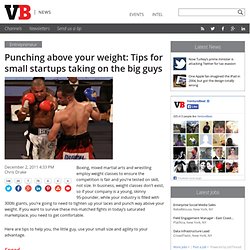 In business, weight classes don't exist, so if your company is a young, skinny 95-pounder, while your industry is filled with 300lb giants, you're going to need to tighten up your laces and punch way above your weight. If you want to survive these mis-matched fights in today's saturated marketplace, you need to get comfortable. Here are tips to help you, the little guy, use your small size and agility to your advantage. Speed Your competition is juggling thousands of employees, sweating quarterly shareholder expectations, and managing disconnected systems from acquisitions.
What is a "Servant Leader?" You May Have More Than You Think (Greenleaf) Editor's Note: Servant leadership is a different way of conceiving of the role of leaders in modern organizations.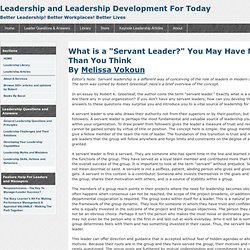 The term was coined by Robert Greenleaf. Here's a brief overview of the concept. Let Go to Grow. This copy is for your personal, non-commercial use only. To order presentation-ready copies for distribution to your colleagues, clients or customers, click the "Reprints" link at the bottom of any article. From the November 2011 issue of Investment Advisor • Subscribe!
November 1, 2011. How to Delegate Anything. There are certain things people are picky about but may not realize. Booking flights is very personal, as it turns out. If you need a window seat at least five rows from the nearest child, you're probably better off handling it yourself—unless you really articulate the particulars you want, says Ted Roden, founder and CEO of Fancy Hands, which is based in New York City. Stop Kidding Yourself, You're VERY Replaceable. I'm going to sound like the most conceited jerk in the world for a few sentences here….but bear with me. Over the past few years I've probably sold more swimming pools than any single person in the country. My company, which happens to be one of the country's top fiberglass pool installers, has done quite well during this time period and I've been the driving force at the kitchen table, helping hundreds of families choose our services over many competitors in the process.
To put it simply, I'm really, really good at the skill called selling… Motivate (and Pay) Your People To Stay - Verizon | Forums and Blogs - Verizon Community. Tips to Foster Employee Ownership. Collateral: D&B 360 Fact Sheet At a glance view of how D&B 360 connects you effortlessly to the world's largest, highest quality source of business insight Videos: D&B 360 Overview Combine D&B data with your company CRM, marketing automation and cloud computing platform.
Virtual Organization
In the Groove – Gaming meets Social Entrepreneurship | Strange Attractors. Flashlight Portrait - Peter DiCampo Intro note: I had the pleasure of seeing Katherine Lucey, Solar Sister founder / CEO at a panel on energy poverty at VII Photo Agency Thursday. This post is reposted from her blog. When processes, procedures and motivations are properly aligned, there is an easy flow and success takes on a sense of the inevitable. Each component of the system is individually successful and the individual successes are aligned to contribute to the success of the whole system. Caring. Listening - The No. 1 People Skill. Giving Feedback -The No. 2 People Skill. 2 Secrets to Keeping Your Employees Engaged. Reference Checks Remove One in Five Job Candidates From Consideration.
Baby Boomer Entrepreneurs Group News.
---