Curation
What Makes A Great Curator Great? How To Distinguish High-Value Curation From Generic Republishing. Today content curation is "sold", promoted and marketed as the latest and trendiest approach to content production, SEO visibility, reputation and traffic building.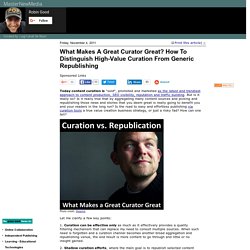 But is it really so? Is it really true that by aggregating many content sources and picking and republishing those news and stories that you deem great is really going to benefit you and your readers in the long run? Why Content Marketing Is King | Blog | Daily Dose. When it comes to marketing strategies, content marketing has just been crowned king, far surpassing search engine marketing, public relations and even print, television and radio advertising as the preferred marketing tool for today's business-to-business entrepreneur.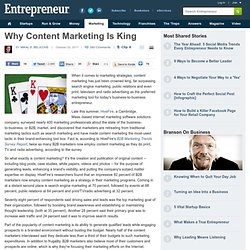 Late this summer, HiveFire, a Cambridge, Mass. -based internet marketing software solutions company, surveyed nearly 400 marketing professionals about the state of the business-to-business, or B2B, market, and discovered that marketers are retreating from traditional marketing tactics such as search marketing and have made content marketing the most-used tactic in their brand-enhancing tool box. Fact is, according to HiveFire's B2B Marketing Trends Survey Report, twice as many B2B marketers now employ content marketing as they do print, TV and radio advertising, according to the survey.
So what exactly is content marketing? Hand-Picked Content Is Marketing Gold | Content Curation Software. Image by Getty Images via @daylife As people get used to the new Facebook "newspaper" angle ("we want to be your personal newspaper"), the masses are going to get a taste of what content marketers have been onto for quite awhile.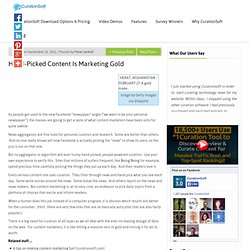 News aggregators are fine tools for personal curation and research. Some are better than others. Cleaning Up Your Readers' Lives With Curation | Content Curation Software. Image by bunchofpants via Flickr There's nothing more satisfying in the office than sitting down to clean off your desk.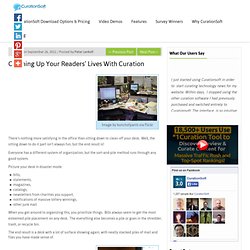 Well, the sitting down to do it part isn't always fun, but the end result is! 9 Marketing Lessons From Triberr — SocialMouths. The Curation Economy and The 3C's of Information Commerce Brian Solis. InShare1 Several years ago I had the privilege of working with Steve Rosenbaum, author of Curation Nation.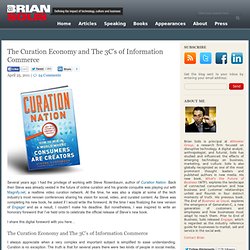 Back then Steve was already vested in the future of online curation and his grande conquête was playing out with Magnify.net, a realtime video curation network. At the time, he was also a staple at some of the tech industry's most renown conferences sharing his vision for social, video, and curated content. As Steve was completing his new book, he asked if I would write the foreword.
---