Space
Incredible Space Pics from ISS by NASA astronaut Wheelock. Go Discovery!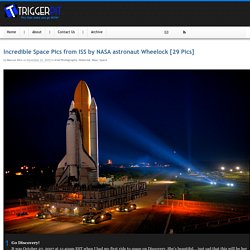 It was October 23, 2007 at 11:40am EST when I had my first ride to space on Discovery. She's beautiful… just sad that this will be her last voyage. Looking forward to climbing aboard the flight deck when Discovery arrives at the Space Station in November. (9-23-2010). Gravity. Space, NASA Information & News | Outer Space Flight Videos & Pictures | Astronomy, Solar System Images. WIKISKY.ORG.
Space Shuttle Discovery - 360VR Images. Solar System Live. Earth View.
---