Portales
Startsida
Arvesund is a house company that in collaboration with established architects and house producers designs and creates the modern barn for living and recreation. Our barn houses and cabins comply with Swedish building standards and meet the requirements regarding energy and sustainability that is expected from a modern construction. Together with some of the leading designers in Sweden, Arvesund also develops furnishing details connected to living.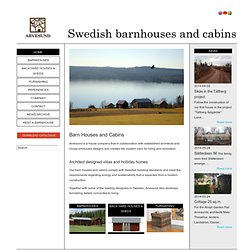 thispointon
Video Channel of KineticArchitecture.Net « KineticArchitecture.Net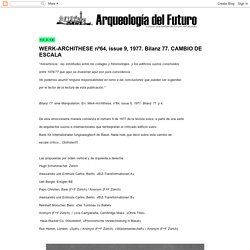 "Because of local hostility to modernism, the architects, half-ironically, incorporated casts of the caryatid removed from the Erechtheum. The classical reference was perhaps fitting to their ordered, classical geometries, but at this stage in time it is the presence of the human figure and the representational boldness, where it is appropriate –at the door- which are noteworthy." Jencks, Charles: TheLanguage of Post-Modern Architecture, , 1977, p.81.
catálogo
Anuncio de compras por correo VS Casa Eames [1950] La tradición consciente de sí mismaLa sistematización de los sistemas de comunicación a través de un fuerte órgano Central de poder y control (1984 de George Orwell) queda patente en proyectos como la ciudad de 10000000 de habitantes para la bahía de Tokyo de Kenzo Tange. Plan para la Bahía de Tokyo [1960] Kenzo Tange. La tradición activistaLa necesidad de nuevos lugares capaces de generar espacios que se adapten a las cambiantes necesidades de los usuarios queda reflejada en el proyecto FUN PALACE o palacio de la diversión de Cedric Price y sus sistemas tecnológicos de montacargas y grúas móviles y sus sistema de caducidad de las partes del edificio, también presente en la Plug In de Archigram. Fun Palace [1963] Cedric Price.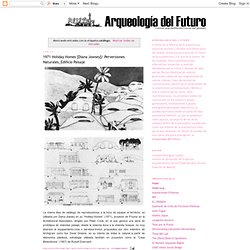 Etiqueta pabellones temporales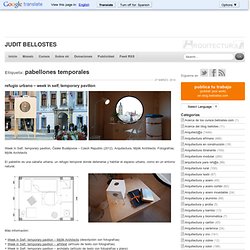 Exposición El Arte de Rosanjin (Museo Guimet de París) / "L'art de Rosanjin" exhibition (Guimet Museum in Paris). Paris – France (2013). Diseño del montaje expositivo, Ryusuke Nanki. Fotografías, Ryusuke Nanki. Como mostrar la concepción estética del artista japones Rosanjin Kitaoji (1883-1959), una forma de vida que sitúa la experiencia artística en la vivencia del presente tan cotidiano como excepcional.
Kingspan Group PLC
Henderson-Hopkins School / Rogers Partners © Albert Vecerka-Esto Arquitectos: Rogers Partners Ubicación: 2100 Ashland Avenue, Baltimore, MD 21205, USA Arquitectos A Cargo: Robert M.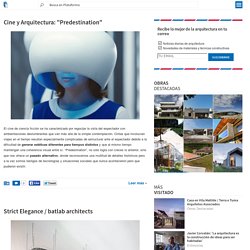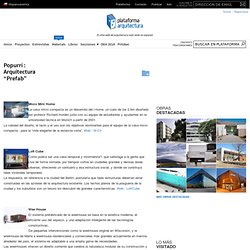 Popurrí : Arquitectura "Prefab"
Micro Mini Home La casa micro compacta es un desarrollo del i-home, un cubo de los 2.6m diseñado por profesor Richard Horden junto con su equipo de estudiantes y ayudantes en la universidad técnica en Munich a partir de 2001. La calidad del diseño, el tacto y el uso son los objetivos dominantes para el equipo de la casa micro compacta…para la "vida elegante de la estancia corta". Web / M-Ch Loft Cube Como podría ser una casa temporal y minimalista?