Portales
Startsida
Arvesund is a house company that in collaboration with established architects and house producers designs and creates the modern barn for living and recreation. Architect designed villas and holliday homes Our barn houses and cabins comply with Swedish building standards and meet the requirements regarding energy and sustainability that is expected from a modern construction. Together with some of the leading designers in Sweden, Arvesund also develops furnishing details connected to living.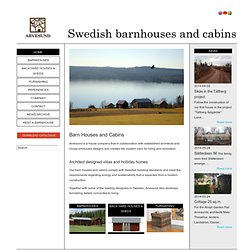 arqa.com | Comunidad abierta de arquitectura, construcción y diseño arqa.com » Comunidad abierta de arquitectura, construcción y diseño
thispointon
Video Channel of KineticArchitecture.Net « KineticArchitecture.Net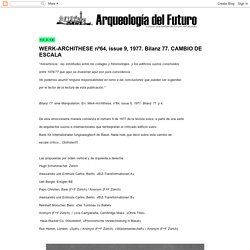 "Since World War II (an unbelievable 35 years ago) the United States of America has quietly been nurturing a typological evolution as homespun as John Wayne- the suburban house. The objecthood of this form is as solidly as Frank Lloyd Wright- embracing the hip roof (replete with overhangs), the corner window and the wing wall (both of which represent vestiges of Wright's breakup of the square, symmetrically axial, 19th-century aristocratic European box). Now the suburban house has an identity of scale as solidly real as the brick. By now, almost the entire recent generation-come-of-age has experienced the suburban context -the Hilberseimer Tee-Plan brought into being in all of this continent's Levittised environments. Iconographically, the suburban house is as American as television (God knows, all its aerial search-and-sweep the sky like so many centipedal antennae).
catálogo
Anuncio de compras por correo VS Casa Eames [1950] La tradición consciente de sí mismaLa sistematización de los sistemas de comunicación a través de un fuerte órgano Central de poder y control (1984 de George Orwell) queda patente en proyectos como la ciudad de 10000000 de habitantes para la bahía de Tokyo de Kenzo Tange. Plan para la Bahía de Tokyo [1960] Kenzo Tange. La tradición activistaLa necesidad de nuevos lugares capaces de generar espacios que se adapten a las cambiantes necesidades de los usuarios queda reflejada en el proyecto FUN PALACE o palacio de la diversión de Cedric Price y sus sistemas tecnológicos de montacargas y grúas móviles y sus sistema de caducidad de las partes del edificio, también presente en la Plug In de Archigram. Fun Palace [1963] Cedric Price.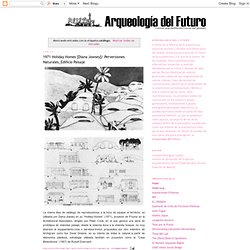 Etiqueta pabellones temporales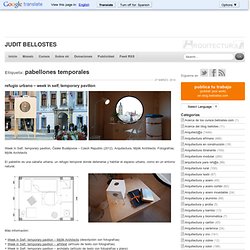 Cabañas decoradas, pabellón para la exposición National style / Decorated Shed, pavilion for National style exhibition in National gallery, Prague - Czech Republic (2013). Diseño, A1 Architects. Fotografías, zerwox.com. Bajo el denominador común "National style" se agrupan un conjunto de obras de arte y arquitectura realizadas en Checoslovaquia, durante el periodo de entre guerras. La exposición esta dedicada a este movimiento.
Kingspan Group PLC
Henderson-Hopkins School / Rogers Partners © Albert Vecerka-Esto Arquitectos: Rogers Partners Ubicación: 2100 Ashland Avenue, Baltimore, MD 21205, USA Arquitectos A Cargo: Robert M.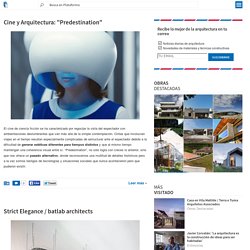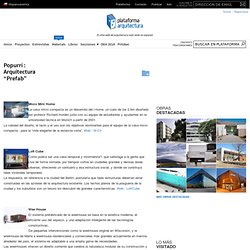 Popurrí : Arquitectura "Prefab"
Micro Mini Home La casa micro compacta es un desarrollo del i-home, un cubo de los 2.6m diseñado por profesor Richard Horden junto con su equipo de estudiantes y ayudantes en la universidad técnica en Munich a partir de 2001. La calidad del diseño, el tacto y el uso son los objetivos dominantes para el equipo de la casa micro compacta…para la "vida elegante de la estancia corta". Web / M-Ch Loft Cube Como podría ser una casa temporal y minimalista?