Websites, Blogs
Paleo Eats: 9/21/12. As a present to myself, I didn't post my birthday eats.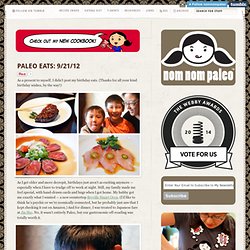 (Thanks for all your kind birthday wishes, by the way!) As I get older and more decrepit, birthdays just aren't as exciting anymore — especially when I have to trudge off to work at night. Still, my family made me feel special, with hand-drawn cards and hugs when I got home. My hubby got me exactly what I wanted — a new countertop Breville Smart Oven. GNOLLS.ORG - Home of J. Stanton and The Gnoll Credo. ThePaleoMom. Raw Food SOS: Troubleshooting on the Raw Food Diet. The Primalist. Paleo Diet, Paleolithic Diet and Lifestyle Questions and Answers.
Easy Recipes | Balanced Bites | Holistic & Paleo Nutrition Coaching & Seminars. Nom Nom Paleo. Paleo Breakfast : Recipes for a Paleo Breakfast. Home. Welcome to my low carb menus and recipes site.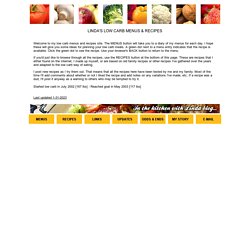 The MENUS button will take you to a diary of my menus for each day. I hope these will give you some ideas for planning your low carb meals. Everyday Paleo from Sarah Fragoso - Paleo Recipes and Paleo Talk Podcast. Paleo Diet Lifestyle | paleo diet tips and recipes. Fast Paleo. Mark's Daily Apple. There are so many recipes for roasts that simply say, "season the meat with salt" before cooking.
But exactly how much salt? Too little, and the meat is bland. Robb Wolf | The Paleo Solution book and podcast | Paleo diet, Paleolithic nutrition, intermittent fasting, and fitness.
---