Websites, Blogs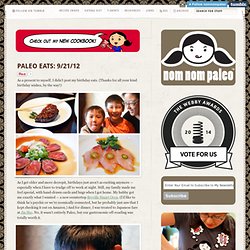 As a present to myself, I didn't post my birthday eats. (Thanks for all your kind birthday wishes, by the way!) As I get older and more decrepit, birthdays just aren't as exciting anymore — especially when I have to trudge off to work at night. Still, my family made me feel special, with hand-drawn cards and hugs when I got home. My hubby got me exactly what I wanted — a new countertop Breville Smart Oven.
Paleo Eats: 9/21/12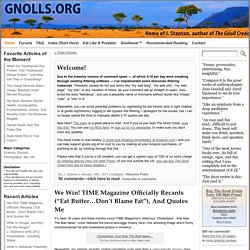 GNOLLS.ORG - Home of J. Stanton and The Gnoll Credo
In previous installments, we've proven the following: A calorie is not a calorie when you eat it at a different time of day. A calorie is not a calorie when you eat it in a differently processed form. A calorie is not a calorie when you eat it as a wholly different food. A calorie is not a calorie when you eat it as protein, instead of carbohydrate or fat. A calorie is not a calorie when you change the type of fat, or when you substitute it for sugar.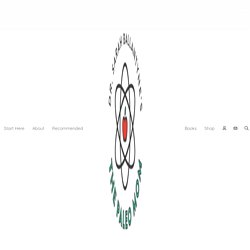 Note (added 1/15/14): Emily McManus representing TED has commented on this post with the following "Thank you for your concern. We'd like to assure you that this claim is false. We have no plans to take Dr. Wahls' talk off YouTube, and TED has not asked the local TEDx organizers to do so. The talk […] Continue Reading »
ThePaleoMom
Could it be true? Three blog entries in four weeks, instead of my typical month-long lulls of silence? Has this blog been hijacked by an evil but prolific employee of Minger, Inc.? Don't worry; I'll vanish again soon.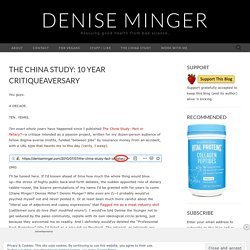 I was super excited to hear that Michelle from the fabulous blog Nom Nom Paleo is creating a cookbook, and even mores stoked to have it in my hands! This book is a massive, hefty hardcover, with over 100 "nomtastic" recipes. What I think most people will appreciate most is how approachable this cookbook is. Not only are the recipes well-written and easy to follow, but each one has multiple photos to guide you through the process. And the fun comic book theme throughout, along with the family photos and humour helps show how fun cooking and paleo can be.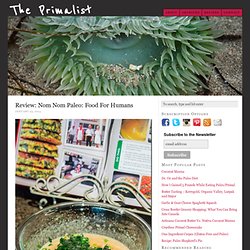 The Primalist
Paleo Diet, Paleolithic Diet and Lifestyle Questions and Answers
Easy Recipes | Balanced Bites | Holistic & Paleo Nutrition Coaching & Seminars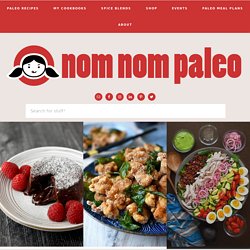 Who's ready for a fresh start to the year? To inspire you to kick off 2014 with some deliciously healthy eats, over the course of January, I'm going to lay out four weeks' worth of lip-smacking, nourishing grub. And don't worry if you're on the straight-and-narrow this month—I chose recipes of mine that should fit into any Paleo template, whether you're on a short-term dietary reset like the Whole30 or 21 Day Sugar Detox, or you've settled into an everyday real-food approach. Before we get started, I should point out that this isn't meant to be a meal plan. In these posts, I won't be telling you what to eat for breakfast, lunch, and dinner, and you certainly shouldn't feel compelled to make every single thing listed (though you certainly can, if you feel like it!).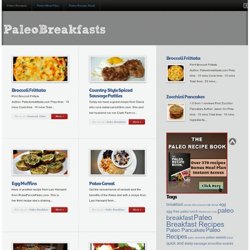 Paleo Breakfast : Recipes for a Paleo Breakfast
Broccoli Frittata Print Broccoli Frittata Author: Paleobreakfasts.com Prep time: 15 mins Cook time: 10 mins Total... More » Country-Style Spiced Sausage Patties Today we have a guest recipe from Diana who runs radiancenutrition.com. She and her husband run run Clark Farm in... More » Egg Muffins Here is another recipe from Laci Hansard from PicketFencePaleo.com. This is her third recipe she's sharing...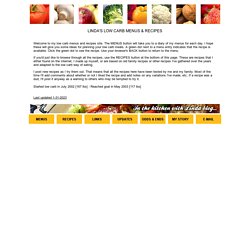 Welcome to my low carb menus and recipes site. The MENUS button will take you to a diary of my menus for each day. I hope these will give you some ideas for planning your low carb meals.
Mark's Daily Apple
It's Friday, everyone! And that means another Primal Blueprint Real Life Story from a Mark's Daily Apple reader. If you have your own success story and would like to share it with me and the Mark's Daily Apple community please contact me here.