Stuff i want
WiFi and 2GB USB Cufflinks. WiFi and 2GB USB Cufflinks Sometimes I daydream about being James Bond and having all his cool gadgets.
Step 1 to becoming a super spy: get WiFi hotspot capable cufflinks with 2GB USB storage so you can check Facebook wherever you are. Step 2: there is no step two because you're now a man with WiFi with storage cufflinks. 16 Million Color LED Lamp. Introducing a new world of color into your home, the Equinox Mood Light lets you shower your living space with your choice of 16 million colors.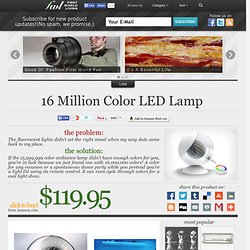 Using 7 long-life LEDs, the Equinox is operated by a wireless remote control, allowing you to create the perfect relaxing atmosphere at the touch of a button. The exterior was design by Zhang Xun who is the winner of Germany Red-dot concept design award. 26 Pocket Jacket. SeV Revolution Plus Ideal for the winter traveler, the Revolution Plus is the warmest SeV ever.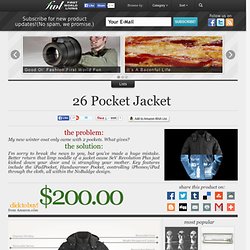 Whether it's traveling on a cold January day from Paris to London, or braving wind and snow in Sweden, our customers love the protection, adaptability and innovative pocket system this jacket offers. The breathable shell, sealed seams and quilted lining keep you warm and dry, and adjustment to temperature fluctuations is simple: just remove the hood and sleeves and pop them in a pocket! Airline baggage fees don't apply to SCOTTEVEST clothing, so you can load up the 26 pockets with gloves, digital cameras, travel documents, cell phones, GPS units, flashlights, glasses, whatever you may need, and easily replace a carry-on.
iPhone/iPad Pico Projector. Take projection out of the boardrooms and put it literally in the palm of your hand with the Cinemin Swivel Multimedia Pico Projector by WowWee.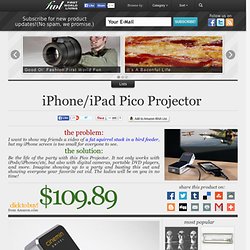 This pocket-size projector features Texas Instruments' DLP projection technology and a unique 90-degree hinge that allows you to project onto virtually any surface. Use it to connect to a wide variety of handheld devices--such as the iPod, iPhone, and Flip Video--so that you can project your videos, photos, and more with anyone, at any time. Made for iPod and Other Popular Devices. Nightlight with Portable Balls. Nightlight with Portable Balls I already have the Lighted Slippers, but I'm scared of ghosts and need more light for when I go for a midnight snack.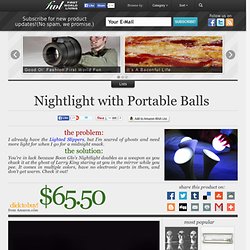 You're in luck because Boon Glo's Nightlight doubles as a weapon as you chuck it at the ghost of Larry King staring at you in the mirror while you pee. Newest Items to make your life easier.
---