crafts
Get flash to fully experience Pearltrees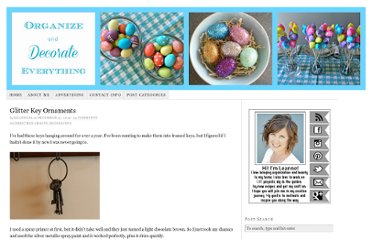 I've had these keys hanging around for over a year. I've been wanting to make them into framed keys, but I figured if I hadn't done it by now I was never going to. I used a spray primer at first, but it didn't take well and they just turned a light chocolate brown. So I just took my chances and used the silver metallic spray paint and it worked perfectly, plus it dries quickly. Then I got out my silver glitter and went to town. I swear glitter lasts forever.
The refrigerator is often the ugliest thing in a kitchen.
I love finding crafty projects using vinyl records-- from making a vinyl record purse or vinyl record bowls , I think those round slabs of plastic are incredibly fun to bend, mold, shape, and cut. About a week ago, I saw this incredible idea on Gemma's blog about how to make a vinyl record notebook and I was so excited to make it. Now, while I love using records to make crafts, my boyfriend is a huge record hipster dork. ;) (Hehe, sorry Sean!)
Sorry dear friends for MIA for quite some time. However have still been creating, here are a couple of books that I was commissioned to make for a lovely lady to give to her mother and daughter..
You should all know by now that we are all about stacking bracelets on our wrists. The more, the better.
As you may have figured out from my My Life Scoop posts, I'm a bit of a nut for tech accessories, especially pocket-sized ones. I can't get over how awesomely small our entertainment devices are becoming; it makes traveling with them so much easier.
I know what your all saying, "Sarah another steampunk book!!" LOL , I know I know, its a fad I am going through..heheh I just adore Tim Holtz's new book plate stamp and when I saw what my dear friend Jen did, well I just had to play too.
Click on the squares above to find the project's original source. Out of all the DIY fashion projects I've made, upcycling shoes has always been a go-to project for me.
(Not to scale)