Faith
Lutheran Public Radio | Sacred Music for the World
Sitio en Español Archived Devotions "Night And Day" March 4, 2012 If I say, "Surely the darkness shall cover me, and the light about me be night," even the darkness is not dark to You; the night is bright as the day, for darkness is as light with You.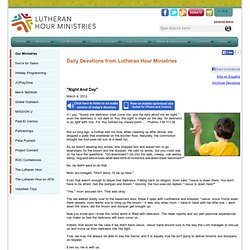 Lutheran Hour Ministries - Resources for You
Rev. Cwirla's Blogosphere
internetmonk.com | ...dispatches from the post-evangelical wilderness
Issues, Etc. Article Archive
Higher Things : Welcome to Higher Things!
Daily Devotions - Lutheran Church Charities
Lenten Devotions from Lutheran Hour Ministries