Faith
Lutheran Public Radio | Sacred Music for the World
Sitio en Español Archived Devotions "Night And Day" March 4, 2012 If I say, "Surely the darkness shall cover me, and the light about me be night," even the darkness is not dark to You; the night is bright as the day, for darkness is as light with You.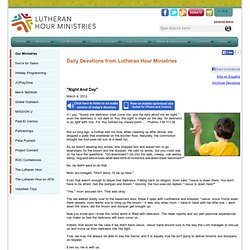 Lutheran Hour Ministries - Resources for You
Rev. Cwirla's Blogosphere
internetmonk.com | ...dispatches from the post-evangelical wilderness
Issues, Etc. Article Archive
Higher Things : Welcome to Higher Things!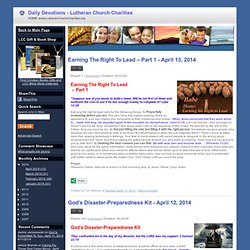 Daily Devotions - Lutheran Church Charities
Played: 50 | Download | Duration: 00:02:59 Keep Your Job, And Earn A Promotion! – Part 4 Slaves, obey your earthly masters in everything; and do it, not only when their eye is on you and to win their favor, but with sincerity of heart and reverence for the Lord. Colossians 3:22
"MY GOD, MY GOD, WHY HAVE YOU FORSAKEN ME?" Written by Rev. Wayne Palmer What more haunting words could any person speak than "My God, my God, why have You forsaken me?" How could we endure a moment if our Creator would turn His back and ignore our every plea?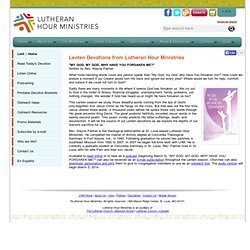 Lenten Devotions from Lutheran Hour Ministries