Movies
Warrior: Tom Hardy, Joel Edgerton, Nick Nolte, Jennifer Morrison: Amazon Instant Video. Transformers: Dark of the Moon: Shia LaBeouf, Hugo Weaving, Josh Duhamel, Rosie Huntington-Whiteley: Amazon Instant Video. Captain America: The First Avenger: Chris Evans, Hugo Weaving, Hayley Atwell, Stanley Tucci: Amazon Instant Video. And Then Came Lola: Ashleigh Sumner, Jill Bennett, Ellen Seidler, Megan Siler: Amazon Instant Video. Brokeback Mountain: Heath Ledger, Jake Gyllenhaal, Randy Quaid, Valerie Planche: Amazon Instant Video. Prime Instant Videos: Amazon Instant Video. TUBE+ Watch full length TV Shows and Movies online for free.
25 Spectacular Movies You (Probably) Haven't Seen. Midnight in Paris Woody Allen's latest places starving writer Owen Wilson in Paris with his fiancée, Rachel McAdams.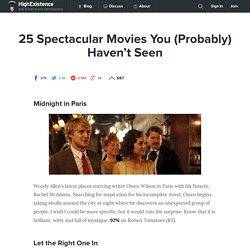 Searching for inspiration for his incomplete novel, Owen begins taking strolls around the city at night where he discovers an unexpected group of people. I wish I could be more specific, but it would ruin the surprise. Know that it is brilliant, witty and full of mystique. 92% on Rotten Tomatoes (RT). Dogma (1999. Goofs In the Mooby headquarters, the glass that covers some of the posters (the Surly Duck poster in particular) is seen in some shots, but removed in others.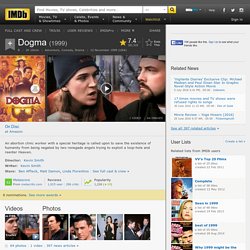 (This was done to prevent reflections of the crew from being seen.) Battle Royale (2000. Haywire (2011. Maleficent (2014. The Forger (2012. Edit Storyline Joshua, a teenager with a drugged-out mother on the run, wanders into the affluent community of Carmel, California.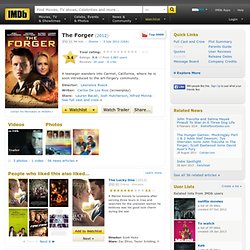 After getting himself into trouble, the authorities try to track down his mother. But in the meantime, a successful artist/businessman offers to take in Joshua and let him have a chance at a good life. Byzantium (2012. The Kids Are All Right (2010. Edit Storyline Nic and Jules are in a long term, committed, loving but by no means perfect relationship.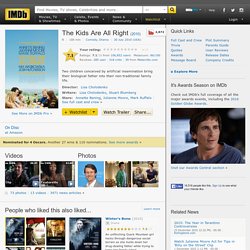 Nic, a physician, needs to wield what she believes is control, whereas Jules, under that control, is less self-assured. Cirque du Freak: The Vampire's Assistant (2009. Edit Storyline Teenager Darren Shan is an excellent student and the pride and joy of his perfect middle-class family; his best friend is the reckless Steve.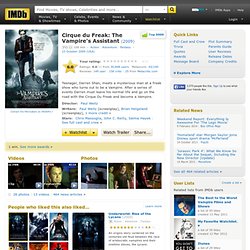 When they receive a flyer with an advertisement for a freak show, they sneak to the theater to see the attractions. The ringmaster is a vampire called Larten Crepsley, that has a lethal spider. Ice Castles (2010. Beautiful Dreamer (2006. Edit Storyline Orphan Joe Kelly has an idyllic youth growing up in the country with his grandpa, and can turn his hobby into his profession as crop spray plane pilot.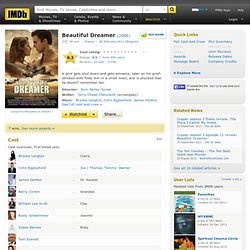 After Pearl Harbor, he joins the US Air Force as bomber pilot. Joe's wife Claire is notified he's missing, presumed killed when his plane is shot down over Germany. Later a military mate reports he saw Joe alive, apparently taken POW. U-571 (2000. Edit Storyline In the midst of World War II, the battle below the seas rages.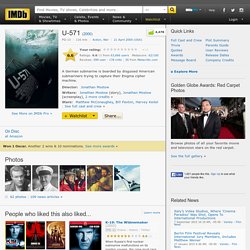 The Nazi's have the upper edge as the Allies are unable to crack their war codes. That is, until a wrecked U-boat sends out an SOS signal, and the Allies realise this is their chance to seize the 'enigma coding machine'. 16-Love (2012. Princess of Thieves (TV 2001. Privileged (2010. Lost and Delirious (2001. Imagine Me & You (2005.
---